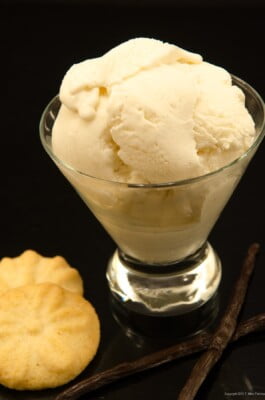 When I was a little girl a favorite treat was a dixie cup of ice cream. There definitely weren't 31 ice cream flavors or names like Cherry Garcia, Chubby Hubby or Chunky Monkey. In fact all I remember is vanilla, chocolate and strawberry. You got a little wooden spoon with which to eat the ice cream. It was one of the special things I remember from my childhood.
While many ice cream aficionados dictate a creme anglaise base made with cream and eggs, I feel the eggs mask the flavor of many ice creams. So most of mine are eggless as is this one.
This ice cream is not too sweet and has a twang thanks to the cream cheese and sour cream. The little specs of vanilla bean add the perfect balance . It is great eaten on its own or really good teamed with fruit pies, cobblers or crisps.
I have a Cuisinart Ice Cream machine and I like it because it doesn't require water or ice. I always wanted one and found this on the internet for less than half the price. However, any ice cream machine will do. Just follow their directions.
Easily made, this ice cream gets really hard in the freezer so remember to take it out abut 20 minutes before serving. it will be well worth it.

Vanilla Bean Cream Cheese Ice Cream
12 ounces cream cheese, room temperature (340 grams)
½ cup sugar (100 grams or 3 ½ ounces)
1 cup sour cream (225 grams or 8 ounces)
⅓ cup clear cornsyrup
1 ½ cups half and half
1 tablespoon vanilla bean paste
¼ cup any liqueur desired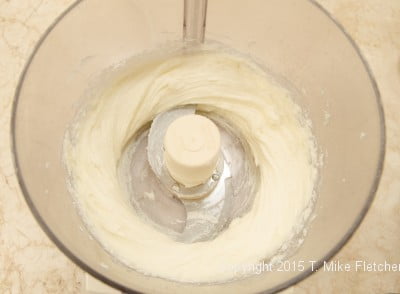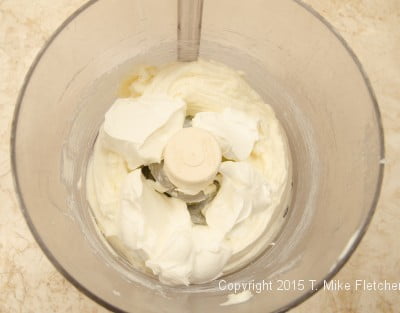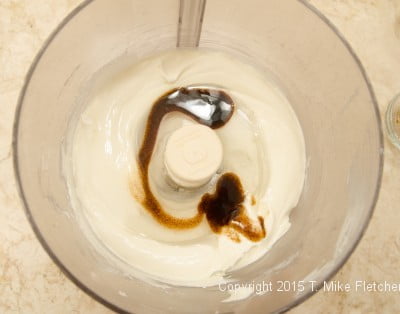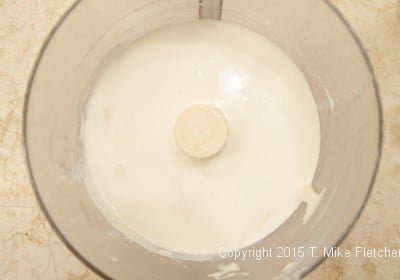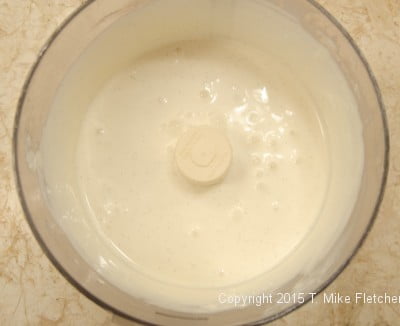 Processor Method
Combine the cream cheese and sugar in the processor bowl. Process until smooth.Add the sour cream next and process. Add the vanilla bean paste, half and half and liqueur. Process until smooth.
Pour into a container and chill until cold or overnight.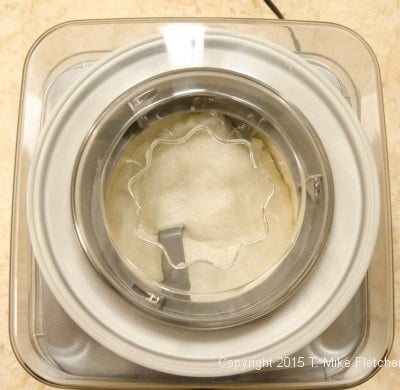 Pour the cheesecake mixture the ice cream maker. Churn as directed.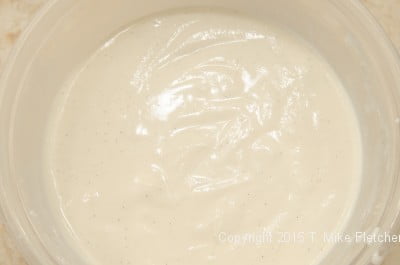 Pour ice cream into a freezer container and chill 4 to 6 hours or overnight.
Note: Gets rock hard in the freezer and needs about 20 to 30 minutes at room temp to scoop.
Mixer Method
Beat the cream cheese and sugar until the cheese is softened and they are well combined and perfectly smooth. Scrape often. Add the sour cream, beating well and scraping often to make sure everything is smooth. Add the cornsyrup and vanilla bean paste. Lastly, add the half and half and beat well.