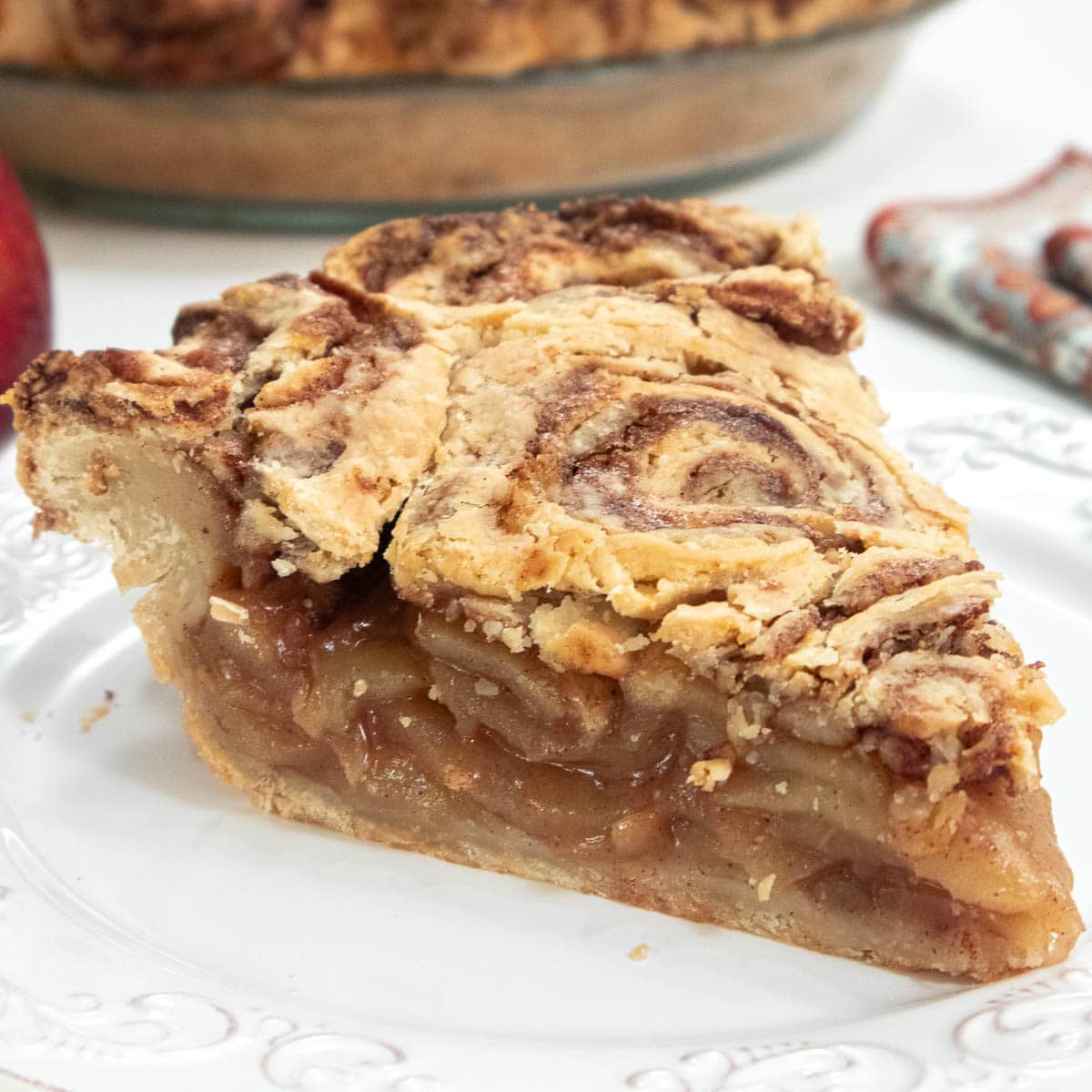 I first saw this Cinnamon Bun Apple Pie on King Arthur's site and was intrigued by the top crust. It's a fun way to finish an apple pie.
October brings apple picking season, and I remember all of us going to an apple orchard to pick our own on many occasions. We had a great time sitting on the back of the wagon that drove us out to the orchard to start picking. The first year, I got carried away, and we came home with over a bushel of apples. That was the year I learned all of the different things you could do with apples. Figuring out what to make with 1 ½ bushels of apples is daunting, but really good eating, for sure.
The other thing I remember is the most beautiful sunset I have ever seen. I can still see it in my mind's eye. The deep pinks, lavenders and hints of red were so brilliant and a site I will never forget. It was the perfect end to a wonderful family day.
Which Apples to Use
When making apple pies, sweet as well as tart apples make the most interesting combination taste-wise. Firm apples are best since they keep their sliced shape and look great when the pie is cut.
There are many different kinds of apples, and grocery stores seem to carry a lot of them. But in my area, I still can't get Northern Spy Apples, which I think makes one of the best apple pies ever. We used them at the bakery. They're not too sweet and not as tart as Granny Smiths. They take to the long baking without getting mushy.
So, lacking my fav, I have moved on to a combination of apples. I always use Granny Smith adding Pink Ladies, and/or Galas when making the Cinnamon Bun Apple Pie. All of these produce a pie with distinct but softly baked sliced apples.
Other apples that fare well are Braeburn, Honey Crisp which are only available in the Fall, Jonagold which are a mix of Jonathan and Golden Delicious, Jazz and Ginger Gold.
The Cinnamon Bun Top Crust
I'm using my tried and true American Pie Crust. The Cinnamon Bun top crust is made by rolling out the top crust, sprinkling it with cinnamon and sugar, then rolling it up jellyroll style. After chilling, the roll is sliced and rolled between wax paper to flatten it, forming the top crust.
The Sugar
This is the trickiest part of making apple pies. Many things affect the sweetness of apples, including how long they have been in storage, whether white granulated sugar or brown sugar is used, additional items in the filling and personal taste. I give a range of sugar and suggest you start with the lowest amount. After the apples, spices, thickener and sugar have been sitting for 20 or so minutes, you taste a slice or two. While not conclusive, it will give you an idea of whether to add a bit more sugar or not.
Remember this pie has sugar and cinnamon in the top crust.
Preparing the Filling for the Cinnamon Bun Apple Pie
I have seen a couple of suggestions for keeping the apples from turning brown while rolling out the crusts. Some people use lemon juice, and the worst suggestion I have seen is covering them with water. Water will leach out some of the apple flavor. It can also help mush the apples.
I have never understood this obsession with keeping the apples from discoloring in a pie. It doesn't change the taste of the apple, although I will admit it doesn't look great in a salad, but for a pie that will be brown when fully baked, who cares if they start out that way. Besides, if you mix the spices, thickener, and sugar together, add them to the sliced apples letting them sit while rolling out the crust, they will be brown anyway from the spices.
I don't know about you, but I have never baked an apple pie, nor seen one, where the apples are white after baking.
If you have ever baked or seen a pie where the top crust is domed up with a big empty space before you get to the filling, the reason may be how the apples were sliced. If they are big and chunky, the pie is most likely to have this dome. However, by slicing the apples thinly, they compact better as they are baked, and the top crust adheres to the apples.
Thickener
Apples don't exude a lot of juice like a berry pie. I have always used flour to thicken my apple pies, but recently I taught a Perfect Pie class on Zoom. One of the thickeners I used was Instant ClearJel which thickens without cooking as well as when cooked. In King Arthur's recipe, they used Instant ClearJel as part of their thickener. Since I knew students probably had this, I tried it in my pie, and it worked really well. So, as did they, I give you a choice of thickeners. If you use ClearJel make sure it is the Instant variety.
Pie Plate
I prefer a 9" glass pie plate for this Cinnamon Bun Apple Pie because I can see if the bottom crust is browning properly.
Ingredients
American Pie Crust, for a double crust pie
About 6 cups of apples*
½ to ⅔ cup granulated or brown sugar (100 grams to 130 grams or 3 ½ ounces to 4 ½
4 ½ ounces)
¼ cup all-purpose flour (35 grams or 1 ¼ ounces)
Or
2 tablespoons all-purpose flour (17 grams or ⅔ ounce)
2 tablespoons instant ClearJel (13 grams or a heavy ½ ounce)
1 teaspoon cinnamon
½ teaspoon nutmeg
¼ cup undiluted, frozen apple juice concentrate, thawed
2 tablespoons brandy, optional
1 tablespoon vanilla
*About 3 pounds of apples
Instructions
Prepare the Pie Crust for a two crust pie as instructed, and divide it into approximately ⅔ and ⅓ portions. Flatten them into rounds, wrap in plastic wrap and chill until firm. Better yet, make it up to 3 days ahead and store in the refrigerator. Freeze for longer storage.
Draw an 11" circle on a piece of parchment and set aside.
Combine ¼ cup sugar, granulated or brown with 1 tablespoon cinnamon. Melt 1 tablespoon butter. Set aside.
Assembly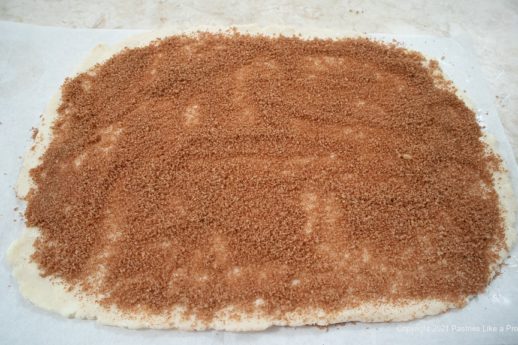 Roll the smaller top crust into a rectangle about 9 x 11 inches. Brush with the melted butter, leaving about ½" at one of the shorter ends uncovered. Spread the filling evenly over the dough, avoiding the unbuttered edge. Moisten the unbuttered edge with water. Roll up tightly, jelly roll style sealing the moistened edge by rolling is back and forth a few times to enlarge the roll to 10". Refrigerate while preparing the rest of the pie. Keep the larger piece of dough refrigerated until needed.
Peel, core and slice the apples thinly. Place them in a large bowl.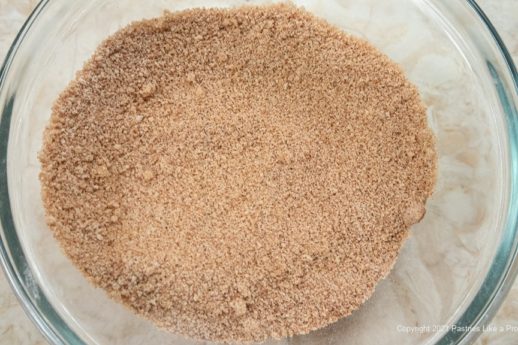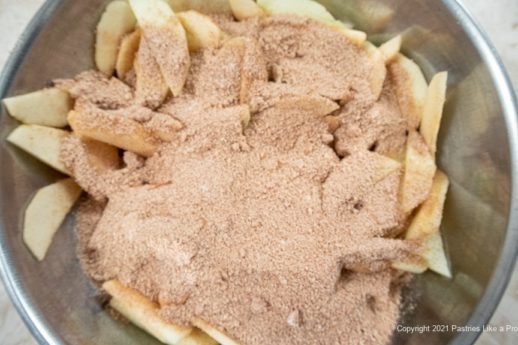 Combine the sugar, thickener of choice, cinnamon and nutmeg. Whisk to combine. Stir into the apples.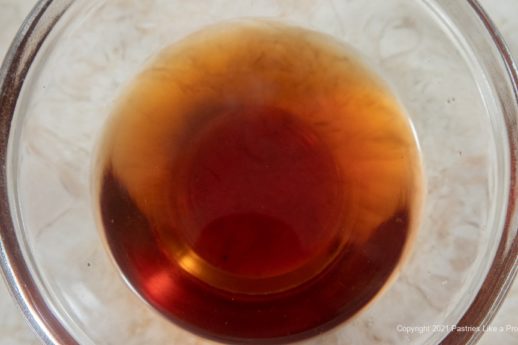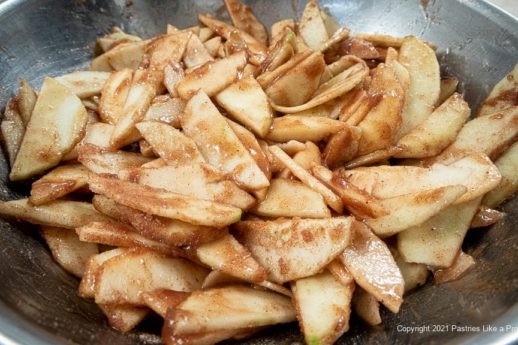 Combine the concentrate, brandy if using and vanilla. Stir into the apple filling. Set aside while rolling out the bottom crust.
Preheat the oven to 375° F.
Cinnamon Bun Apple Pie Top Crust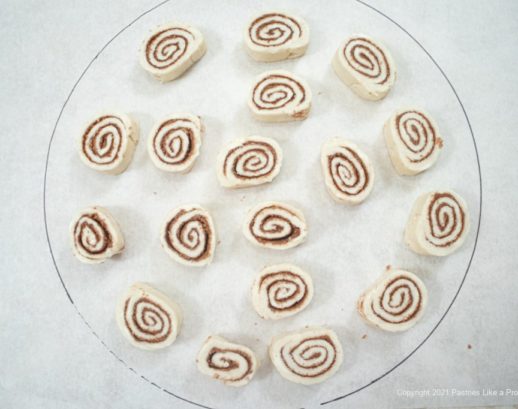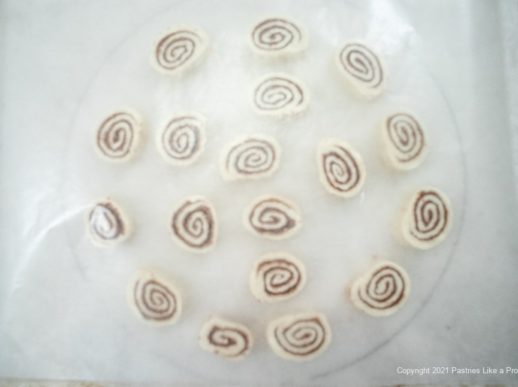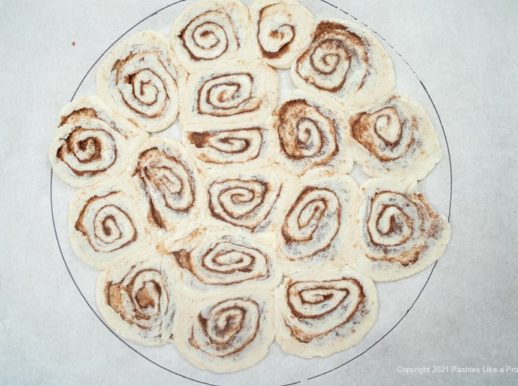 Cut the chilled cinnamon bun roll into ½" slices. There should be 20 slices. Place them evenly on top of the parchment circle. Place a piece of wax paper on top of them and flatten them with the palm of your hand. Roll them out to cover the circle but keep them inside as much as possible. Refrigerate while finishing the pie. There may be some gaps but that is fine. Those will be the vents.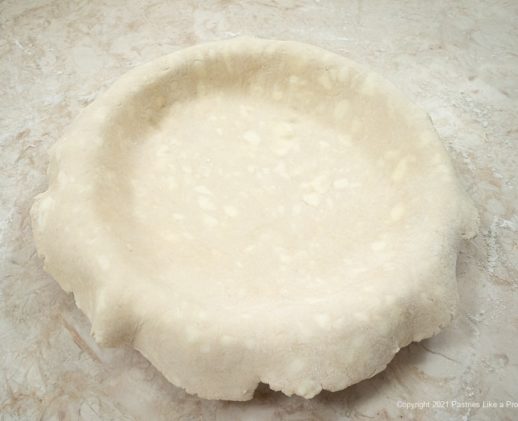 Roll the ⅔ portion as in the American Pie Crust Tutorial. Place it into a pie plate. Pour the apple filling into the crust.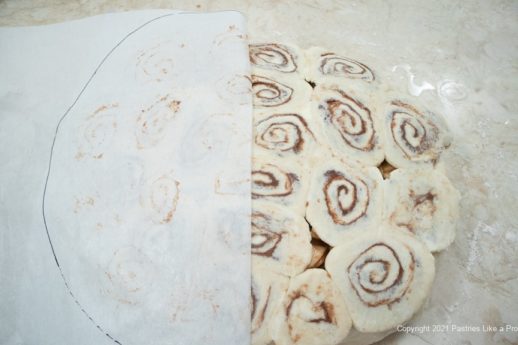 Remove the wax paper from the cinnamon bun top and, using the parchment paper and place it over the apples.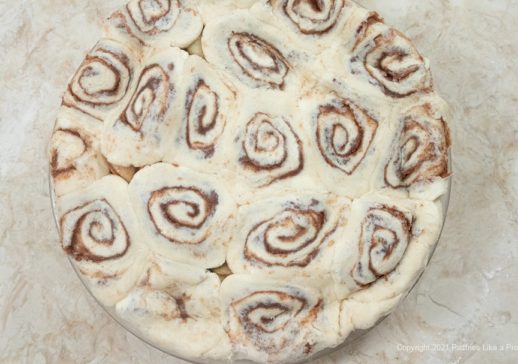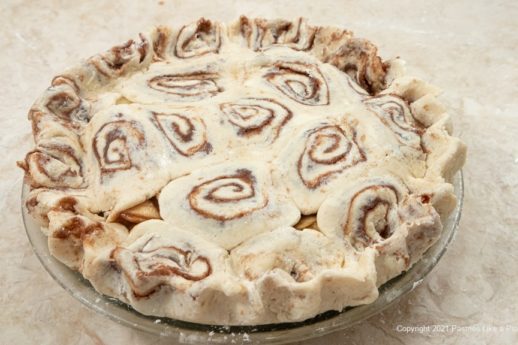 Trim the crusts so they are even if necessary. I find this easiest to do with scissors. Moisten the bottom edge of the crust and press the top and bottom together. Tuck them under and flute the edges. You can see a couple of open spaces that will serve as vents.
Place the pie on a parchment lined, rimmed baking sheet.
Covering the fluted edges
While most edges of the pie crust are covered about half way through baking, I find this to be tricky because everything is really hot. So, I cover my edges immediately when everything is cold and easy to handle.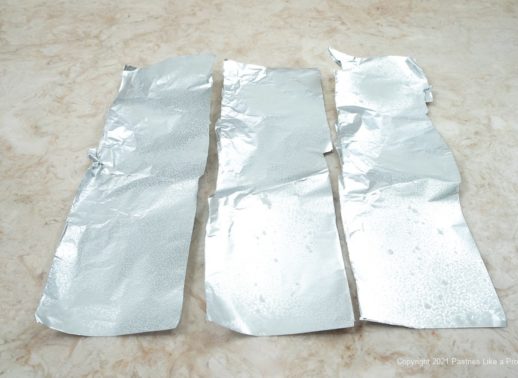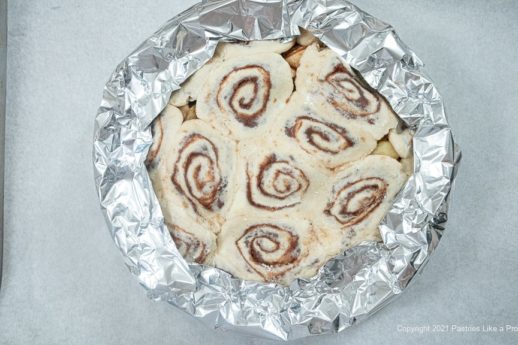 Tear off 3 pieces of foil. Spray them with a non-stick baking release. Place them over the edges of the pie crust pressing them in lightly.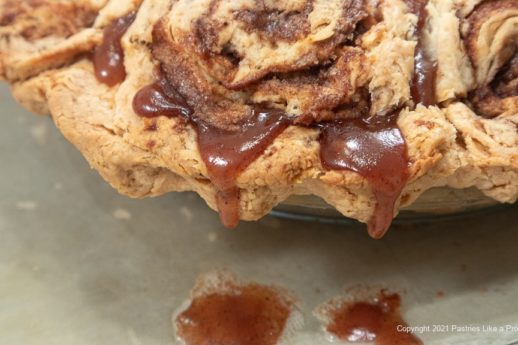 Bake for 45 minutes. Remove the foil from the edges with a pair of tongs. Bake for another 35 to 40 minutes until the crust is browned and the juices of the pie bubble up and out.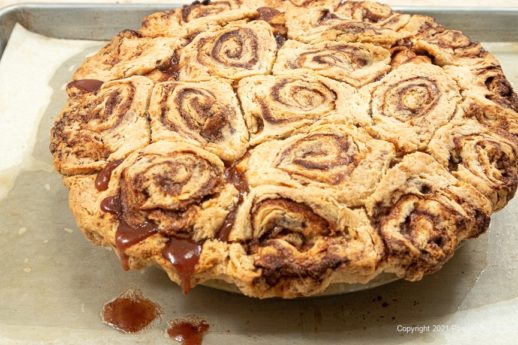 Cool to at least lukewarm before serving.
If you enjoyed this Cinnamon Bun Apple Pie, you might also like these:
Cinnamon Raisin Bread
Thickeners As Used In Baking and Pastry
Cranapple Pie with a Pleated Crust