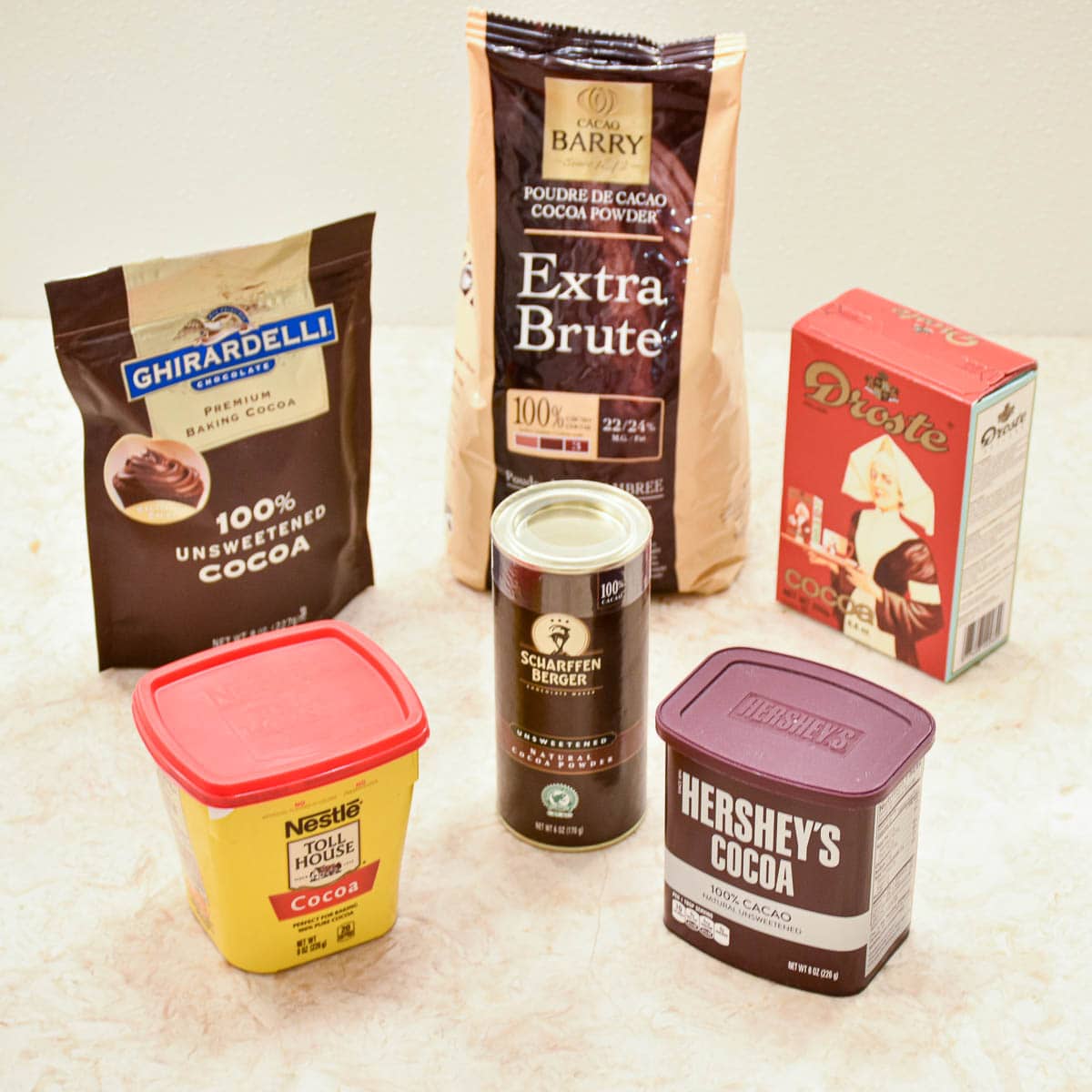 One of my readers and I got into an interesting conversation about the fundamentals of cocoa. It dawned on me I don't have a post about the difference between the dutched and non-dutched or natural cocoa. They can be confusing but understanding them will help.
In a single sentence, the difference between the two is the natural cocoa is acidic and the dutched cocoa isn't. However, there is more to know than that. Because of the acid content or lack of it, which leavening is used makes all the difference.
How Cocoa is Made
Cocoa starts out as chocolate liquor (not to be confused with chocolate liquer which is alcoholic drink) and is made by grinding the nib, or meat, of the cocoa bean that has been fermented, dried, roasted and separated from their skins. It's a thick, gritty, dark brown paste that liquefies when heated. Cocoa is made by removing about three fourths of the cocoa butter drying it again and then grinding the remaining liquor into cocoa. Natural cocoa is lighter in color than dutched.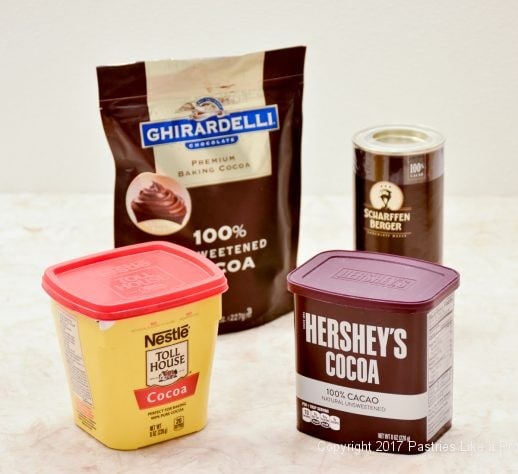 Types of Cocoa
Natural cocoa has a pH of 5 to 6 making it acidic. The color of natural cocoa ranges from tan to a dark yellowish brown depending upon the amount of roasting the original cocoa beans had. The acids in the natural cocoa react with baking soda to produce a small amount of carbon dioxide gas for leavening. Natural cocoa has to have 10% cocoa butter by law in the U.S. Natural brands include: Hershey's, Ghirardelli, Nestle Toll House and Scharffen Berger.
Dutched cocoa starts out like natural cocoa. However, the dutched cocoa uses beans that have been treated with potassium carbonate to remove the acidity before grinding into a powder resulting in a smoother more mellow taste and a darker color. The color depends upon the amount of dutching the cocoa and undergone. It has a pH factor of about 7 which is neutral and as a result calls for baking powder to have a product rise. Dutched cocoa usually has more fat content than natural and ranges between 22% to 24% cocoa butter. Professional pastry chefs prefer dutched cocoa for its deeper color and less acidic taste. It can be referred to as alkalized, dutched or European-style. Dutched Cocoa Brands include: Droste, Lindt, Valrhona, Poulain, Pernigotti and Cocoa Barry.
Hershey's Dark Cocoa is a third type of cocoa recently introduced onto the market. It is a combination of natural and dutched. I asked them for information on this chocolate and why they mixed them but have received no response. I have no idea what the pH factor is or whether it takes baking soda or baking powder as the preferred leavening agent.
Black Cocoa Powder is highly dutched cocoa. It is this type of cocoa used in Oreo's.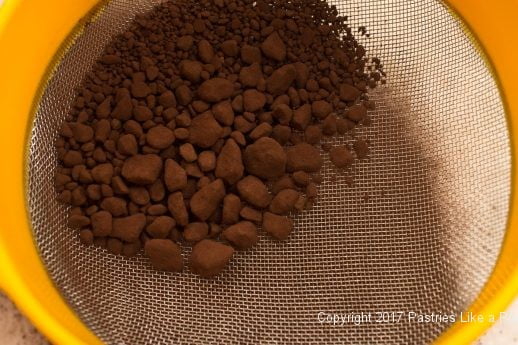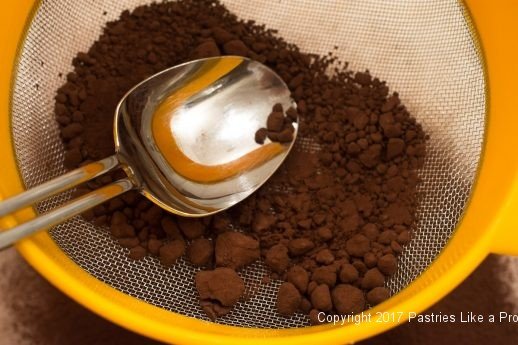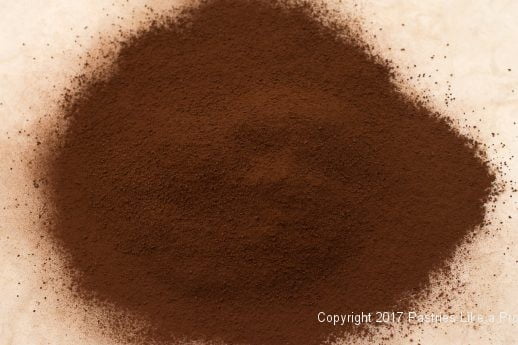 Using Cocoa as an ingredient
Both natural and dutched cocoas are lumpy. It is necessary when using them to press them through a strainer. If using flour and leavening and/or other dry ingredients in the recipe, it is best to sift them all together for the best disbursement in the mixture.
If mixing cocoa with a liquid, it is best to add a very little liquid to the cocoa to make a paste before adding the rest of the liquid to avoid lumps.
Are They Interchangeable?
If the recipe requires leavening then they are not. If no leavening is required they may be interchanged but be aware the flavor will be different as the natural is acidic and the dutched more mellow. The colors will also be different.
Storing Cocoa Powder
Cocoa powders may be stored for at least two years and up to three in a dark, cool, dry environment.
Substitutions
I have seen substitutions suggested if you don''t have dutched cocoa such as adding baking soda to natural cocoa to neutralize the acidity. But I would think you would also have to increase the shortening or butter to make up for the increased cocoa butter in the dutched cocoa. Because I have not tested this or other methods I can't recommend them.
Two sources for baking information regarding cocoa that do have substitutions are: https://www.joyofbaking.com/cocoa
https://blog.kingarthurflour.com/2014/01/10/the-a-b-cs-of-cocoa
Internet sources for cocoa both natural and dutched:
https://www.chocosphere.com/default/catalogsearch/result/index/?chocolate_format=236&q=dutched+cocoa+powder
https://www.supermarketitaly.com/cacao-barry-cocoa-powder-extra-brute-
To Sum Up: Recipes using natural cocoa take baking soda as its leavening agent.
Recipes using dutched cocoa take baking powder as its leavening agent.
If no leavening is used either cocoa may be used in a recipe depending upon whether you like a sharper, slightly bitter taste of natural or the smoother, more mellow taste and darker color of dutched.
Other Sources for information on cocoa
https://www.davidlebovitz.com/cocoa-powder-faq-dutch-process-https://non www.joyofbaking.com/cocoa
https://www.cakecentral.com/forum/t/673949/where-to-buy-dutch-process-cocoa
https://joythebaker.com/2013/10/baking-101-natural-vs-dutch-processed-cocoa-powder/
https://blog.kingarthurflour.com/2014/01/10/the-a-b-cs-of-cocoa/