Double Chocolate No Machine Ice Cream is just the finish for a summer meal. It is a quick to make, beyond simple recipe that yields a very creamy, chocolate ice cream that requires no ice cream machine to make and soooooooo delicious.
Condensed milk is the base for this ice cream and truth to tell, I could it it all by itself. Add melted chocolate and whipped cream, freeze a bit and there you have it, chocolate ice cream. No custard mix to cook, no machine to churn. One of my father's favorite desserts was chocolate ice cream with Kahlua poured over it. This Double Chocolate Ice Cream would have pleased him. It would be great with a bit of rum, orange liqueur, chambord poured over it - you get the idea. For the little ones, finish with marshmallow creme thinned out with a bit of water and chocolate or hot fudge sauce.
Although I used mini chocolate chips, any add in can be used such as salted caramel sauce, or candy pieces can be added. If you're a purist, omit everything and enjoy a great chocolate ice cream.
The one thing to be aware of is that is freezes rock hard. So when it comes time to serve, let it sit at room temperature for 10 to 15 minutes to make it more scoopable. The fact this requires no ice cream machine makes this accessible to everyone.
Make sure to use sweetened condensed milk in this Double Chocolate No Machine Ice Cream and not evaporated milk as they are two completely different products. The heavy cream is often sold as 40% cream.
One of my readers noted that the original recipe for this came from Cook's Country Magazine. This blog originally appeared in my first blog, The Ardent Cook,which no longer exists. In that blog I mentioned this, I don't know why I was remiss this time. Of course, as usual, I dinked a little with this recipe.
Double Chocolate No Machine Ice Cream½ teaspoon instant coffee
1 tablespoon water
4 ounces semisweet chocolate, chopped fine
½ cup sweetened condensed milk
1 teaspoon vanilla
1 ¼ cups heavy cream, cold
4 ounces mini chocolate chips
Dissolve the coffee in the water in a microwavable bowl. When it has dissolved completely, add the 4 ounces of semisweet chocolate, condensed milk and vanilla. Microwave at half power for about 30 to 40 seconds, stirring to melt chocolate at the end of the time. If chocolate is not melted, microwave at half power in 10 second bursts until it is smooth. Cool completely.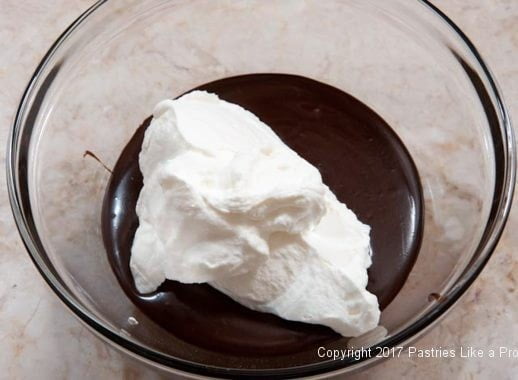 Beat the cream to soft peaks. Do not overbeat. Fold the whipped cream into the chocolate mixture. Fold in the mini chips and pour into a freezer container. Freeze until firm, about 6 hours or overnight.
Yield: 1 quart