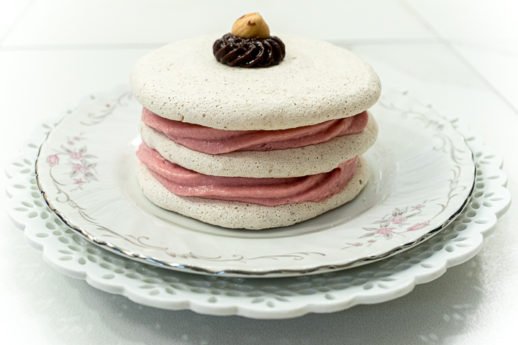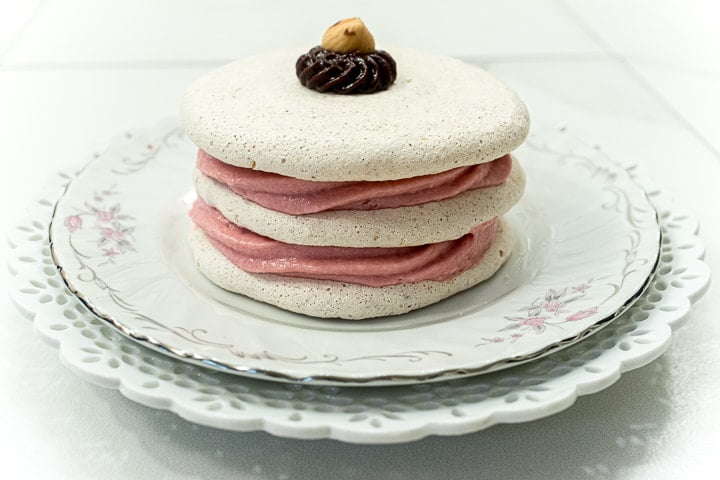 Meringue, including this Hazelnut Meringue, is one of the most versatile pastry components there is. It can be used from the smallest of cookies to the Winddtorte - one of the most decorated creations to be found.
When I first started thinking about this dessert, I researched Dacquoise and what I found was really interesting.
Dacquoise, Broyage, Japonaise and Nutted Meringues are all the same thing. Not only that there are as many base recipes as there are names. Dacquoise can be a nutted meringue but it is also the name of a dessert. Broyage is the Swiss name for nutted meringue and Japonaise is the French word for Japan – I have no idea how this came about. What I do know is they are all delicious.
The different meringues all use the egg whites and sugar as their base. From there they can vary in many ways. Extracts, oils, and powders can be used for flavoring. Any nut can be added for flavoring. Italian, Japonaise and Swiss meringue are all put together differently with the end result being a stiff mixture that can be piped, dropped or spread into cookies, cake layers or for piping onto pies such as lemon meringue and of course Baked Alaska.
After a lot of reading, I ended up using the recipe for Hazelnut Meringue from one of my favorite pastry chefs, Bo Friberg. His book, "The Professional Pastry Chef" is a must for professionals. Many professional books give ingredients and not a lot in the way of directions. But this book is different – it is also over 1000 pages and you could use a small crane to lift it. He explains techniques and recipes and gives clear directions. I also love him for crediting his wife for all the work she did to get the book ready for publication. It is in its 4th edition I think. I have an older version which I will never part with. I used his recipe for Meringue Noisette as the base for this dessert. Noisette is the French word for Hazelnuts.
I originally thought I would make one large dessert with three discs of Hazelnut Meringue. However, I could only make one 8" or 9" disc on a half sheet pan. I can only bake two at a time in my home oven so that left one sitting out for an hour or so, which is not a particularly good idea. So I switched to individual desserts instead. Everyone likes getting their own special dessert and these fit the bill.
After piping the 18 Hazelnut Meringue rounds, I had a bit of meringue left. I piped them on a small sheet pan and put them in the freezer. The next day I popped them in a 250°F oven and added about 5 minutes. The baked up perfectly with nary a hint they were frozen.
The Raspberry Mascarpone Mousse is a recipe I designed for the restaurant one year for Valentine's day. While I can buy raspberry puree for the restaurant, it is not available to the public. Using seedless red raspberry jam which has been smoothed out in a processor makes an intense raspberry flavor even with the addition of whipping cream and mascarpone.
This Hazelnut Meringue is very easy to make. Just make it on a dry day. The discs can be held for weeks in an airtight tin, then assembled the day before serving. The Dacquoise pastry is filled with buttercream but I am not wild about that idea. However, lemon or any other flavor curd is excellent with this Hazelnut meringue or meringue without nuts. Whipped cream and fresh fruit is another option. But this mousse is my favorite.
After assembling, refrigerate for a day or two or freeze the Hazelnut Meringues. If frozen, thaw in the refrigerator overnight. Serve from the refrigerator. The interior meringues will soften but the top will stay crisp. That is how it should be.
Hazelnut Meringue (Meringue Noisette)2 ounces skinned hazelnuts, toasted (60 grams or 2 ounces)*
2 tablespoons cornstarch (15 grams or ½ ounce)
1 cup + 2 tablespoons granulated sugar (225 or 8 ounces)
½ cup egg whites
1 teaspoon vanilla extract
*At Christmas time last year, Trader Joe's (they need to hire me) had these on sale really cheaply. I bought several pounds to use for my upcoming cookbook. They are what I call semi-blanched. A lot of the skin has been removed but some is still stuck on. Removing the skins from the nuts is a job and a half. There are several techniques from boiling them with baking soda to roasting them and then rubbing the skins off. I have neither the time nor the inclination to do either one, although using the roasting technique roasts the hazelnuts at the same time. I just grind up the semi-nude hazelnuts in the processor and call it a day. So it is your choice. If you are so inclined remove the skins. Otherwise, just grind them up.
Preheat the oven to 250°F (122°C). Line two half sheets with parchment paper. Place one rack in the oven on the bottom and the second on the middle rung.
Using a cookie cutter or pastry circle, draw nine 3 ½" circles, equally spaced, on a piece of parchment the size of the pan. This is your template. Set aside.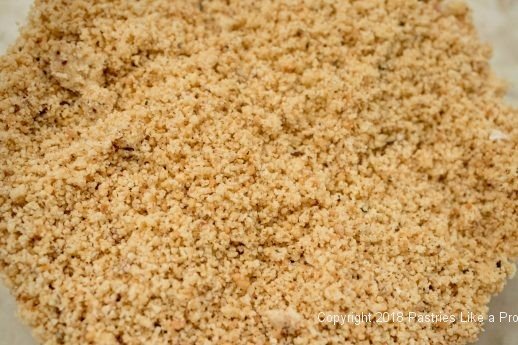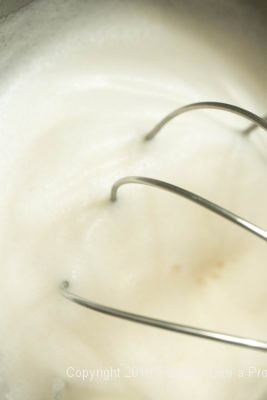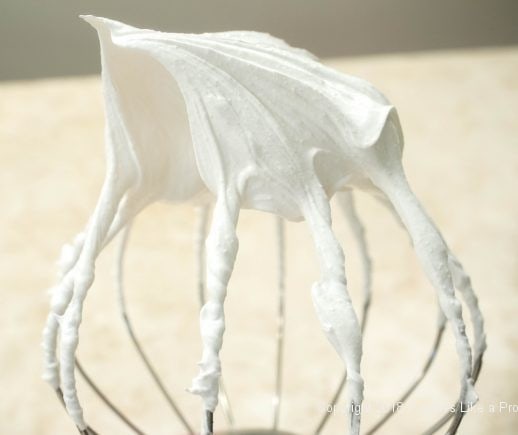 Combine the cooled hazelnuts and cornstarch in the bowl of a processor. Process until the hazelnuts are finely ground. Set aside.Place the egg whites and vanilla in the bowl of a mixer. Whip to the soft peak stage. Reduce the speed of the mixer to medium and add the granulated sugar slowly, just a bit at a time. When it has all been added, turn the speed up to high and whip until the mixture is very, very stiff. Fold the hazelnut/cornstarch mixture in by hand. Do not over fold and break the mixture down. It should remain firm.
Place the template on a half sheet pan. Place another sheet of parchment over it. Fit a pastry bag with a number 3 or 4 plain tip. Holding the tip about ½ inch above the template, pipe the batter in the circles starting in the middle and moving out to the edges. Alternatively, measure a heaping tablespoon of hazelnut meringue for each circle and spread it within the circle with a small offset spatula.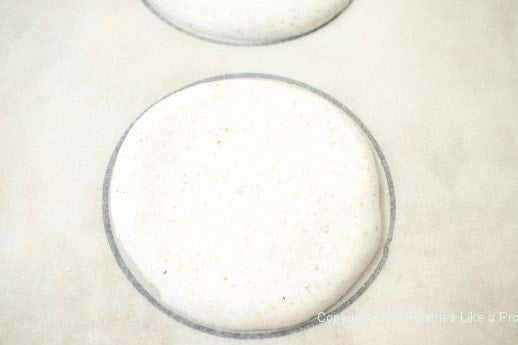 Remove the template, place it on a second half sheet pan and top it with another plain piece of parchment paper. Repeat filling the circles with the meringue.
Bake for about 1 hour until they are completely dry. Place the parchment of Hazelnut Meringues on racks to cool completely. They should come off by just lifting them. When completely cooled, place in airtight containers where they can be held for weeks.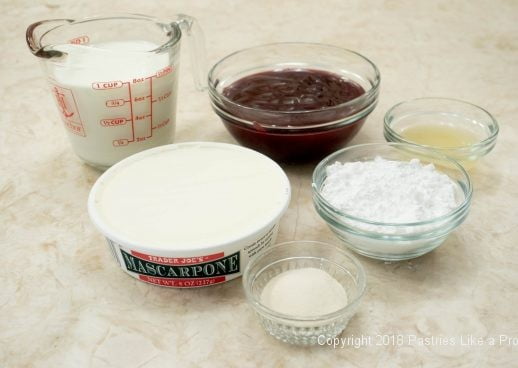 Raspberry Mascarpone Mousse
1 cup seedless red raspberry jam (285 grams or 10 ounces)
2 teaspoons gelatin
2 tablespoons lemon juice
1 cup heavy whipping cream
⅓ cup powdered sugar (45 grams or 1 ½ ounces)
8 ounces mascarpone, room temperature (225 grams)
Red food coloring, optional but highly recommended
Place the raspberry jam in the processor bowl. Process until smooth.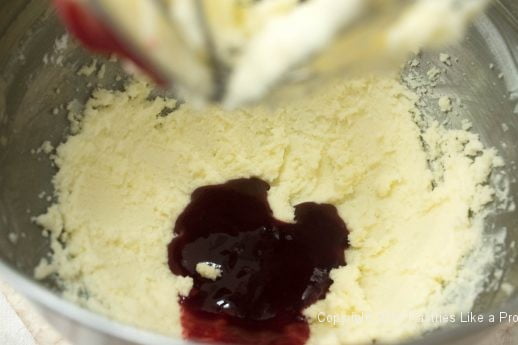 Bloom the gelatin in the lemon juice. Set aside.Whip the cream and powdered sugar until soft peaks form. Remove to another bowl and set aside.Without cleaning the bowl, add the mascarpone. Whisk until soft. If it is too cold, it may look a bit curdled. That's fine. Add the raspberry jam a third at a time. It may look curdled at this point. That is fine.Microwave the gelatin for about 8 to 10 seconds until liquid. Pour into the mascarpone/raspberry mixture and mix to incorporate.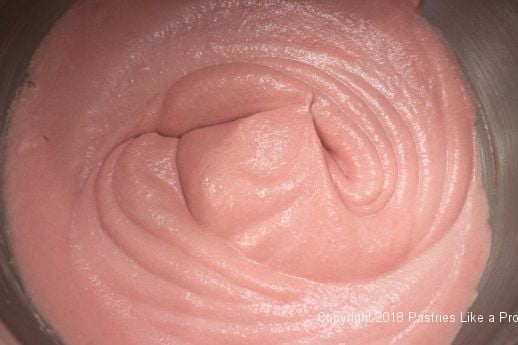 Fold in the cream. It will look rather purplish and not too appetizing at this point. Add red food coloring a few drops at a time until a pleasant color is achieved if using.Refrigerate until almost set up. It will depend upon how cold your refrigerator is but it took mine about 2 ½ hours. Fit a piping bag with an #8 or 9 open star tip. Fill the piping bag about ⅔ full and holding the bag about ½ inch from the disc, pipe the mousse in a circle to within about ¼ inch of the edge. Fill the middle by piping the mousse into it. Pipe 12 circles in this manner.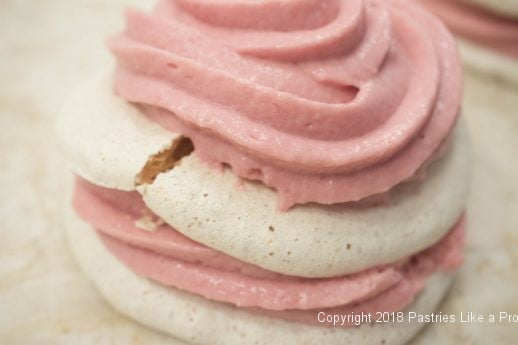 Stack them on top of each other ending with a Hazelnut Meringue.Do not press down too hard or the meringue will break. Opps!
Yield: 4 cups mousse or 740 grams or 26 ounces.
Finishing
I had leftover ganache so I used a smaller tip and piped a bit in the center of the meringue disc. I finished with a whole hazelnut.
Alternatively, if you don't have any ganache, melt a bit of chocolate and drizzle it from side to side or simply sprinkle with powdered sugar just before serving.
Yield: 6 finished Hazelnut Meringues with Raspberry Mascarpone Mousse.
To Store: In case you didn't read the header of the article, store these in the refrigerator for a day or two. Freeze for longer storage, thaw in the refrigerator the day before serving. The interior meringue will soften but that is as it should be. The top will stay crispy.SaveSaveSaveSaveSaveSaveSaveSaveSaveSaveSaveSaveSaveSaveSaveSave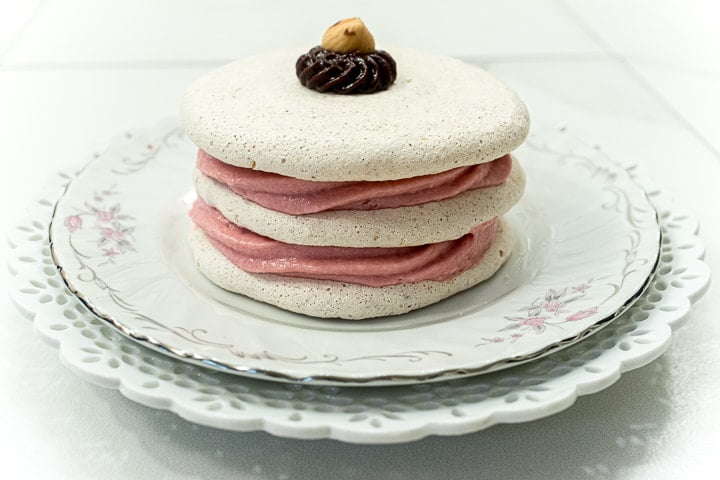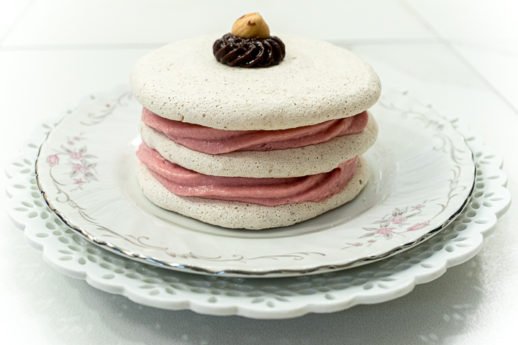 If you loved this Hazelnut Meringue with Raspberry Mascarpone Mousse, you're sure to love the No Bake Chocolate Raspberry Truffle Tarts.