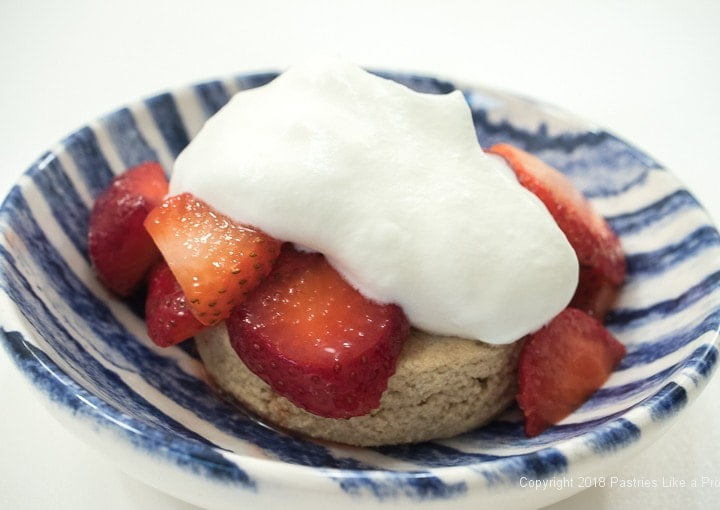 With a variety of creams available, the cream of the crop is Heavy Cream, also known as 40% cream. This is an update to my blog, Salvaging Whipped Cream.
The main difference between a carton of whipping cream and a carton of heavy or 40% cream is the amount of butterfat in the cream. Plain whipping cream has 36% butterfat while heavy cream or 40% cream has 40%. Heavy cream and 40% cream are the same thing. The higher the amount of fat, the better the cream whips and holds after whipping. Both of those pictured below are heavy cream.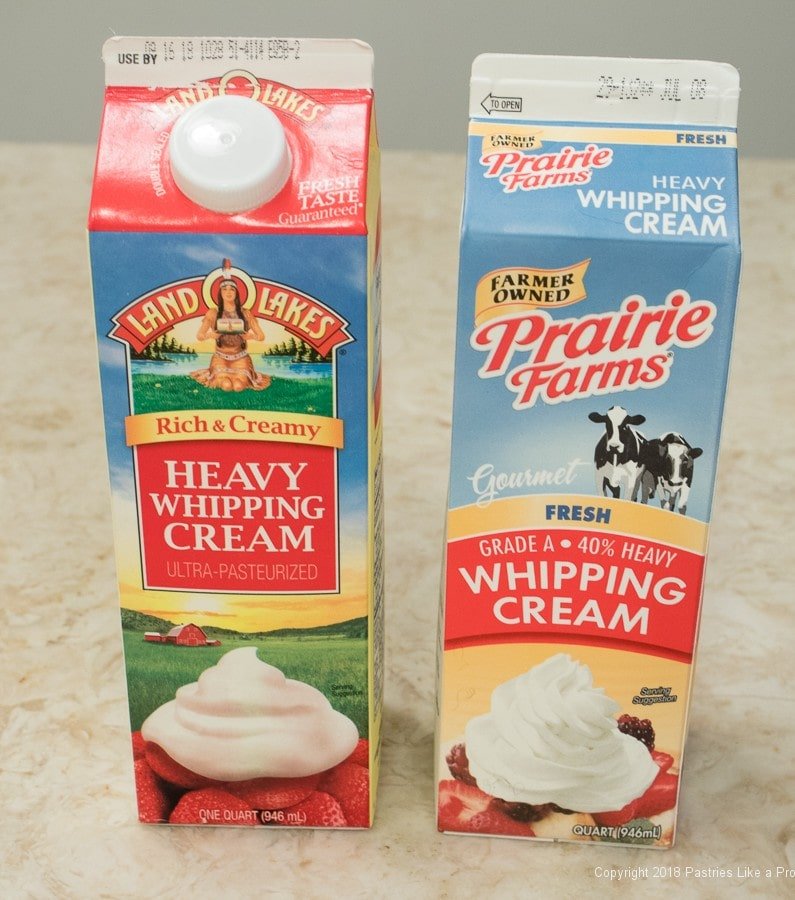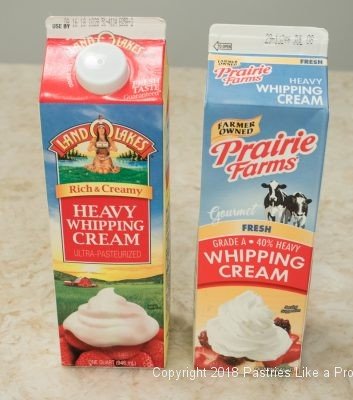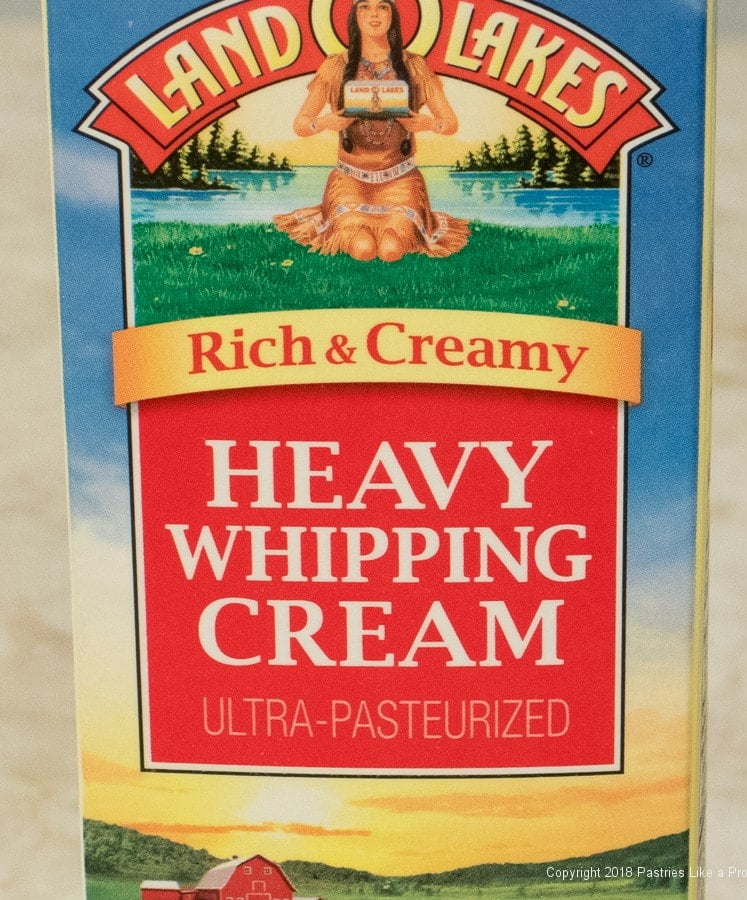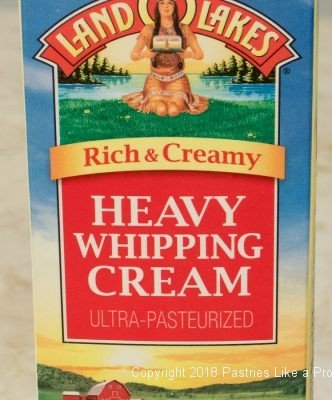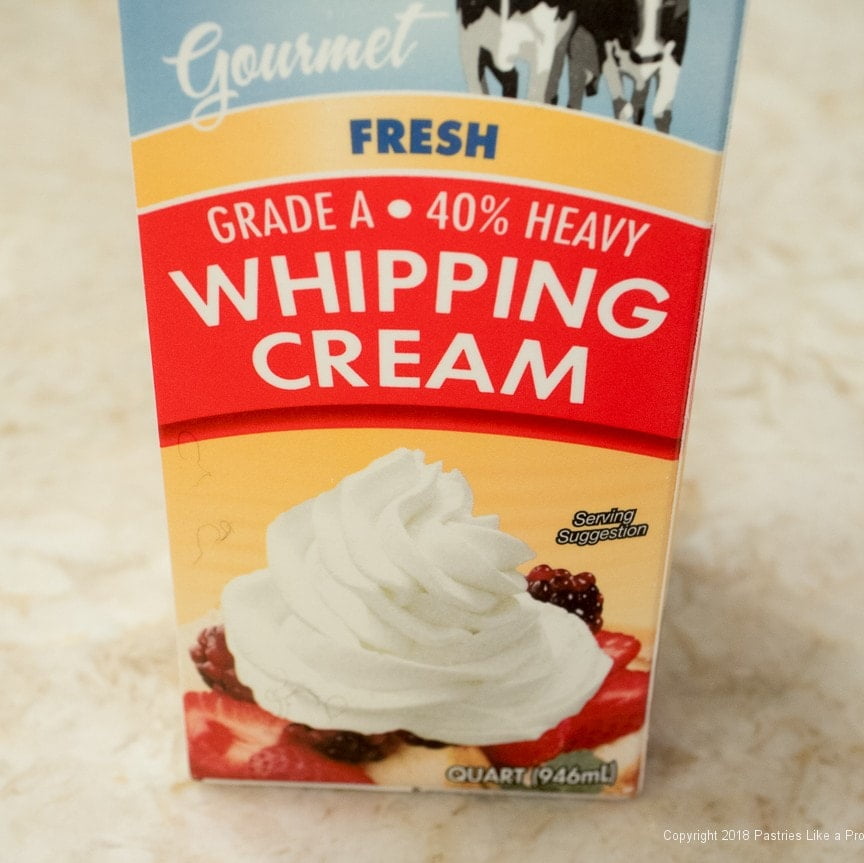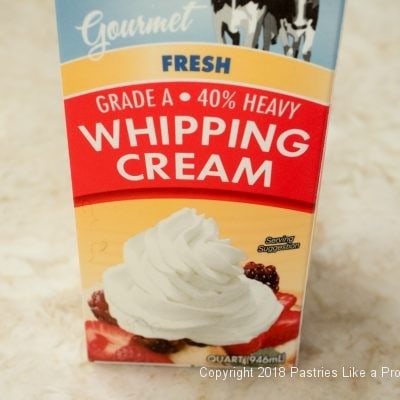 At the bakery and today for the restaurant and my personal use, I only use heavy or 40% cream. It now comes ultra-pasteurized which keeps much longer in the refrigerator.
I am often asked about stabilizing cream. I have seen many methods such as adding gelatin, butter, cream cheese, sour cream, many things which will alter the true taste of the cream. However, by using heavy cream, no stabilization is needed. At the bakery, we used whipped heavy cream for a filling and a finish with no stabilizers. We added powdered sugar and flavoring but nothing else. In addition, some whipped cream cakes were frozen and thawed in the refrigerator with no harm.
Caterers and hotels regularly whip heavy cream ahead and hold it for service. It can be whipped up to 4 days ahead, covered and held in the refrigerator. Little to no liquid separates out. It should always be stirred before using to smooth it out.
Regular whipping cream does not hold or freeze well. It should be made and used immediately. It will produce a lot of liquid if held for any amount of time. It should not be used as a finish.
Stages of Whipped Cream
From barely holding a shape to being used to finish a cake or pipe decoratively, there are several stages of whipped cream.
Chantilly cream is the first stage. It is whipped so it barely has body to it. This type of cream is especially welcome on shortbreads or as a topping on a dessert.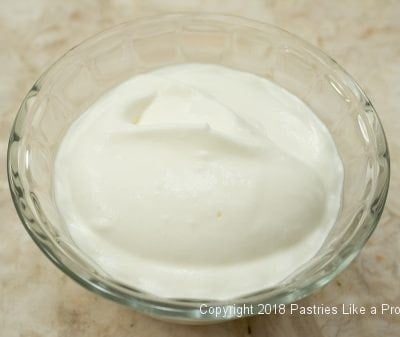 Soft set or Soft peak cream is whipped a bit more and just holds its shape. This stage is used when folding into other ingredients as it will blend smoothly.
Firm set or Firm peak cream is used as a filling, to finish a cake or for piping. It will hold its shape beautifully when piped. However, it is difficult to fold into other ingredients without over-folding and deflating the mixture.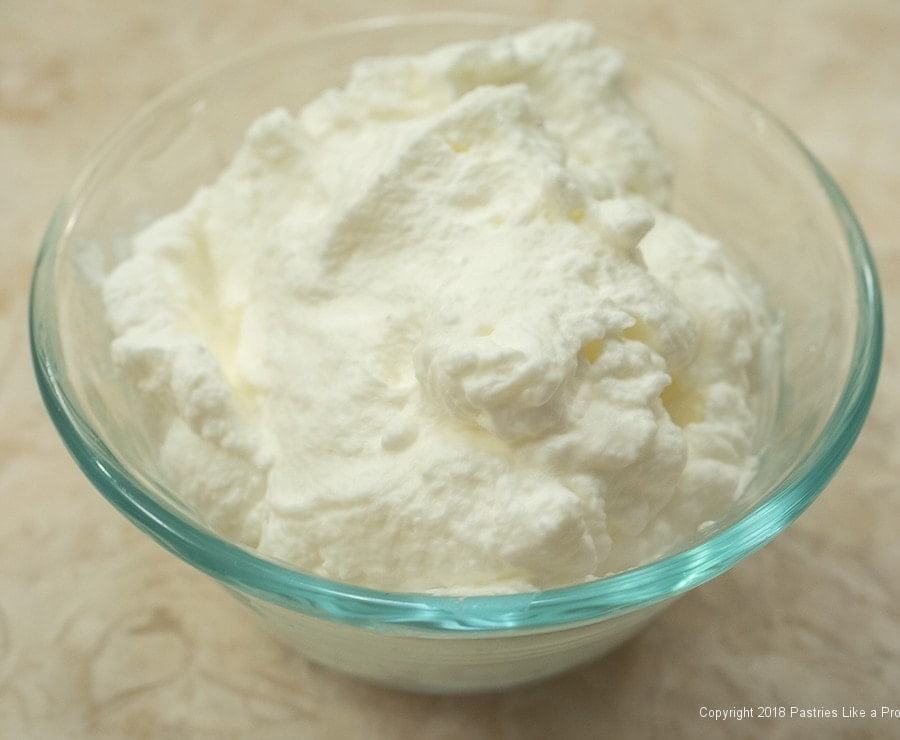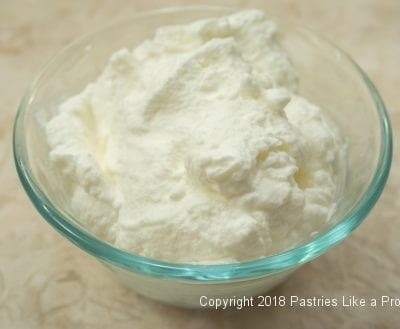 Over-whipped Cream – If you overwhip your cream, you can bring it back by stopping the machine as soon as you notice the cream is overwhipped and adding a bit more cream. Ok, so what is "a bit". It depends upon how much you started with and how overwhipped it is. Add the cream, mix on low. Repeat if necessary, always mixing on low. If you have turned it into butter, the last stage, nothing will bring it back.
Basic Formula for Sweetened Whipped Cream – The cream should always be cold when whipped. Chilling the bowl of the mixer until very cold is also helpful. This formula can be increased in direct proportion. Powdered sugar should always be used as it dissolves instantly. It is difficult to get granulated sugar to completely dissolve in a cold mixture.
1 cup of heavy cream
3 to 4 tablespoons powdered sugar (21 to 30 grams or ⅔ to 1 ounce)
½ teaspoon vanilla or other flavorings, optional
Put all the ingredients in a chilled mixing bowl and beat to the desired consistency.
Whipped cream can be used in many applications and using heavy or 40% cream will make any application better.
A few of the cakes from my blog using whipped cream as a filling and/or as the finish include:
Raspberries and Cream
Coconut Cream Cake
Chocolate Coconut Cream Cake
Lemon Blueberry Cake
SaveSave
SaveSave
SaveSave
SaveSave
SaveSave
SaveSave
SaveSave
SaveSave
SaveSave
SaveSave
SaveSave
SaveSave