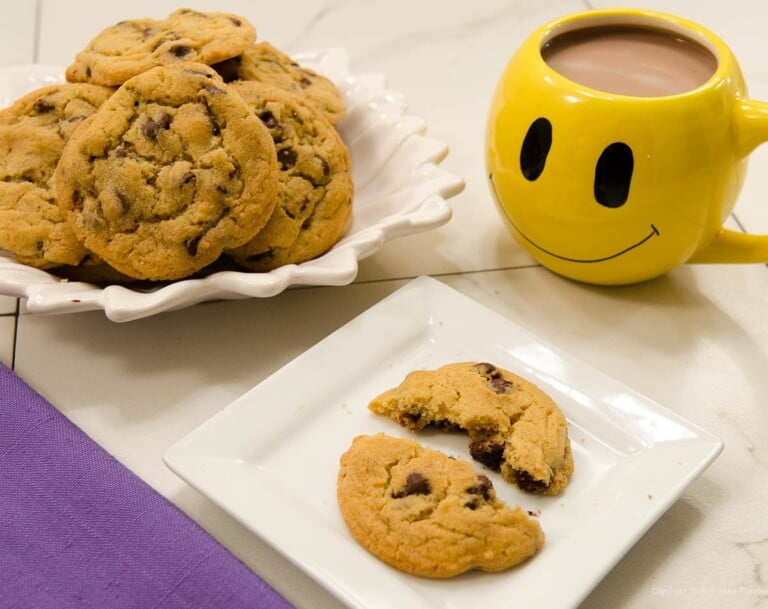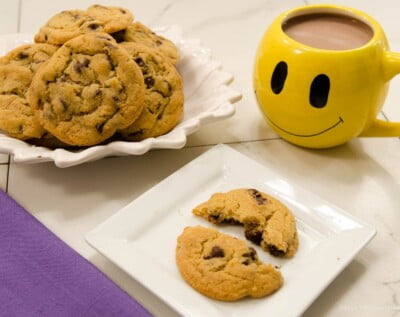 My perfect chocolate chip cookie has a marvelous crunch around the edges when you bite into them followed by a chewy interior which is why this is my perfect chocolate chip cookie.
I am surprised by the number of chocolate chip cookies that proclaim themselves to be "the perfect chocolate chip cookies". But in reality it is only their perfect cookie. Some people like their chocolate chip cookies crisp, or completely soft or crunchy.
This is my favorite chocolate chip cookise and there are five things that help get it to what I like the most.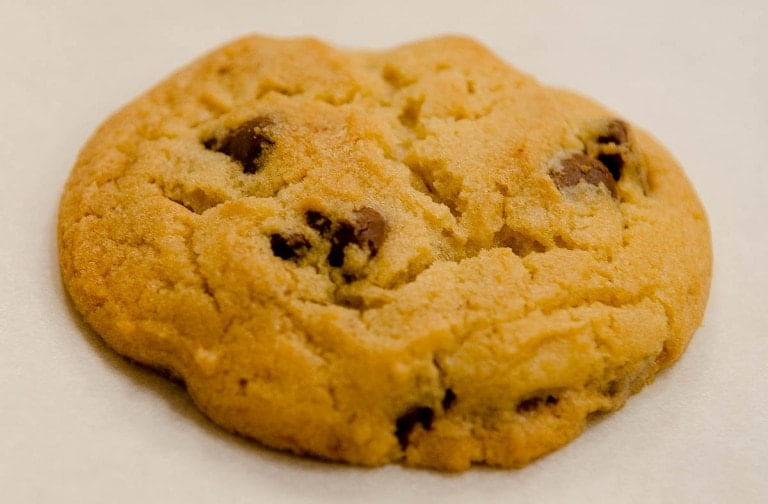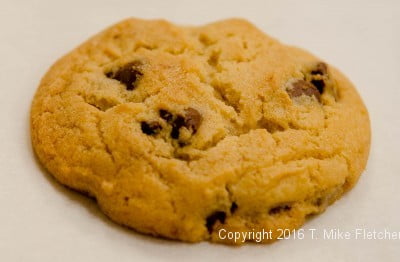 Five Things to Make My Perfect Chocolate Chip Cookies
Use bread flour instead of all purpose flour. Bread flour is stronger and adds to the "chewiness" of the cookie.
Use enough add ins. It doesn't make any difference if it is all chocolate chips, or you use some nuts or dried fruit. It is important as it helps hold the dough together in the oven and prevents it from spreading out too much.
Use half butter for flavor and half shortening such as Crisco which helps prevent the cookies from spreading. All butter allows the cookies to spread out more in the oven, making a less compact cookie.
Let the dough rest in the refrigerator overnight. It helps improve the flavor and the overall look of the cookie when baked. These cookies have a welcoming warm golden brown color with no underbaked centers.
Double pan the cookies. This refers to placing one pan on top of another to slow down the heat to the bottom of the cookies making overbrowned or burned cookies a thing of the past.
Another thing I like to do is drop the chocolate chip cookies using a scooper and freeze them. Since there are only two of us now, eating 45 cookies in a few days isn't a good idea. I didn't say I couldn't do it – I most certainly can – but Mike has to limit his sugar intake and I should! After freezing, it is then a simple matter to bake them straight from the freezer adding a minute or two to thaw while baking.
The chocolate chip cookies should be pulled from the oven while they are still puffy. They will deflate into delicious chewiness as they cool. I move them from the hot pan to a rack to finish cooling as soon as they are stable enough – usually within a couple of minutes.
Chocolate Chip Cookies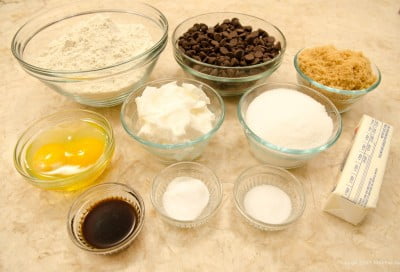 2 ¼ cups bread flour (315 grams or 11 grams)
1 teaspoon baking soda
1 teaspoon salt
½ cup butter (114 grams or 4 ounces)
½ cup shortening (114 grams or 4 ounces)
¾ cup granulated sugar (150 grams or 5 ⅓ ounces)
¾ cup light brown sugar (150 grams or 5 ⅓ ounces)
2 teaspoon vanilla
2 large eggs
2 cups chocolate chips* (340 grams or 12 ounces)
*Or any combination of chips and nuts, raisins, dried fruit
Preheat the oven to 350°F. Line several baking sheets with parchment. Set aside.
Whisk together the flour, baking soda and salt in a bowl. Set aside.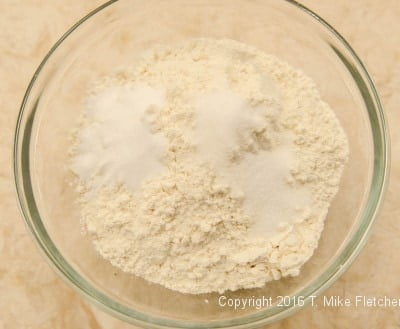 Beat the butter and sugars in a mixing bowl until well combined.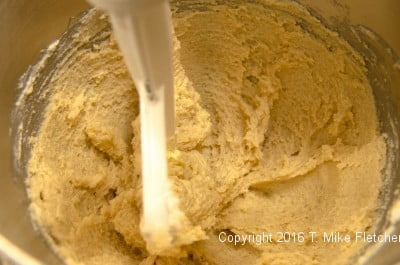 Add the eggs and vanilla and beat well.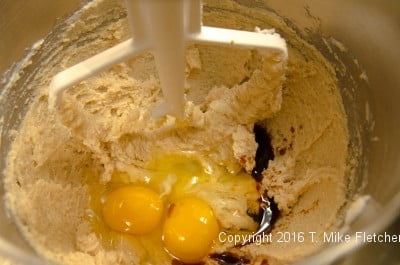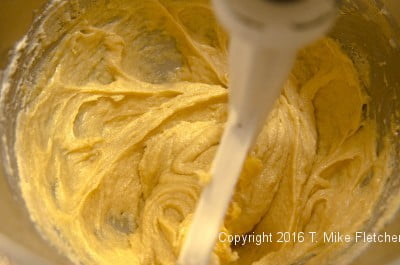 Mix in the flour.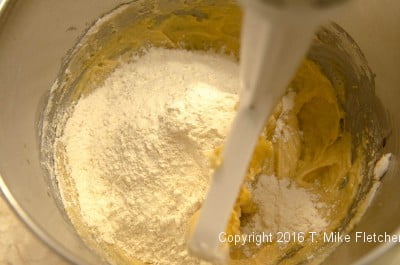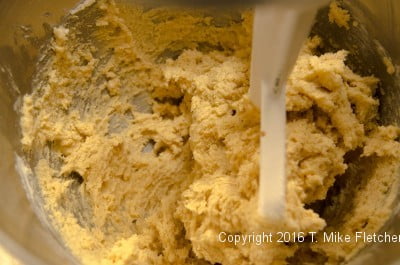 Add the chips or whatever add ins you are using.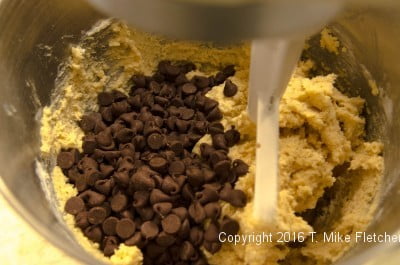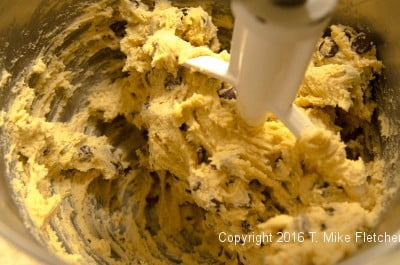 Place the dough in a sealed container.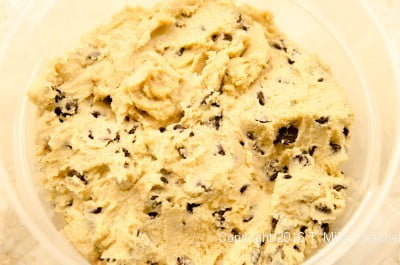 I usually sprinkle extra chips on top because the dough at the bottom of the mixer is now on top and doesn't always have as many chips.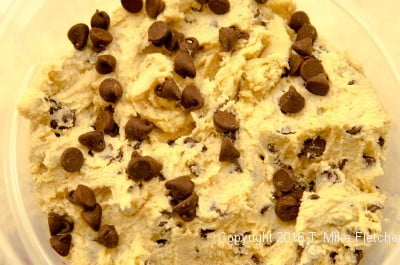 Store in the refrigerator for 24 hours.
The chocolate chip cookies can be baked immediately but they will be paler in color, crisper and not as flavorful.
Remove the dough from the refrigerator and let it sit at room temperature until soft enough to shape. Drop the chocolate chip cookies with a #40 disher onto the baking sheets. Double pan. Bake for 10 to 13 minutes until set around the outside but still puffy in the middle. Cool on the baking sheet just until firmed up then move them to a rack to finish cooling.
The dough weighs about 1320 grams or about 3 pounds.
Yield: About 42 cookies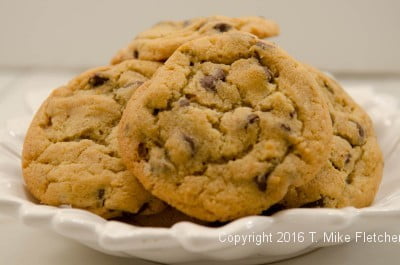 https://www.seriouseats.com/2015/12/food-lab-best-chocolate-chip-cookie-step-by-step.html
https://www.verybestbaking.com/recipes/18476/original-nestle-toll-house-chocolate-chip-cookies/
https://cooking.nytimes.com/recipes/1015819-chocolate-chip-cookies