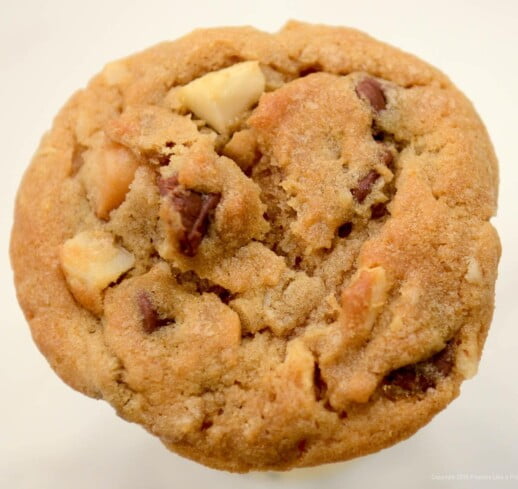 This is a perfect base recipe for cookies as it can be adapted endlessly and can be put together in a matter of minutes.
When baking professionally a base recipe is not only desirable but necessary. It is impossible to have 40 chocolate cake recipes or one for every chocolate cake you ever made. We had about 6 but our work horse was the cake for the Espresso Fudge Cake.
We could combine endless fillings and finishes as well as baking the layers thicker or thinner depending upon what we wanted when we used a base recipe.
I first used this recipe in "My Perfect Chocolate Chip Cookies". I listed the following points that make this cookie a favorite.
The cookies shown in this blog are the Orange Macadamia Chocolate Chip Cookie listed below.
Use bread flour instead of all purpose flour. Bread flour is stronger and adds to the "chewiness" of the cookie.
Use enough add ins. It is important as it helps hold the dough together in the oven and prevents it from spreading too much.
Use half butter for flavor and half shortening such as Crisco which helps prevent the cookies from spreading. All butter allows the cookies to spread more in the oven, making a less compact cookie which is thinner and crispier throughout.
Let the dough rest in the refrigerator overnight. It helps improve the flavor and the overall look of the cookie when baked. These cookies have a welcoming warm golden brown color with no under baked centers but remain chewy in the center.
Double pan the cookies. This refers to placing one pan on top of another to slow down the heat to the bottom of the cookies making overbrowned or burned cookies a thing of the past.
The cookies should be pulled from the oven while they are still puffy. They will deflate into delicious chewiness as they cool. I move them from the hot pan to a rack to finish cooling as soon as they are stable enough – usually within a couple of minutes. If you happen to like crispy cookies just bake a bit longer.
Another thing I like to do is drop the cookies using a disher or scooper and freeze them. Since there are only two of us now, eating 40+ cookies in a few days isn't a good idea. I didn't say I couldn't do it – I most certainly can – but Mike has to limit his sugar intake and I should! After freezing, it is then a simple matter to bake them straight from the freezer adding a minute or two to thaw while baking. Nothing like warm cookies for dessert!
Speaking of scooping, the size of the cookie can be changed from very small (#60 disher or scoop) to medium (think #40 disher or scoop) to large (use a #20 disher or scoop). The time increases slightly as the size gets bigger. The smallest cookies will bake in about 10 to 12 minutes. The medium cookies will take 12 to 14 minutes while the large cookies will take 15 to 17. Just don't overbake them.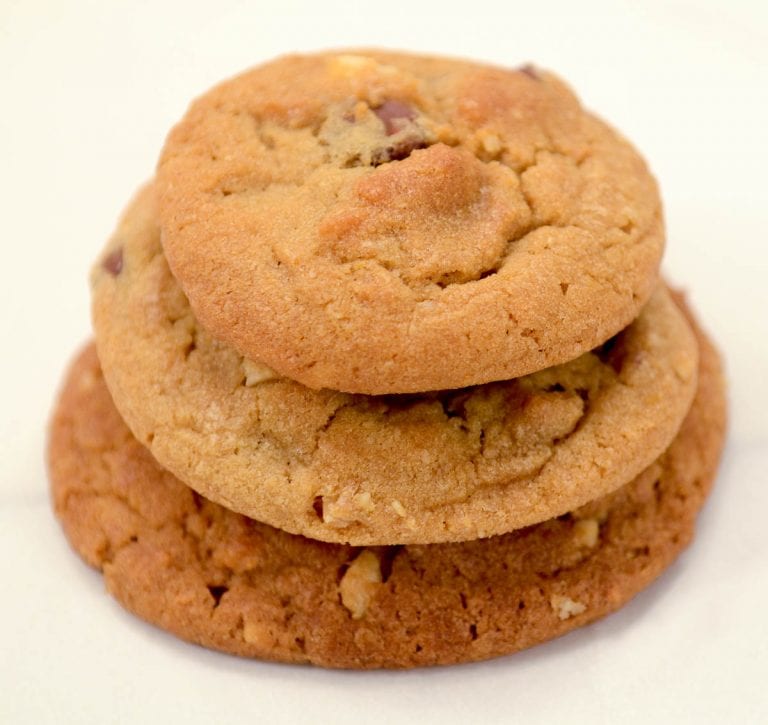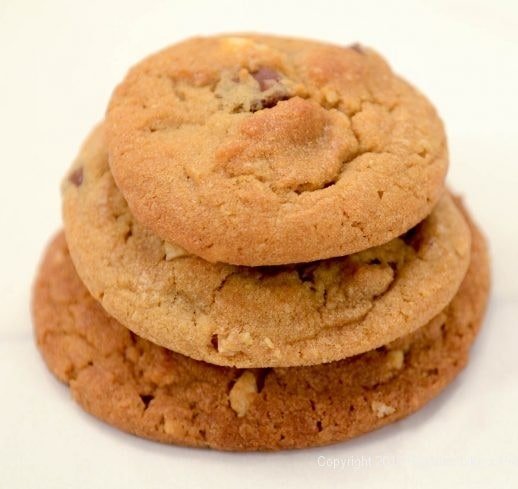 A note about the ingredients. I prefer to use chocolate chips in my cookies because regular chocolate chopped up will stay melty after baking. Chocolate chips are formulated to stay in chips and not melt after cooling. Many brands are made from which to pick. However, it is your choice.
Generally speaking, I toast most of my nuts to deepen the flavor. An almond is good but a toasted almond is great.
Feel free to make up your own combinations depending upon what you like. Coconut, M&M's, Reeses pieces, dried fruit, sunflower seeds, chocolate covered raisins – anything goes!
A base recipe is an important addition for any baking repetoire.
Base Recipe for Cookies - how to photo's for the cookies.
2 ¼ cups bread flour (315 grams or 11 grams)
1 teaspoon baking soda
1 teaspoon salt
½ cup butter (114 grams or 4 ounces)
½ cup shortening (114 grams or 4 ounces)
¾ cup granulated sugar (150 grams or 5 ⅓ ounces)
¾ cup light brown sugar (150 grams or 5 ⅓ ounces)
2 teaspoon vanilla
2 large eggs
2 cups add ins of choice – see below for ideas or add your own
Preheat the oven to 350°F. Line several baking sheets with parchment. Set aside.
Whisk together the flour, baking soda and salt in a bowl. Set aside.
Beat the butter, sugars, and vanilla in a mixing bowl until well combined. Add the eggs and beat well. Beat in the flour. Mix in the 2 cups of add ins.
Refrigerate overnight.
Bring to room temperature. Drop the cookies with a #40 disher (about 1 ½ tablespoons) onto the baking sheets. Double pan. Bake for 10 to 13 minutes until deep golden brown and set around the outside but still puffy and in the middle.
Cool on the baking sheet just until firmed up then move them to a rack to finish cooling.
VARIATIONS FOR BASE RECIPE FOR COOKIES
Orange Macadamia Chocolate Chip Cookies– Add the grated rind of one medium to large orange to the sugar and butter mixture when beating. Combine ½ teaspoon instant coffee with the vanilla; add where the vanilla is called for. Add 1 cup coarsely chopped toasted** macadamia nuts and 1 cup dark, milk, white or a combination of chocolate chips. This cookie appears in the photos.
Chocolate Chip Cookies - Add 2 cups of dark, milk, white chocolate or a mix of chips.
Pecan Cookies – Add 2 cups coarsely chopped toasted** pecans.
Gianduja Cookies – Gianduja is a milk chocolate hazelnut combination from Piedmont, Italy. Use 1 cup coarsely chopped blanched toasted**hazelnuts and 1 cup milk chocolate chips.
Lemon Pistachio White Chocolate – Add about 1 tablespoon grated lemon rind, 1 cup toasted** coarsely chopped pistachio nuts and 1 cup white chocolate chips.
Cranberry Walnut Cookies – Add 1 cup dried cranberries (soften in hot water if hard*) and 1 cup coarsely chopped walnuts.
Cherry Almond – Add one cup coarsely chopped dried bing cherries soaked in hot water* and 1 cup coarsely chopped toasted** almonds.
Peanut Butter Cookies – Add 1 cup smooth or chunky peanut butter to the butter, sugar, etc. when creaming. Add ¾ cup roasted peanuts at the end if desired.
*To soak fruit, cover with really hot water. Let it sit for about 10 to 15 minutes. Drain well and pat with paper towels so excess liquid is not added to the batter.
**Preheat the oven to 350 degrees. Place the nuts in a single layer on a baking sheet. Depending upon the nut and the size it can take from 7 to 12 minutes. The nuts will become fragrant and be light to medium brown.
Yield: About 40 cookies