I'm not sure what's in the air, but the beloved Angel Food Cake is turning up everywhere. So I decided to do some research and see where the differences were. I looked at blogs, the internet and yes, real books! Here is the list I checked out: davidlebovitz.com, americastestkitchen.com, joythebaker.com,(based on Alton Brown's recipe), zoebakes.com, baking bites.com,(from thebestrecipe.com) foodnetwork.com, Alton Brown, "Bakewise", author Shirley Cohrrier, "Professional Pastry Chef", Bo Friberg, original "Joy of Cooking" and General Mills professional recipes. All the ingredients were the same more or less except one. Here is what I found.
Sifted cake flour was recommended by all ranging from 1 to 1 ½ cups.
Sugar was almost always processed to make it finer. We used a special fine sugar in the bakery known as bakers sugar. Using a food processor to process the sugar accomplishes this. Amounts ran from 1 ¼ to 1 ½ cups on average. Salt was not used in all of the recipes. Where it was used it ranged between a pinch to ½ teaspoon.
Egg Whites - Almost everyone recommended using room temperature egg whites.. Most of the recipes used 12 egg whites from large eggs or 1 ½ cups. Egg whites freeze beautifully so they can be collected a bit at a time.
Cream of Tarter is an acid used to stabilize the egg whites. 1 to 1 ½ teaspoons was used for the egg whites. Lemon juice is sometimes used for the same purpose.
Lemon Juice - Some recipes used lemon juice in addition to the cream of tarter. The majority of them didn't.
Flavorings - Most used ½ to 2 teaspoons of vanilla.
Water - Some recipes included 1 teaspoon to ⅓ cup water.
Oven Temperatures and Time ranged from 325 degrees to 375 degrees for 35 to 60 minutes with 350 degrees and 45 to 50 minutes the overwhelming choice.
I love Angel Food Cake plain which is how my mother always served it. I remember once when I asked a friend what cake she would like for her birthday, she said an Angel Food Cake. Wanting to please her, I made a light, tall, perfect cake and proudly gave it to her. I will always remember the puzzled look on her face as she accepted. It seems she always had it frosted. I had no idea anyone ate it like that. To this day, I prefer this cake plain. Sometimes I add slightly sweetened strawberries when serving it but that's about all I ever do for this cake.
With no fat in the recipe, this is an ideal for a treat for anyone on a low fat diet. Someone referred to this as a dry cake lacking any shortening. I don't know what recipe they were using but an Angel Food Cake is very moist unless the whites have been over-beaten.
There is a special pan for angel food cakes. It is about 4 inches tall, 10 inches in diameter, has a tube in the middle to evenly distribute the heat and has feet on the top (sometimes) so it can be turned upside down while cooling without the cake touching anything.
The pan should never be coated or sprayed in anyway so the cake can cling to the sides of the pan while baking. It can also be baked in loaf pans or muffin pans. Times will have to be adjusted downward. Bake until a tester comes out clean.
The cake is always cooled upside down. If the pan does not have feet to elevate it off the surface while cooling,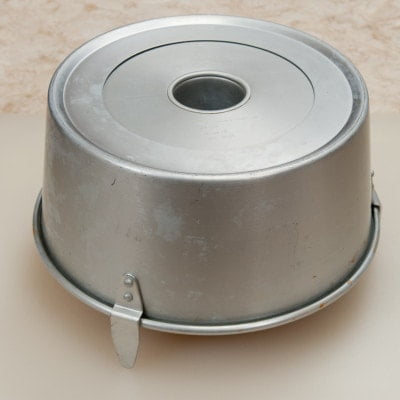 it can be turned upside down and hung on a bottle by the tube.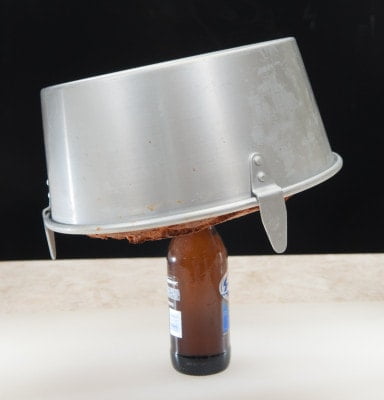 Cool completely. Run a flexible spatula around the inside edge of the pan and the tube. Turn upside down to release the side. The cake will still be stuck to the bottom. Turn right side up and run a spatula between the bottom of the cake and the bottom of the pan. I serve mine right side up, but I have seen it mostly upside down.
The recipe I am giving you here is from my bakery. It is the tallest, lightest, best angel food cake I have ever had. I wish I could take credit for it but I can't. It came in a General Mills baking flyer they sent to bakeries. In all the recipes I researched and have ever seen, barring this one, the egg whites are beaten with about half the sugar and the flavorings after which the flour and remaining sugar are folded in in several additions. This is where much of the air beaten into the eggs, which is the only leavener in the cake, gets lost as the whites are somewhat deflated in the folding process. This recipe solves that problem by adding the the flour and remaining sugar slowly to the egg whites while continuing to beat in the mixer on low. This results in the easiest, most foolproof angel cake I have ever seen. So start saving your egg whites for an easy treat you will enjoy over and over.
In addition to this plain version, two easy additions give you a duo of newer flavors. Citrus Angel Food Cake and a Chocolate Angel Food Cake rounds out this trio.
I am reposting this recipe as the how to photos for the Angel Food Cake seemed to have disappeared in the original posting.
Base Angel Food Cake
2 ½ cups sugar, divided (500 grams or 17.5 oz.)
14 egg whites, preferably room temperature (1 ⅔ cups)
1 ¼ teaspoon salt
1 ½ teaspoons cream of tarter
1 teaspoon vanilla extract
1 teaspoon almond extract
1 ½ cups sifted cake flour (150 grams or 5 .33 oz.)
Preheat the oven to 350 degrees.
Place the sugar in a food processor and process for 1 to 2 minutes until more finely ground.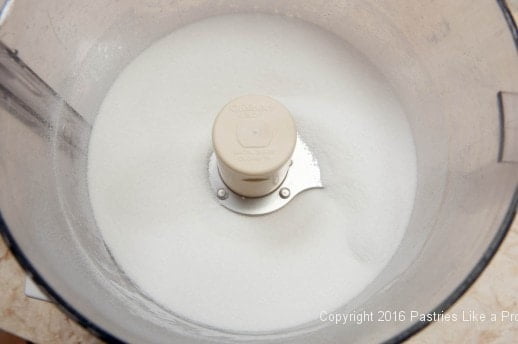 Place the egg whites, vanilla and almond extracts, in a mixer fitted with a whisk attachment.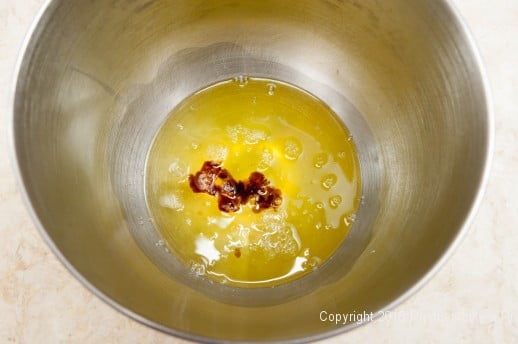 Beat on medium to a froth.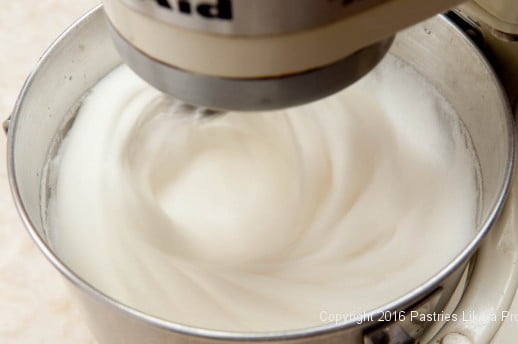 Blend half the sugar (1 ¼ cups, 250 grams or 9 ounces), salt and cream of tarter.
Gradually add to the egg whites.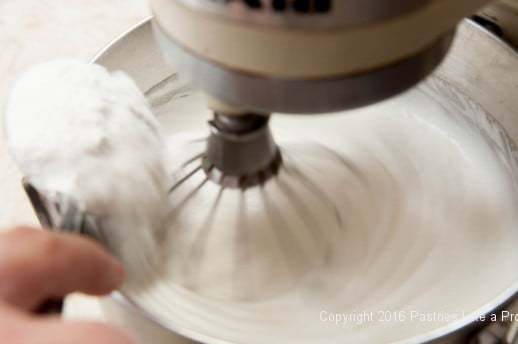 Beat to soft peaks on medium speed. Sift together the remaining half of the sugar and the flour. Add to the egg whites while mixing on low speed in four additions. Beat just until the flour mixture is incorporated each time.
Pour batter into cake pan
and smooth out.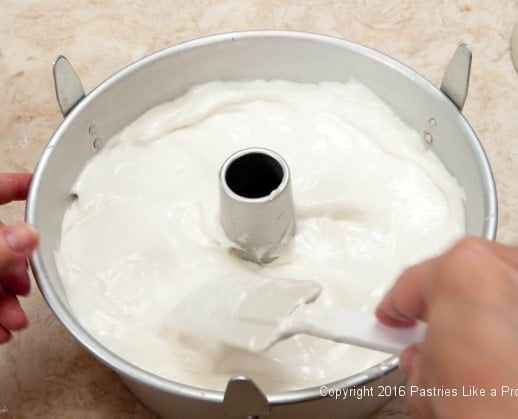 Bake for 35 to 40 minutes until risen, nicely browned and a tester comes out clean. Don't over bake.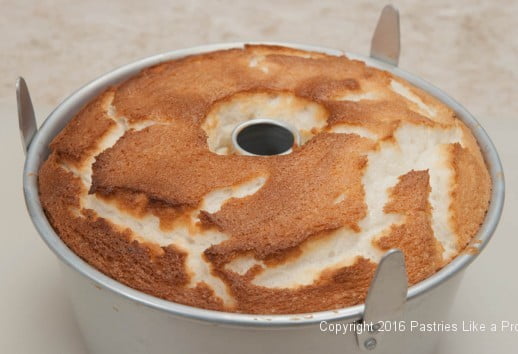 Cool in pan as shown above.
Go around the tube
and the edge with a flexible spatula.
Release the rim of the pan.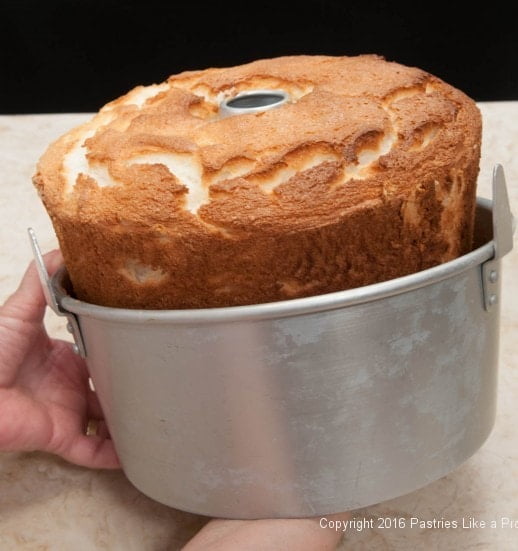 Release the bottom of the cake with a spatula.
and turn it out onto a cake board.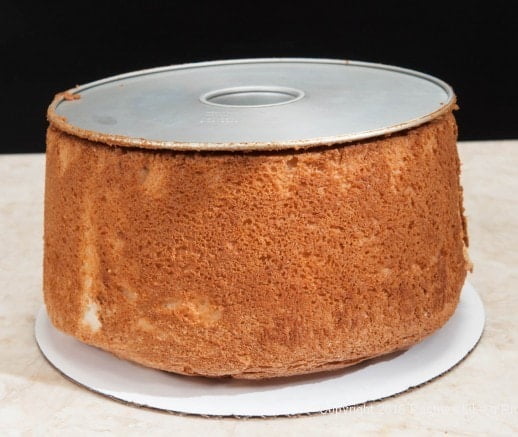 Turn it right side up to serve.
This generally makes 12 servings. However, I can eat half of it by myself!
Citrus Angel Food Cake: Grate the zest from 1 lime, 1 lemon and 1 orange. Process half of the sugar at a time. Add the zest to the second half of the sugar and use as called for.
Chocolate Angel Food Cake: Add ⅓ cup sifted cocoa to the flour. Since coffee enhances the flavor of chocolate, add 1 teaspoon instant coffee dissolved in the almond and vanilla flavoring. Use these where called for in the base recipe.
With my apologies for not having included this when I posted, here is a great blog on what to do with the leftover egg yolks. Jen lists links to blogs using 1 to 10 egg yolks. Really helpful. https://www.fortysomething.ca/2010/04/recipes_to_use_up_extra_egg_yo.php. Thanks Jen.