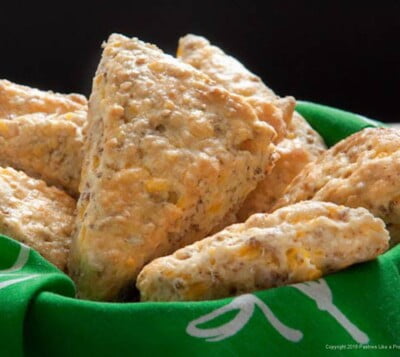 Scones are a welcome treat anytime, but Breakfast Scones area a special treat.
While the original scones from Scotland were made from oats and baked on a griddle, modern scones bear more resemblance to American biscuits which is the term used in England for cookies.  How confusing and intertwined is that?  The good news is this is a straight forward, easy to make breakfast or brunch treat.
To turn these Breakfast Scones into a breakfast sandwich make an egg omelet adding peppers, onions, or anything else you want. Cut the scone in half and fill it.
The dough will be a little wet when turned out.  That is as it should be as the wetter the dough the lighter the scone or biscuit.
To prevent the Breakfast Scones from over-browning on the bottom, double pan them.  Place the baking sheet with the scones on a second baking sheet. This will slow down the heat to the bottoms helping to prevent over-browning.
Breakfast Scones
1 pound hot sausage (454 grams)
2 ¾ cup all purpose flour (385 grams or 13 ½ ounces)
1 ¼ cup cake flour (155 grams or 5 ½ ounces
1 tablespoon baking powder
1 ½ teaspoon baking soda
1 ¼ teaspoon salt
6 tablespoons cold butter, cut into pieces (90 grams or 3 ounces)
6 ounces cheddar cheese, grated (170 grams)
2 cups buttermilk
1 egg, well beaten
Preheat oven to 375°F.  LIne 2 baking pans with parchment paper.
Cook the sausage and drain on paper towels.  Set aside to cool.
Combine the dry ingredients in a mixer bowl fitted with the paddle attachment if available. Add the butter and cut into the flour mixture until the size of peas.  Then add the cheese and sausage, mixing until well combined. With the mixer running, pour in the buttermilk all at once.  Mix just until all the ingredients are moistened.  There may be a little unmixed portion at the bottom of the bowl.  That is preferable to overbeating which will toughen the scones.
Turn the mixture out onto a work area.  It should not be necessary to flour the area but if it is, flour lightly.  Push together and knead 5 or 6 times to form a uniform dough.  Roll into an 11 inch square.  Mark 3 lines evenly across and down dividing into 9 squares. squares.  Cut the squares on the diagonal to make 18 triangles.
Place on a parchment-lined baking sheet.  Brush the tops with the beaten egg.  Double pan.  Bake for 16 to 18 minutes until the tops are lightly browned.   Do not over bake.
Yield:  18 scones
Notes:  Store any leftover scones in the refrigerator or freezer as they have meat in them.  Reheat briefly in the microwave or in a 350° oven.
Make Ahead
In either case, double pan.  These can be baked and frozen then reheated at 375 degrees for 10 to 12 minutes. Alternatively, they can be shaped and frozen, brushed with egg wash, then baked at 375 degrees for 18 to 20 minutes.
If you enjoyed this recipe, you might want to take a look at these:
The Beauty of Buttermilk in Baking
Bacon and Cheddar Cheese Popovers
Belgium Waffles with Berry Compote