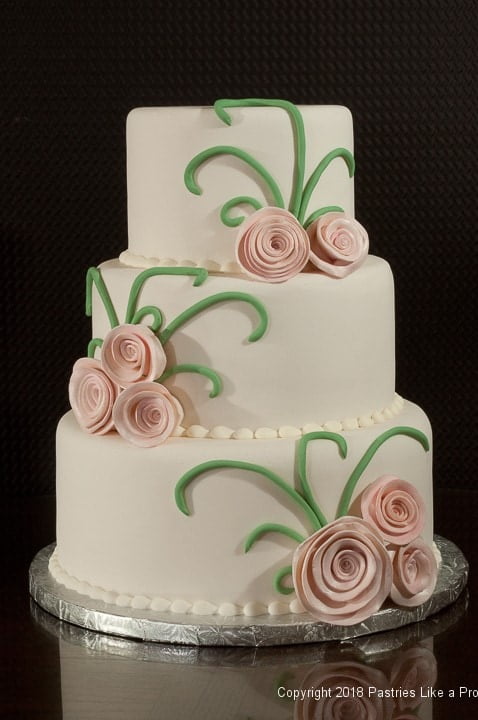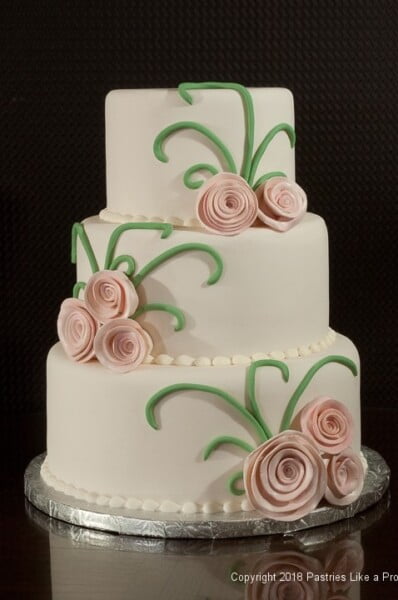 The Secret of the 9 Inch Cake Pan is excerpted from "Baking as a Business." by Helen S. Fletcher.  The book is also available on Kindle.
Sometime into my professional baking career, I discovered The Secret of the 9 Inch Cake Pan. When we first started making wedding cakes, it was hit or miss. Since we made everything from scratch and there was no internet, I would simply guess at how much batter to make. Sometimes we were right on, sometimes not enough and sometimes too much. In any case, not a good way of conducting business. I have no idea when or how I came up with this formula but it works and we used it at the bakery for scaling cakes up or down.
This three-tiered cake is a great example of The Secret of the 9 Inch Cake Pan.  The middle layer is 9 inches.  The top layer is 6" and the bottom layer is 12".  Calculating the batter needed for the cake was easy using the Secret of the 9 Inch Cake Pan. Three and one-half recipes of the 9" cake layer would be needed.
First of all, you have to ascertain the amount of batter needed for the number of layers your recipe makes using a 9" round cake pan.  The Chocolate Cake Post is a good starting point.  It gives you amounts for 2, 3 and 4 layers made from the same recipe.  Then you simply add a x1 to each ascending layer size unless otherwise noted.  In other words, you would double that recipe for a 12 inch cake, triple it for a 14 inch cake, etc.
The chart below will tell you how many times you need to multiply a recipe using a 9 inch cake pan as your base to obtain a larger or smaller cake size. All of these are round pans. We will discuss square pans later.
I hope The Secret of the 9 Inch Cake Pan will help you if you need to increase the size of the cake you are making.  It was a life saver at the bakery.
Round Pan Size Number of Recipes
6" =  x½ of a 9 inch
8" =  Less ¼ of a 9 inch
9" =  x 1
10" increase 9" by ⅓
12" =  x 2
14" =  x 3
16"  = x 4
18" =  x 5
20"  = x 7 (noticed I increased it here)
22" =  x 8
24"  = x 9
Square Pan Size
Increase the 9x2 inch recipe by ⅓ as the square inches in a square pan are approximately ⅓ more than a round pan. When you have that measurement, follow the formula above increasing as necessary. A square inch chart can be found at https://pastrieslikeapro.com/2013/09/pan-size-conversions/#.Wm3z_GVh2Rs.
Other posts regarding layer cakes can be found in Baking Information- These are some of them.
Cake Pan Prep or How to get a Flat Layer - This is indispensable to baking cake layer without them humping up in the middle.
Cocoa Fundamentals - Natural vs. Dutched - Which cocoa to use where
Cake Talk - How to assemble a cake
Drying a Fondant Covered Cake - Refrigerating a fondant cake causes the fondant to condensate.  There is an easy way to dry it out.
Flour Used in Baking - A discussing of the different types of wheat flour used in cakes
Fluid Ounce Conversions
Ingredient Conversion Chart - This chart gives  you volume, grams and ounces of ingredients
Measuring for Baking - Discusses scales, cups, spoons and the importance of correctly measuring with each one.
Pan Size Conversions - This features a square inch chart of pans as well as how to obtain the square inches in a pan.
Top Ingredient Substitutions for Baking - This blog talks about making substitutions in recipes and how to do it if you are out of something and you happen to be baking at midnight.
Vanilla - There is more than one vanilla and each one brings something different to the recipe.
Volume Conversion Chart - An easy chart of quarts, pints, cups, ounces and liters.
SaveSave
SaveSave
SaveSave
SaveSave
SaveSave
SaveSave
SaveSave
SaveSave
SaveSave