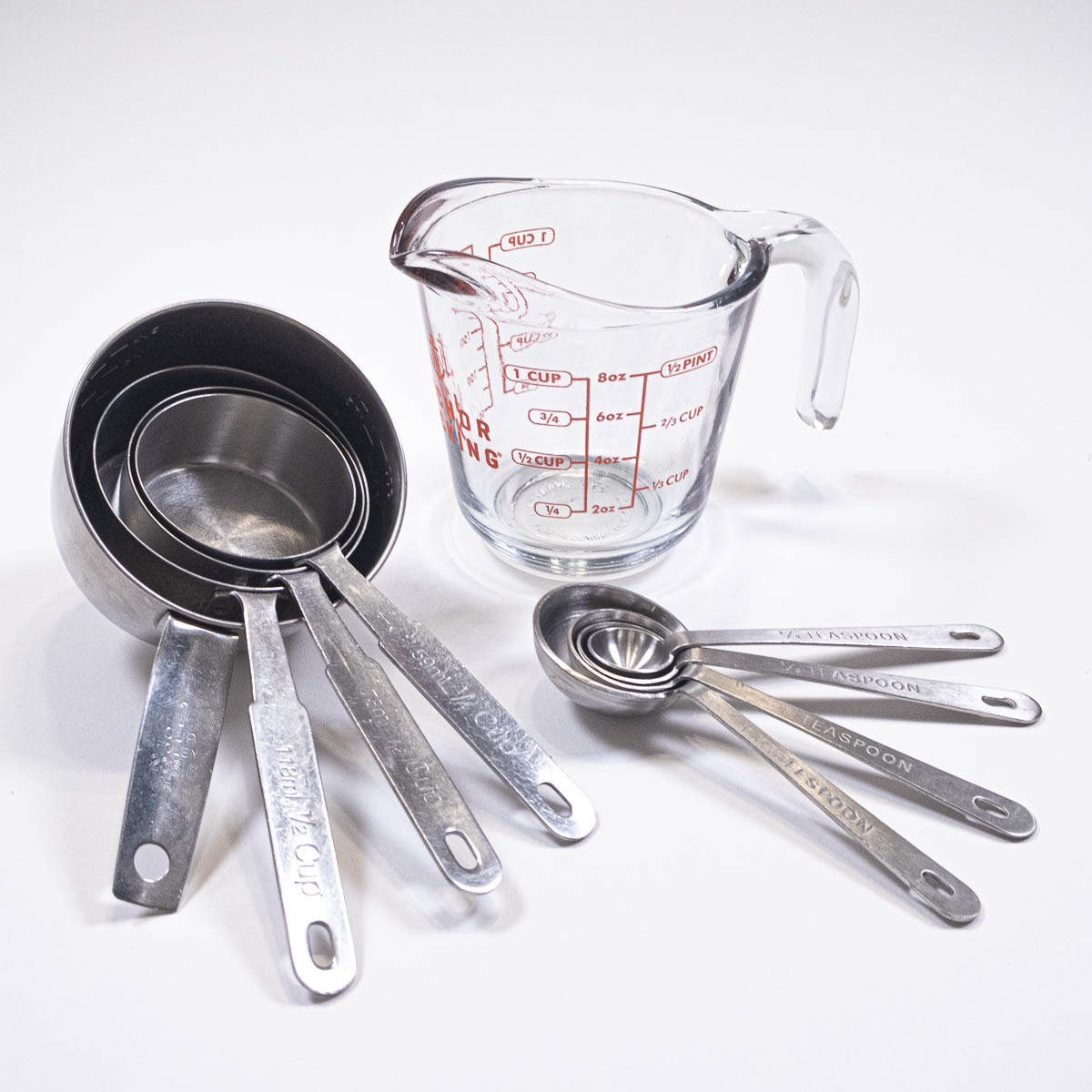 Left to Right: Dry measuring cups, a glass wet measuring cup and a set of measuring spoons.
There is a difference between fluid ounces and ounces. Fluid ounces refers to liquids so the weight doesn't matter if using gallon, quart, cup, or tablespoon measurements.
Where confusion often comes in is that different liquids will weigh differently. For instance, a pint of water (2 cups) weighs 1 pound or 16 ounces or 454 grams. A pint of honey (2 cups) weighs 1 ½ pounds or 24 ounces or 680 grams.
Measuring Cups and Spoons
There are wet and dry measuring cups. The best wet measuring cup is one with a lip on it and a bit of room between the measurement and the top of the cup. This makes it easier to get an exact measure without overfilling or spilling.
A dry measuring cup is used for just that. Anything that is dry. The item being measured comes to the very top of this cup. Overfilling the cup and then sweeping off the excess is the best way to use these. In some cases such as brown sugars, they are packed in these cups to get the correct measurement because they are more fluffy than granulated sugar. Flour is a problem depending upon how you get it in the cup. I don't recommend volume for cups but weight. See my post The Frustrating Facts about Measuring Flour for more information.
Last, there are measuring spoons. Standard measuring spoons are 1 tablespoon, 1 teaspoon, ½ teaspoon and ¼ teaspoon. ⅓ teaspoon is a rounded ¼ teaspoon. However, some newer sets have included ⅓ and ⅛ teaspoons.
Conversion Chart
1 gallon = 4 quarts = 8 pints = 16 cups = 128 fluid ounces = 3.79 liters
½ gallon = 2 quarts = 4 pints = 8 cups = 64 fluid ounces = 1.89 liters
¼ gallon = 1 quart = 2 pints = 4 cups = 32 fluid ounces = .95 liters
½ quart = 1 pint = 2 cups = 16 fluid ounces = .47 liters
¼ quart = ½ pint = 1 cup = 8 fluid ounces = .24 liters or 16 tablespoons
¾ cup = 6 fluid ounces = .18 liters or 12 tablespoons
⅔ cup = 4 ⅔ fluid ounces = .16 liters or 10 tablespoons + 2 teaspoons
½ cup = 4 fluid ounces = .12 liters or 8 tablespoons
⅓ cup = 2.67 fluid ounces or .08 liters or 5 tablespoons + 1 teaspoon
¼ cup = 2 fluid ounces or .06 liters or 4 tablespoons
⅛ cup = 1 fluid ounce or .03 liters or 2 tablespoons