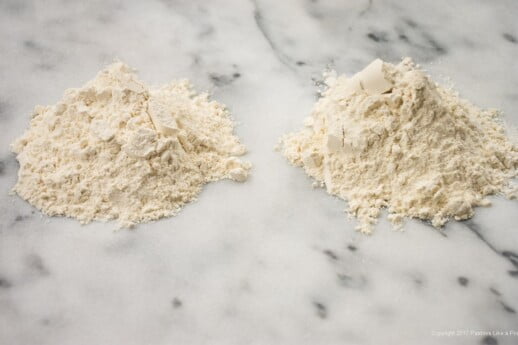 A question in a food group I belong to about measuring flour by weight has sent me on a quest to find out how much a cup of flour weighs. Unfortunately, there is no simple answer, no one answer fits all. And yet, correctly measuring flour is essential for the best outcome of baked goods.
The problem with measuring flour by volume is flour can be aerated differently. It can be sifted, stirred and fluffed, all of which yield a different weight.
What makes recipes particularly frustrating is that everyone seems to have their own way of measuring flour. And they are all correct because it depends upon how each person measures flour. The reason for stirring the flour is that, although it is pre-sifted, it becomes compacted in the bags as it is packed and shipped. However, how much it is stirred can alter the outcome.
To begin with, it depends upon what flour you are measuring and how you are measuring a cup. Older cookbooks will have you sifting flour in a cup before using it. This will yield a lesser weight than the present day scoop method which entails lightly stirring the flour in it's container and then scooping a cup. However, if you are an avid stirrer you may have less flour than if you barely stir. If you stir the flour then spoon it into the measuring cup that is a different weight.
It also depends upon what flour you're measuring. All purpose and bread flour generally weigh the same. Cake flour is lighter and weighs less.
I told you this was frustrating.
To make matter worse, David Lebovitz, whom I follow, posted that he has his own weight conversions and recommended King Arthurs's conversion chart which is 120 grams per cup of their all purpose or bread flour. That is 20 grams off of the normal 140 grams or 5 ounces per cup that most professionals use as standard. I contacted both David and King Arthur Flour. David uses the 140 grams or 5 ounces. King Arthur also responded and said they had an entire video devoted to how they weigh flour for their recipes. Their weight is close to the sifted weight of all purpose or bread flour and for good reason. They lighten the flour by tossing it with the scoop quite a few times. They then spoon it into the cup - hence 20 grams less than the stir and scoop method.
I checked out several professional books and I contacted the Culinary Institute of America to see what they suggest. They, along with other sources, told me they go strictly by weight so have no idea what a cup weights. Makes sense as they use formulas as opposed to recipes. So while we are on the subject, lets look at the difference between recipes and formulas.
One of the best descriptions of the difference between a recipe and a formula comes from the blog CuliNex at https://non www.culinex.biz/blog/culinex-news-events/post/why-you-need-know-the-difference-between-a-recipe-and-a-formula which states:
"A recipe is a set of ingredients and instructions needed to make a food item. The results vary from batch-to-batch and person-to-person based on the inherent inaccuracies such as human error and measuring in volume rather than by weight. Home cooks and restaurants use recipes.
A formula is a fixed set of specific ingredients listed in percentage by weight and processing instructions that have been standardized to consistently make a food item. All of the ingredients in a production formula total 100 percent, so the formula can easily be scaled up or down depending on production demands. Food product developers and manufacturers use formulas."
What I can suggest is that you follow the weights listed in a recipe if they are listed. Weights are always best and I am known for beating the drum for every baker to have a scale and use it. It is faster, easier and definitely more foolproof.
You can see my conversion chart here. A second blog of mine, Flour as Used in Baking gives additional information.