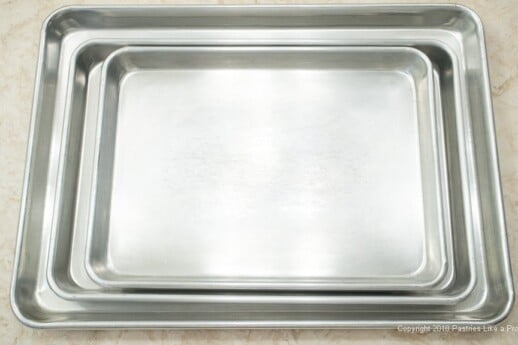 Before I started baking professionally, I didn't know what sheet pans were. I had cookie sheets which were flat with upturned ends on which I baked my cookies, breads, rolls, etc.
When I opened my bakery, the first thing I learned was that full sheet pans were what professionals used for several reasons.  A sheet pan has rolled edges all the way around making it about ¾ inches deep. The most important reason for using sheet pans is when putting them in and out of the oven quickly, whatever is on the sheet pan won't fall off.
It seems the consumer world has become aware of these and I can scarcely find a cookie sheet available anymore.
The gauge of the aluminum used is important.  The lower the number the heavier the aluminum.  So a number 12 is heavier than a number 18.  The lower gauge is also more expensive but it will last a lifetime. Lighter weight pans can warp and brown the bottom of products more quickly or before the item is fully baked. A gauge of 12 to 18 is good. However, I will say it is sometimes difficult to tell what gauge it is since they don't put the number on the sheet pan.  If you order through the internet, it is often easier to tell what you are getting. When you search ask for heavy gauge or specify a number.
The sizes of sheet pans are as follows:
Full size (26" x 18"),
Two-Thirds size (21" x 15"),
Half size (18" x 13"),
Quarter Size (13" x 9"), and
Eighth size (9" x 6.5").
Jelly Roll pan (10" x 15 ¼")
At the bakery and now at the restaurant, I use full sheet pans as well as half sheet pans. However, at home, my oven will not accommodate full sheet so I use half, quarter and an in between size referred to as a jelly roll pan.  The cookie book I am writing has several recipes requiring the jelly roll pan size.
The quarter sheet pan is the same as 9x13 inch pans which are often 2 inches deep.  I particularly like the quarter sheets for brownies, lemon bars and anything that doesn't need the larger height.  I find they bake more evenly since the heat can go over the entire pan easier than having to dip into the 2 inch pan.
I also double pan some recipes heavy in brown sugar, molasses, honey, chocolate or cocoa so the bottoms don't burn before the items are baked through.  I discovered that when I wrote my first book, "The New Pastry Cook".  I was working on my new way of making croissants and found the butter heavy rolls were burning on the bottom very fast.  By doubling the pans, the heat was slowed down to the bottom of the croissants allowing them to bake through evenly.
Lining the sheet pans with parchment paper is routine for me and I highly recommend it.  Silicone mats are another alternative but I don't like them for a very personal reason.  I am a clean freak.  Chefs who would visit the bakery were amazed at how clean it was.  I was once at a baking show when a product to take burned on gunk off sheet pans was demonstrated.  They wanted me to buy it and I said I didn't need to I had Clarence. They asked what a Clarence was. It was all I could do to not fall down laughing.  Clarence, I told them, was my utility person who kept my sheet pans spotless.  They said they never heard of a bakery keeping them clean.  Hmmmmm.
Anyway, the silicone mats just don't look clean to me after using for a while.  They may well be, but I prefer parchment paper that I use once and throw away.
Whatever you use, it helps with clean up.
I don't know what I would do without my sheet pans.  I also don't want to find out.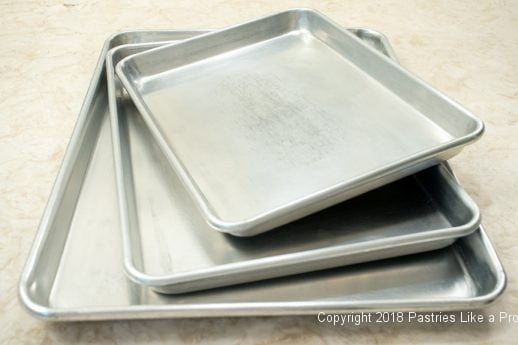 SaveSave
SaveSave
SaveSave