Apple Crisp Cheesecake says fall to me. And it did to many of my customers too. At the first hint of cool air, the orders would start coming in. I particularly like this cheesecake because it doesn't need a water bath as so many of ours did. I just taught this at the Kitchen Conservatory and my class loved it.
Although looking at the recipes, it seems to have a lot of parts, they are all so easy and the reward so great, there is really no reason to make this. It is perfect for Thanksgiving. It can be frozen and thawed for several days in the refrigerator, or for a day at room temperature with no harm.
I do recommend a cheesecake pan with its solid side and removable bottom over a springform pan. I found the sides of the springform pan can become warped or smashed and the spring can become lose resulting in a pan that is not completely sealed. They also have a tendency to be shorter than the 9x3 inch pans we used for many other things than cheesecakes.
I was asked what kind of apples I liked and my favorites are Galas. Granny Smiths are fine as are Honey Crisps and Pink Ladies.
Cheesecakes have the reputation of being difficult. It is true that if they are set in a draft to cool after baking, they can crack. Some require a water bath to prevent cracking and we had one that no matter what we did it cracked. But it was so good! I just put a pecan caramel top on it after it was baked and it became the Pecan Caramel Cheesecake. When I drizzled chocolate around the edges and down the sides, it became a Turtle Cheesecake. There were almost always work-arounds if the base recipe was good enough.
So, if you can find a couple of hours in the next few weeks, do make this, cool it, freeze it, wrap it and store it for a new Thanksgiving tradition - Apple Crisp Cheesecake!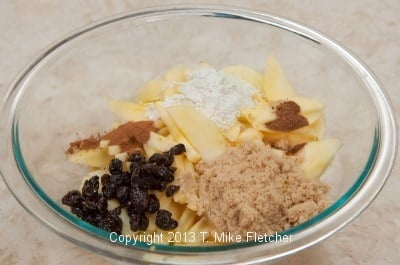 Apple Filling
1 ¼ pounds of apples, peeled, cored and sliced (1 pound cut)
¼ cup packed brown sugar (35 grams or 1 heavy ounce)
¼ cup baker's raisins (30 grams or 1 ounce)
2 tablespoons flour (15 grams flour or ½ ounce)
½ teaspoon cinnamon
¼ teaspoon nutmeg
Mix all and let sit while prepping the rest of the recipe.
Apple Crisp Topping
¾ cup oats (58 grams or 2 ounces)
½ cup brown sugar (100 grams or 3 ½ ounces)
½ cup walnuts, chopped (50 grams walnuts or 1 ¾ ounces)
¼ teaspoon cinnamon
⅛ teaspoon salt
½ cup flour (58 grams or 2 ounces)
6 tablespoons unsalted butter, cold (¾ stick, 90 grams or 3 ounces)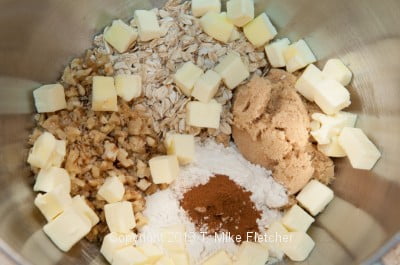 Place in the bowl of a mixer and mix to combine until they are large moist crumbs.
Set aside.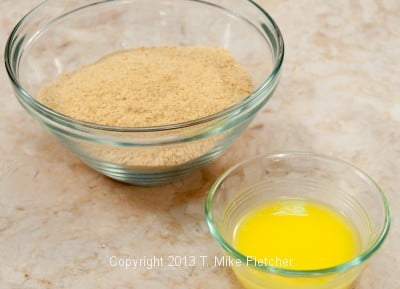 Cheesecake Crust
1/1/3 cups graham cracker crumbs (190 grams or 6 ⅔ ounces)
6 tablespoons unsalted butter, melted (¾ stick, 90 grams or 3 ounces)
Spray a 9x3 inch cheesecake pan and set aside.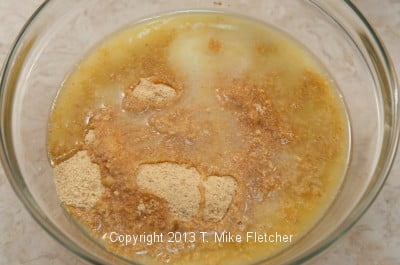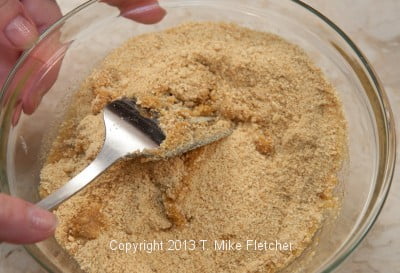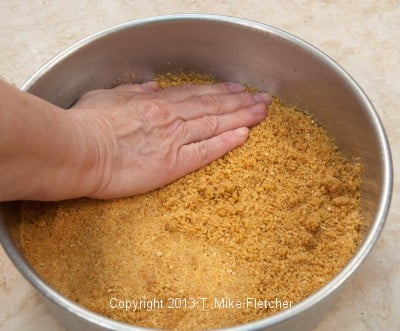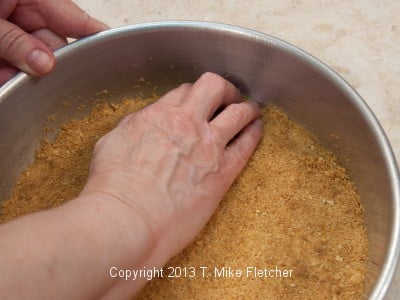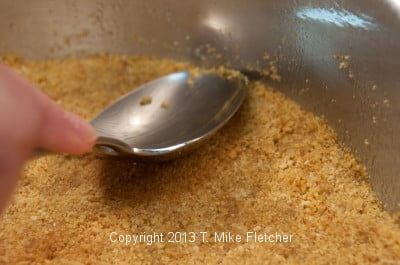 Toss the ingredients together with a large fork until the crumbs are evenly moistened. Press evenly into the bottom of the pan. Using a spoon, seal the crust to the side of the pan. Set aside.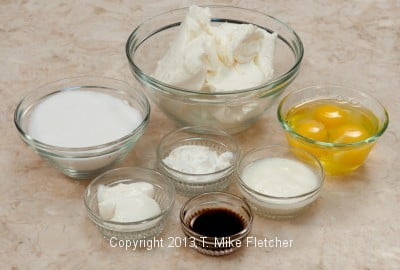 Cheesecake Layer
1 ½ pounds of cream cheese (680 grams)
1 cup sugar (200 grams or 7 ounces)
2 tablespoons cornstarch
¼ cup sour cream (45 grams 1 ½ ounces)
3 eggs
3 tablespoons 40% or heavy cream
2 teaspoon vanilla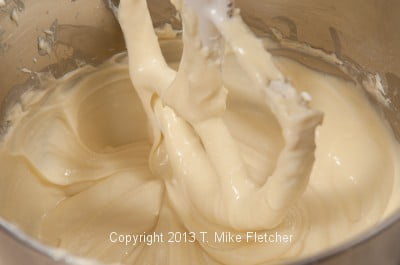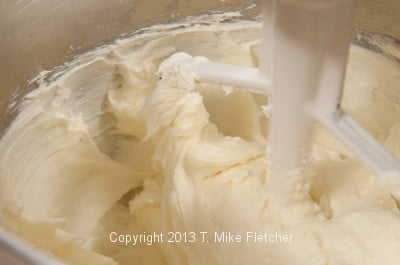 Mixer Method: Place the cream cheese, sugar and cornstarch in the bowl of a mixer. Beat until smooth and softened scraping often. It is important there are no lumps of cream cheese that are not beaten in. Add the sour cream, mixing well. Next the eggs; beat to completely combine and last, the cream.
Processor Method: Place the cream cheese, sugar and cornstarch in the bowl of the processor. Process to mix well. Scrape. Add the sour cream; process. Add the eggs; processor. Scrape down if necessary. Mix the cream and vanilla together and with the machine running, pour it down the feedtube.
Assembly
Preheat oven to 400 degrees.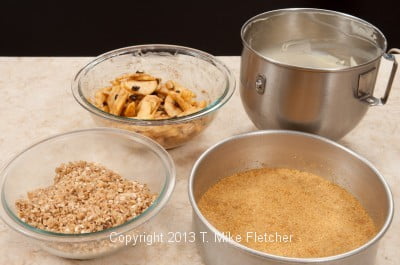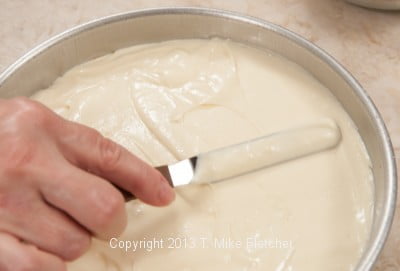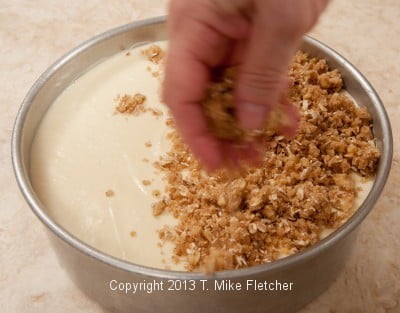 Arrange the apples over the crust. Pour the cheesecake filling in and smooth the top. Top with the Apple Crisp Crumbs.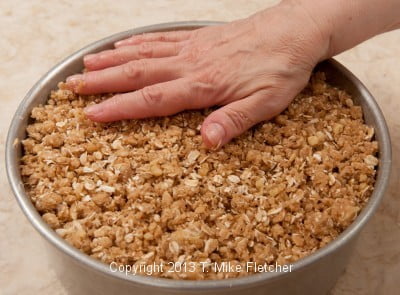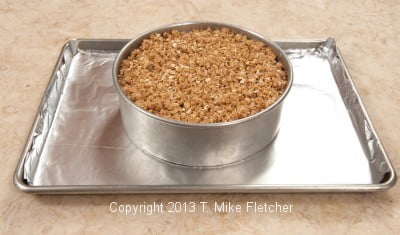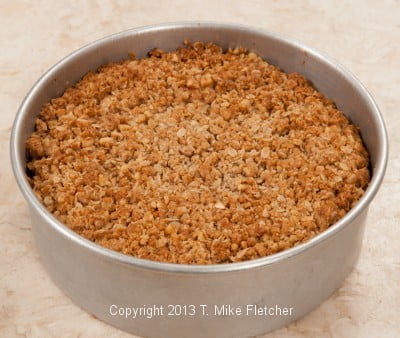 Place on a foil lined tray and bake at 400 degrees for 15 minutes. Lower the heat to 350 degrees and bake for 50 to 60 minutes more. Cool to room temperature.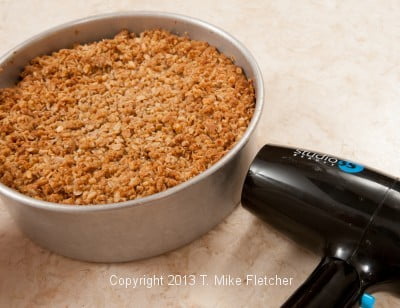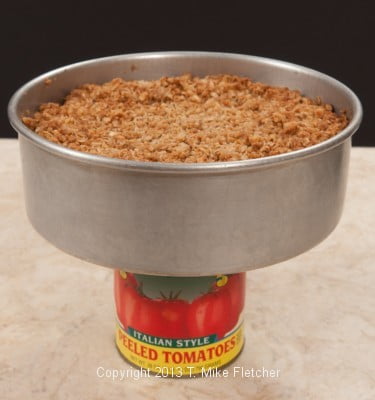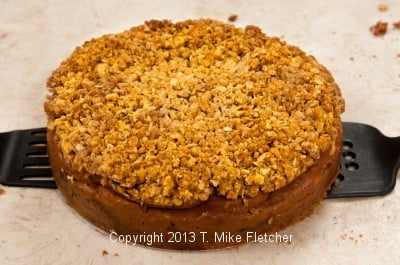 Release using a hair blower to heat the sides of the pan. Place the pan on a can and slide the sides down. Go under the bottom of the crust with a spatula and transfer to a board or serving plate with two pancake turners under the crust.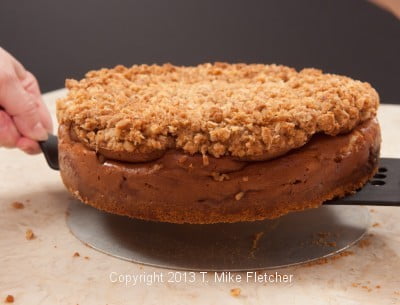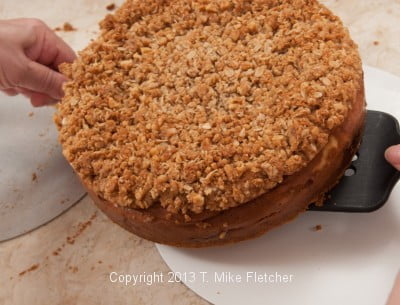 Store in the refrigerator or freeze.
Note: This may be made ahead and frozen. Freeze the cheesecake, wrap well in foil and keep in the freezer. Thaw in the refrigerator 2 days ahead or, thaw at room temperature for 5 to 6 hours.