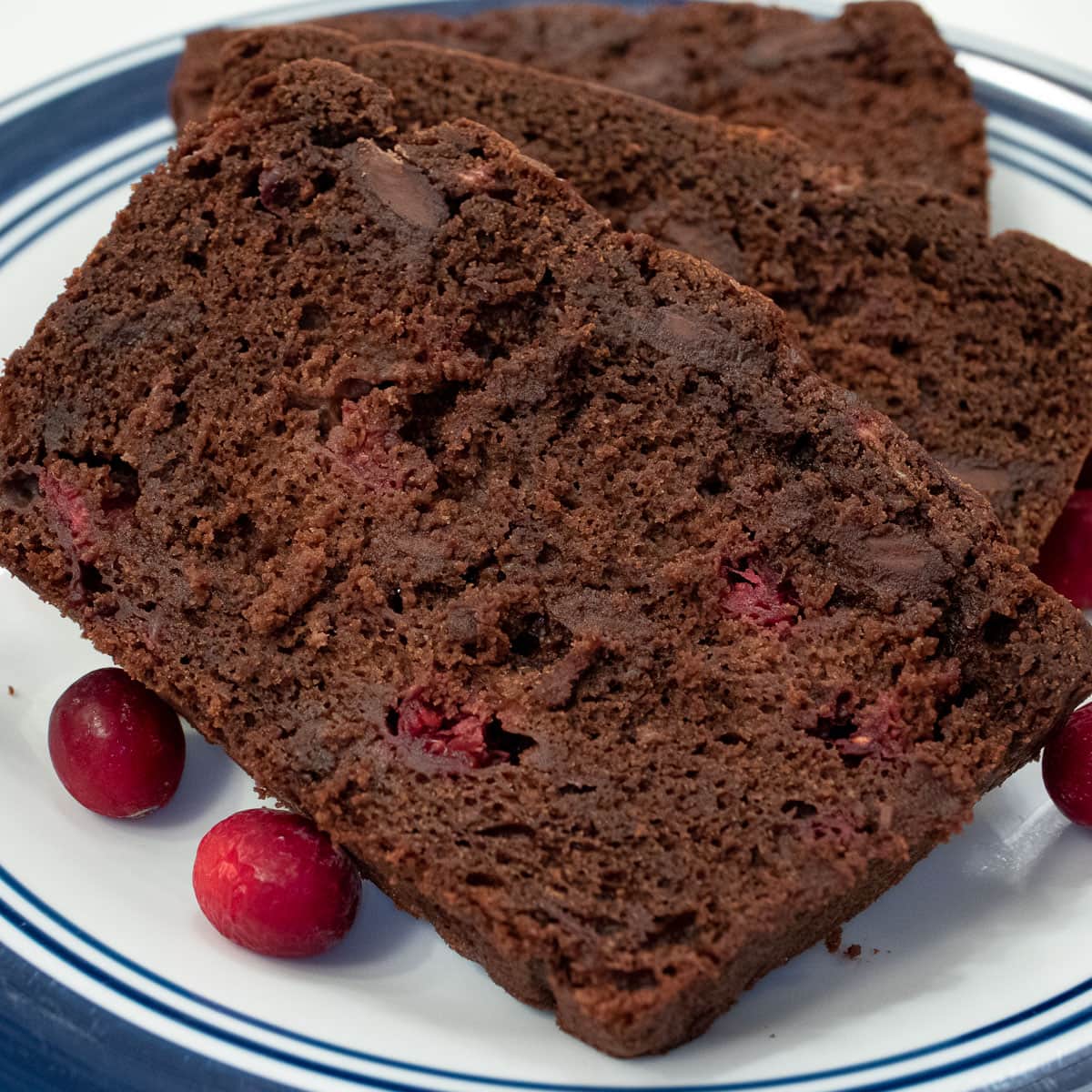 I hope your cookie baking is just about finished and you can turn your attention to other things. I don't know about you, but the last thing I want to do is think about on a holiday is making a big breakfast. What if this Chocolate Cranberry Quick Bread is stashed in the freezer waiting to add to the festive feeling?
Cranberry Bread with Chocolate
Quick breads are just that – fast and easy to make Cranberry Bread has long been a favorite of mine. Adding chocolate to this Chocolate Cranberry Quick Bread is just a new combination of two perennial favorites.
This bread is very moist and stays so for days if wrapped or bagged. I think it enhances the flavor to make it a day ahead.
Ingredients
The cranberries are frozen then chopped in the processor. They are added, still in the raw frozen state to the batter. While I normally use chocolate chips that don't melt in hand held foods, I like the larger chocolate chunks in this bread although either is fine. The optional orange zest adds a depth of flavor to both the chocolate and cranberries.
When freezing baked goods, I like to freeze them first and then wrap them in foil to insure the shape is retained. Defrost on a rack at room temperature. I also find it helps to refresh this Chocolate Cranberry Quick Bread in a 350°F oven. Wrap the defrosted bread in foil, leaving a small hole in the top and heat for about 20 minutes.
Chocolate Cranberry Quick Bread
6 ounces semisweet or bittersweet chocolate (170 grams)
½ cup butter, (114 grams, 4 ounces or 1 stick)
2 cups cranberries, frozen
1 ¾ cups all purpose flour (245 grams or about 8 ½ ounces)
¼ cup natural or Dutch cocoa (23 grams or ¾ ounce)
2 teaspoons baking powder
½ teaspoon baking soda
3 eggs
¾ cup granulated sugar (150 grams or 5 ¼ ounces)
Zest of 1 large Orange
¾ cup sour cream (170 grams or 6 ounces)
2 teaspoons vanilla
½ cup chocolate chunks or chocolate chips (85 grams or 3 ounces)
Preheat the oven to 325°F. Spray the bottom of a 9x5 inch loaf pan. Line it with parchment paper. Spray the pan, including the parchment with pan spray. Set aside.
Cut the chocolate in small pieces if using bar chocolate. Melt the butter and chocolate in the top of a double boiler or in the microwave at half power to keep the chocolate from burning. Cool to lukewarm.
Place the cranberries in the bowl of a processor. Pulse to coarsely chop them. Do not get them too small. There should be large pieces or even mostly whole pieces. Set aside.
Whisk together the flour, baking powder, and baking soda. Set aside.
In the bowl of a mixer, beat the eggs and sugar until light. Add the sour cream, mixing well. Beat in the chocolate mixture on low.
Add the dry ingredients and mix on low. When most of the flour has been mixed in add the frozen cranberries and chunk chocolate. Beat on low until all of the ingredients are incorporated.
Pour into the pan and smooth the top. Place on a baking sheet and bake for about 70 minutes or until a tester comes out clean.
Cool for about 20 minutes, then turn out onto a rack to continue cooling. If freezing, place it in the freezer unwrapped. After it is frozen, wrap well in foil. It will keep well for several months. Thaw, at room temperature, on a cooling rack. See above for warming instructions.
Other quick breads and muffins you might enjoy that also freeze well can be found at:
Quick and Two Step Banana Breads
Fall Muffins - Apple, Pumpkin and Cranberry