Every pastry kitchen, be it professional or personal has their own pastry kitchen essentials. These are mine which I used at the bakery and in my personal kitchen. Long ago when we remodeled the kitchen at our house I put all the gadgets I had accumulated in a box. Six months later I used exactly one thing out of that box. I never again bought anything that I didn't know I would use on a regular basis.
Cookie Scoops/Dishers/Scoops
Iin the profession these pastry kitchen essentials are referred to as dishers or scoops because we use them for a lot more than cookies, i.e. meatballs, mashed potatoes, anywhere you want to make sure all the sizes are the same. They are used for portion control. Some are all stainless steel – some have plastic colored handles. Vollrath makes these in both all stainless as well as colored plastic handles.
I prefer the all stainless steel dishers as the plastic handles can more easily be broken. The size number is on the tool – somewhere. You just have to find it as there isn't a uniform place for it, unfortunately.
Bench knife/scraper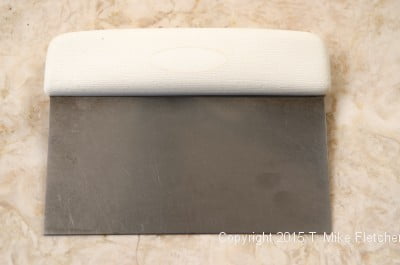 This is a metal tool and is the work horse of the pastry chef. I use it for so many things. It started out as bench scraper for me to keep my area clean after using flour. Then I started cutting portions with it, followed by picking things up with it, etc., etc. Bet you have uses I haven't begun to use yet.
Digital Scale
If you've followed my blog fat all you know that this is the only tool I would take with me if I were down to one – thankfully I'm not. Even if you're not going into the profession, this is the biggest time saver in the kitchen. Not to mention it lends consistency to everything you make. While I prefer working in grams, the scales I have seen all come in ounces or grams so you can work with whatever makes you comfortable. This is the most important of all pastry kitchen essentials.
Apron & Waist Towel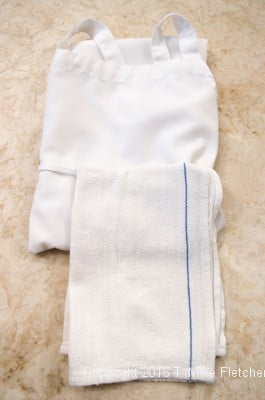 One of my pet peeves is the recent trend in food entertainment which promotes the lack of aprons. We won't discuss the trend towards very low tops that would never be a part of a professional kitchen. But then it is entertainment and nobody considers it professional. It has somehow become terribly passé to wear an apron. When baking one would not proceed without an apron and, in most cases, a waist towel. Maybe it's because I am short that I seem to get stuff on the front of me. I know why I used to get it on the rear of me. When I only baked at home my husband said he always knew when I was baking because I would dust my floury hands off on my derriere. Back to my point. The apron should have long enough ties to go around and come out in the front to be tied. The waist towel is then put through the tie at the waist (hence waist towel) and folded over so it hangs through your apron string. I couldn't live without it. I must use it 100 times a day when I am in the kitchen. Once you get used to using one you will never be comfortable without it. While technically not a utensil the apron and waist towel ar a pastry kitchen essential.
Two Handled Knife
This is not a tool that is readily available in most kitchenware shops. However, if you go on the internet, you can find several venues. The straight two handles knife was originally, and still is, used to cut blocks of cheese. It is actually referred to as a two handled cheese knife.. We would not have been able to keep up with our need for chocolate at the bakery had it not been for the Two Handled Knife. Professional chocolate used to only be available in 10 pound blocks which had to be cut for use. We cut thousands of pounds before they finally introduced callets or chips. I am not talking chocolate chips here but fine chocolate available in small chips that melt quickly and easily. Today, this pastry kitchen essential is used for cutting brownies, bars, petit fours, etc. I especially like it because it will span a 9x13 inch pastry and almost a half sheet pastry. It is not only easier, but makes cleaner cuts. These knives often come without a sharp edge. Just take it to a professional knife sharpener and ask them to put a sharp edge on it.
To make clean cuts, scrape both sides of the knife with a spatula between cuts.
Bowl Scraper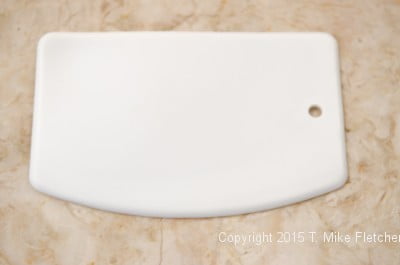 This plastic scraper is used to get all of the dough out of a bowl. There is no handle and it should be flexible so it can fit into the curve of the bowl. Large hunks of dough can be moved with this tool. They are a great give away at shows.
Heat proof spatulas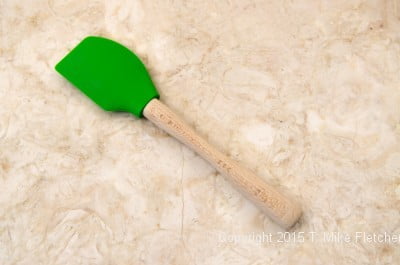 I especially like the bright colors because I am in a stainless steel/white kitchen most of the time. I have seen rubber or plastic spatulas that have been ruined by using them in hot pots. Finally, someone came up with the idea of making a heat resistence spatula.
Quarter Sheet Rimmed Trays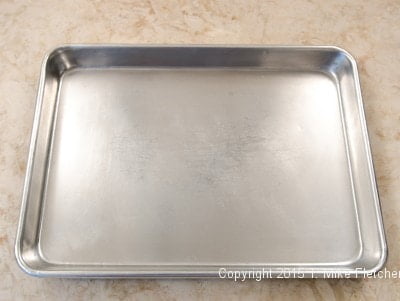 This is my newest find despite the fact they have been around forever. These were too small to use at the bakery, which is perhaps why I dismissed them. But they are perfect for so many things at home and has become a pastry kitchen essential. Any recipe that fits in a half sheet rimmed tray can be cut in half and the quarter sheet tray used. Also this is a great pan to use i place of a 9x13 inch pan as long as the sides of the pastry are short.
Masking Tape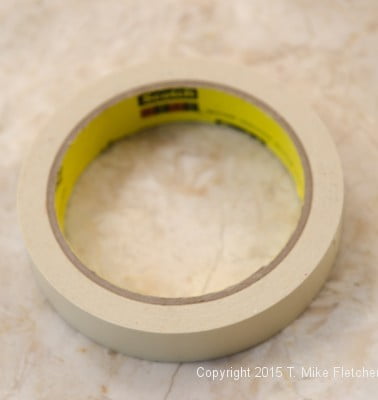 I don't think I could live without masking tape in my kitchen. I use it for a quick closure on a bag. I don't like twist ties because they can come undone so easily. I use masking tape to mark what is in containers. Two words of caution: It must be put on the exterior of room temperature or warm containers. It is too late if it is frozen. Also, be sure to remove it before putting the container in the dishwasher as it can get gummy and become difficult to remove it cleanly.
What are your pastry kitchen essentials?