Kitchen Organization is really important to me. Not only because I am in the kitchen all the time, but because I don't like clutter or a lot of things on my counters. I have never wanted a large kitchen. I prefer a smaller kitchen where everything is at hand and easily accessible when I need it. Perhaps it is because the bakery was large and there was a lot of walking around.
When we moved from the large house we lived in for 42 years to an apartment, we had a lot we couldn't take. When I closed the bakery, I kept some of the many things I used professionally. I had to get rid of at least two-thirds to three-quarters of that equipment when we moved.
We were fortunate to find a three bedroom apartment that has a ton of storage. I have never seen so many and such big closets in my life. The house had miserable storage so everything was in the basement. The kitchen has two pantries which quickly filled with all my baking goods.
This past January, Mike and I spent the first two weeks on kitchen organization using two sizes of plastic boxes. I like them because it is easy to pull one out (like a drawer) and find what I need. All of my baking pans are in the larger boxes (see above) as are the many prop plates and other items used for photography. Many items are in the shoe box size such as the chocolate in this one. Any container store will have these and many other sizes.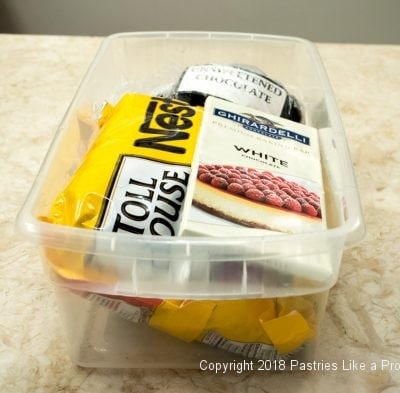 Glass containers for flours, sugars, chocolates and more are a great help for kitchen organization. I have labels in most but I can also see inside which tells me when I am getting low.
The large pantry stores most of my baking supplies and most of our food needs. The smaller pantry is what we refer to as the "breakfast" pantry which stores bread, breakfast items, and snacks.
However, even with these two pantries in the kitchen, can you believe, I still needed more storage? So we added white covered, wire shelving to the double doors of the large pantry which increased the storage even more. The shelving comes in many depths and lengths and is easily found in hardware stores.
One of the kitchen essentials I brought with me is my six-foot spice cabinet. It was built for the remodeled kitchen in the house. It is made of oak with glass shelves and holds all my herbs and spices in alphabetical order. It also has a lot of baking, as well as miscellaneous, items. I was overjoyed when I saw it would fit just outside one of the doors to the kitchen and was only steps away when I needed something.
I love seeing this same idea incorporated into five or six-inch spaces in modern kitchens next to the refrigerator and the wall. There are plans for easily building a pull-out rack on wheels in a small space between a piece of equipment and the wall if you are so inclined. Here is one set of instructions for building your own, I'm sure there are more - https://non www.instructables.com/id/Empty-Space-next-to-the-fridge-Make-a-Roll-Out-P/
There are also premade narrow organizers serving the same purpose here - https://non www.amazon.com/dp/B072DYWP5M/?tag=dylamzimages-20
Partitioning drawers help with kitchen organization, keeping small utensils from becoming jumbled and difficult to find.
Here are a few of some of the excellent articles on the net which may give you an idea or two for your own kitchen organization. I found a couple myself.
Kitchen Organizing Tips from Readers of kitchn - https://non www.thekitchn.com/why-didnt-we-think-of-that-18-ingenious-kitchen-organizing-tips-from-our-readers-200622
Buzz Feed has these - https://non www.buzzfeed.com/twopoodles/lifehacks-for-your-tiny-kitchen?utm_term=.qxmeYkjb7p#.dlyO8PEz2W
Life Hack has some interesting ideas also - https://non www.lifehack.org/articles/lifestyle/kitchen-hacks-31-clever-ways-organize-and-clean-your-kitchen.html