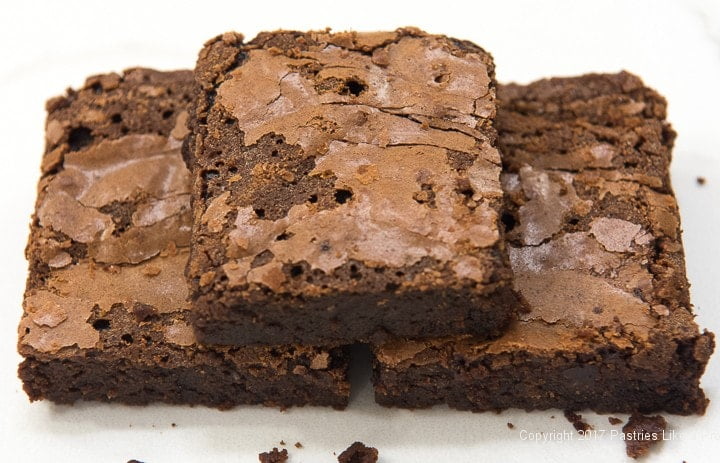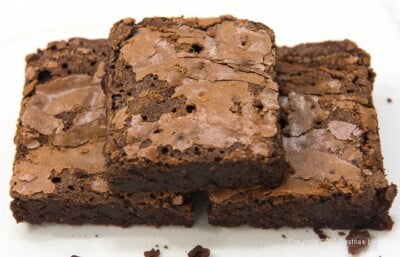 Cocoa Brownies have never been in my wheelhouse and I'm not sure why, although I have a sneaking suspicion I am prejudiced in favor of chocolate. However, while wandering around the internet recently, an article on cocoa brownies caught my eye.
Since 2018 is my year of expanding my thinking and learning more, I thought this was a good time to give them a try. The original recipe comes from Kitchn and they are called Pantry Cocoa Brownies. The sentence about "blooming" the cocoa caught my eye. By combining the cocoa with a warm liquid it is said to make the cocoa more intense. I also liked the use of oil in the recipe as I have found it generally yields a more moist product. You also had to follow the order in which the ingredients were added as well as the mixing times. Well, I couldn't pass this up.
So having everything in my pantry, I gave it a whirl. Now you have to understand that rarely do I follow every single direction to a tee. The whole point of my blog is to de-mystify baking and pastry. Over the years, as a professional, I have found many other ways of putting recipes together with the same or better results but eliminating some of the steps or changing them around. But follow I did – to a tee! Well, almost, I made one small change to the pan prep.
I mixed as long as the recipe said, added the ingredients in the order stated and off the cocoa brownies went to the oven.
While I was waiting for them to come out, I wondered what would happen if I just mixed them as usually done for brownies without all the stated times and specified order and bloomed cocoa. This is exactly what gets me into trouble!
You guessed it. I scaled all the ingredients and put them together without blooming the cocoa and in a much faster version of mixing.
What happened surprised me. The original brownies came out about ½" thick with a very shiny paper thin top. The article stressed the shiny top so everything seemed as it should be.
But when my version came out they were ¾ inches tall and the texture was lighter and less dense. Not by a ton but noticeable.
I noticed no difference in taste whether the cocoa was bloomed or just mixed with the flour and dumped in at the end. So here my version of the Pantry Cocoa Brownies. Please feel free to try theirs also if you so desire.
Oh, the top of mine was not as shiny as the Kitchn version but I have never judged a brownie by what the top looked like.
Both versions are wonderful. So much so that I had to take most of them to work and give them away for fear Mike and I would eat both batches. One last thought, you could add nuts or chocolate chips if you like to enhance them.
Thank's goes to Kitchn for their Pantry Cocoa Brownies and helping me expand my thinking about these wonderful cocoa brownies.
I have used exactly the same ingredients but simply put them together differently. In the photo below you can see the height and texture difference. I lightened the photo as much as I dared so you hopefully, can see what I am talking about.
Kitchn's Pantry Cocoa Brownies (with a few mixing changes)
⅔ cup unsifted natural unsweetened cocoa powder (55 grams or 2 scant ounces)
½ cup all-purpose flour (70 grams or about 2 ½ ounces)
½ teaspoon fine salt *
¼ teaspoon baking powder**
3 eggs
⅔ cup packed dark brown sugar (130 grams or 4 ½ounces)
1 ⅓ cup unsifted powdered sugar (170 grams or 6 ounces)
⅔ cup canola or vegetable oil
1 teaspoon vanilla
*I used fine sea salt but it wasn't so stated so I am assuming you can use table salt.
** This was interesting as natural cocoa uses baking soda, not baking powder to leaven the product. See my post Baking Powder vs. Baking Soda for an in-depth discussion of the two. But, as I said I followed it to a tee! Hmmm, I wonder what would happen if I substituted baking soda. That's for another day though.
Preheat the oven to 325°F with the rack in the middle. Line the bottom of a 9" square pan with parchment. (I did make one small change here by lining the pan. But it ensures the cocoa brownies will come out in one piece.) Spray the parchment and sides of the pan. Set aside.
Measure the cocoa, flour, salt and baking powder and sift them through a strainer. Both the flour and especially the cocoa have a tendency to have lumps. The cocoa lumps don't want to dissolve in liquid but will when they are sifted.
Beat the eggs and both sugars for about 3 minutes or until fluffy and lighter in color.
Add the oil and vanilla, mixing until completely combined.
Next add the flour mixture and beat on low just to combine.
Pour into the pan, level the mixture and bake for 28 to 33 minutes until a tester comes out with a few moist crumbs clinging to it.
Cool, go around the sides with a spatula and turn out onto a board. Cut it into as many pieces as desired, usually 16. See the shiny top!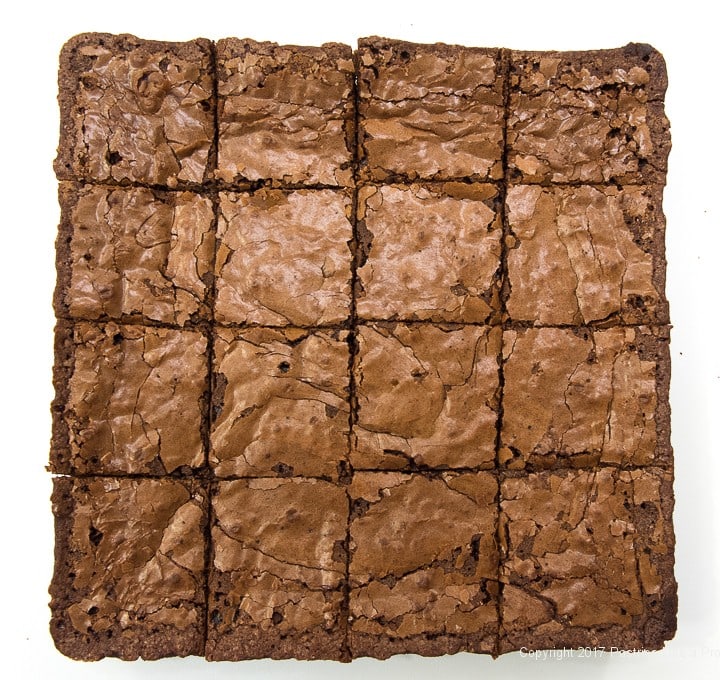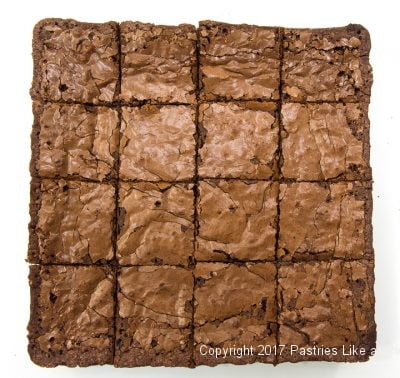 That's it, Cocoa Brownies in no time!