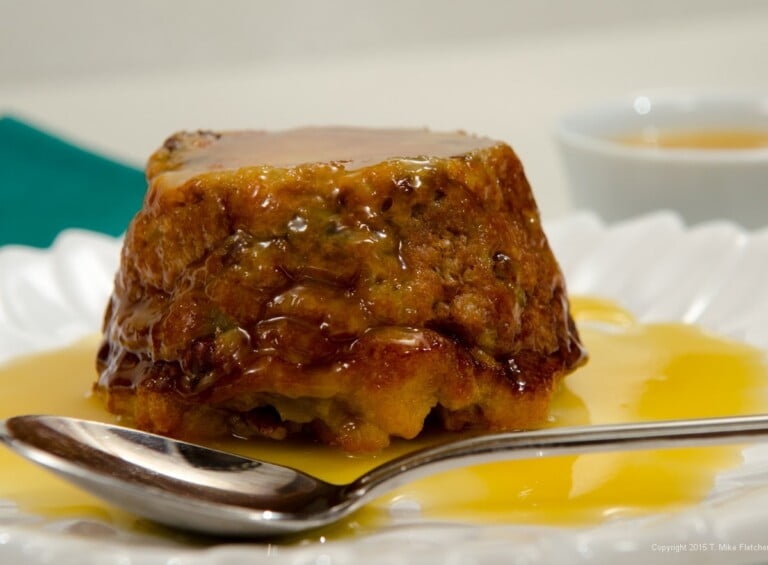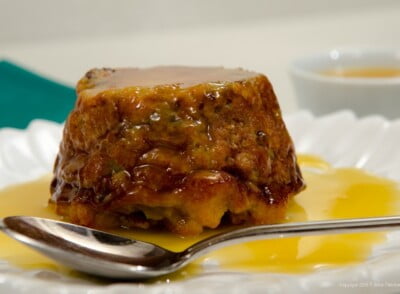 Orange Bread Pudding with Orange Cream Sauce is the type of dessert I once joked about. I was going to write a book named, "363 Bread Puddings and 252 Crème Brulees" because almost every restaurant in business serves these two desserts. But none of them comes close to this different take on everyone's favorite dessert.
While technically any bread can be used, Challah or Brioche are my breads of choice for this bread pudding. Challah is the Jewish Bread rich in egg and braided. It's very close to Brioche. Pecans and raisins work well with the orange flavor of the bread pudding. The Orange Cream Sauce accentuates the orange flavor while adding the perfect balance between sweet and tart.
Bread puddings are one of the easiest of desserts to make which is why restaurants make them. So don't hesitate to make this very sophisticated take on a much loved homey dessert. I chose to make this as individual servings. It could be made in a 8 cup single pan if desired but the baking time may need to be increased.
Let the loaf of bread sit for several days at room temperature to dry it out a bit.
Make sure you serve both the bread pudding and the sauce warm.
For those wanting to make their own Brioche Loaf, follow the recipe for the brioche and use these instructions for the loaf.
Brioche Loaf
1 recipe basic Brioche
1 egg, beaten
Make the brioche as called for. Let it rise and refrigerate overnight.
Spray a 9x5 inch loaf pan and set aside.
Pat or roll it out into a 9x14 inch rectangle. Starting at the 9 inch side roll very tightly jelly roll style. Place in the pan and flatten. Let it rise for about 2 hours or until slightly less than doubled. Brush the top well with the beaten egg.
Preheat the oven to 375°F. Place the pan in the oven and bake for 30 to 35 minutes.
Orange Bread Pudding
1 loaf Challah, Brioche or same type bread
½ cup Pecans (60 grams or 2 ounces
1 cup raisins (140 grams or 5 ounces)
2 tablespoons brandy
2 tablespoons orange liqueur
1 tablespoon orange rind from 1 large orange
5 eggs
2 ¾ cups half and half
⅔ cup sugar (130 grams or 4 ¾ ounces)
1 tablespoon vanilla
½ teaspoon salt
8 cups Challah or Brioche cut into ½ inch cubes
Orange Bread Pudding
Preheat oven to 350 degrees.
Place the pecans on a baking sheet in a single layer and toast for 5 to 8 minutes depending upon size of pecan. Cool before using.
Combine the raisins, brandy and orange liqueur. Heat gently just to warm. Allow to soak while preparing the rest of the ingredients.
In a very large bowl whisk together the eggs, half and half, sugar and vanilla. Add the bread. Soak for about 20 to 25 minutes until the bread is thoroughly soaked. Stir in the pecans and raisins with the brandy and liqueur.
Any individual oven proof cup or mold that holds ¾ cup will work. I spray 10 Texas muffin cups very well. Measure ¾ cup per mold. It will come almost to the top of the cup.
Bake for 25 to 30 minutes until a tester comes out clean and the puddings are set. Wait about 5 minutes. Go around the edge of the molds with a small flexible spatula and turn out onto a rack to cool.
To serve, place on a plate, upside down and ladle several spoons of sauce over each one.
Makes 10 individual desserts
Orange Cream Sauce
3 tablespoons unsalted butter
½ cup sugar
½ cup orange juice, freshly squeezed
¼ cup lemon juice, freshly squeezed
2 tablespoons Curacao, Triple Sec, Cointreau or Grand Marnier
2 tablespoons Brandy
¼ cup 40% cream
½ teaspoon cornstarch
Melt the butter in a saucepan. Add the sugar, orange and lemon juice; bring to a boil and boil hard for 3 to 4 minutes until somewhat thickened. Add the orange liqueur and brandy; boil another 2 minutes to return to thickness. In the meantime whisk the cream and cornstarch together. Remove the orange mixture from the heat and let the boiling subside. Add the cream mixture; return to heat and, stirring constantly, bring back to a boil and cook for 2 minutes. Cool completely.
Yield: Approximately 1 cup
Notes: The times given for the sauce are approximate depending upon the size of the saucepan. However, a little thinner or thicker really doesn't matter. This may be made several days ahead and stored in refrigerator. Warm briefly before using.
Make Ahead Notes: The bread puddings and sauce may be made several days in advance and refrigerated. Reheat the puddings at 350° for 15 to 20 minutes. Reheat the sauce to warm but do not boil.