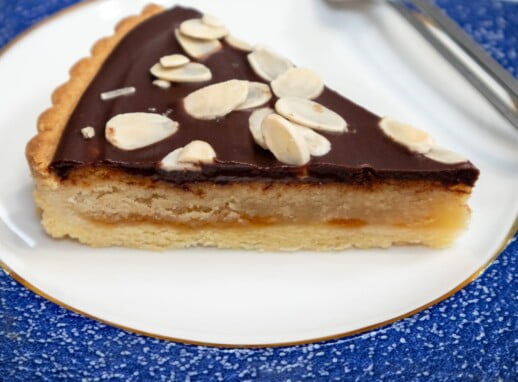 This Chocolate Glazed Bakewell Tart is an American take on an English dessert that can be found wherever Britannia ruled. It's a popular dessert in the UK, named after the Derbyshire town of Bakewell. It consists of a shortcrust pastry filled with a layer of jam, frangipane, and is usually topped with flaked almonds.
The history of the Bakewell Tart can be found on Tina's Traditional.
This Chocolate Glazed Bakewell Tart is given an American spin with it's chocolate sour cream ganache. The tart itself features a press in pate sucre crust over which a jam or preserves of your choice is spread. A traditional frangipane fills the tart which is baked and glazed when cool.
Pate Sucre Crust
The Pate Sucre Crust is butter rich and easy to make in a processor. Even easier, it can be pressed into the shell so there is no rolling out of the crust.
It should chilled to firm up the butter before partially baking. By baking about two thirds of the way, it will ensure the crust is completely baked when done.
Frangipane Filling
Frangipane is a classic almond flavored cream or pastry. While this recipe uses almond flour, almonds may be ground finely in a food processor and used as well. This is not a cooked cream so it goes together quickly.
Chocolate Sour Cream Ganache
The addition of sour cream to a ganache give it a subtle depth that cream alone doesn't. It's important not to let the sour cream/heavy cream come to a boil or the sour cream may separate.
Print
Chocolate Glazed Bakewell Tart
Bakewell Tart is a popular English treat and is very easy to make. I added a sour cream chocolate ganache because I can't think of anything better than almonds, amaretto and chcoolate.
Author: Helen S Fletcher
Prep Time:

45

Cook Time:

45

Total Time:

90 minutes

Yield:

12

servings

1

x
Category:

Tarts

Method:

Baking

Cuisine:

English
PATE SUCRE CRUST
1 ¼ cup

all purpose flour (

175 grams

or

6 ounces

)

½ cup

unsalted butter, cold and cut into small pieces (

114 grams

or

4 ounces

)

¼ cup

granulated sugar (

50 grams

or

1 ¾ ounces

)

2

egg yolks
FRANGIPANE FILLING
⅓ cup

jam or preserves of your choice

1 ⅔ cups

almond flour* (

170 grams

or

6 ounces

)

1 cup

powdered sugar (

114 grams

or

4 ounces

)

½ cup

+2 tablespoons unsalted butter, softened (

140 grams

or

5 ounces

)

1

large egg

2 tablespoons

cornstarch (

16 grams

or abut

½ ounce

)

1 tablespoon

amaretto

1 ½ teaspoons

almond extract

½ teaspoon

vanilla extract
*6 ounces of almonds can pulverized in a food processor along with ¼ cup of the sugar in place of the almond flour. Just make sure they are as powdered as possible without turning them into almond butter.
SOUR CREAM GANACHE
3 ounces

semisweet chocolate, melted (

85 grams

)

⅓ cup

heavy cream

¼ cup

sour cream

1 tablespoon

corn syrup
Sliced almonds as needed
Instructions
PATE SUCRE CRUST
Have a 9"x1" tart pan with a removable bottom available. Go here for how to photos.
Place the flour in the bowl of a processor. Pulse several times. Add the cold butter and process until the butter is indistinguishable. Add the sugar and process briefly to mix in. Add the yolks and process until the crust comes together in a ball.
Divide the dough in half (about 180 grams or 6 ⅓ ounces each). Divide one half in half again (about 90 grams or 3 ounces each). Roll one of the smaller pieces of dough into a rope that will go a little over halfway around the inside edge of the tart pan. Repeat with the second half, overlapping the edges of the dough.
Press the edges together so no line appears. Press the dough into the edges of the pan, Press the dough about 1" into the bottom of the pan towards the center.
Flatten the remaining half of the dough and place it into bottom of the pan. Press it out to join the edge dough. Join these completely so there is no line that can be seen. Set aside.
Refrigerate for 30 minutes or until firm.
Preheat the oven to 375°F. Tear a piece of foil about 13 inches long and spray one side of it with baking release. When the pastry is firm, line with the foil, sprayed side down. Fill the pan to the top with pie weights or with beans.
Bake for 20 minutes, remove the weights carefully by grasping all four corners of the foil and lifting out. Return the crust to the oven and bake for about 5 minutes more until about two thirds done baked. It should not be completely baked.
FRANGIPANE FILLING
Preheat the oven to 350°F. Spread the jam or preserves over the bottom of the par baked crust. Set aside.
Combine the almond flour, powdered sugar and butter in a mixing bowl and beat until well combined.
Add the egg, followed by the cornstarch, amaretto, vanilla, and almond extracts.
Spread over the jam. And smooth out.
Bake for 45 to 55 minutes until the tart is set. Lightly tent the top if it browns too much.
Cool Completely.
SOUR CREAM GANACHE
Combine the heavy cream, sour cream, and corn syrup in a small pan. Heat until steaming and liquid but do not let it simmer or boil. Add the melted chocolate and whisk very gently or stir with a heatproof spatula. Be gentle so there are no air bubbles.
Pour over the tart and spread just to the edge of the filling, leaving the edge of the crust exposed. Sprinkle with the sliced almonds and refrigerate to set the glaze.
Notes
Serve this Chocolate Glazed Bakewell tart at room temperature. It can be stored for a day at room temperature afterwhich it should be refrigerated. Bring to room temperature to serve.
Keywords: Bakewell Tart, Chocolate Glazed Bakewell Tart, tarts, pastry, easy to make
Here are a few more recipes that you might enjoy -