I know, I know apples again with this Cinnamon Whiskey Apple Tart. But it is the season and I am definitely taking advantage of it.
Before I continue with the blog, I wanted to thank all of you for voting for Pastries Like a Pro on the Ranked Blog in the bakery category. The blog is ranked number 1 and it wouldn't have been possible without those of you who voted. If anyone wants to still vote, please click on the link above.
Now back to the blog.
I am again using the Pâté Sucrée crust but getting it into the pan differently. Instead of rolling it out, I am pressing it into the pan. It's easier, faster and doesn't require chilling – unless you are working in very warm conditions. I think you will like this method. I have used this technique before and is the one we used at the bakery for this type of tart pan.
Golden Syrup used in Cinnamon Whiskey Apple Tart
The Cinnamon Whiskey Sauce is an all-purpose sauce that uses Golden Syrup, an ingredient that is not found on most grocer's shelves. It comes from England and can be found in specialty food stores or online. Lyle's Golden Syrup is the most popular brand I have found. I have become fond of using it instead of corn syrup for the taste. I's flavor is that of liquid caramelized sugar.
To avoid confusion when buying this product, Lyle's markets their golden syrup as Golden Syrup, Dessert Syrup in a squeeze bottle, and in a tin but it's all the same product including the design of the labels.
Golden syrup is entirely different from corn syrup. In England, it is called "light treacle". It is an inverted sugar syrup, made from sugar cane juice that has been concentrated and is about 25% sweeter than sugar. It can be substituted measure-for-measure for corn syrup and used in baking, cooking, candy making, over pancakes and waffles, etc.
If you're on the fence about getting a bottle, I will be posting and Australian Anzac Tart later this year which also uses golden syrup.
Corn Syrup
There is some confusion between corn syrup and high fructose corn syrup. Corn syrup as found on grocers' shelves, either clear or dark, is 100% glucose and is not the same as the high fructose variety where enzymes are added to corn syrup in order to convert some of the glucose to another simple sugar called fructose, also called "fruit sugar" because it occurs naturally in fruits and berries. However, to make things more complicated, some manufacturers add high fructose corn syrup to their regular corn syrup. Karo used to but no longer does. So using Karo corn syrup is 100% glucose or sugar and is not considered a high fructose corn syrup.
Cinnamon Whiskey
The most popular brand of cinnamon whiskey is Fireball but any brand will do. With specialty liquor or liqueurs, I buy the small airline bottles which are ¼ cup. Otherwise, I would need a closet to store all the special flavors that pop up from time to time in the blog.
While lemon juice is usually used to sharpen the taste of apple pies and tarts, I find white balsamic vinegar brings the taste level way up and suggest you try it.
Streusel Topping
¾ cup walnuts (85 grams or 3 ounces)
3 tablespoons flour (25 grams or 1 scant ounce)
¾ cup packed brown sugar (150 grams or 5 ⅓ grams)
3 tablespoons butter (45 grams or 1 ½ ounces)
Put all in the processor bowl fitted with the steel blade. Pulse to form a streusel topping. Do not over-process or it will form a cohesive mass. Set aside.
Pâté Sucrée Pastry Crust for the Cinnamon Whiskey Apple Tart
1 ¼ cup all-purpose flour (175 grams or 6 ¼ ounces)
½ cup unsalted butter, cold and cut into small pieces (114 grams or 4 ounces)
¼ cup granulated sugar (50 grams or 1 ¾ ounces)
2 egg yolks
Have a 9"x1" tart pan with a removable bottom for the tart handy.
Place the flour in the bowl of a processor. Pulse several times. Place the cold butter over the flour and process until the butter is indistinguishable. Pour the sugar over the mixture and process briefly to mix in. Add the yolks and process until the crust comes together.
Divide the dough in half (about 180 grams or 6 ⅓ ounces each piece). Divide one half in half again (about 90 grams or 3 ounces each).
Roll one of the smaller pieces of dough into a rope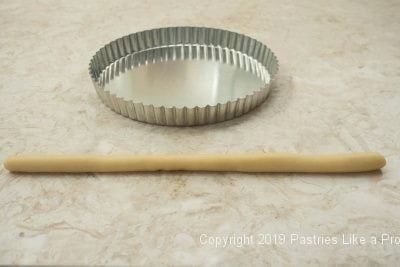 that will go a little over halfway around the inside of the tart pan.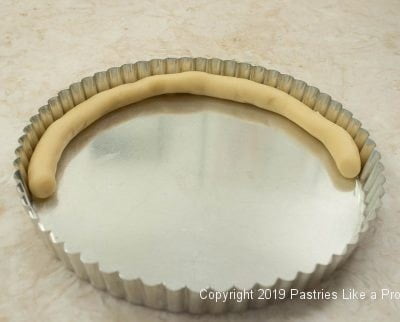 Repeat with the second half, overlapping the edges of the dough.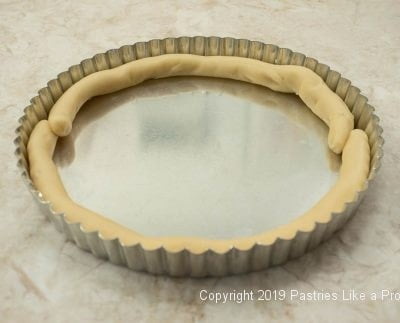 Press the edges together so no line appears. Then press the dough into the edges of the pan.
Press the dough about 1" into the bottom of the pan towards the center.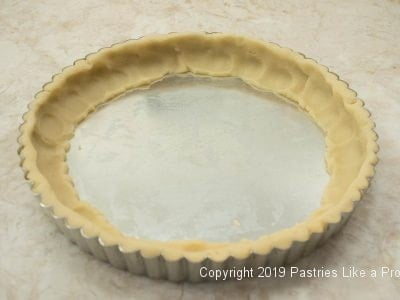 Flatten the remaining half of the dough and place it into the bottom of the pan.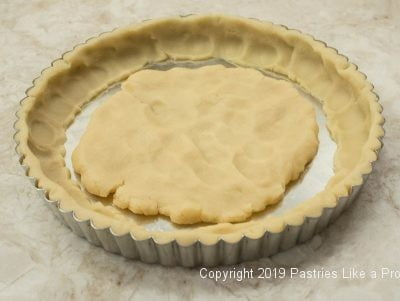 Press it out to join the edge dough. Join these completely so there is no line that can be seen.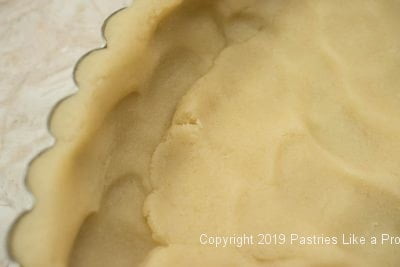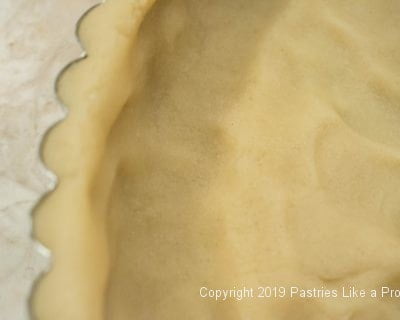 Completed crust.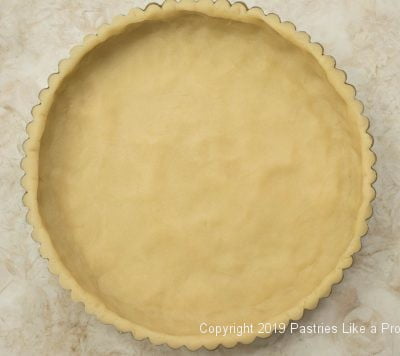 Set aside.
Apple Filling
The photos show granulated sugar being used but the recipe calls for brown sugar. I changed this in the second version to brown sugar for a deeper taste. Either can be used but the brown sugar is better.

2 pounds apples – granny smiths preferable (910 grams)
½ cup brown sugar (100 grams or 3 ½ ounces)
2 tablespoons flour
2 tablespoon cinnamon whiskey
1 tablespoon white balsamic vinegar*
*Lemon juice can be substituted but the vinegar is best
Peel the apples and slice thinly, placing them in a large bowl.
Mix the brown sugar and flour together. Sprinkle the mixture over the apples.
Mix to coat all the apples.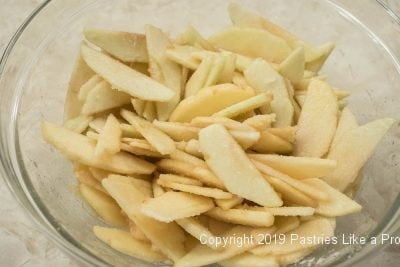 Combine cinnamon whiskey and vinegar. Pour over the apples and mix well.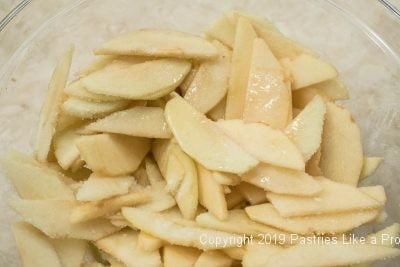 Let it sit for about 20 minutes.
Assembly of Apple Tart
Streusel
Prepared Shell
Apple Filling
Preheat the oven to 375°F. Line a rimmed baking sheet (such as a half sheet pan) with parchment and place the prepared crust on it.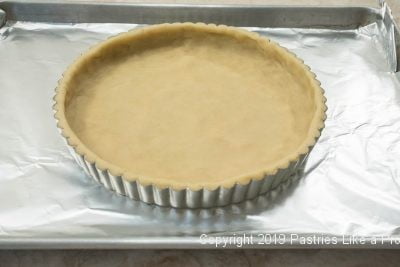 Place the apples in the crust.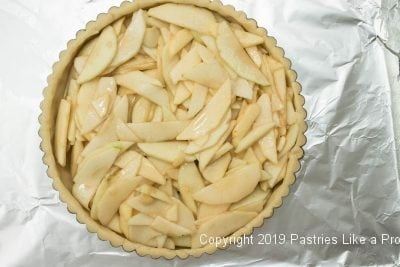 Pour any juices evenly over the apples. Place the streusel evenly on top, patting them lightly into the apples.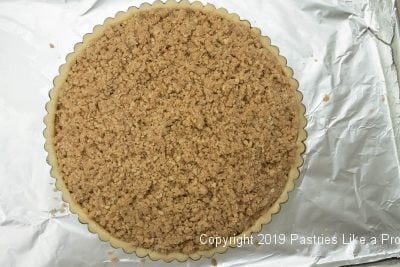 Bake for 55 to 65 minutes until the crumbs are lightly browned and the apples are tender. If the crumbs brown too quickly, tent them lightly with foil.
Cool to lukewarm if serving immediately. Otherwise, cool completely, remove from the pan and refrigerate up to 3 days. Warm briefly and serve with the Cinnamon Whiskey Sauce.
Cinnamon Whiskey Sauce
4 tablespoons butter
½ cup brown sugar (100 grams or 3 ½ ounces)
¼ cup golden syrup*
¼ cup water
1 teaspoon cinnamon
1 teaspoon vanilla
1 tablespoon cinnamon whiskey
*Corn syrup may be substituted
Combine all the ingredients in a saucepan. Bring to a boil, stirring occasionally. Boil for 2 minutes.
Remove from the heat and allow to cool. Store in the refrigerator for up to 2 weeks. Serve at room temperature. If the sauce has separated, heat it, whisking until it comes together.
Yield: 1 cup
Note: This sauce can easily be doubled if desired. It's great on ice cream, bread pudding, waffles, or pancakes.
Other recipes you might enjoy include: