Ok, Ok, so this Caramelized Peach Tart isn't the best cutting tart I've ever made. But it sure is one of the best tasting. How can you miss with pastry cream, caramelized peaches and a brown sugar make ahead crumble with almond paste.
It's no secret if you have followed the blog for any time that I am wild about peaches and this year has seen outstanding peaches. However, I will try to control myself and move on to something else next week.
It's funny how recipes come about. I had mulled caramelizing peaches for a while but was thinking of using them in an upside down cake. Then one morning last week I woke up and for some reason, I couldn't get this Caramelized Peach Tart out of my mind. While it consists of several component parts, all of them are do ahead so it can be stretched out over days or even weeks.
But don't wait until peach season is gone - this is truly worth making. From the press in cookie crust, to the creamy pastry cream, the intensely flavored peach filling, and finally a bake alone crispy crumble topping that is good on ice cream, fresh fruit, and myriad other things.
Baked Brown Sugar Crumble
Years ago when I wrote European Tarts, I included this as the topping for the Apricot Crumble Tart. Because this is baked on a sheet pan, it can be cooled and kept as a final flourish to anything requiring a bit of crunch and extra flavor.
The almond paste and brown sugar work well together. When I went to make this I didn't have any almond paste. What I did have was a lot of almond flour. In a matter of minutes I made a batch of almond paste which I used here. When you go to the post there are two versions. I used the one with the simple syrup.
I will say the brown sugar crumble came out of the food processor in crumbs but baked up in a solid sheet.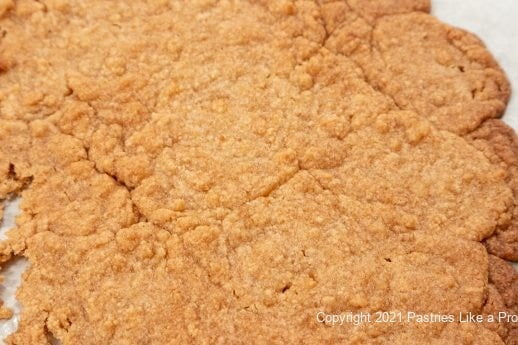 So I used a fork to pull the mass of baked "crumble" into crumbs while hot.
When they cool, they are crisp and if not small enough, just break them up between your hands.
Caramelized Peach Tart
As mentioned above this dessert requires a number of parts but all of them can be done ahead. Here's how that looks.
9" Plain Press in Shell - this can be made weeks, even months ahead and frozen unbaked in its tin. It can be baked from the freezer when needed. Go here for how to photos.
1 cup all purpose flour (140 grams or 5 ounces)
¼ cup cake flour (30 grams or 1 ounce)
⅓ teaspoon baking powder
6 tablespoons unsalted butter, cold and cut into small pieces (85 grams or 3 ounces)
3 tablespoons sugar (35 grams or 1 ¼ ounce)
1 egg
Preheat oven to 350 degrees if baking immediately. Spray only the center bottom of a 9" tart pan with a removable bottom with a non-stick baking release. Set aside.
Mixer Method: Combine the flours, baking powder and butter in mixer bowl. Beat with the paddle attachment until the butter is cut in very finely. Add the sugar; mix briefly. Add the egg; mix on medium speed until it comes together in a ball.
Food Processor Method: Place the flours and baking powder in the food processor. Process to mix briefly. Place the butter in a circle over the flours. Process until finely cut in. Add the sugar; process briefly. Add the egg and process until a ball forms.
Save a small piece of dough about the size of a large marble in case the crust needs to be patched.
Divide the remaining dough in half (170 grams or 6 ounces). Divide one piece in half again (85 grams or 3 ounces). Roll one of the smaller pieces of dough into a 14"rope.
Lay it against one half of the inside edge of the pan. Repeat with the second piece of dough being sure to overlap the edges. Press the edges together so they become one piece. Press the ropes against the rim of the pan all the way around.
Flatten the remaining piece of dough (170 grams or 3 ounces) and place it in the center of the bottom of the pan. Press it out to the edges of the pan and press it securely to the bottom edge of the sides. Make sure there is no seam showing.
Prick the bottom of the crust.
Place it on a baking sheet and bake for 18 to 22 minutes until lightly browned. If the crust cracked anywhere, use the reserved dough to patch the crack. While the shell is hot from the oven, put small piece of the dough over the crack and, with an offset spatula, smooth it over the crack sealing it. There is no need to do anything else.
If baking from the freezer, add a few minutes.
Cool completely before using.
Pastry Cream - Just like the shell above, the pastry cream can be frozen for a month or two. Just thaw it in the refrigerator a day or two before using. The whipped cream should be added after it has thawed. Please see All About Pastry Cream for an indepth understanding this pastry staple.
Using the ingredients listed below, go here for how to pictures. This recipe omits the use of the gelatin.
⅞ cup milk, hot*
3 large egg yolks
⅓ cup granulated sugar (65 grams or 2 ¼ ounces)
2 tablespoons all-purpose flour (17 grams or about ⅔ ounce)
1 teaspoon vanilla
⅓ cup heavy cream
*Any milk can be used. I use 2% because that is what we drink. ⅞ cup is 1 cup less 2 tablespoons.
Whisk the egg yolks and sugar together in a bowl. Whisk in the flour.
Add the milk slowly, whisking well and scraping the corners of the pan with a rubber spatula to make sure all of the egg yolk mixture is incorporated.
Strain the mixture into a saucepan and place over medium heat.
Stirring constantly, bring to a boil. Boil for 1 minute. Remove from the heat and add the vanilla. Pour into a storage container, cover the surface with plastic wrap, poke a few holes in it and let it cool. Refrigerate overnight to chill or freeze.
When ready to use, whip the cream to medium stiff peaks. Remove to a bowl. Place the pastry cream in the mixing bowl and beat with a paddle until smooth. Fold in the cream.
Almond Paste - this can be made months ahead and stored in the freezer or it can be stored in the refrigerator for a couple of weeks. You can also buy almond paste if desired. Go here for how to photos.
½ cup +1 tablespoons almond meal or almond flour (70 grams or 2 ½ ounces)
½ cup +1 tablespoon powdered sugar (70 grams or 2 ½ ounces)
1 ½ tablespoons simple syrup – recipe below
1 ½ teaspoons almond extract
Combine the almond flour and powdered sugar in the processor bowl. Process briefly to mix well.
Combine the simple syrup and almond extract. Stir well. Pour over the dry ingredients in the processor in a circle. Process until it appears like sand. However, it should come together when a small amount is pinched. If it is too dry, add more simple syrup very sparingly, just a bit at a time. If too wet, add a bit more almond flour.
Pour it our onto a work area and push it together. Knead it several times; then shape into a log. Wrap in film and refrigerate for about an hour.
Simple Syrup
¼ cup water
1 tablespoons light corn syrup
3 tablespoon sugar (42 grams or 1 ¼ ounces)
Put the water and corn syrup in a small saucepan. Add the sugar and stir to combine. Bring to a boil and boil for 2 minutes. Remove from the heat and cool.
Baked Brown Sugar Crumble - This can be made a week or so ahead. Store in a covered container at room temperature.
⅓ cup flour (45 grams or 1 1 /2 ounces)
⅓ cup packed brown sugar (65 grams or 2 ounces)
½ teaspoon salt
3 tablespoon cold unsalted butter, cut into small pieces (45 grams or 1 ½ ounces)
2 ounces almond paste (60 grams)
Preheat oven to 350°F. Line a baking sheet with parchment paper. Set aside.
Place everything in the processor bowl and pulse just until crumbly. Do not overprocess. You want fairly large crumbs. Line a bakig sheet with parchment paper and spread the crumbs out. Bake about 7 to 10 minutes or until golden.
If they bake up in a sheet, use a fork to pull the dough away to make crumbs while it is still hot.
Cool. If the crumbs are too big, smash them between your hands.
Store in an airtight container at room temperature.
Caramelized Peaches - these should be made the day the tart is assembled.
3 cups peaches (About 3 medium size peaches, slightly under ripe)
¼ cup butter
½ cup granulated sugar
2 tablespoons corn syrup
2 tablespoons amaretto
Peel the peaches or blanch them in boiling water to loosen the skin. Go here for how to pictures. Cut the peaches in about ⅓" pieces.
They shoudn't be too thin or they will reduce in size as they cook.
Place the all the ingredients except the peaches in a skillet large enough to hold the peaches.
Bring to a boil and boil for several minutes to reduce the mixture.
Add the peaches and continue boiling until the syrup is reduced and the peaches have softened.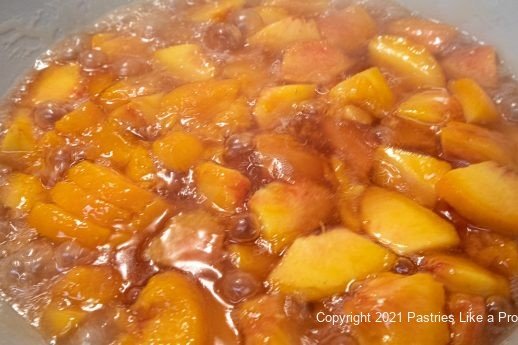 Cool completely.
Caramelized Peach Tart Assembly
Baked pastry shell
Pastry Cream, lightened with whipped cream
Caramelized Peaches
Brown Sugar Crumble
Powdered sugar, optional
Spread the pastry cream evenly into the pastry shell.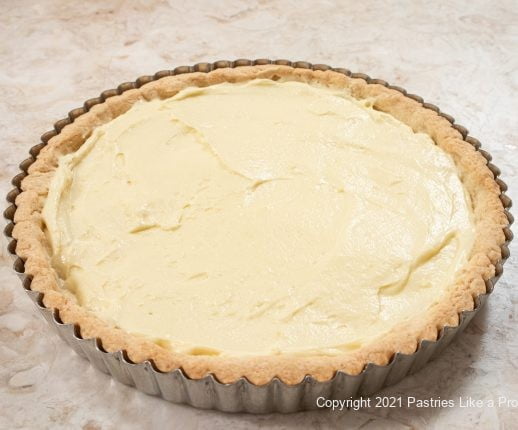 Top with the caramelized peaches and
then with the brown sugar crumble.
If you wish to finish the tart with powdered sugar, cut strips of paper about ¾" wide. Arrange them on top of the tart.
Sprinkle heavily with powdered sugar. Carefully remove the paper strips.
Store the tart in the refrigerator.