An interesting thing happened on the way to the Pina Colada cake (which is next weeks blog).
I was working on too many things at once when I was working on this cake. At the end of the day I went to release the cake and ended up cutting across one side of it because I wasn't focusing on what I was doing. My husband offered the opinion that if we turned it a certain way, it probably wouldn't matter. I was very tempted because I was tired. I had learned not to made decisions when tired, so I put it off for a day.
That proved to be a lucky decision. When I looked closely at the cake, the texture seemed to be a bit coarse. While it probably wouldn't matter to most people, I am always trying to make my work better. I decided to switch the all purpose flour for cake flour - but by weight. So the 1 ¾ cups of all purpose flour became 2 cups of cake flour since they both weighed 250 grams or 9 ounces. It proved to be a good idea.
While I love the other delicate yellow cake I blogged about earlier, I needed a more substantial yellow cake for this recipe as I wanted to soak it in a rum syrup. And here it is. Although more substantial, it is moist and with only butter as its flavoring, it accepts whatever you add to it. While it is the perfect vehicle for a soaking syrup, it is equally good on its own.
I thought it might interest you to see how changing one type of flour for another would make such a noticeable difference. And the only change between the flours is the protein or gluten count. All purpose flour is around 11% while cake flour is around 8% making it a softer flour. The bottom layer which is flatter is made with the all purpose flour. The top cake which is slightly domed is made with the cake flour.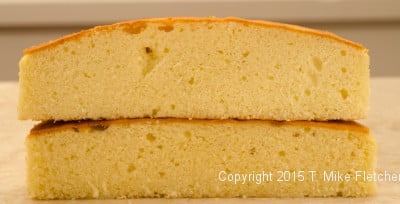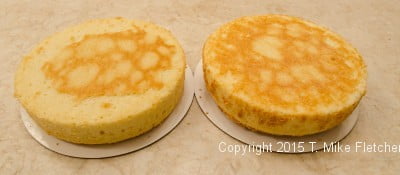 The version with cake flour has a tighter crumb, better color and rises a bit more. The cake in the back is visibly taller than the layer in front.Even the bottoms look different. The one on the left was made with all purpose flour, the one on the right with cake flour. It is almost velvety. As you will see in the photo, despite preparing my 9x2 inch pan as I usually do, it humped slightly in the center. I believe if the pan it was baked in was 3 inches deep, it would have been as flat as any other cake. It simply ran out of room to cling to the pan at 2 inches. I believe it would have been at least 2 ¼ to 2 ½ inches tall. Conversely the layer made with all purpose flour came out flat as it did not rise as much, but still a respectable 2 inches. The all purpose cake on the left fills a 2 inch deep pan. So dividing either batter in half for these cakes would make a great 2 layer cake*. I am excited to try the two layer version with a dark chocolate buttercream - yummmmmmm!
When I tested this cake two ways, I kept everything as equal as possible without two ovens and another person running the test at the same time. I put the butter out the night before so it would be evenly softened. Microwaving it makes it difficult to get it equally softened. I weighed out all of the ingredients at once for both cakes and since I have two bowls and paddles for my K5A ,I was able to make one, put it in the oven and immediately go to the next one. I timed every step, as you will see, to make sure I didn't beat more air into one than the other. I used the same number on the machine for each as well as the time.
I hope you find this as interesting as I do. This recipe is written with the times and numbers that I used for the test included. You don't have to use them, just make sure all is beaten as needed. One of the most important things in cake baking is to scrape quite often to make sure everything is being evenly distributed and incorporated. I scrape every time I add something.
Now it makes me wonder what other recipes could use the same swap out. But that's for another day!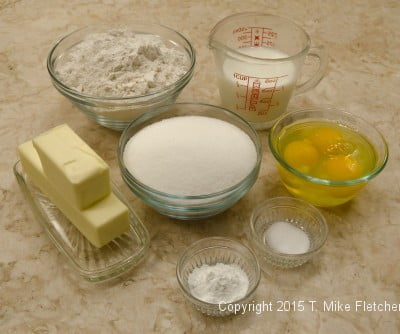 Yellow Velvet Butter Cake
2 cups unsifted cake flour (250 grams or 9 ounces)
1 ½ teaspoons double acting baking powder
¼ teaspoon salt
¾ cups butter (170 grams or 6 ounces or 1 ½ sticks)
1 ⅓ cup sugar (270 grams sugar or 9 ½ ounces)
3 eggs
¾ cup milk
Preheat oven to 350 degrees. Line a 9x2 or 9x3 inch round cake pan with parchment. Spray the center only. Set aside.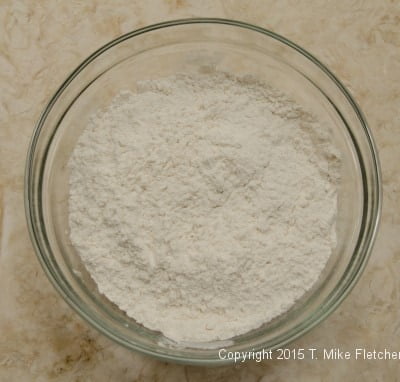 Whisk the flour, baking powder and salt; set aside.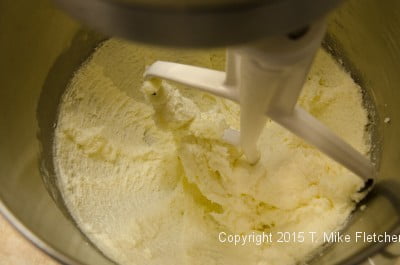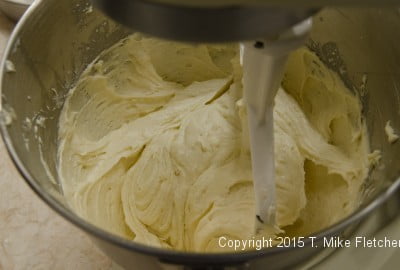 In the bowl of an electric mixer cream the butter and sugar for 1 minute on number 4 for a K5A or medium for other mixers. Beat in the eggs one at a time for 30 seconds on number number 4 for a K5A, scraping the bowl each time you add an ingredient. On lowest speed, number 2, alternately add the dry ingredients in three additions and the milk in two additions, beating for 30 seconds, scraping the bowl smooth after each addition.
The batter may curdle at some point when adding the milk. Don't despair. It will all come together with the last addition of flour.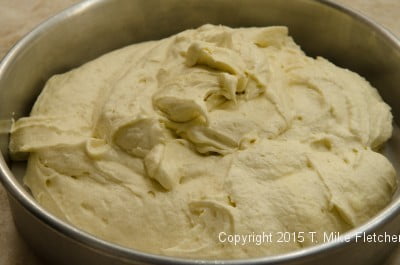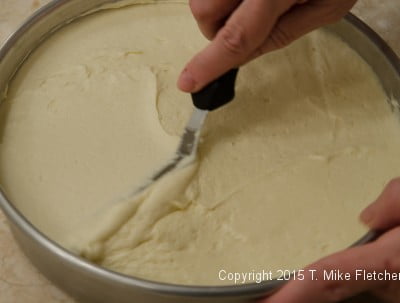 Turn the batter into prepared pan. Level top. The pan will be ¾ full.
Bake for 40 to 45 minutes until a cake tester comes out clean.
*While I haven't baked this cake in two layers, my suggestion is to bake the two for 20 minutes to start, although I believe it will take 25 to 28 minutes.
Batter yields approximately 990 grams or 34 ¾ ounces.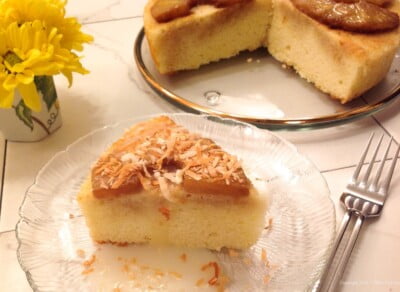 And here is the cake we will be making next week: Pina Colada Cake. In TV land this is referred to as a tease and so it is!