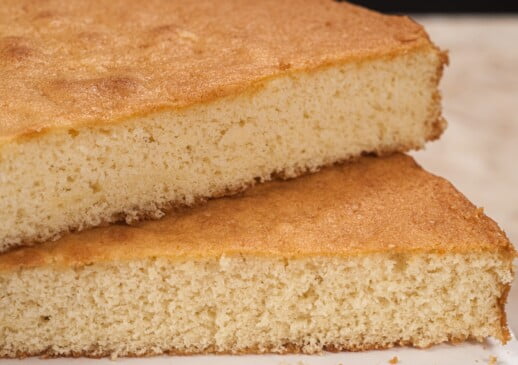 For some reason, yellow cake was always my nemesis. I just couldn't find one I really liked and I couldn't come up with one. I just skipped it every chance I got. One day, I decided enough was enough and started experimenting. By the time I was done, I had a yellow cake to be proud of and proud I was!
Yellow Cake
This cake is very tender, light and stays moist for days. It is easily scaled up and accepts any number of fillings. This is a thick, velvety, luxurious batter.
The mixing of this cake is interesting. Where I spent a lot of time creaming the butter and sugar, this one does none of that. It's basically two steps after assembling the ingredients. Not only is it the best one I have ever made, it is the easiest.
See if you don't agree this is yellow cake at it's best and easiest.
How to Bake a Flat Cake Layer
At the bakery, we didn't have time to trim humpy cakes flat so I came up with a method to insure flat layers. It is based on the way an angel food cake is baked. Angel food cake pans are not prepared in any way. The batter is just added to the pan, smoothed out and baked.
Cake Pan Prep guides you to the perfect, flat cake layers every time. It's all in how the cake pan is prepared.
Get the Recipe:
Easy Yellow Buttermilk Cake
This cake is my go-to yellow cake after years of searching.  It has a light texture, golden crust and stays moist for days, is easily scaled up, and accepts any number of fillings. This is a thick, velvety, luxurious mixture.  And it only has two steps to mix it.  
Ingredients
4

large egg yolks (68 grams or 2 ¼ ounces)

⅔

cup

buttermilk

2

teaspoons

vanilla extract

1 ¾

cups

cake flour (225 grams or 8 ounces)

1

cup

sugar (200 grams or 7 ounces)

1

teaspoon

baking powder

1

teaspoon

baking soda

½

teaspoon

salt

1 ½

sticks

unsalted butter (170 grams or 6 ounces, softened)
Instructions
Preheat the oven to 350 degrees.

Whisk the yolks, one fourth of the buttermilk and vanilla in a bowl.  Set aside.

In a mixing bowl, combine the dry ingredients and mix briefly to blend.  Add the butter and the remaining buttermilk.  Mix on low until the ingredients are moistened, then raise to medium and beat for 2 minutes.   Scrape down.

Add the egg yolk mixture in thirds, beating about 30 seconds after each addition. Scrape down between additions. Divide into the desired number of layers or cupcakes.

Bake as called for below or until a tester comes out clean or it springs back when the center is lightly touched.  The cake should not pull away from the sides of the pans.

Cool in pans, release and use as desired.

The batter weighs approximately 790 grams or 27 ¾ ounces.
Notes
These layers can be frozen, well wrapped, for several months.  
Weights and Baking times
2 layers = 390 grams each or 13 ⅔  ounces each.  They are about 1 inch tall.  Bake for18 to 20 minutes.

3 layers = 265 grams each or 9 ⅓ ounces each.  They are about ⅔ inches tall.  Bake for 15 to 18 minutes.

4 layers = 195 grams each or 6 ¾ ounces each.  They are about ½ inches tall.  Bake for 12 to 15 minutes.

18 to 20 regular size cupcakes with a #16 scoop, well scraped off.  Bake for 15 to 20 minutes.
Disclaimer
This Analysis is an estimate based on available ingredients and this preparation. It should not substitute for a dietitian's or nutritionist's advice.
Nutrition
Calories:
261
kcal
|
Carbohydrates:
31
g
|
Protein:
4
g
|
Fat:
14
g
|
Saturated Fat:
8
g
|
Polyunsaturated Fat:
1
g
|
Monounsaturated Fat:
4
g
|
Trans Fat:
0.5
g
|
Cholesterol:
97
mg
|
Sodium:
242
mg
|
Potassium:
48
mg
|
Fiber:
0.4
g
|
Sugar:
17
g
|
Vitamin A:
462
IU
|
Calcium:
49
mg
|
Iron:
0.4
mg