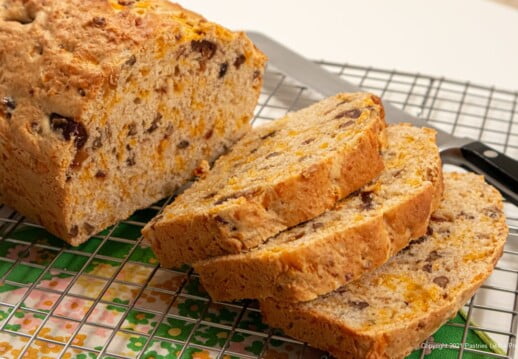 This Cheddar Pecan Date Bread is a sleeper. Normally, I'm not a big fan of savory quick breads. But this one was quite a surprise and really quick.
The recipe to which I was referring used cheddar cheese, buttermilk, and bran but I had none. I also didn't have the recipe. What I did have was cheddar, pecans and a bag of dates. Armed with those I knew I could use them to good advantage. This moist loaf with its cheesy overtones is the outcome.
Dates can be tricky to chop. I cut them up with a pair of scissors. It goes really fast and is so much easier than trying to cut them with a knife.
While you could use just all-purpose flour, the whole wheat flour, while not discernable, enhances the flavor of this Cheddar Pecan Date Bread even though it can't be tasted. This is definitely a quick bread to make. Whisk together the dry ingredients. Blend together the wet ones and combine them. That's it. Bake, cool and enjoy!
Cheddar Pecan Date Bread
1 ¾ cups all-purpose flour (250 grams or 8 ¾ ounces)
½ cup whole wheat flour (70 grams or 2 ½ ounces)
2 teaspoons baking powder
½ teaspoon baking soda
½ teaspoon salt
¼ cup sugar (50 grams or 1 ¾ ounces)
1 cup sour cream (225 grams or 8 ounce)
½ cup milk
1 large egg
1 cup shredded sharp cheddar cheese (114 grams or 4 ounces)
1 cup chopped dates (114 grams or 4 ounces)
½ cup chopped pecans (60 grams or 2 ounces)
Preheat the oven to 350°F. Line the bottom of a 9x5" loaf pan with parchment paper. Spray the entire pan with a non-stick baking spray. Set aside.
Whisk both flours, baking powder, baking soda, salt and sugar together. Set aside.
In the bowl of a mixer, combine the sour cream, milk, and the egg.
Add the dry ingredients, mixing completely.
Blend in the cheese, dates, and pecans.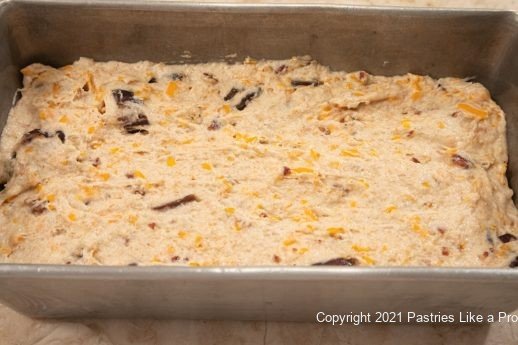 Pour it into the prepared pan and smooth it out.
Bake for about 45 minutes or until a tester comes out clean.
The aroma of the Cheddar Pecan Date Bread is heavenly, but wait until the bread cools to eat it.
Store in a plastic bag where it will last several days.
If you like this bread, I'll bet you'd like these:
Crumb Topped Orange Date Muffins
Bacon and Cheddar Cheese Popovers
Four in One Amazing Quick Breads