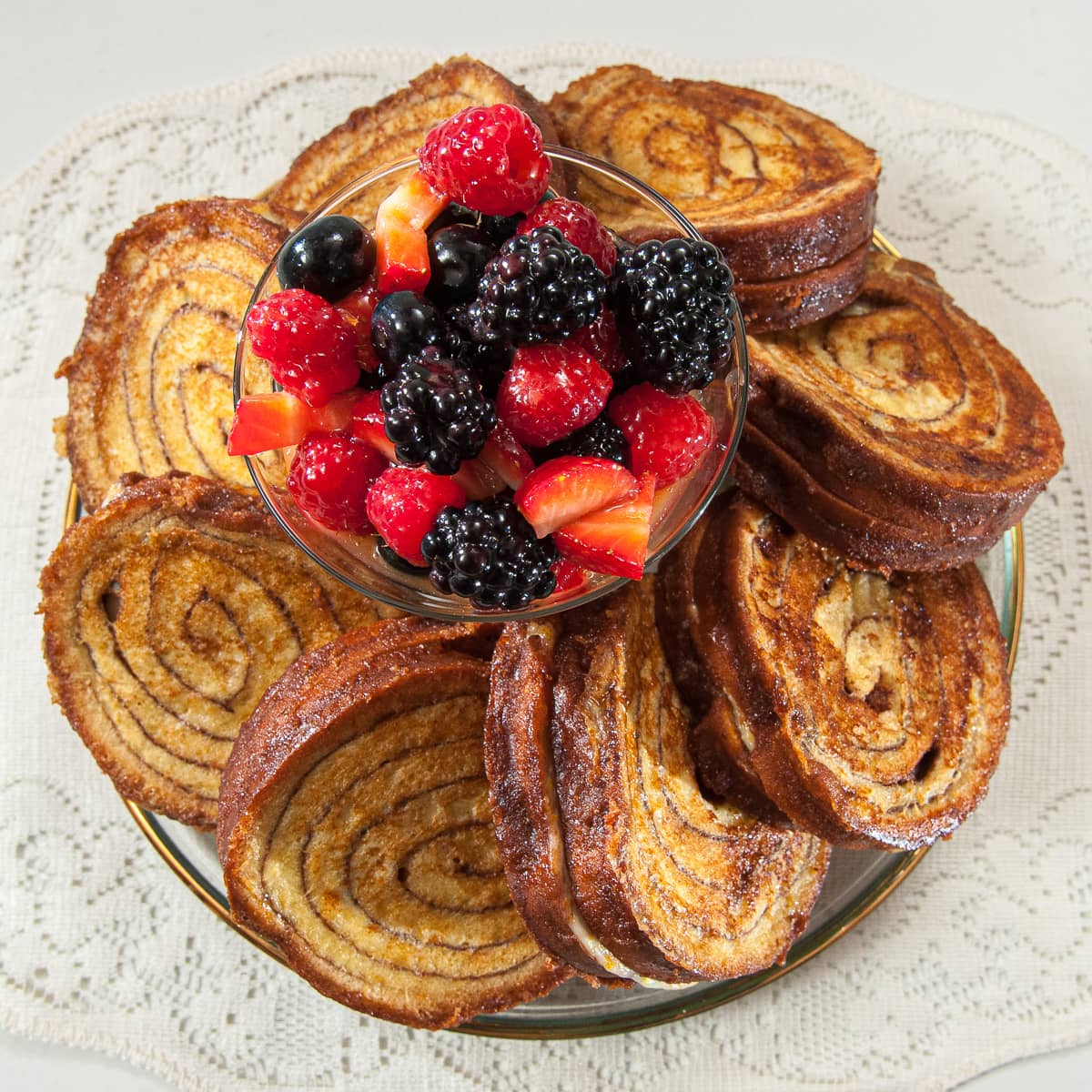 With the holidays around the corner, this Stuffed Cinnamon French Toast with Orange Cream Sauce is perfect for a brunch.
For this Stuffed Cinnamon French toast you can use any cinnamon bread, but Dierberg's in St. Louis has a great round cinnamon bread that I used for mine. I actually thought of making the French toast with croissants but when I went shopping, I found this charming cinnamon bread and instantly changed my mind. Lightly sweetened cream cheese highlighted with a bit of orange zest to accentuate the sauce is an easy embellishment to plain French Toast.
The French toast can be sandwiched and wrapped in film to be used the next day or two. The Orange Sauce has it's base as the sauce for my Crepes Suzette. For this one, I simply added a bit of cream and cornstarch to thicken it slightly. It can be made several days ahead and simply warmed slightly to bring it to room temperature before combining it with the fresh berries.
Just before your guests arrive, fry off the Stuffed Cinnamon French Toast and keep it warm in a low oven or warming drawer. Serve it with the Orange Cream Sauce with Berries. This is guaranteed to have them coming back for more with not a lot of work for you.
Filling for Stuffed Cinnamon French Toast6 ounces cream cheese (⅓ less fat is fine), room temperature
½ cup powdered sugar
2 teaspoons grated orange zest
Combine the cream cheese, powdered sugar and orange zest. Mix completely. Set aside.
Stuffed Cinnamon French Toast16 slices cinnamon bread
4 eggs
1 cup milk, whole or 2%
2 tablespoons sugar or to taste
1 teaspoon vanilla
Butter as needed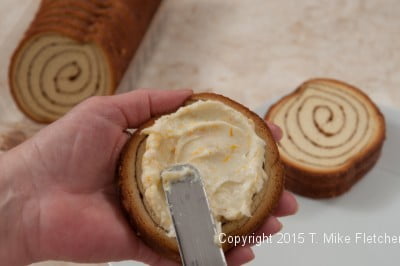 Spread filling evenly on 8 slices of cinnamon bread. Top with remaining 8 slices of bread. Set aside. Whisk the eggs until completely blended. Add the remaining ingredients and whisk to combine.
Dip each cinnamon bread sandwich into the mixture on both sides letting it sit in the egg mixture a couple of minutes on each side to soak in the liquid. The time it sits in the mixture will depend upon how fast the bread soaks it up. You don't want the bread to disintegrate in the liquid.
Place a pat of butter into a non stick pan. Heat to melt but do not brown.Place sandwiches in the hot pan. Saute until golden; flip over and sauté the other side.
Serves 4 with 2 sandwiches per order. Serve the Stuffed Cinnamon French Toast with the Orange Cream Sauce with Berries below.
Orange Cream Sauce with Berries6 tablespoons unsalted butter
½ cup sugar
½ cup orange juice, freshly squeezed
¼ cup lemon juice, freshly squeezed
2 tablespoons Curacao, Triple Sec, Cointreau or Grand Marnier
2 tablespoons Brandy
¼ cup 40% cream
½ teaspoon cornstarch
Strawberries, cut if large
Blueberries
Blackberries
Red Raspberries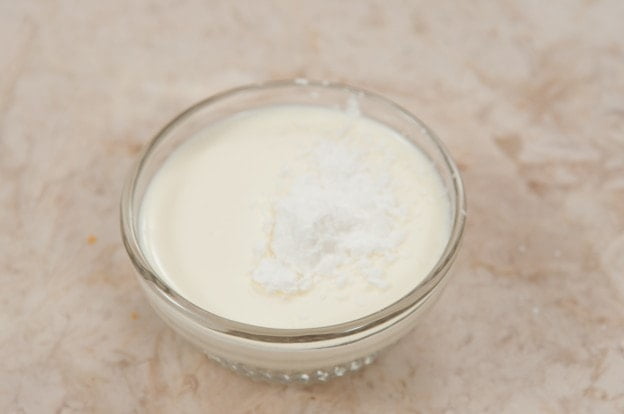 Melt butter in a saucepan. Add the sugar, orange and lemon juice; bring to a boil and boil hard for 3 to 4 minutes until somewhat thickened. Add the orange liqueur and brandy; boil another 2 minutes to return to thickness. In the meantime whisk the cream and cornstarch together.Add the cornstarch and cream mixture;and, stirring constantly, bring back to a boil and cook for 2 minutes. Cool completely.
Mix berries together. Drizzle with orange cream. Serve over the Stuffed Cinnamon French Toast.
Yield: 1 cup sauce without berries
Notes: The times given are approximate depending upon the size of the saucepan. However, a little thinner or thicker really doesn't matter. This sauce may be made several days ahead and stored in refrigerator. Bring to room temperature before using.
In addition to the Stuffed Cinnamon French toast, this berried sauce is great on pound cake, ice cream and crepes.