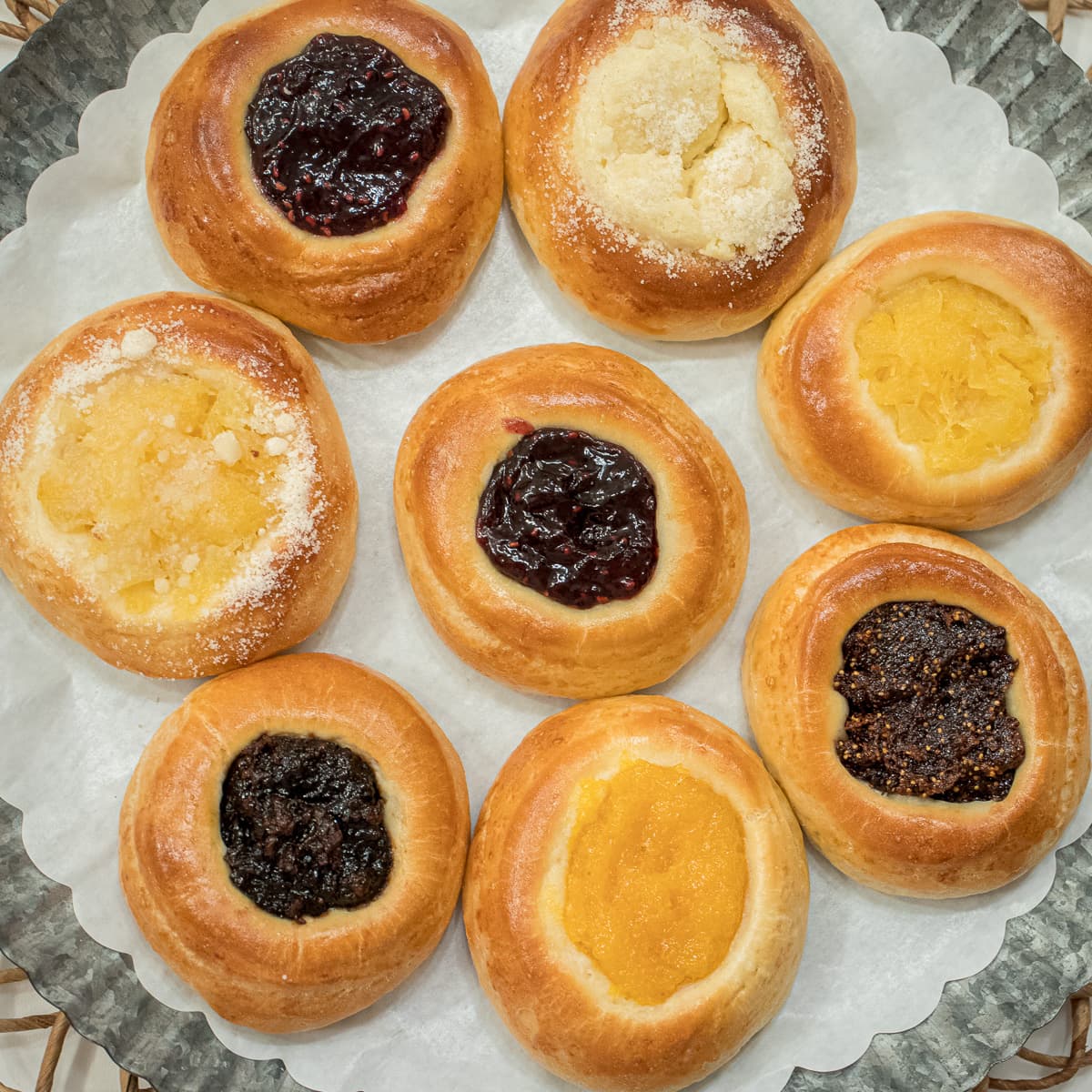 Kolache, (pronounced ko-lah-chee) the Czech pastry, can be sweet or savory. This blog features the sweet version. I have updated some of the fillings for a wider variety. Although poppyseed and prune fillings are traditional, I omitted them because I thought six was truly enough. The fillings are given in tablespoons since most of the Kolache require a tablespoon or more and the amount needed can be calculated using the yield information if you want to make more than one flavor.
I suggest you pour yourself a cup of coffee or tea, get a glass of wine or otherwise prepare for this longer than usual blog. But the end result is amazing. The fillings are applicable to other pastries and this dough can be used countless ways. This is actually an easy to make sweet roll that I promise you will make over and over again.
These are amazing pastries with an easy to make dough that handles well. The fillings can be made days ahead and stored in the refrigerator. The dough must be made a day ahead. Assembly is easy and in no time you have Kolache. They can also be made large or small and freeze well.
I like a variety of flavors when I make these. You will find I use lemon juice in several to up the flavor. I also drastically reduce the sugar so the fruit flavor comes through more predominantly. A bit of the cream cheese filling can be placed under any of the other varieties for more options.
The dough, with minor changes, is from King Arthur's, Kolaches, Sweet & Savory recipe. After using the ingredients, I pretty much changed everything else. The dough must be refrigerated overnight to firm up the large amount of butter in it. However, as long as it is worked cold, it is very easy to use.
I tried several other recipes for the dough but they were heavy when baked and didn't last a second day. I agree yeast goods are best the same day, but eating 20 of these in the same day would be a challenge - or not if I paced myself!! Actually, these freeze extremely well and just need to be heated to bring them back to perfection.
There is an optional crumb topping which I have included. I like the taste but it obscures the beautiful colors of the fillings so I usually don't use it. It is your call so I have included it. It is called Posipka or another spelling of Posypka. I have no idea which is the correct spelling but I would guess it is the latter.
Texas has a large settlement of Czechoslavakians. That is where the Kolache Factory was born. It is now franchised throughout the Midwest. They feature a lot of savory as well as sweet Kolache. The name comes from the Czech word kola which means wheel or round, the shape of the pastry.
As you can tell from my enthusiasm, these are a wonderful addition to my pastry repertoire and I hope to yours.
Kolache Fillings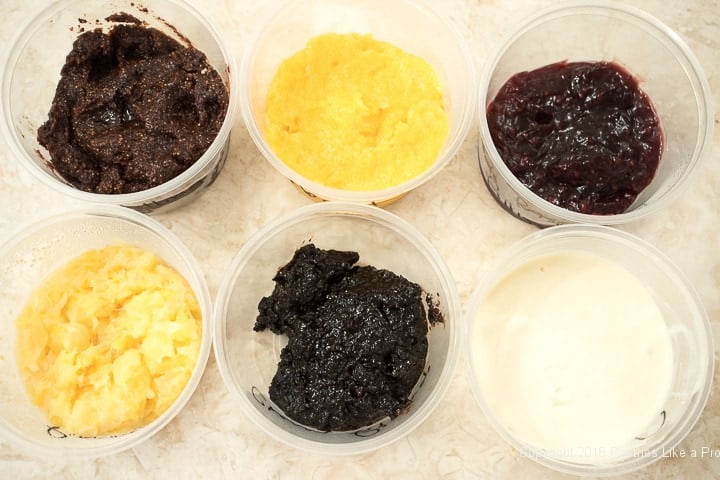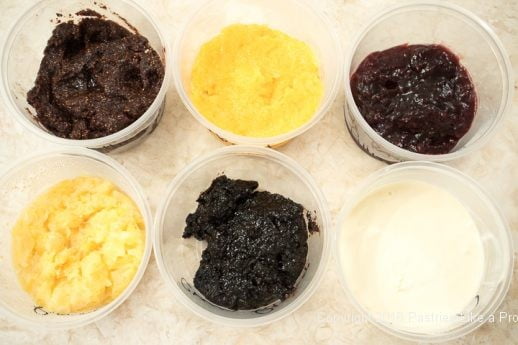 If any of these fillings are to be frozen either before or after baking, use the potato starch as it will not break down when thawed as will the cornstarch.
All of these fillings can be made up to a week ahead and stored in the refrigerator.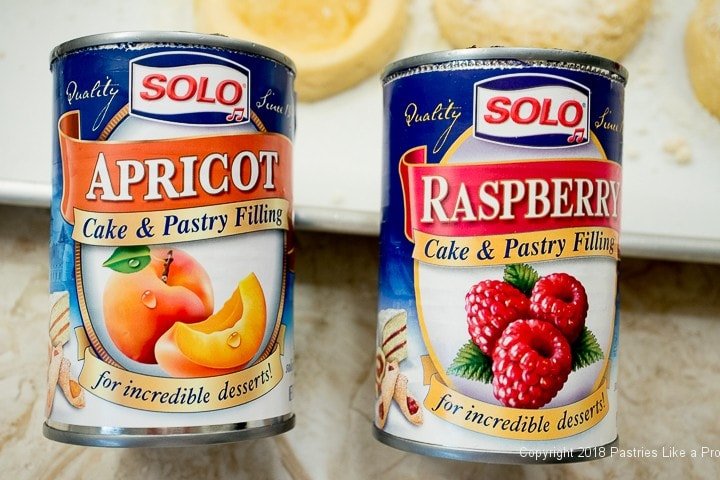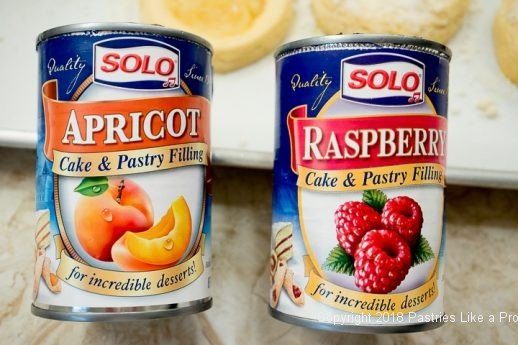 I also used Raspberry Cake and Pastry Filling from Solo. It is bake proof, meaning it will not run as jam can when baked. They also make a decent apricot filling, although I prefer the one below. I wasn't fond of the poppyseed and although they make more pastry fillings, these were the only ones available in my area.
I buy a lot of dried fruit from Trader Joe's as the quality is high and the price is lower than most places.
I have found Sunsweet dried fruit to be hit and miss. If it old, it has a tendency to be dried and no longer moist. Walmart actually has great dried fruit under their own label. I have had good luck getting the moist dried fruit here.
If reconstituting dried fruit in boiling water, do not cover the pan as most recipes advise. Some dried fruit, particularly apricots, are treated with sulfur to keep the bright color. The unsulfured apricots are generally very dark and not very appetizing looking. If the pan is left uncovered, the sulfur will dissipate leaving a clean apricot flavor. If covered, the sulfur is trapped leading to a harsher taste.
Any of these fillings are a great addition to Danish pastries or anywhere a filling is needed that won't run during baking.
Pineapple Filling
1 cup well drained crushed pineapple
⅓ cup sugar
1 teaspoon potato starch or cornstarch
1 teaspoon lemon juice
1 tablespoon melted butter
Whisk together the sugar and potato starch or cornstarch. Combine all ingredients in a small pan and bring to a boil over medium heat. Boil for 1 minute. Cool completely.
Refrigerate until needed. Yield: About 1 cup, 16 tablespoons, 245 grams or 8 ½ ounces
Apricot Filling
1 cup dried apricots (about 170 grams or 6 ounces)
3 to 4 tablespoons sugar
1 tablespoon butter, melted
1 teaspoon lemon juice or dark rum.
Place the dried apricots in a small saucepan and cover with water. Do not cover the pan. Bring to a simmer or low boil and cook until softened. Drain well.
Place all the ingredients in the bowl of a processor and process until smooth.
Refrigerate until needed. Yield: About 1 cup, 16 tablespoons, 270 grams or about 9 ½ ounces
Cream Cheese Filling
8 ounces cream cheese, room temperature (225 grams)
¼ cup sugar (50 grams or 1 ¾ ounces)
1 teaspoon vanilla
1 teaspoon lemon zest, optional
1 egg yolk
Place all in the bowl of a processor and process until smooth, scraping often.
Store in the refrigerator. Yield: About 1 ¼ cup, 20 tablespoons, 250 grams or 8 ¾ ounces
Cherry Filling
5 ounces dark sweet dried cherries (140 grams or about 1 ¼ cups)
¼ cup sugar (50 grams or 1 ¾ ounces)
1 teaspoon lemon juice
¼ teaspoon almond extract
1 tablespoon melted butter
Place the cherries in a small saucepan and cover with water. Bring to a low boil and cook until softened. Drain well.
Place all in the bowl of a food processor and process until smooth. sugar ,Store in the refrigerator. Yield: About ⅔ cup, 10 tablespoons, 210 grams or 7 ⅓ ounces
Fig Filling
7 ounces dried Mission Figs* (200 grams or approximately 1 ½ cup)
2 teaspoon lemon juice
3 tablespoons sugar (65 grams or 21/4 ounces)
1 tablespoons melted butter
2 to 3 tablespoons water
*There are moist, dried mission figs and really dried mission figs. Try to get the moist ones from Sunsweet or Walmart (where the prices are better). If you get the really dried ones you will need to cook them, covered with water until somewhat softened.
Cut the stems off the figs if they have one. Some do, some don't. Place the figs, lemon sugar,butter and 2 tablespoons water in the bowl of a food processor. Process until smooth. If the paste is too dry, add the additional water about a teaspoon at a time. This should remain thick but moist.
Store in the Refrigerator. Yield: About 1 cup, 16 tablespoons, 260 grams or 9 ⅛ ounces.
Raspberry
I Used Solo Dessert and Pastry Filling
Kolache Crumb Topping (Posipka or Posypka)
½ cup sugar (100 grams or 3 ½ ounces)
¼ cup flour (35 grams or a bit over an ounce)
¾ teaspoon cinnamon, optional
2 tablespoons butter, melted (30 grams or 1 ounces)
In a small bowl combine all but the butter. Mix well. Add the butter and toss with a fork to make small crumbs. Sprinkle over the Kolache after applying the egg wash.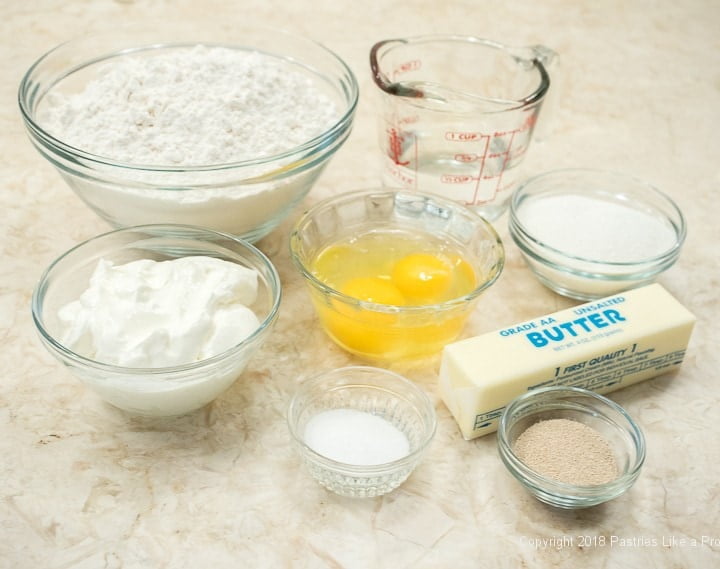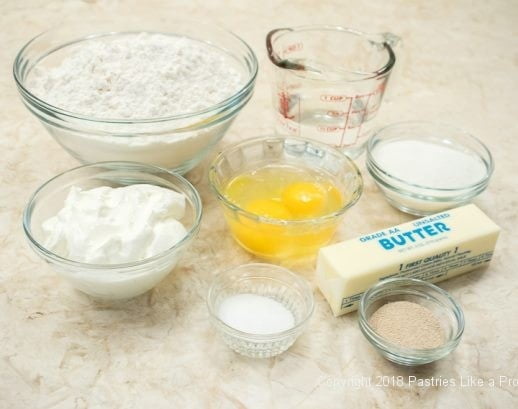 Kolache Dough½ cup butter (1 stick, 114 grams or 4 ounces)
½ cup sugar (100 grams or 3 ½ ounces)
1 teaspoon salt
1 cup sour cream (225 grams or 8 ounces)
2 teaspoons instant yeast OR 1 package active dry yeast
½ cup lukewarm water
2 eggs
4 cups all purpose flour (560 grams or 19 ⅔ ounces)*
* If you go to King Arthurs website for this recipe you will notice a discrepancy in the amount of flour used. While most professionals use 140 grams or 5 ounces of all purpose or bread flour as the standard for 1 cup, they use 120 grams, which is technically 1 cup of sifted flour. Since most recipes do not call for sifting the flour before measuring, I use the 140 grams or 5 ounces per cup measurement. When I used their flour measurement of 480 grams or 16.84 ounces, the dough was runny. When I added the additional 80 grams or 2 ¾ ounces of flour used in my measurement it worked. I am a fan of King Arthur's recipes but not the way they measure flour. The only reason I mention this is to avoid confusion on your part in case you check out their recipe.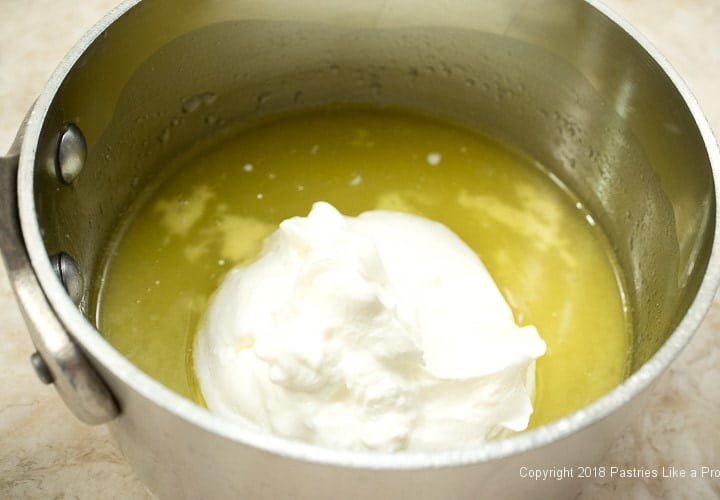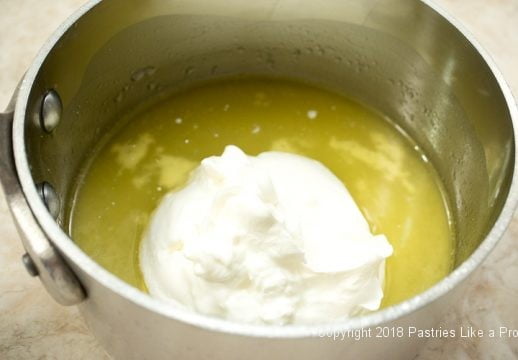 Cut the butter into pieces and place in a small saucepan along with the sugar and salt. Heat until the butter is melted. Remove from the heat and let it sit until it is lukewarm. When it comes to temperature, add the sour cream.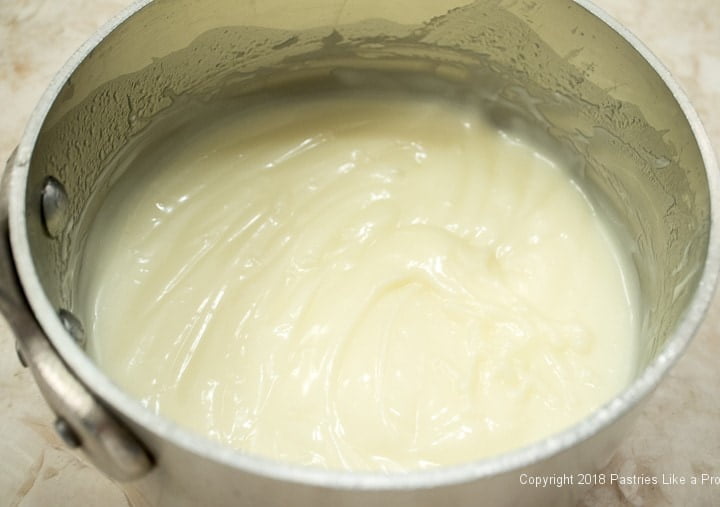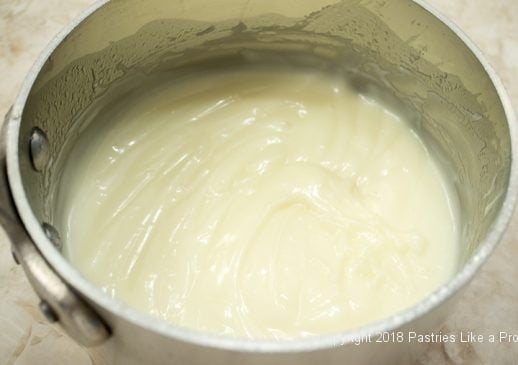 Whisk it into the butter mixture.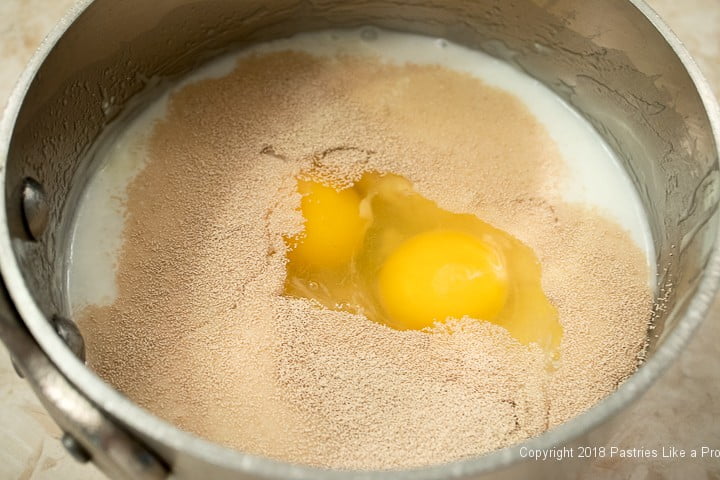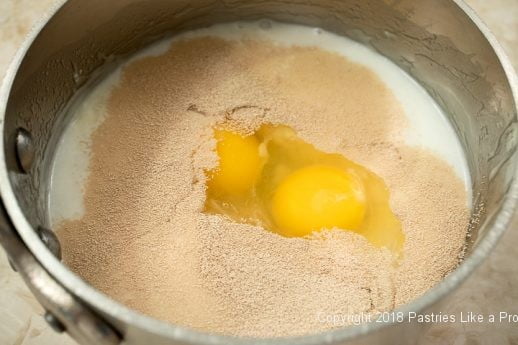 Add eggs and yeast Whisk them in.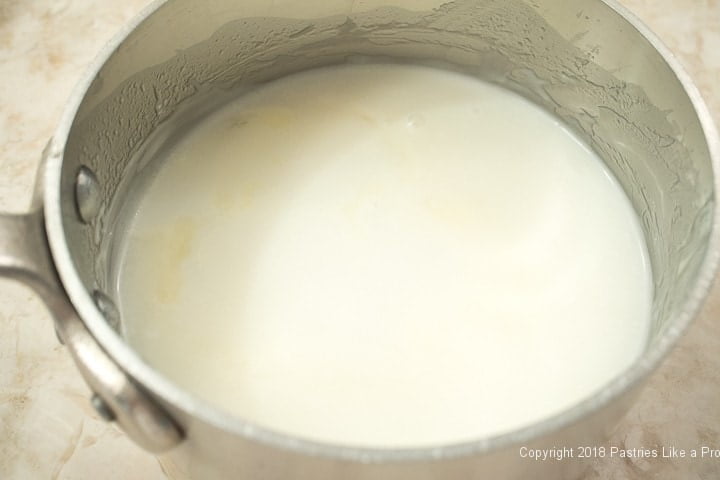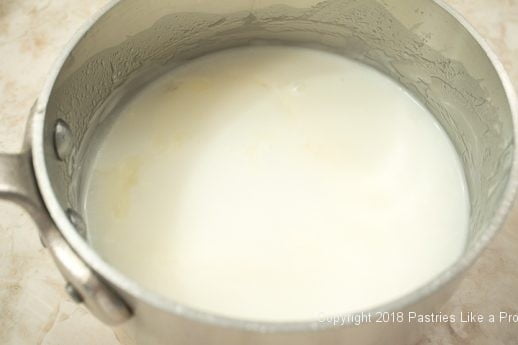 Lastly, add the water and whisk it in.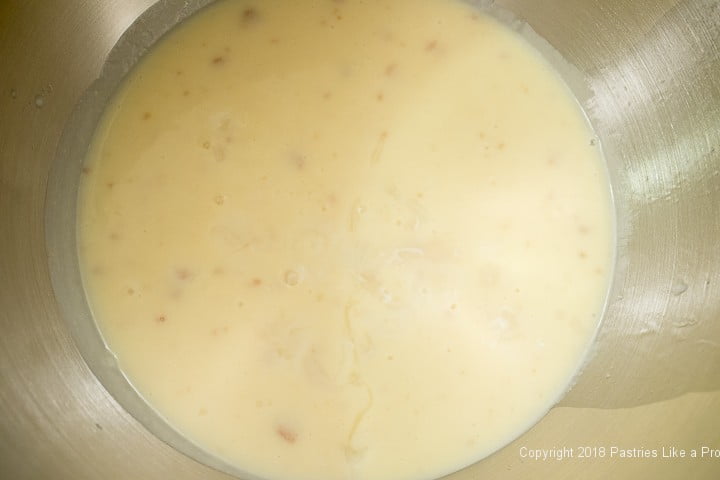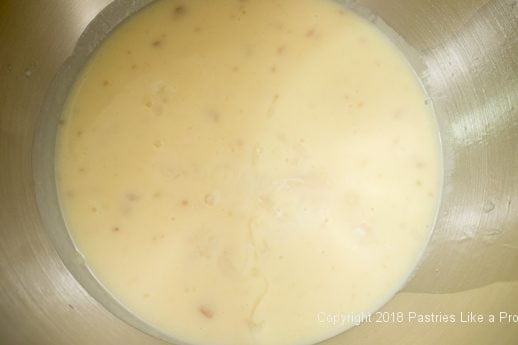 Transfer to the bowl of a mixer.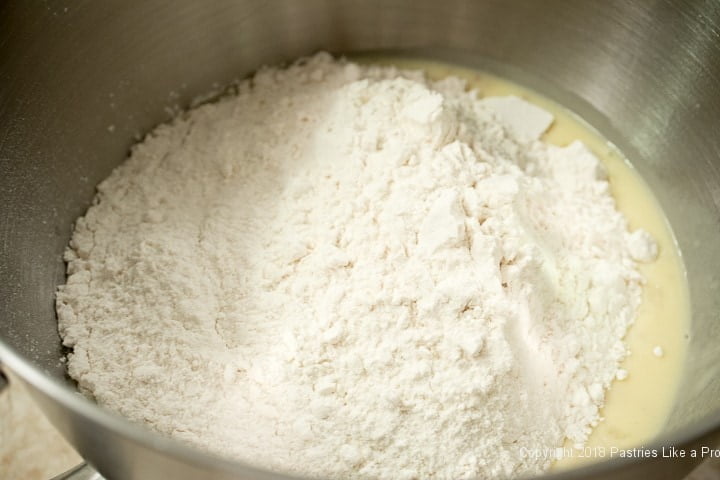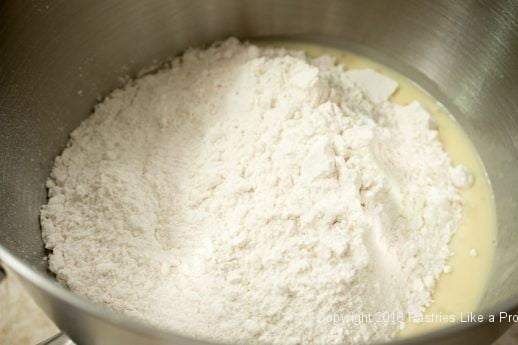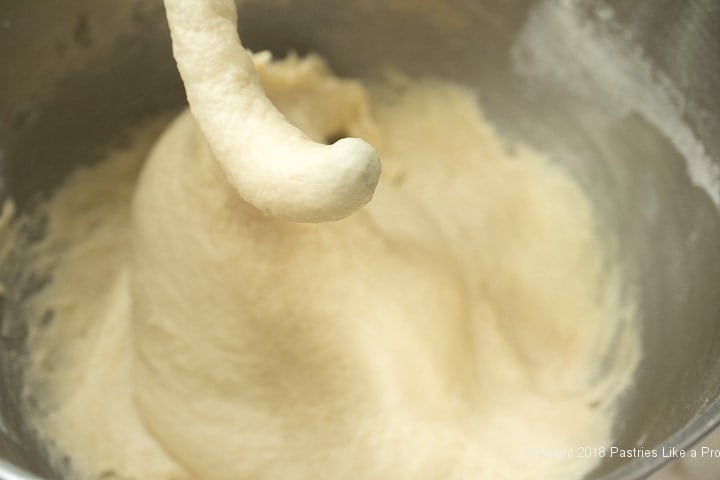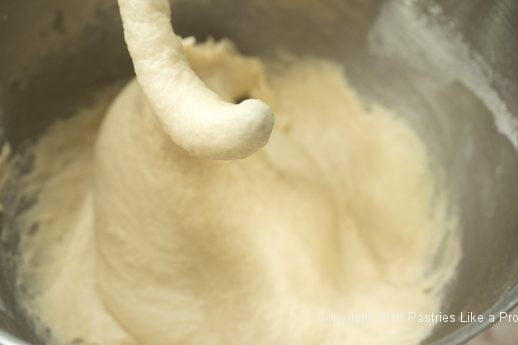 Add the flour and, beat until it comes together. Knead in the machine for 3 minutes, turning after about 1 ½ minutes as the dough will adhere to the top of the dough hook and not get beaten. The dough will be very soft and more of a batter.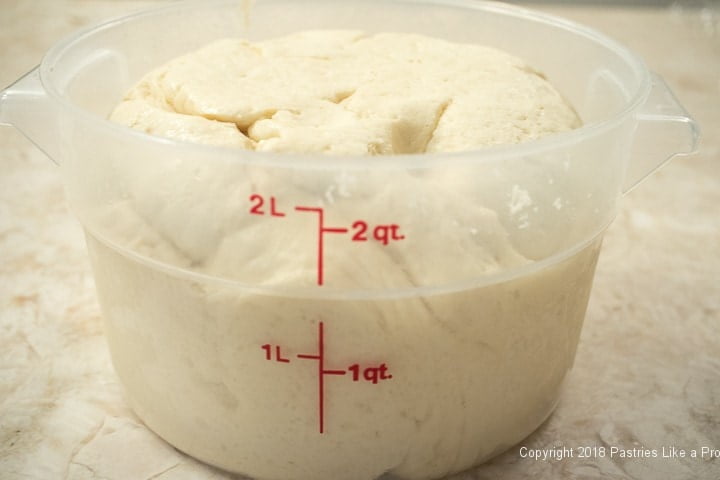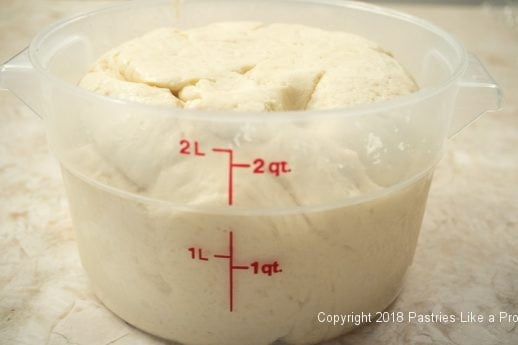 Place it in a greased bowl or container, cover with plastic wrap and mark the time on it. Allow it to rise until doubled, about 2 ½ hours. It is a slow riser due to the large amount of butter.
After it has risen, punch it down, re-cover it and refrigerate overnight so the butter can firm up. It will probably rise again in the refrigerator and that is fine. Some Kolache recipes recommend 5 risings which I find a bit much.
Yield: 1175 grams or about 41 ¼ ounces
Shaping and Assembly
Refrigerated dough
1 egg, well beaten
Fillings
Crumb Topping if using
Line several baking sheets with parchment. Set aside.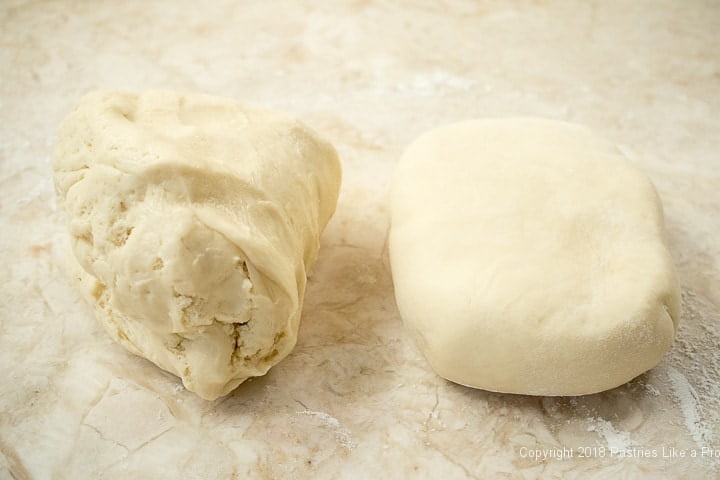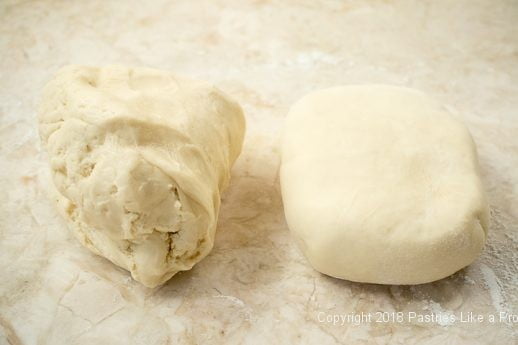 Punch the dough down if risen and divide the dough in half (585 grams each or 20 ½ ounces). Shape each piece into a rectangle. Wrap each piece in plastic wrap and refrigerate for 10 to 15 minutes.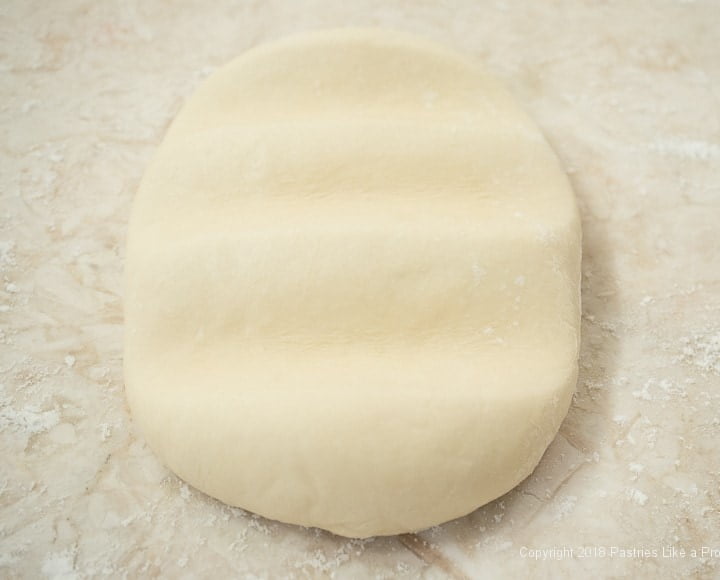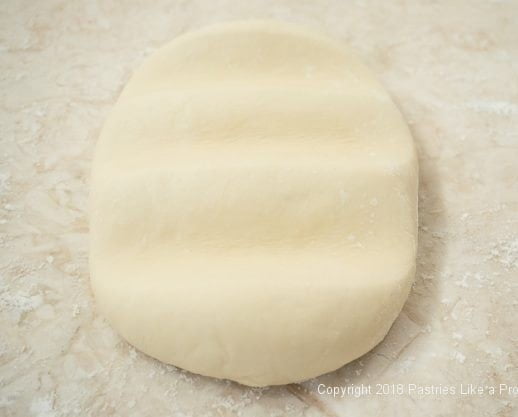 Remove one piece of dough from the refrigerator and roll it out so it is ½ inch thick. The dough will be very firm. It is easiest to roll is to press down with your rolling pin in 3 or 4 times.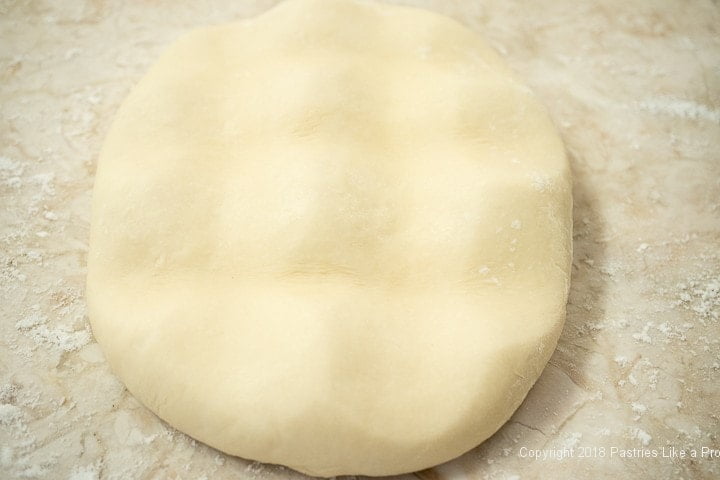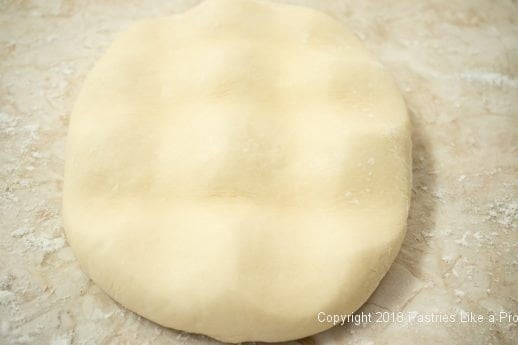 Press down in the opposite direction 3 or 4 times again.
Then roll out in the normal manner until ½ inch thick.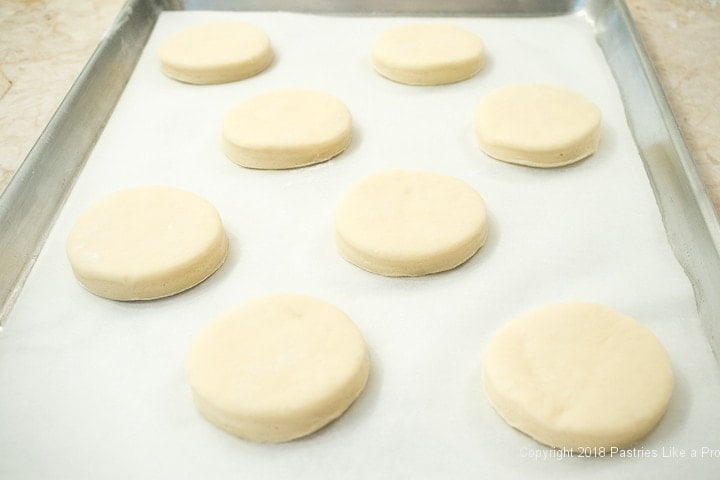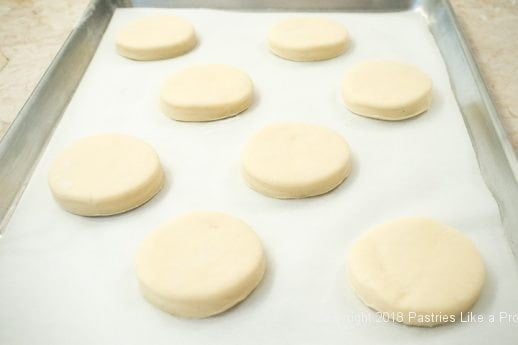 With a 3" plain cookie cutter (or whatever size you want) cut out rounds and place them on the parchment about 1 inch apart. Repeat with the second piece of dough. Reroll and cut additional rounds.
Cover them with tea towels and allow to rise until almost doubled.
Preheat the oven to 375°F.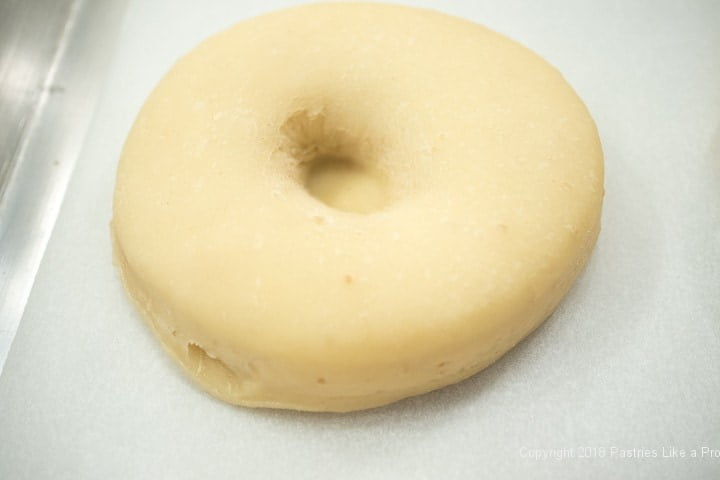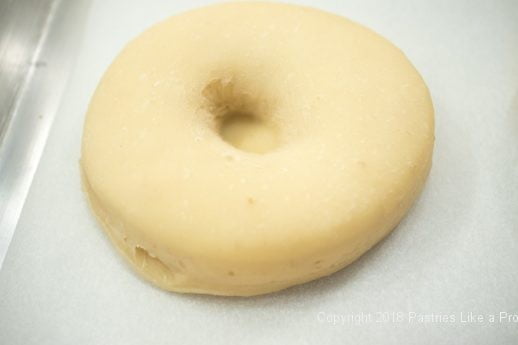 With your fingers, make a deep well in the rounds about ½ inches in from the edge of the dough but do not go through the dough. Start by making a hole in the center.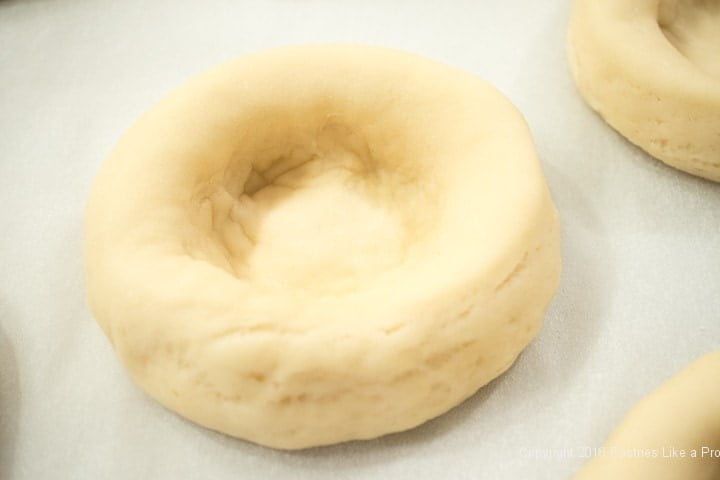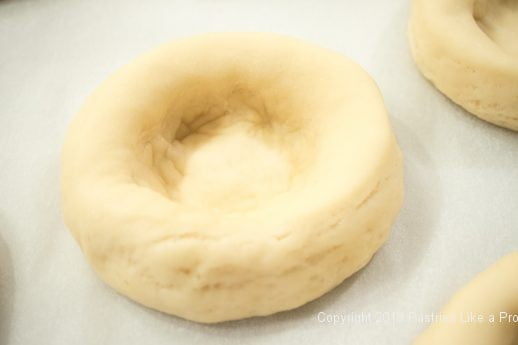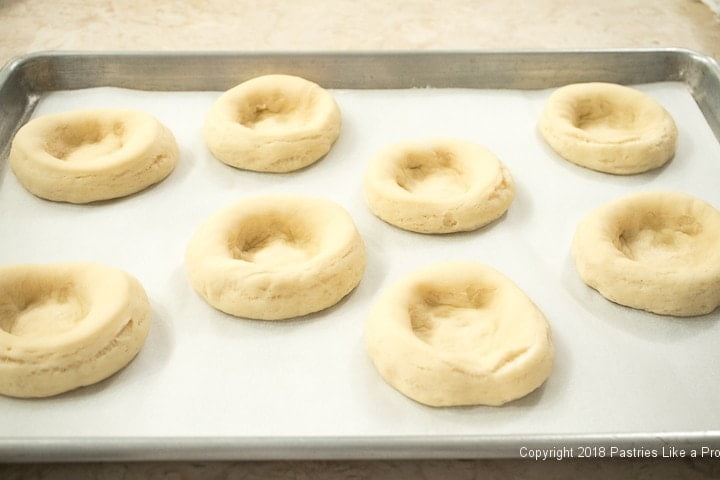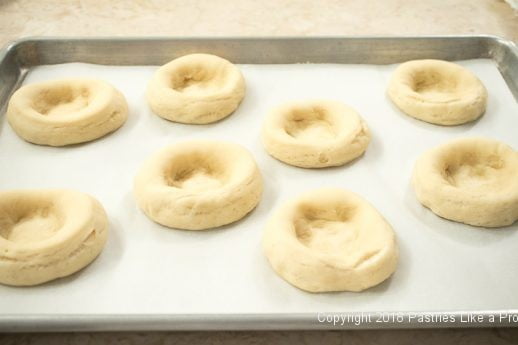 Expand the well by pressing the dough down.
Brush the top edges of the Kolache with the beaten egg.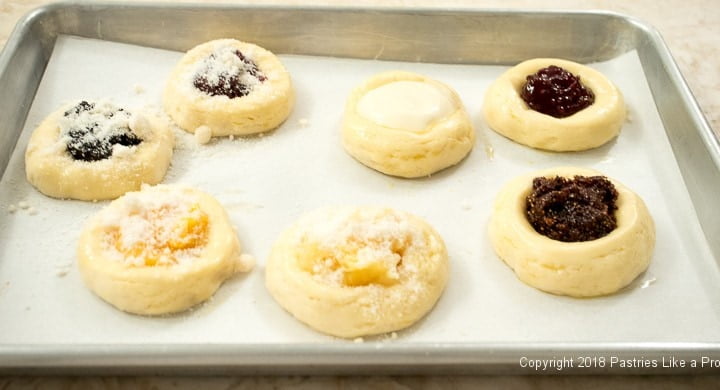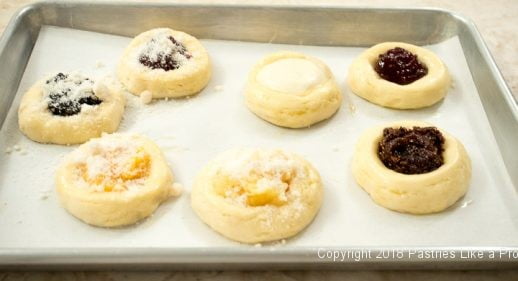 Fill the wells with 1 to 1 ½ tablespoons of filling. With the exception of the cream cheese filling which is loose, the fillings can be mounded slightly over the top of the dough. Sprinkle with the crumb topping if using.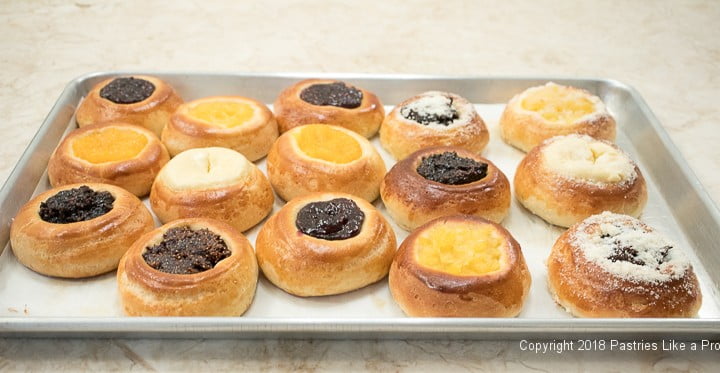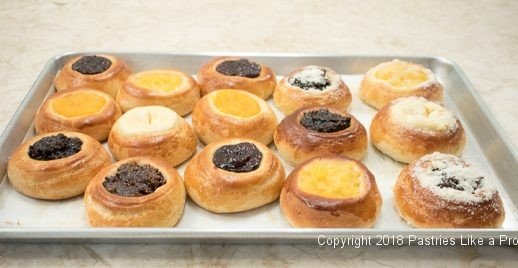 Double Pan. Bake for about 20 minutes for the 3" size until the top of the dough is well browned. Reduce the time for small pastries.I was surprised when I baked the first sheet by itself. The bottoms browned considerably and they were not nearly as soft and good as the next sheet that I doubled panned.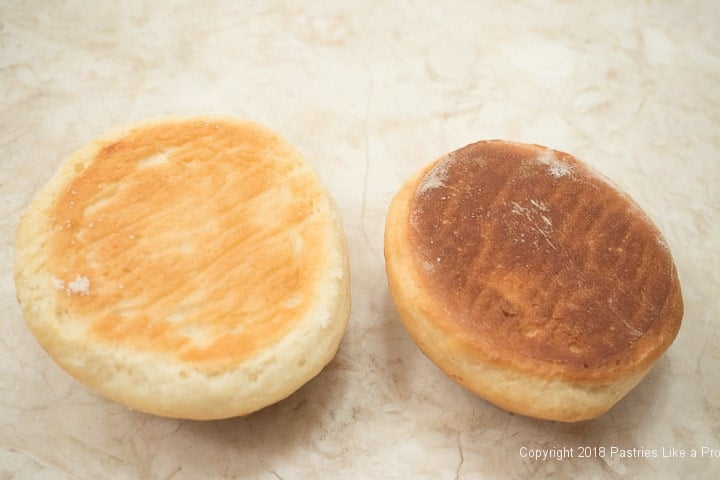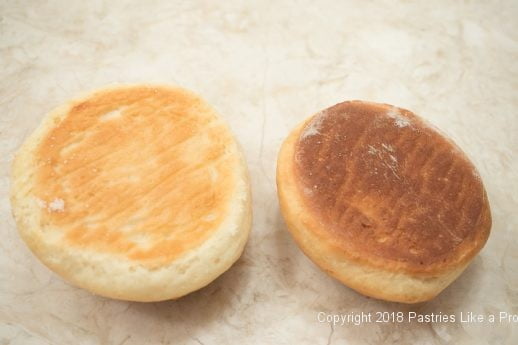 To Make Ahead: Completely bake them. Cool, place on a baking sheet and freeze until completely frozen. I wrapped my baking sheet in foil but if you don't have room in your freezer, stack them between waxed paper in a container. When ready to use, preheat the oven to 350°F. Place them on a parchment lined sheet, enclose the pan in foil and heat for 15 to 20 minutes or until warmed through. Some of the denser fillings take a bit to thaw. They will taste just like you pulled them from the oven with nary a hint they were frozen.
Yield: Makes about 20 - 3" rolls with re-rolling the dough.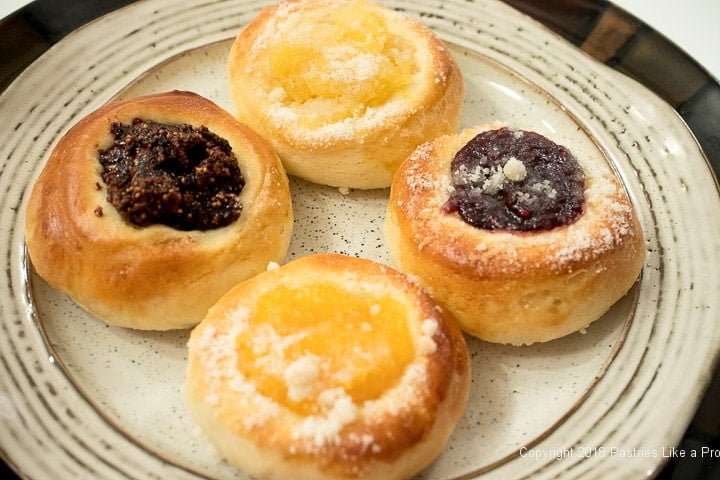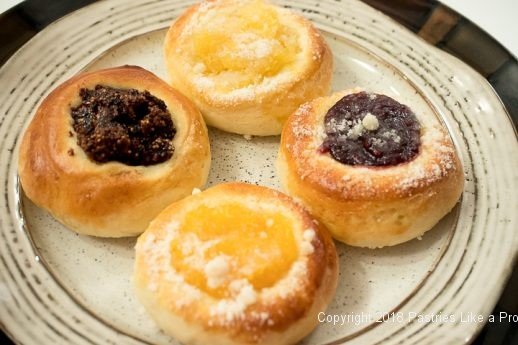 Remember you can also make these smaller. Just remember to reduce the time if necessary.
SaveSave
SaveSave
SaveSave
SaveSave
SaveSave
SaveSave
SaveSave
SaveSave
SaveSave
SaveSave
SaveSave
SaveSave