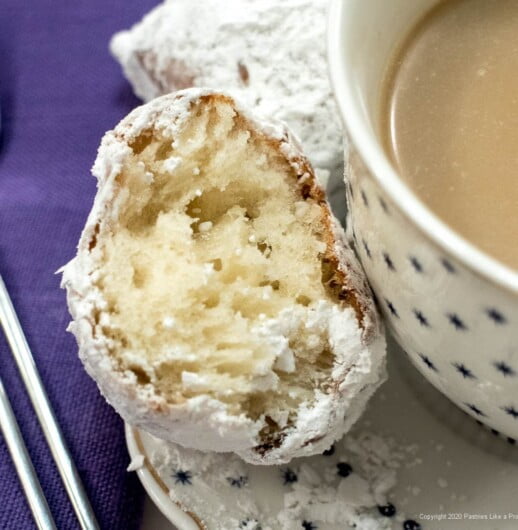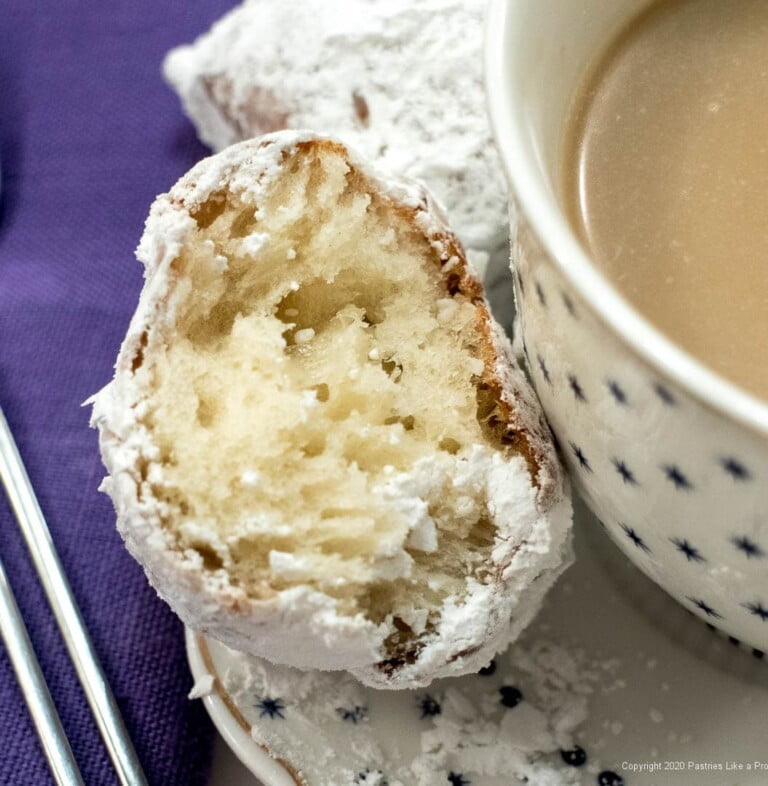 French Beignets have often seemed out of reach for the home baker but nothing could be further from the truth. These are amazingly easy and a special treat on weekends when time is more available for most of us.
The most famous French Beignets can be found at Café de Monde in New Orleans. They serve a plateful with coffee, café au lait or chicory coffee if you are among the stout-hearted. When we visited New Orleans, years and years ago, my daily treat was to stop by the café for this irresistible treat.
This recipe is an adaptation of one from Chef Billy Parisi. The dough is so easy to make and even easier to shape. I just patted mine out without rolling after which I popped them in the oil fry briefly. While most people recommend a lot of oil to deep fry, I have found shallow frying, where not so much oil is used, is just as good. Since I don't fry a lot, I hate to waste a lot of oil. As long as the French beignets will float in the oil, that is enough. Usually about ¾".
There isn't anything special about this recipe, I'll bet you have the ingredients on hand. This is such a special treat on a lazy Saturday or Sunday. I used to buy the Café du Monde French beignet mix when my boys were at home. We always had a special brunch on Sundays. I would have loved to have had this recipe then.
Be sure to use a thermometer to make sure the oil is at 350°F and no higher so the beignets cook all the way through.
One last thing
This recipe makes a lot and it isn't easy to cut down. Although I didn't try it because I thought of it after frying these, I think you could freeze the cut French beignets, thaw them just to the point of room temperature and pop them in the oil. That way if you can't figure out what to do with 24 to 36 they can be thawed and fried on the spur of the moment. If anyone does this, please let us know how it turns out. Don't fry them frozen because the temperature of the oil will fall dramatically.
French Beignets
1 cup warm water (95° to 100°F is about right)
2 ¼ teaspoons active dry yeast (1 package, 7 grams or ¼ ounce)
⅓ cup + 1 tablespoon granulated sugar (80 grams total, scant 3 ounces)
⅔ cup milk*
1 large egg + 1 yolk
3 tablespoons unsalted butter, melted (45 grams or 1 ½ ounces)
1 ½ teaspoon salt
4 ⅓ cups all-purpose flour (630 grams or 22 ounces)
Canola oil or vegetable oil for frying, as needed
Powdered sugar, as needed
*I used 2% milk, but whole milk will work as well.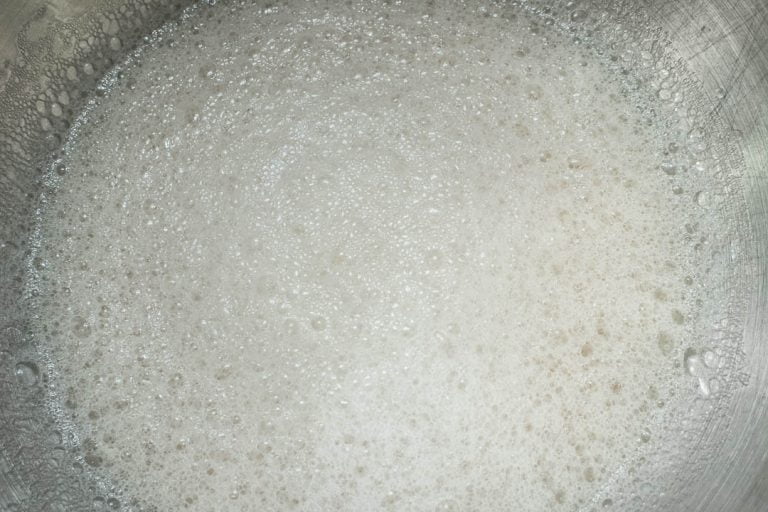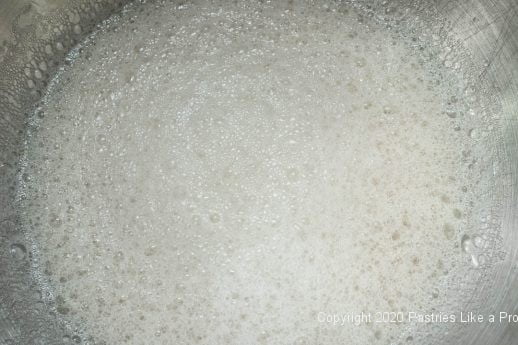 Place the warm water in the bowl of a stand mixer. Sprinkle the yeast over the water. Add 1 tablespoon of the measured sugar and whisk all together. Let it for about 10 minutes until it is very bubbly on top. Whisk the mixture.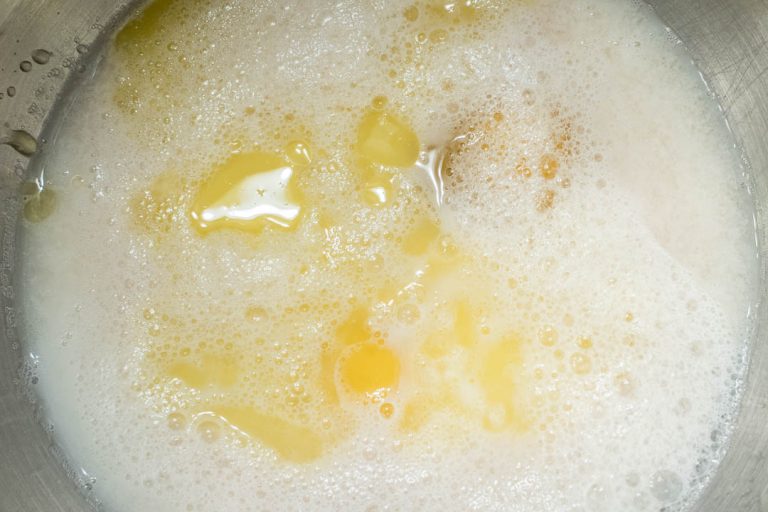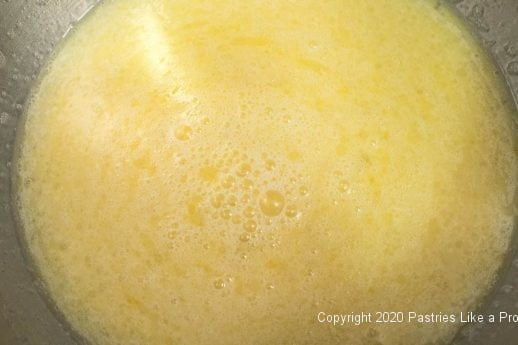 When the yeast is activated, add the remaining sugar, milk, eggs, and butter. Whisk all together.
Place the bowl on the mixer fitted with a dough hook if available. Add the flour, then the salt. Mix on low until the dough comes away from the side of the bowl, although it will still be attached to the bottom. That is fine.
Once it comes together, continue beating for about 2 minutes to knead it. I stop my mixer at 2 minutes to scrape the dough at the top of the dough hook down into the rest of the dough because it never gets mixed in well if you don't. Continue mixing for another minute or so.
Cover the dough, mark the time, and let it rise until doubled or a bit more. I transferred my dough to a glass bowl so you could more easily see it. You don't have to, just cover the top of the mixing bowl.
While the dough is rising, prepare the frying station. Place the oil in the pan but do not turn the heat on yet. Place a couple of layers of paper towels on a baking sheet. Prepare a second sheet in the same way. Sift powdered sugar into a large bowl.
After the dough has risen, turn it out onto a floured surface. At this point, put about ¾" oil into a heavy pan with high sides such as a Dutch oven. Place it over low heat to start coming to 350°F. If it reaches that point before you are finished cutting the beignets out, remove it from the heat. Do not let it get hotter.
Just pat the dough out with your hands to ½" thick. Cut it into squares the size you want. A pizza cutter works really well here.
Frying the French Beignets
Return the oil to 350°F if it isn't there.
Place the beignets, by batches, in the oil carefully so they don't touch. Fry for about 1 ½ minutes per side until deeply golden brown. Don't under fry or they will be raw in the middle. If they are browning too quickly, reduce the heat slightly but keep it close to 350°F.
Remove the French beignets with tongs or a slotted spoon and place them on paper towels.
Add more beignets to the oil.
While the next batch is frying, pop the beignets, while hot, into the powdered sugar, shake off the excess and place them in the second baking sheet on paper towels.
Continue in this manner until all are fried. When they are all done and just warm, pop them back into the powdered sugar again because the first sugar will have been somewhat absorbed as you can see.
These should be served warm. They are best the same day but can be warmed for 10 to 15 seconds in a microwave or for a couple of minutes in a 350°F oven.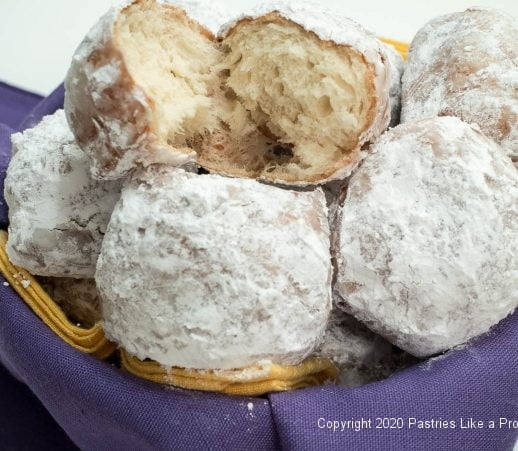 Special Note: See the last paragraph of the article for a note about freezing them.
If you liked this recipe, you might want to look at these:
Stuffed Cinnamon French Toast with Orange Sauce
Fresh as a Daisy Doughnuts
Scones with Cranberry Strawberry Ja
Fall Muffins
Bacon and Cheddar Cheese Popovers