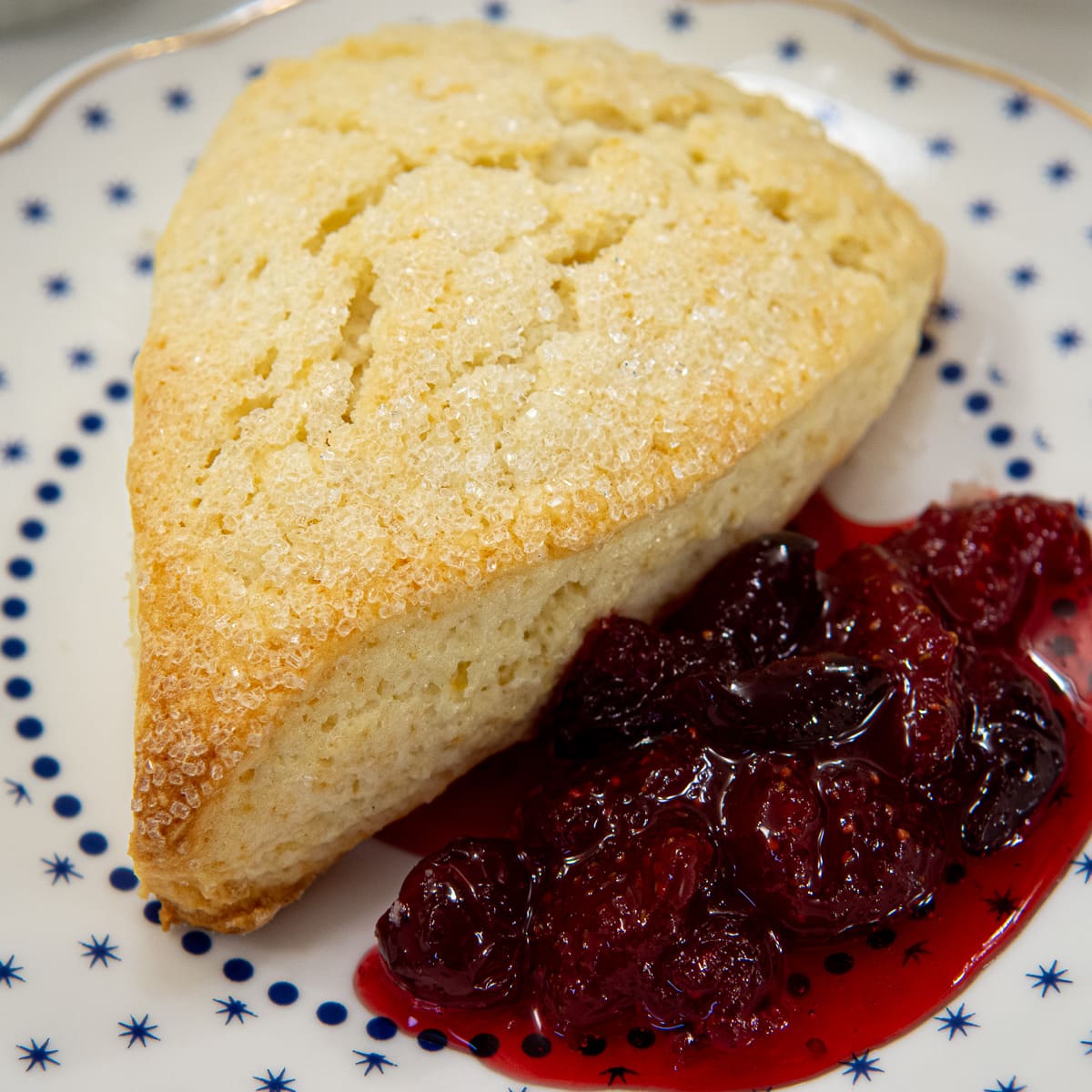 After last week's marathon recipe, Scones with Cranberry Strawberry Jam is a walk in the park. The scones are easily made and the jam requires no canning if kept in the refrigerator or freezer. The combination of the cranberries and strawberries makes a sweet-tart topping for the scones, toast, biscuits, or pancakes and waffles. A jar of the jam makes a perfect hostess gift.
These scones are endlessly variable. They are light, moist and very buttery tasting despite the fact they have only three tablespoons of butter. Of course, the liquid used is heavy cream.
The scones should be served close to baking for the best experience. But they are certainly good any time of the day, even the next day. Since they can be frozen, either baked or unbaked, warm scones can be had any time of the day. This is a wonderful breakfast with friends or part of a brunch. They can be made larger or smaller as desired.
With the butter and cream in these, I would skip the clotted cream but definitely serve them with my Cranberry Strawberry Jam for a special treat.
Cranberry Strawberry Jam
12 ounces cranberries, fresh or frozen (340 grams)
1 pound strawberries (454 grams)
⅓ cup water
3 ½ cups sugar (700 grams or 24 ½ ounces)
Wash and dry the jars and lids for the jam. Assemble them along with a ladle and a canning funnel if you have them. If you don't just ladle straight into the jars. It is just a lot easier with the funnel.
Pick over the cranberries and remove any that are not ripe. Set aside.
Hull the strawberries and quarter them if large. Combine the cranberries, strawberries and water in a heavy pot. Heat until they start to juice, stirring frequently. Add the sugar. Bring to a rolling boil; boil 10 minutes stirring frequently.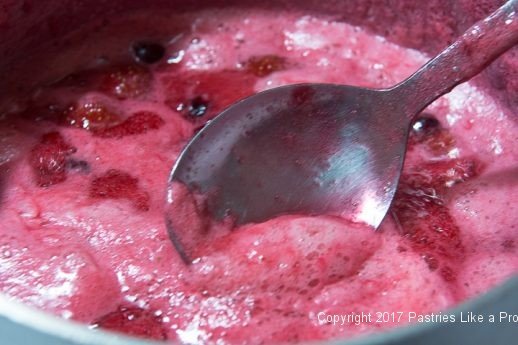 Skim off any foam.Ladle into jars within ¼ inch of the top. Place the lids on.
Cool completely. Store in the refrigerator for several months or freeze for longer storage.
Yield: 5 -½ pint jars.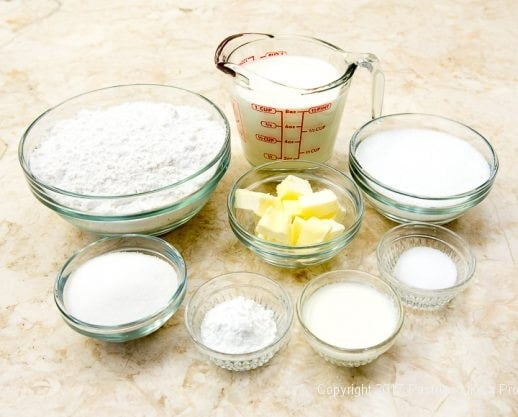 Scones
2 cups cake flour (250 grams or 8 ¾ ounces)
2 teaspoons baking powder
¾ teaspoon salt
¼ cup sugar (50 grams or 1 ¾ ounces)
3 tablespoons butter, cold and cut into small pieces (45 grams or about 1 ½ ounces)
1 cup + 1 tablespoon 40% or heavy cream
1 tablespoon cream
Sanding sugar, optional
Preheat oven to 375°F. Line a baking sheet with parchment paper. Set aside.
Combine the cake flour, baking powder, salt and sugar in the bowl of a mixer fit with the paddle attachment. Mix briefly to combine.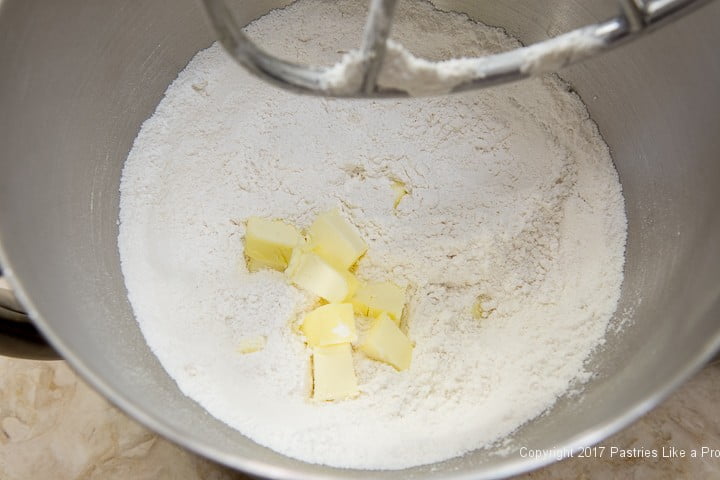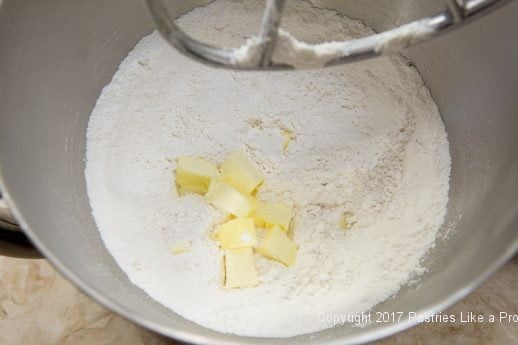 Add the cold, cut up butter and mix to cut the butter in. However, do not overmix, you want some pea-size pieces.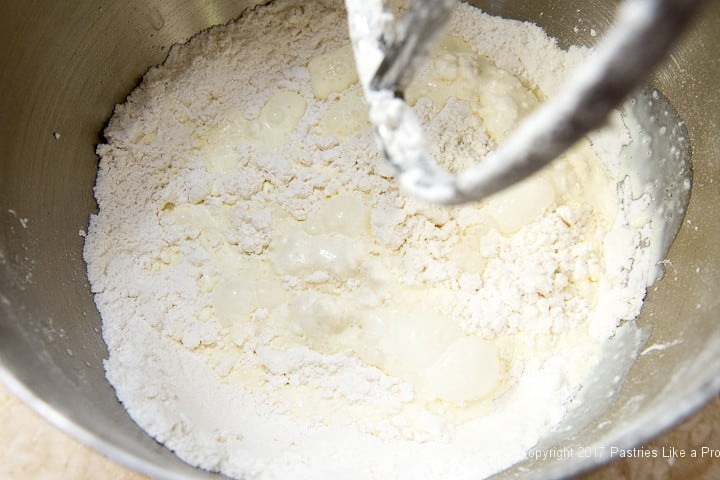 Add the cream and mix on low just to bring it together. Stop halfway through and rearrange the dough in the bowl to mix completely.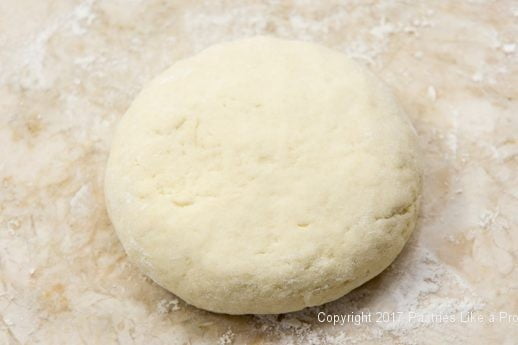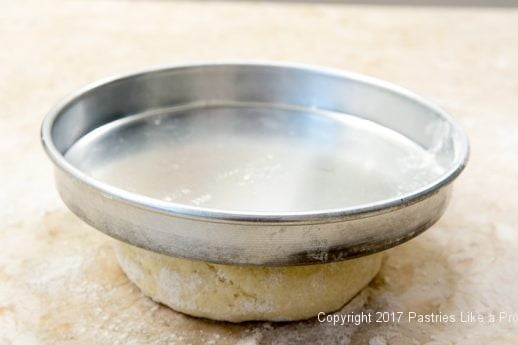 Remove from the mixer. Knead several times to make a smooth ball. On a floured surface, press the dough into an 8" round. You can roll the dough out or, as I do, simply place a round pan of about the same size on top of the dough and press evenly down. The dough will be about 1" thick.
Cut into 7 to 8 pie shaped pieces. Th easiest way is to cut the round into quarters, then cut each piece into two. Place on the prepared pan.
Brush with additional cream and sprinkle with sanding sugar if using.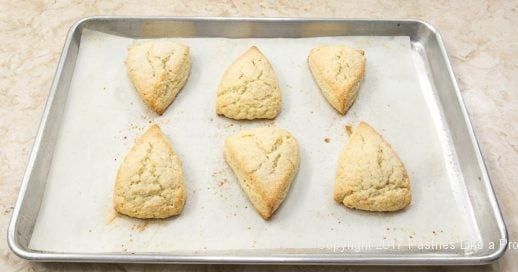 Bake for 18 to 20 minutes until just browning.
Scones are best eaten the day they are made.
Alternately they can be frozen baked or unbaked as desired. If baked, bring to room temperature and warm slightly to serve. If they are unbaked, place on a baking sheet and add about 5 minutes to the baking time.
Scone Variations - These are a few of my favorites, what are yours?
Blueberry Scones – Add ¾ cup frozen blueberries to the dough with the cream.
Lemon Scones – Add the rind of 1 large lemon. Squeeze the juice from the lemon. Measure 1 ½ cup powdered sugar and add just enough lemon juice so it will drizzle off a spoon on top of the baked scones.
Blueberry Lemon – Combine the above.
Cinnamon Scones - Add 2 teaspoons cinnamon to the dry ingredients and mix as called for.
Raisin Scones – Add ½ cup raisins that have been soaked in hot water for about 20 minutes. Drain well and pat dry between paper towels. Add with the cream.
Dried Fruit Scones – Add about ¾ cup diced apricots, cherries, ginger or any combination of dried fruit when adding the cream.
For another special jam, check out the Strawberry Balsamic Jam.SaveSave
SaveSaveSaveSave
SaveSaveSaveSave
SaveSave
SaveSave
SaveSave