These Mincemeat Tarts concentrate on three finishes for the minature tarts
This Mincemeat is nothing like the original combination of minced meat, dried fruits, suet and tons of spices born out of the necessity to preserve meat, without salting, curing, smoking or drying it in days long gone by.
A Brief History of Mince Pies
According to Walker's Shortbread History of Mince Pies, "As with many traditional recipes, especially the ones we make and enjoy around big holidays or life events, mince pies are steeped with tradition and customs. Mincemeat would often be made on stir-up Sunday along with the Christmas pudding, the last Sunday before Advent. Stirring the mincemeat was quite an event, and English tradition dictates that it should only be stirred clockwise. Stirring the mincemeat anti-clockwise would lead to bad luck and poor fortune in the coming 12 months.
To spread the joy, it was tradition in England that each member of the family gave the mixture a stir, while making a wish. And if you wanted to be ensure good health and happiness in the upcoming year, you should eat one mince pie every day for the Twelve Days of Christmas, from Christmas Eve until the 5th of January."
Modern Mincemeat
Today's modern Mincemeat is a boozy, sweet, fruit filling for tarts and pies as well as a variety of other desserts. While mincemeat often plays a supporting role in an American apple pie, the English mincemeat pie is a two bite pie and in keeping with that tradition, I have made small tarts with different finishes including one topped with chocolate ganache and one finished with a cookie.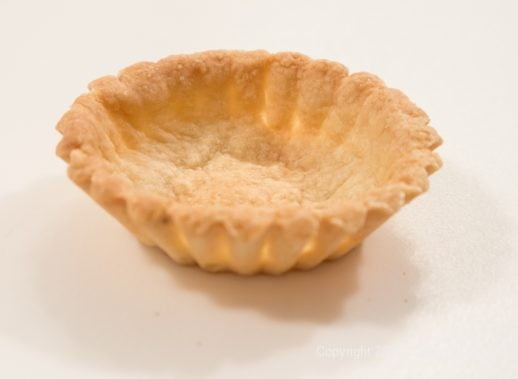 I found a small tartlet tin that is perfect for the size of Mincemeat tarts I wanted to make. They worked beautifully as you can see. I have no idea why they are called egg tart pans. However, these have to be washed by hand or they turn a funny brownish color. I use an easy press in dough for the shells. This same dough will make perfect shrink proof crusts when baked empty.
Because I made my mincemeat in February, I added brandy or rum from time to time to keep it moist. Well, by the time I was ready to use it, it was a pretty heady mixture for sure. So to tame it, I combined it with apple juice and brown sugar and cooked it until the liquid left was syrupy. I particularly like the mixture because it doesn't boil up over the top of the tarts when baked.
If you're new to mincemeat or a seasoned pro, there's plenty here to pick from. So make one or make all and start your own Christmas tradition.
Be sure to watch for Part 2 this week which is a Cheese and Mincemeat Danish. If making this Danish, reserve ½ cup mincemeat.
Mincemeat Tart Filling
1 batch mincemeat
½ cup apple juice
Brown sugar to taste, optional
In a medium saucepan, combine the mincemeat and apple juice. Add brown sugar to taste. Bring to a boil and simmer until the liquid is syrupy. Cool completely before using.
This can be done days ahead and refrigerated. Bring to room temperature to use.
Pastry for Mincemeat Tarts
1 ¼ cups all purpose flour (175 grams or 6 ounces)
⅓ cup + 1 tablespoon cake flour (50 grams or 1 ¾ ounces)
¼ cup granulated sugar (50 grams or 1 ¾ ounces)
½ teaspoon baking powder
½ cup unsalted butter, cold (114 grams or 4 ounces)
1 large egg
1 large egg yolk
1 teaspoon vanilla
1 teaspoon water
In a processor fitted with the steel blade, place the flours, sugar, and baking powder. Pulse several times to mix.
Cut the cold butter into small pieces and place in a circle over the dry ingredients. Process for 20 to 30 seconds until the butter in indistinguishable in the mixture.
In a small bowl, mix the egg, egg yolk, vanilla. And water together with a fork. Pour this over the ingredients in the processor. Process for 15 to 20 seconds until the pastry forms a ball.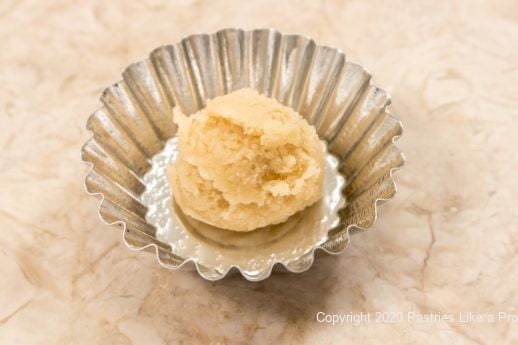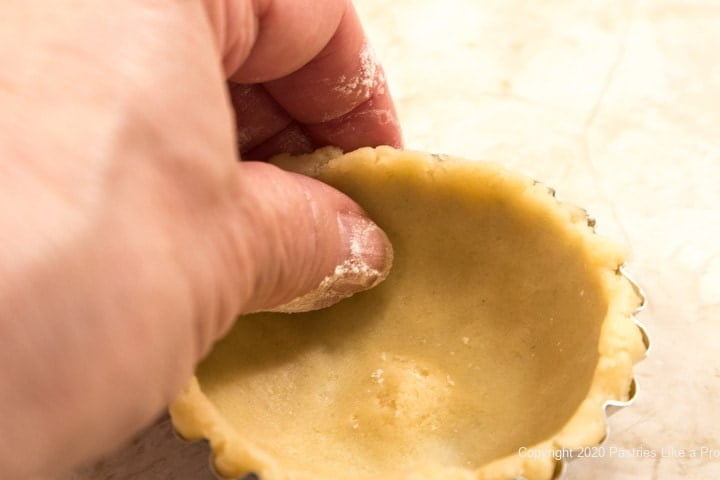 Spray 25 – 2 ½" tart shells lightly with a non-stick baking release. Drop a #70 disher/scooper or 1 slightly rounded tablespoons of pastry into three or four shells at a time. Flatten them evenly to cover the bottom of the shell. Press the pastry up the sides of the tins
slightly over the top edge.

Flatten the pastry with the heel of your hand even with the top of the tin.
Last, square off the bottom edge of the pastry by pressing it evenly against the tin.
Mincemeat Tartlets
Preheat the oven to 375°F. Place the shells on a half sheet pan. 24 will fit on a pan if they are staggered.
Using a #40 disher/scooper or a scant 2 tablespoons, fill each pastry shell, spreading the filling evenly just below the top of the shell.
Top with crumbs or pipe a Viennese Whirl on top or leave plain. If you are finishing these several ways, reduce the amount of crumbs or dark satin ganache.
To Top with Crumbs
For the recipe on how to top with cumbs. Cover lavishly with crumbs, pressing them into the filling lightly.
To top with Viennese Whirl Cookies
Make the Viennese Whirl Cookie. Pipe a cookie on top of the tarts leaving about ¼" of the edge open. You will have batter left over, use it to make the cookies.
If Finishing with Ganache or Whipped Cream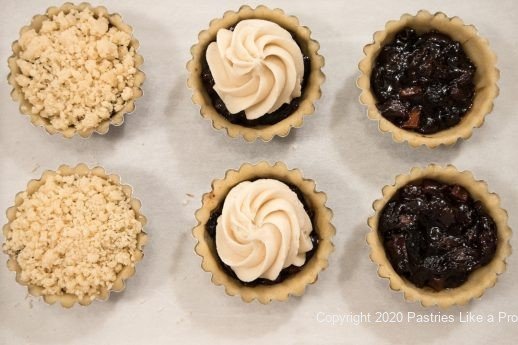 Fill the shells as directed. Do not finish the tops in any way.
Baking the Tartlets
Bake for 22 to 24 minutes or until the pastry shells, crumbs or Whirls are a medium brown.
Cool in their tins and release by turning upside down. I turned them out in my hand. Make sure you press the crumb side down firmly in the palm of your hand to keep them in place.
Dark Satin Ganache
½ cup heavy cream
10 tablespoons unsalted butter (150 grams or 5 ⅓ ounces)
1 tablespoon light corn syrup
8 ounces semisweet chocolate (225 grams)
Heat the cream, butter, and corn syrup until very hot, but do not boil. Submerge he chocolate under the cream for several minutes. Whisk very gently until smooth. Do not be too enthusiastic or air bubbles will form.
Spoon a scant tablespoon of ganache over each of the plain baked mincemeat tartlets. Rotate the tarts to fill the top or use an offset spatula to spread the ganache. Refrigerate to set. Serve at room temperature.
Whipped Cream Topping
This is not pictured above.
1 cup heavy cream, cold
⅓ cup powdered sugar (40 grams or 1 ½ ounces)
1 teaspoon vanilla
Combine the ingredients in the bowl of a mixer fitted with the whisk attachment. Beat on medium until it thickens and then beat on high until stiff.
Pipe onto tartlets with a ½" B tip several hours before serving. Refrigerate but serve at room temperature.
If you haven't made mincemeat tarts this is the perfect time to start a new Christmas tradition in your house. And there's no better way than to start with your very own mincemeat.
To Store and Serve:
The Crumb Topped Mincemeat Tarts should be lightly dusted with powdered sugar before serving.
These tarts can sit at room temperature for several days.
To Make in Advance: Finish them with crumbs or the Viennese Cookie. Bake the tarts as called for. Glaze them with the ganache after they are baked. Freeze them. Thaw in the refrigerator. Serve at room temperature.