A Better Kouign Amann revises this pastry for a better outcome. My first post on Kouign Amann was in September, 2016. There you will find the how to photos and a lot more information on this superb pastry.
Recently I was asked to teach a private zoom class and I chose Kouign Amann as my subject. After re-testing, I discovered some very interesting, small changes which make a world of difference that truly set this apart.
Change of Sugar
I kept the original recipe since it works just fine. However, I changed the sugar from granulated to sanding sugar. This is a very coarse sugar that is usually used for decoration and to add crunch. It stays crunchy when baked as you can see in the photo. However, it doesn't liquefy when chilled as quickly as granulated sugar does. It does, under high heat, caramelize on the outside of the pastry which is the point of the sugar, as well as sweetness.
Sanding sugar is more widely available in grocery stores, specialty stores, kitchen stores and on line.
Rising Time
In the first blog, I recommended letting them rise 30 minutes as did other recipes. This time I let them double before baking. Croissant and Danish dough are both allowed to rise until doubled or nearly doubled before baking. They are both laminated dough so why was the rising time for Kouign Amann cut to a mere 30 minutes which is hardly time for them to warm up? The difference is astounding. They become a completely different and more wonderful pastry.
I put my shaped pastries in a cold oven with the light turned on. I monitor the temperature and if it gets above 80°F, I prop the door open with a wooden spoon.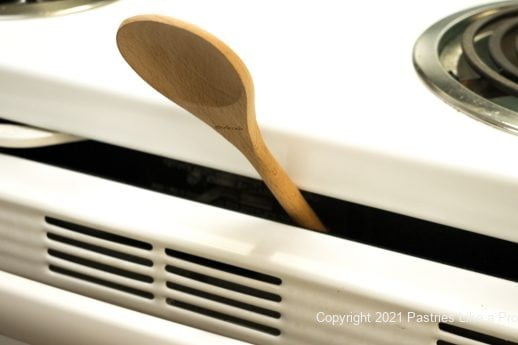 The temperature is perfect as a proofer. It usually takes about 90 minutes for the pastries to double.
Reduced the number of Pastries
Even with allowing them to double in size before baking, I thought they were too thin. So, I reduced the number from 12 to 10 which improved them tremendously.
I rolled the dough into a 21 x 9 inch rectangle, trimming it to 20 x 8 inches. Cut the 8" side in half making two 4" strips. Cut the strips 5 across the 20" side making 10 - 4" squares. They are shaped exactly the same.
Baking Temperatures for A Better Kouign Amann
I changed the starting baking temperature to 400°F giving the pastry an initial burst of high heat to get it going. After 10 minutes I reduced it to 350°F so it would bake throughout in about 15 to 20 minutes more.
Equipment
The pan in which the pastry is made is important. When I first made this, I went along with everyone else and used a Texas muffin tin in which to shape them. But they remained small and after sitting for a while became almost hard to eat. This time I tested a couple of different ways to mold them.
Ring Molds
As I mentioned in the original article about kouign amann professionals use small ring molds. They have no bottoms – the pan on which they are placed becomes the bottom of the mold. The pastries are shaped and just plopped into the rings where they rise. I used my 3 ½ x 1" English muffin rings, a 3 x2 inch round ring mold and a Texas Muffin cup.
This was one of the most consequential changes I made. The two ring molds, because of they are bigger than Texas muffin cups and the fact they had straight sides and were not tapered as is the muffin mold, did a much better job of baking the pastry all the way through. While the outside was crispy from the caramelized sugar, the interior gave way to a sweet, soft dough.
They looked better and tasted like a whole new pastry - crispy on the outside and soft on the inside with a definite crunch of caramelized sugar. The only downside is they usually don't retain the top shape. They open up like a flower allowing the pastry to bake throughout without overbaking the outside.. A small difference for a much improved product.
Double Panning is very important when using the rings. It slows the baking to the bottom allowing the interior to get completely baked.
The rings are very easy to remove immediately by using a pair of tongs to just lift them up and away from the pastry. I then use a pancake turner to transfer them to a cooling rack.
Texas Muffin Cups
While the muffin tins can be used, the Kouign Amann are much more compact and have a tendency to become hard upon sitting. Also, since most of the Texas muffin tins I have seen are dark, the exterior of the pastry darkens very quickly almost burning before the inside is done baking.
Make Ahead
I was really happy to realize these can be fully baked and frozen. Simply cool them completely, freeze them, then wrap well and freeze for up to a month. Kouign Amann whenever you want them! Just thaw them at room temperature on a rack. They benefit from a brief heat up in a 350° oven for about 10 to 15 minutes if thawed.
Conclusion for A Better Kouign Amann
Will the recipe work as originally written? Absolutely.
Will the changes make a better Kouign Amann? For sure.
A BETTER KOUIGN AMANN
The proper way to make this pastry is to use salted butter. I talk about this in the stuffed or not kouign amann post. But if all you have is unsalted, that's fine also. While most articles insist on using European Butter such as Plugra or Kerry Gold, I don't. They are extremely soft. If you hold them in your hand, they start to melt.
American butter has a lower butter fat content by about 2 to 3%. The additional water in the butter makes it more solid keeping it from softening too quickly. I do use European butter in other recipes and I love it - but not when laminating.
For how to photos please go check out kouign amann.
Initial Dough (Detrempe)
¾ cup water
2 ¼ teaspoon active dry yeast ( 7 gram package or ¼ ounce)
2 ¼ cups all purpose flour (315 or about 11 ounces)
1 teaspoon salt
2 tablespoons melted butter (1 ounce or 30 grams)
1 cup salted or unsalted butter (225 grams, 8 ounces or 2 sticks)
⅔ cup sanding sugar (130 grams or about 4 ½ ounces)
Processor Method
Combine the water and yeast. Set aside to soften the yeast. Place the flour and salt in the processor. Pulse several times to mix. Add 2 tablespoons melted butter to the water and pour over the flour. Process until the dough balls up. Remove from the processor and knead several times. Place in a bowl that has been sprayed. Turn it over. Cover with film and allow to rise for about an hour or until doubled.
Punch down and flatten. Wrap in film and freeze until frozen about 2 to 3 inches in from the edge. The center should be very cold but not completely frozen.
Butter Enrichment
1 cup unsalted or salted butter (225 grams, 8 ounces, or 2 sticks)
Cut each stick of butter in half lengthwise. Roll the butter one quarter turn and cut lengthwise again. Then cut it into 8 equal pieces. You will have 32 small cubes of butter. Freeze the butter pieces until hard.
When the butter is frozen and the dough is partially frozen, cut the dough into quarters. Cut each quarter into 3 pieces.
Place 4 pieces of dough into the processor. Add one third of the butter and pulse quickly about 20 times until the dough and butter are cut into uneven pieces. Pour it out onto a work area. Repeat two more times with the remaining dough and butter.
Flour the work area lightly. Push the dough and butter into a rectangle about 6" long and 4" wide. Dust the top with flour. Roll about 18 x 6 inches, scraping under the dough to keep it from sticking and flouring lightly as necessary. Keep the ends as square as possible and the sides as straight as possible. Brush any flour off the dough. Fold the top down to the middle and bottom up to the middle. Brush flour off again. Fold the top over the bottom. This is called a book fold.
Turn the dough 90° so the folded edges are to your right and roll again to about 18 x 6 inches, lightly flouring the board and top of the dough as necessary. Brush the flour off and fold as above. Wrap in film and refrigerate for about an hour or up to three days. It can also be frozen at this point. Thaw in the refrigerator overnight before making the final turns.
Once the sugar has been rolled in, the dough should be completed the same day. If you try to hold it, the sugar will liquefy and the dough will become wet.
Final Two Turns
Kouign Amann dough
⅔ cup sanding sugar
For the third and fourth turns, roll the dough out to about 18 x 6 inches. Brush the flour off and sprinkle with ⅓ cup granulated sugar. Place a piece of waxed paper over the sugar and lightly roll it in. Fold the ends to the middle and then fold the top down over the bottom as before. Turn 90°. Repeat once more rolling in the remaining sugar. Fold the dough, wrap in plastic wrap and let it rest in the refrigerator for an hour.
Shaping
Spray 10 English muffing rings or 3 x 2" round rings well. Or Spray ten Texas muffin cups very well. Set aside.
Roll the dough into a 21 x 9 inch rectangle. Trim to 20 x 8 inches. If the dough is soft chill it in the freezer for 15 to 20 minutes. Cut the 8" side into 2 - 4" strips. Cut the 20 inch side every 4" for a total of 10 - 4" squares.
Place a teaspoon of sanding sugar in the middle of a square. Bring all the corners up to the middle. Pinch together. Place inside the rings or the muffin pan.
Cover the molds or muffin tin with a towel and let rise for about 1 ½ hours or until doubled.
Baking – Double Pan if using rings. Preheat the oven to 400°F. If using dark pans, you may want to start at 350°F. Bake for 10 minutes. Lower the temperature to 350°F (or 325°F if using dark pans). It's fine if they become a deep brown on the bottom. Just don't burn them. Remember the sugar is going to caramelize making a very crunchy treat.
Releasing – It is very important to get these out of the muffin cups as soon as they come out of the oven. They will get cemented in the cups if they cool. If using rings, just remove the rings with a pair of tongs. If using muffin tins, go around the pastries with a small metal spatula and turn them out.
These are best eaten the day they are made. I prefer the Kouign Amann completely cooled to room temperature when they are at their most flavorful and at their crunchiest!
I think the revisions used in A Better Kouign Amann will make the finished pastries a better version of this best of all pastries.