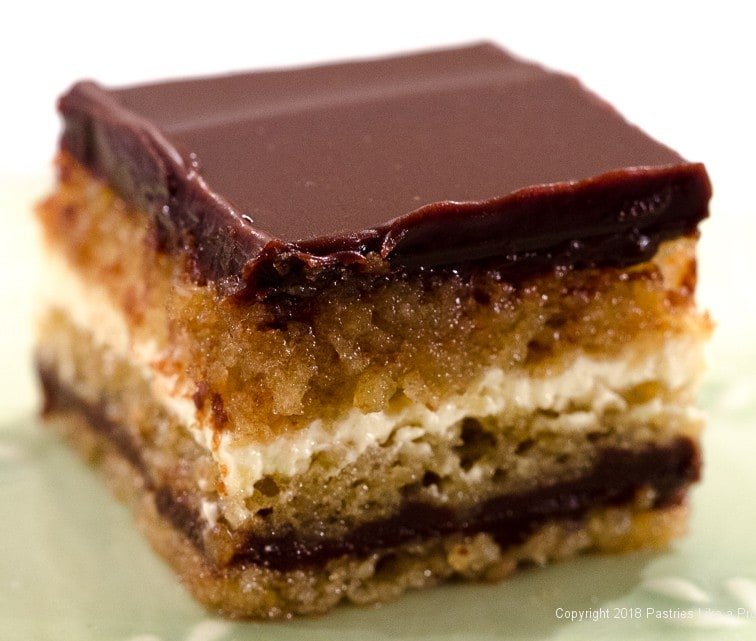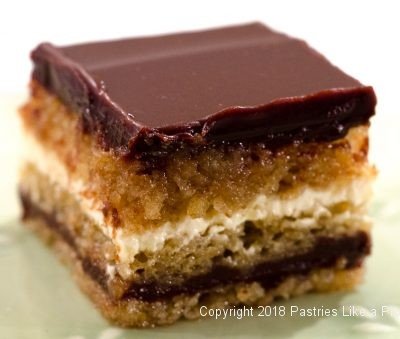 L'Opéra Petit Fours, a combination of chocolate and coffee flavors, are very much a lesson in component parts.  Many pastries consist of several recipes combined to make the whole.  Rearranging which and how the component parts are combined, endless pastries can be made.
There are two types of petit fours - petit four glacé which are those covered in fondant and petit four sec which are small pastries that can be picked up.  L'Opera Petit Fours belong to the petit four sec variety.  At the shop, we made petit four sec as I consider them to be so much more flavorful and beautiful.
L'Opéra Petit Fours are also the best petit four I have ever tasted.  As with much in food, that level cannot be achieved in a quickie recipe.  But most of the component parts can be executed days ahead of time making the final assembly very easy and relatively fast to accomplish.  I recently made 140 of these for a function where four additional petit fours were offered.  These not only disappeared first, but they were also the most talked about.
I first came across these when I did a teaching stint in a Baking and Pastry class at a community college offering an associates degree.  The petit four consists of a very thin jaconde layer which is a sponge cake made with almond flour.  And very thin it is, being about ¼ of an inch.  Even spreading is a necessity here.  The half sheet is cut into 3 rectangles which are heavily soaked in a coffee liqueur syrup.  The bottom layer is spread it a very smooth chocolate ganache.  The second layer is spread with a French coffee buttercream after its soaking and the top layer is simply soaked.
The jaconde calls for butter to be folded into the batter at the end. I have always had trouble folding the melted butter into genoise or a butter sponge as it always sank to the bottom of the bowl and I had to over fold the batter resulting in a loss of volume.  In my first book, The New Pastry Cook, I came up with a technique to accomplish this without the butter sinking to the bottom of the bowl when added.   By whisking a small amount of batter and the butter together the butter will emulsify and will disperse evenly in the larger amount of batter when folded in. By emulsifying it in this manner, the problem disappears.
Two last things about the jaconde used for the petit fours.  This is a very small amount of batter and must be worked quickly and delicately so as not to deflate it. Lastly, the jaconde should be turned upside down for the soaking syrup to be absorbed.  The crust, as thin as it is, will prevent the syrup from being properly absorbed.
After assembling the L'Opéra Petit Fours they are frozen.   The whole is then finished with the same ganache used on the bottom layer. These petit fours are sumptuous indeed.
I did make a few changes and would make one more.  While in the original recipe all three layers are equally soaked with a sizable amount of the syrup, I would decrease or omit the syrup on the bottom layer to prevent it from becoming really wet.  In the recipe below I have reduced the amount of soaking syrup by one third because I thought these were too wet.  However, I now think  I would barely soak the bottom layer if at all to keep it easier to eat out of hand.  I have to say though that the people at the function didn't seem to care how wet they were.  The syrup imparts a tremendous amount of flavor.  Without it, these petit fours would not be nearly as good.
I use my French Buttercream flavoring it with coffee. French buttercream is distinguished by the use of egg yolks as well as whites which are used exclusively in Italian and Swiss Buttercreams. The combination of egg yolks and egg whites will whip into a foam that does not need to be stabilized with sugar in the initial whipping as do egg whites alone.  Sugar syrup is used in the final whipping and the buttercream is flavored with vanilla. Other flavors may be substituted as with the coffee buttercream.
While on the subject of flavoring, I use my own coffee mixture of instant coffee dissolved in water,  brandy, rum or liqueur as opposed to purchasing a coffee flavor. Maybe it was just the one we used at school, but I didn't think the flavor was nearly as dominant as I would like in the one we purchased.  Besides it is easy to make your own and the liquid used to dissolve it can be endlessly varied adding additional flavor the end product.  An additional tip is to pour the cooled syrup into a measuring cup.  That way it is easy to keep track of how much goes on each layer without guessing.
There is an interesting article on the origination of L'Opéra cake from which the petit fours are derived at https://www.joepastry.com/2009/where_does_opera_cake_come_from/.  
While the combination for the L'Opéra Petit Fours, consists of chocolate and coffee,  a number of variations can be made by changing the soaking syrup and buttercream.
The photo of the finished L'Opéra petit four is deceiving. The finished petit four is only about ¾ inch tall but I wanted you to see it close up.
One last thing - I apologize for forgetting to photograph the application of the ganache.  It is very straight forward so just follow the instructions.  At the time we photographed this I had over 600 petit fours to make in a short period of time.  I think I just forgot the last step in the process of producing these.
Coffee French Buttercream
This makes too much buttercream but it is impossible to cut it down any further. The remaining buttercream may be frozen and used later where you choose.  Please see French Buttercream for how to photos.
2 whole eggs
1 egg yolk
¼ cup water
¾ cup sugar (150 grams or 5 ⅓ ounces)
¼ teaspoon cream of tartar
½ pound unsalted butter, softened but not runny (225 grams or 8 ounces)
1 teaspoon instant coffee
2 teaspoons vanilla
Place the eggs and yolk in the bowl of a 5-quart mixer fitted with the whisk attachment. Beat on medium-high until very light, very pale in color and foamy. Continue beating until the syrup is ready.
This small amount of syrup comes to temperature very quickly after it reaches 220 degrees so watch it so it does not go over 242 degrees on a candy thermometer.
Place the water in a small saucepan. Add the sugar and cream of tartar. Stir to combine.
Bring to a boil. Wash down the sides of the pan with a brush dipped in cold water to prevent crystallization. Boil to 242 degrees.
Pour the syrup in slowly trying to stay between the whisk and the side of the bowl. Do not pour in too quickly or it will sink to the bottom of the bowl where it cannot be incorporated. Beat until completely cool.
When the base is cooled, add the butter a tablespoon or two at a time. Beat until incorporated. Do not add additional butter until the previous amount is completely mixed in. When all of the butter is incorporated, add the vanilla with coffee and continue beating to achieve a light texture.
Yields: 2 ¼ cups, 400 grams or 14 grams.
Dark Satin Ganache
For how to photos go to Lamington Torte
½ cup 40% cream
¼ cup corn syrup (70 grams or 2 ½ ounces)
10 ounces semisweet chocolate (285 grams)
5 tablespoons butter (75 grams 2 ½ ounces)
In a small saucepan, bring the cream and corn syrup to a boil. Submerge the chocolate and butter and let sit for several minutes until the chocolate and butter melt. Whisk gently to mix completely. Chill while preparing the remaining recipes.
You will not need all of this but it is difficult to cut it down. Refrigerate the remainder and use it for another purpose.  It is also good over ice cream!
Yields: 2 cups or 510 grams or 18 ounces.
Coffee Syrup
½ cups water
½ cups sugar (100 grams or 3 ½ ounces)
1 teaspoon instant coffee
2 tablespoons Kahlua
Combine the water and sugar in a small saucepan.
As it approaches the boil, wash the sides of the pan down with a brush dipped in cold water. Bring to a boil.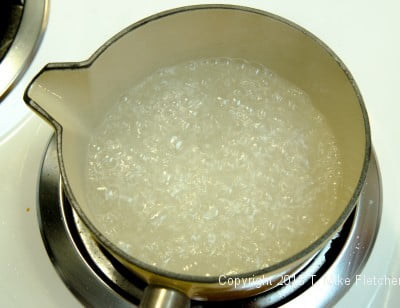 Dissolve the coffee in the Kahlua. If it won't dissolve microwave for about 10 seconds to add it to the sugar syrup.   Cool.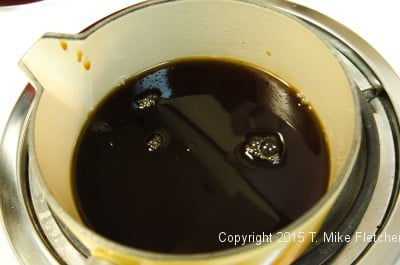 Pour the syrup into a measuring cup.
Yield: ⅔ cup syrup
Joconde Layer
2 large eggs
½ cup almond flour (75 grams or 2 ½ ounces)
⅓ cup + 1 tablespoon sugar (75 grams or 2 ½ ounces)
3 tablespoons flour (20 grams or ⅔ ounce)
2 large egg whites (64 grams or 2 ¼ ounces)
1 tablespoon butter, melted (15 grams or ½ ounce)
Spray a half sheet pan (12x16 inch pan) and line it with parchment*. Do not spray the parchment.
Preheat oven to 425°F.
Combine the eggs, almond flour, ⅓ cup sugar in a mixing bowl.
Beat until light in color.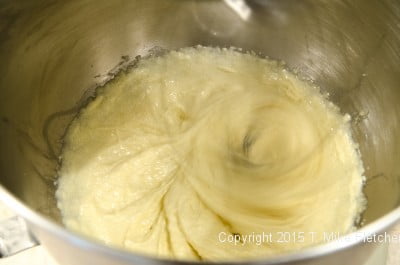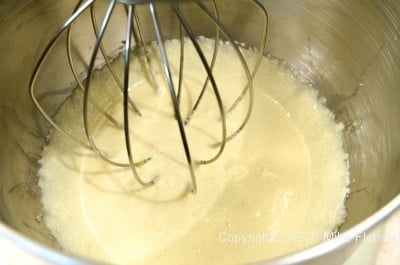 Pour the flour on top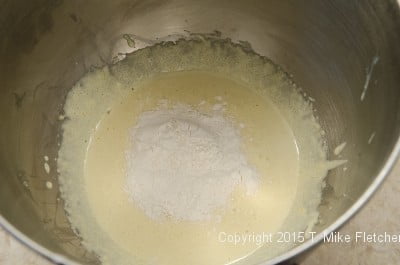 and whisk in with a couple of strokes. Do not over whisk.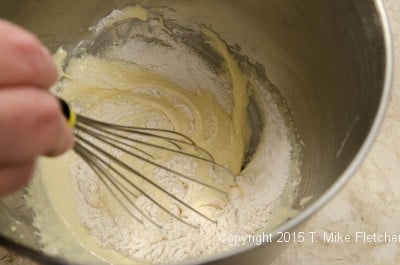 Beat the egg whites to soft peaks.
Gradually add the sugar and beat until stiff but still pliable.
Pour the egg mixture over the whites and fold in.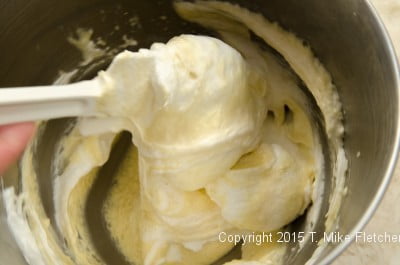 Add a large dollop of batter to the butter
and whisk to emulsify.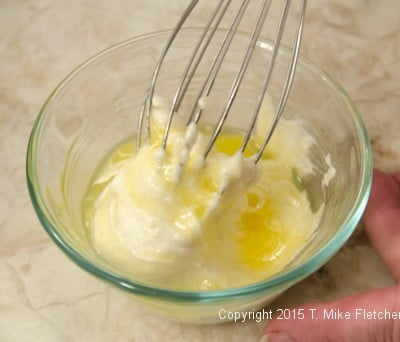 Return to the larger amount of batter and quickly fold in.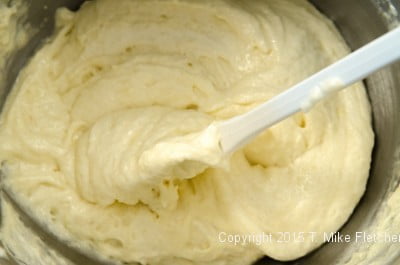 Spread evenly in the half sheet pan.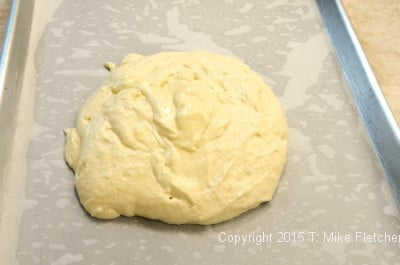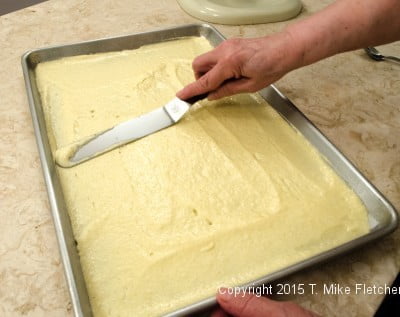 It will be very, very thin. Bake for 7 to 12 minutes until lightly browned. Do not underbake.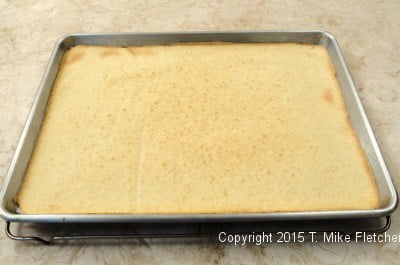 Cool to warm. Turn the joconde layer out and remove the parchment very carefully. This is easiest to do by removing it in pieces.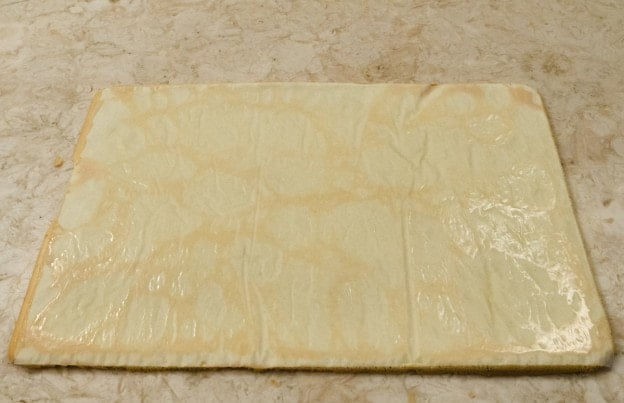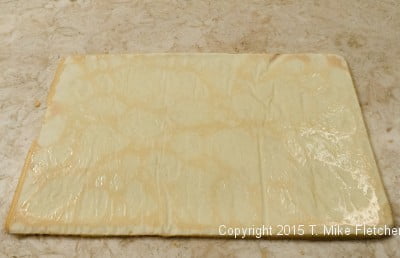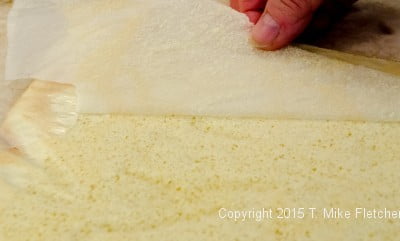 Cover the layer with another piece of parchment paper and set aside to cool completely.
Yield:  360 grams.
*By spraying the pan first the parchment will stick to it making it much easier to spread the very thin sponge layer.
Assembly of the L'Opéra Petit Fours
French Coffee Buttercream
Dark Satin Ganache
Coffee Soaking Syrup
Jaconde
Cut the Joconde into 3 even pieces from the long side that are approximately 5x12 inches. Because it is very thin, the edges may be brittle.  So be careful when cutting it.  If it does break as mine did, simply put it in the middle layer and reconstruct it.  The soaking syrup will hold it all together.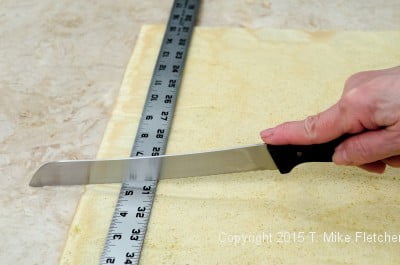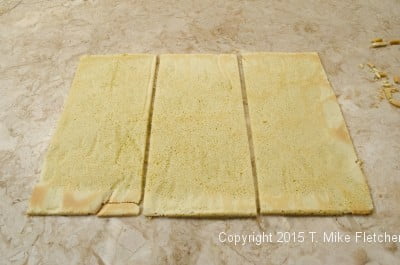 Place one piece, upside down on a cardboard or serving dish.  Brush with up to ⅓ of the Coffee Syrup.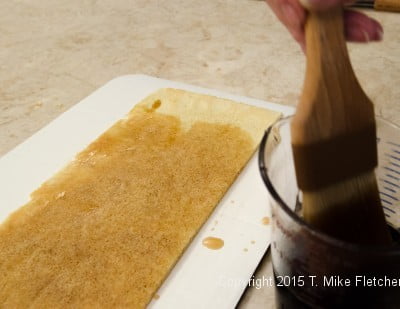 Spread with a thin layer, about ⅓ cup of Silky Chocolate Ganache. (If the ganache has become too hard, microwave 5 seconds at a time, stirring each time until it is spreadable.)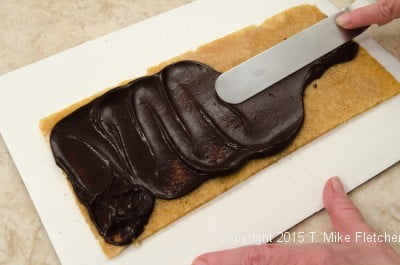 Cover with a second layer of Joconde upside down;
moisten with half the remaining Coffee Syrup.
Spread about 1 cup (120 grams or 4 ounces) of buttercream over this layer.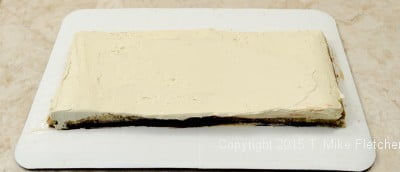 Top with the last layer of Joconde, upside down,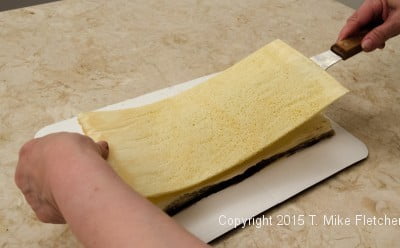 and brush with the remaining Coffee Syrup.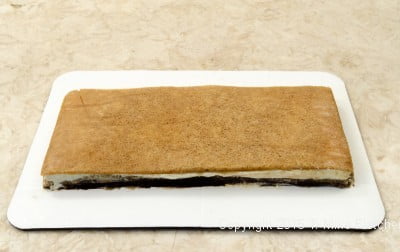 Freeze until hard. If not finishing right away, wrap well and keep frozen.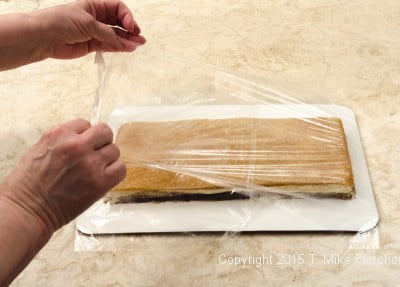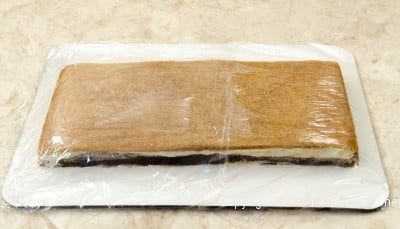 Finishing
Heat the remaining ganache to about 120 degrees. After it has been frozen, remove it from the freezer and spread a thin layer of Silky Chocolate Ganache on the top layer to seal it. Spread the remaining ganache over the cake and let it firm up.
With a clean, hot knife, trim all the edges. Cut the cake into 1-inch squares.
Yield: About 40 L'Opéra Petit Fours about ¾ inch tall. These may be frozen. Thaw in the refrigerator.
Make Ahead Notes:  The buttercream can be made a month ahead and frozen.  Thaw in the refrigerator and reconstitute using the method at the bottom of Swiss and Italian Buttercream  The ganache and soaking syrup can be made a week ahead and stored in the refrigerator.   Make the jaconde and use it immediately as called for.  The entire L'Opéra Petit Fours may be assembled and frozen for a month.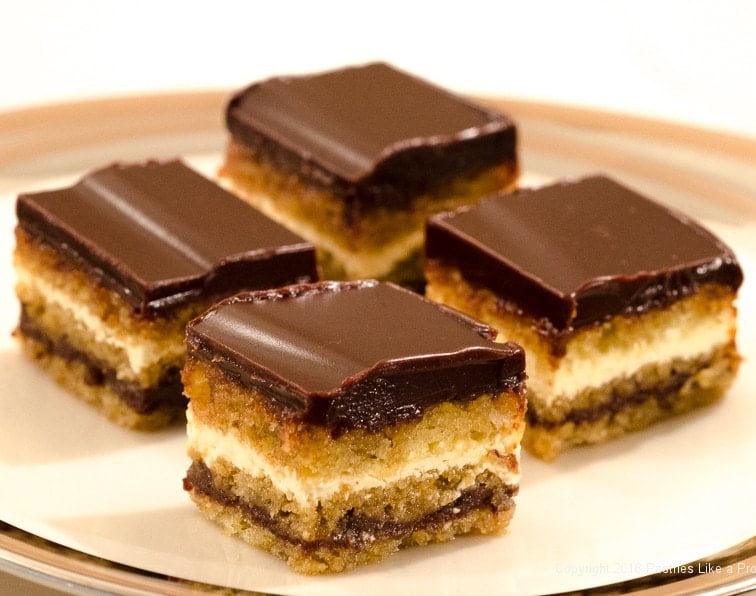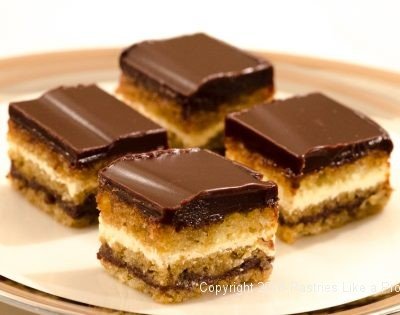 If you enjoyed this article, please visit:
Orange Almond Madeleines
Almond Raspberry Triangles
Updated Lemon Bars