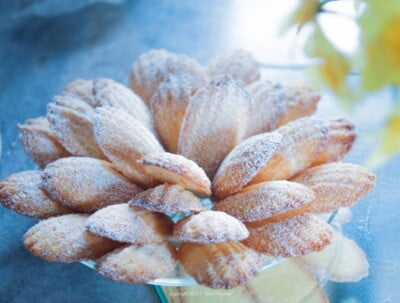 Madeleines were said to be the favorite of Proust. These shell shaped petit fours  were originally made of sponge cake and to me, rather tasteless.  They dried out quickly while sitting on display and lacked any definitive flavor.
However, the Orange Almond Madeleines and the fudgey Chocolate Madeleines we made at the bakery are a special treat that lasts on display or in a tin and can be frozen for later use.  These were a very popular petit four.  Orange and almond is a favorite flavor combination than never fails to deliver in the taste department.
There are two kinds of petit fours, petit four sec which is any small one or two bite cake, tart, or other pick up dessert.  Petit four glace are the fondant covered little cakes.  At the bakery, we  made the petit four sec and had a box of assorted ones that were very popular.
This Orange Almond Madeleine depends upon almond paste for its moistness and flavor.  Marzipan, a derivative of almond paste should not be used.  It has egg whites and sugar incorporated into the almond paste.  You want to use the pure almond paste.  It can be found in most grocery stores in 10 ounce cans.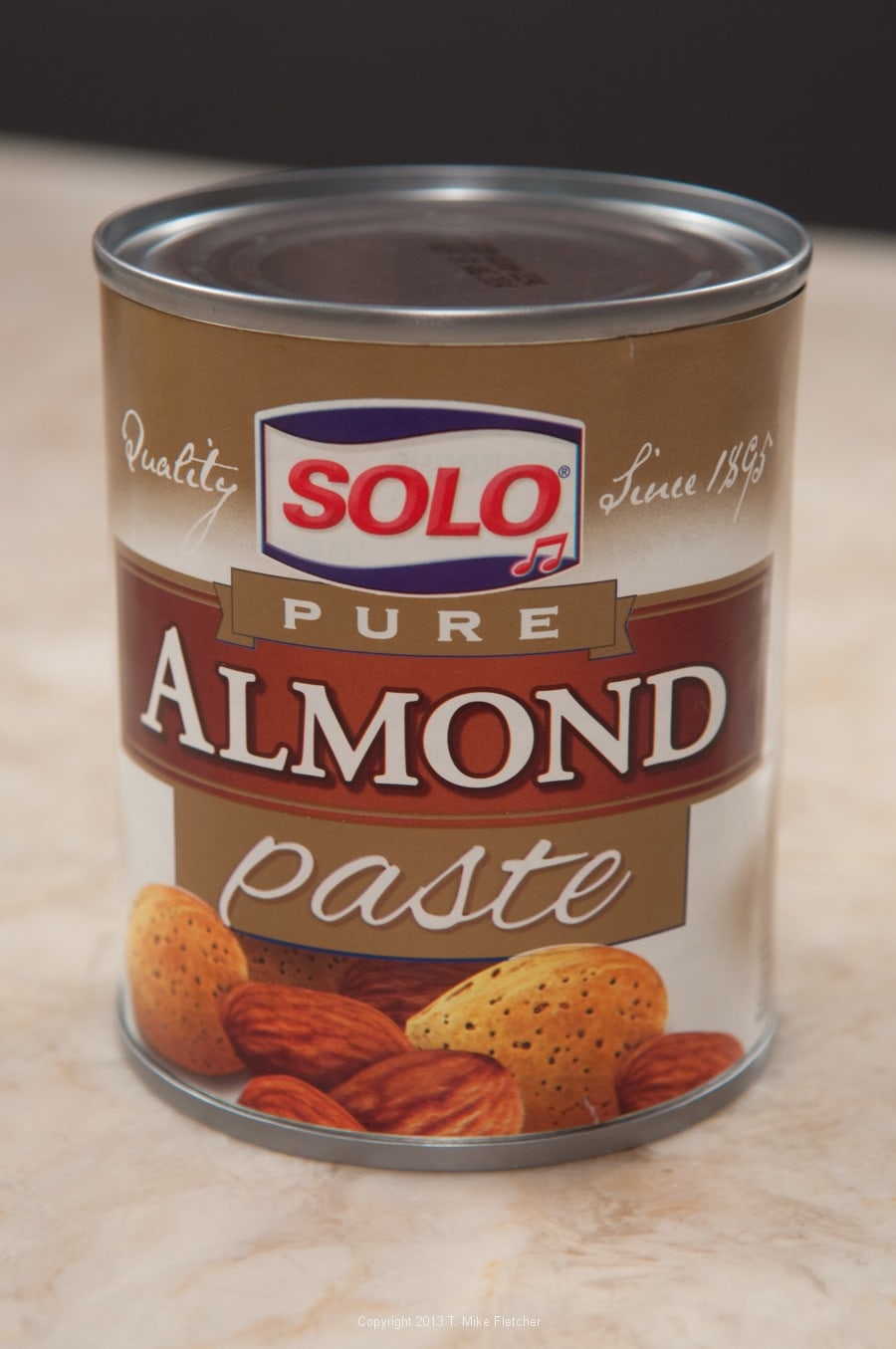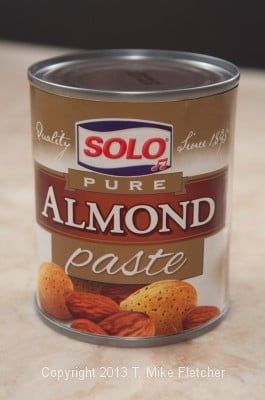 Getting it out of the can is easiest of you remove the top and bottom of the can and just push it through.  It will save a lot of frustration.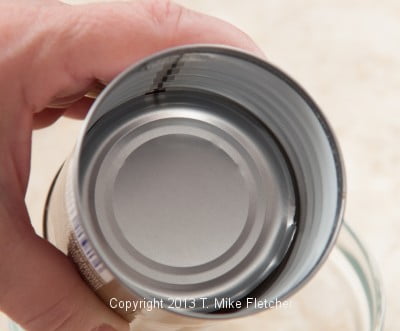 Madelienes have their own special mold.  A pan usually has 10 to 12 shell shaped molds and mini molds can also be found.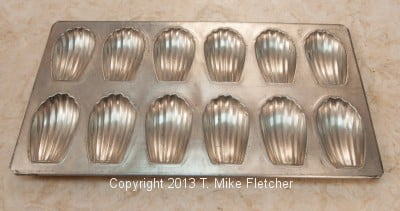 The only way I found to release these easily was to use Baker's Joy, a baking release that is made of oil and flour.  I tried ever conceivable way to get this to release and Baker's Joy was the only thing that worked.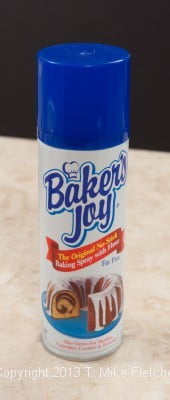 I tried spraying or wiping the pans with oil, then dusting with flour, but it was not as successful.  The other tip is to remove them while they are warm to easily get them out of their molds.  I prefer the shiny pans to the dark ones as I think the dark ones color the madeleines too much and crisp the exterior more than I like.  If you  have the dark ones, lower the temperature by 25 degrees and watch to make sure they aren't over browning underneath.
Orange Almond Madelienes are really easy to put together.  I prefer using the processor as I think it mixes the ingredients the best.  But lacking a processor, a mixer can certainly be used.  I have included instructions for both.
These melt in your mouth petit fours are simplicity itself to make.......and enjoy.   When we did dessert buffets, we usually displayed them as in the finished photo.  Just use a small plate and starting at the outside edge, circle the madeleines.  Continue circling them, moving into the center where two will finish them.  Dust with powdered sugar and they are ready to go.
Orange Almond Madelienes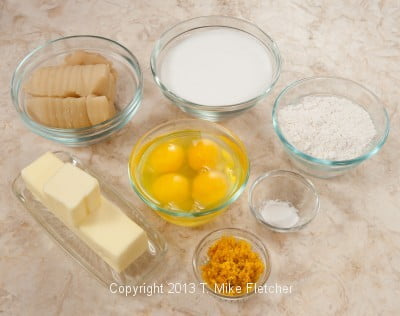 10 ounces almond paste (285 grams or 10 ounces)
1 cup + 2 tablespoons sugar (215 grams or 7 ½ ounces)
1 orange rinds, grated
10 tablespoons  butter, softened (140 grams or 5 ounces or 1 stick + 2 tablespoons)
4 eggs
⅔ cup flour (85 grams or 3 ounces)
½ teaspoon baking powder
Preheat oven to 350 degrees.
Processor Method:   Process the almond paste and sugar until mealy.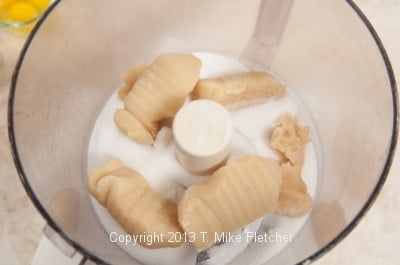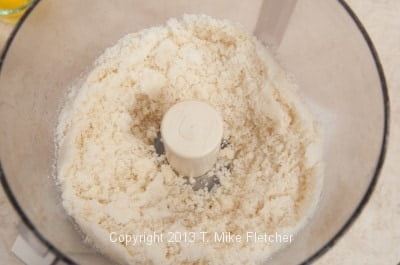 Add the butter.
Process until smooth. 
Add the eggs and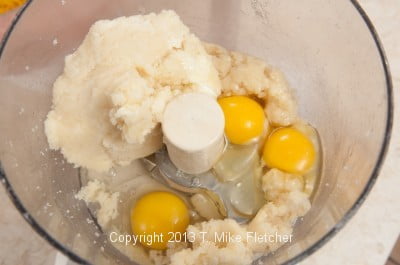 process until smooth. 
Lastly add the orange rind, flour and baking powder.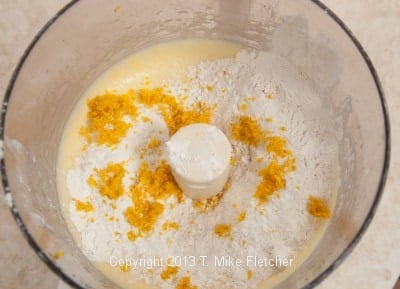 Process until completely mixed.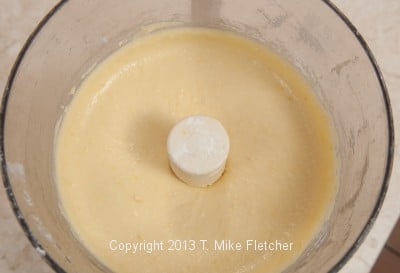 Scrape down the side of the bowl and into the corners and process one last time. 
Remove the batter to a bowl.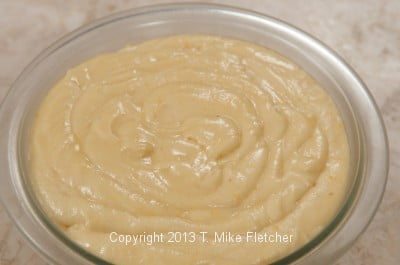 To clean the blade easily, pulse it several times and the centrifugal force will clean the blade.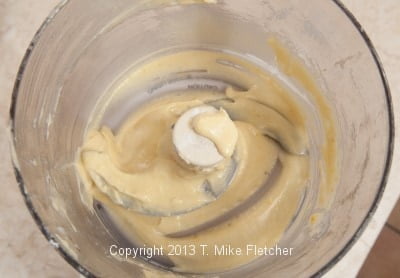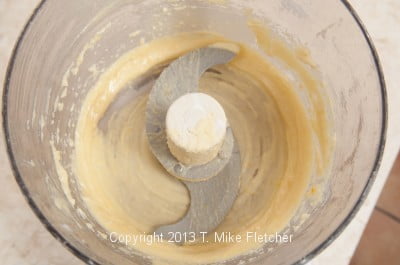 Mixer Method:  Microwave almond paste briefly to soften.  Beat the paste with the sugar in the mixer with the paddle until combined.  It may clump up and that is fine.  Add the butter.  Beat until it all comes together and is light.  Add the eggs and beat until incorporated.  Add the orange rind, flour and baking powder.
Spray madeliene pans very well with Baker's Joy.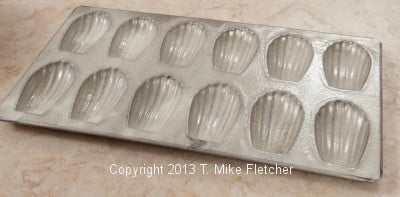 Drop batter with #60 scoop or by a tablespoon per mold.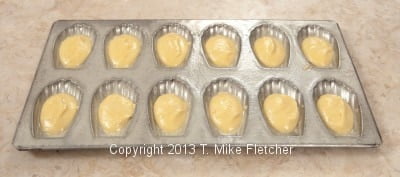 Bake for 15 to 17 minutes, turning ⅔ the way through until golden around the edges and lightly browned on top.
Cool a few minutes and then remove the madeleines from the molds.  The easiest way to do this is to cup your hand and, using your fingers, slide the madeleines out toward you.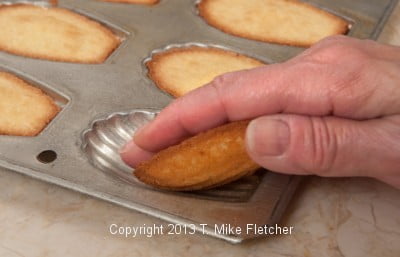 If you wait until they are cool removing them becomes difficult.
To serve, sprinkle with powdered sugar.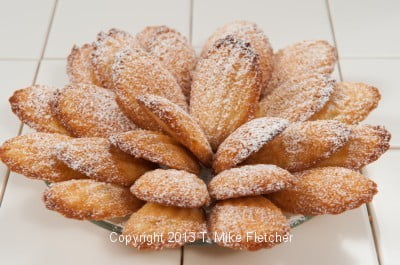 Makes about 50 madelienes.