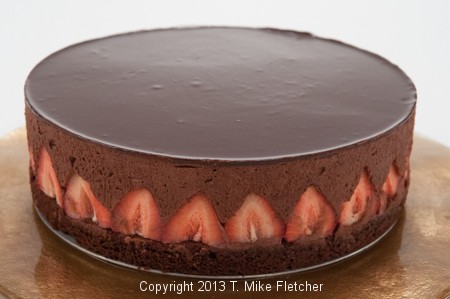 This Chocolate Strawberry Mousse Torte is a showy torte that is actually easy to accomplish. It's like the best chocolate covered strawberry you ever ate!  A simple French cake, the Reine de Saba, was a favorite base for many of our cakes at the bakery.  It is chocolaty, moist and holds up as a base better than any other chocolate cake we made.  We would keep these in the freezer and use them as needed.
To get cake layers for the Chocolate Strawberry Mousse Cake to come out flat without humping in the middle, spray the middle only of your pan.  Place parchment on top and spray the middle only.  We used this at the bakery and it worked really well.  If you spray the sides, or otherwise prepare them, the sides of the cake will rise faster than the middle in the oven. It will then slide down the greased sides of the pan causing the humpy center.  By not spraying the sides, the cake will cling to the sides unable to slide down, much like an angel food cake.  The center can then catch up with the sides for a flat layer.
We used an unusual method at the bakery of getting the eggs and the chocolate into the batter.  The eggs don't want to easily incorporate into the butter/sugar mixture.  By adding one egg, which may not fully incorporate,  then the chocolate, then the other egg, it will come together without curdling which is the problem we had originally when we added all the eggs at once.  Also, do not let the chocolate become cold, it should be lukewarm but not hot.
The mousse for the Chocolate Srawberry Mousse Cake uses two chocolates, white and semisweet that mellow it out.  Bittersweet chocolate can be used if desired but I am in the semisweet camp.
When it comes to the strawberries, try to find ones that are mainly the same size.  I know this can be a pain as they pack them by weight and not size.  If they are the assorted version, simply cut more of the top off the big ones when removing the stems to achieve strawberries of the same size.   Continue reading →