While Tiramasu was all the rage a few years ago, it has since been relegated to the "not hot" list of desserts for many restaurants and you don't see it on menus as much.
However, Tiramasu is a classic Italian dessert and one that is really easily executed once you have made the sponge - which can be done a month ahead if desired and stored in the freezer well wrapped. Simply thaw it for use. This amount of sponge is more than you will need but it can't be cut down any further and have a quality product.
While many recipes for Tiramasu use the premade Italian ladyfinger sponge cookies, Savoiardi, we made our own sponge and it worked perfectly for us. This was a version I made for Tony's, the restaurant at which I preform my pastry chef duties. I made it in wine glasses for a beautiful presentation.
It is important to use mascarpone cheese which is a very creamy, rich Italian cheese. I have seen recipes that substitute cream cheese for the mascarpone but it won't be anything like the really creamy filling that makes this so special. This recipe also uses raw egg yolks which are essential to the finished filling. So a raw egg warning is in order.
The cream I used to finish the Tiramasu was whipped two days prior to the photography of the finished dish and held in the refrigerator. Although it was lightly sweetened, I did nothing to stabilize it. This is the reason to use 40% or heavy cream. Regular whipping cream which is about 36% will not hold up.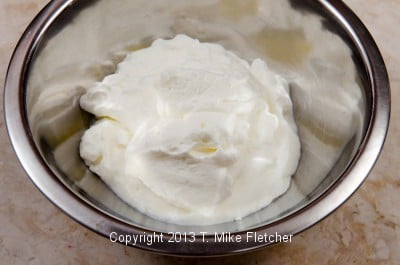 I have always used Meyer's Dark Rum when I had a recipe requiring rum. It is very intense and the deep rum flavor holds up when combined with other ingredients or when used in baking. Lighter rums simply don't do the job. There is very little used in the soaking syrup but its contribution is enormous.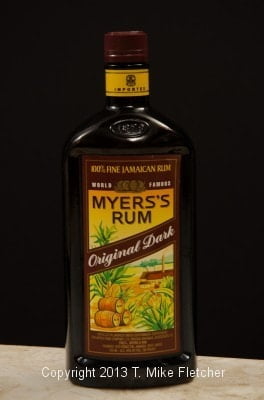 Tiramasu is a great ending to any dinner be it casual or elegant. It can be made two days ahead as long as the whipped cream topping is added the day they are served since it is difficult to cover the whipped cream and not mar it. Make them to the point of adding the whipped cream topping. Cover with plastic wrap and keep refrigerated. The day of service, add the whipped cream topping and keep refrigerated, uncovered, until ready to serve.
Do not be tempted to make these really large. The number you get will depend upon the size of the dish or glass you are using. They are very rich. See if you don't agree these Tiramasu are well worth taking a trip to Italy without leaving your kitchen.
A personal note: The entire photo set up of dishes, glassware and silver are from my mother. I found them recently in boxes in our basement when we were cleaning which made me think I should clean the basement more often! The china is from a different era and its beauty is in the intricate design highlighted in gold. I find it interesting that my china is simplicity itself but my stemware is more intricate. Mother's was just the opposite.
Spongecake - Using the ingredients and pan below follow the photos in the Lemon Butter Sponge blog for how to photos omitting the addition of the butter.
3 egg yolks
⅓ grams sugar (35 grams or 1 ¼ ounce)
3 egg whites
⅓ cup sugar (35 grams or 1 ¼ ounces)
½ cup unsifted cake flour (65 grams or 2 ¼ ounces)
Preheat oven to 350 degees. Line a 9x13 inch pan with parchment.
Beat the yolks and sugar until very, very light in color (almost white) and very thick.
In a clean bowl, beat the egg whites until soft peaks form. Add the sugar a bit at a time. Beat until fairly stiff peaks form. Add the yolks and one half the flour. Fold together. When almost done, add the remainder of the flour and fold again. Spread evenly in the pan and bake for 10 to 12 minutes until golden brown and it springs back when lightly touched.
You will only need about ½ of this sponge. But it can't be cut down any further and have a decent product. So cut it in half and eat the plain half while you are assembling the parfaits.
It is best to make this the day ahead.
Soaking Syrup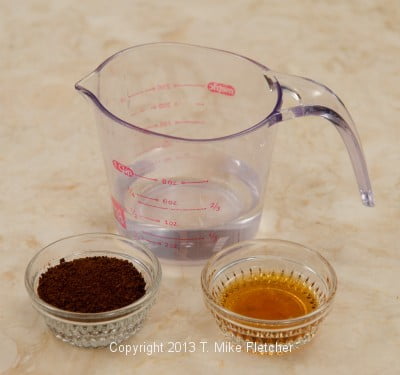 ¼ cup water
1 tablespoons instant coffee
1 tablespoons Meyer's Dark Rum
Mix the water and coffee to dissolve the coffee.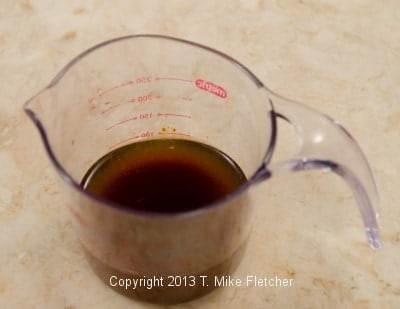 Add the rum.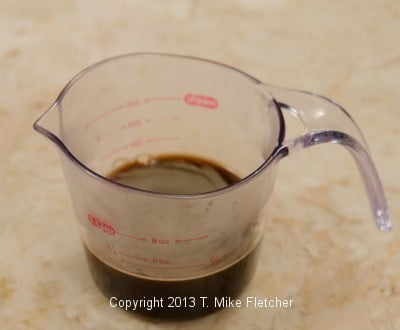 Brush on half of the sponge using all of it. It will be pretty much wet all the way through which is how it should be.
Mascarpone Filling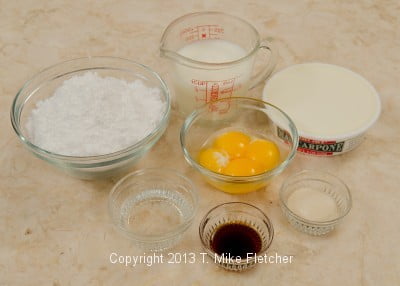 ¾ cup cream
200 grams powdered sugar
4 egg yolks
1 teaspoons vanilla
½ pound Mascarpone cheese (225 grams or 8 ounces)
Beat cream until fairly stiff. Remove to another bowl.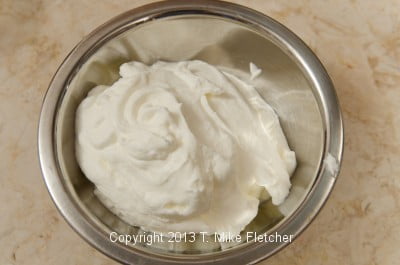 Without cleaning the bowl, add the powdered sugar, egg yolks and vanilla.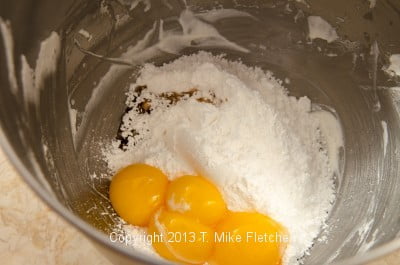 Beat until very, very light and fluffy – about 7 to 10 minutes.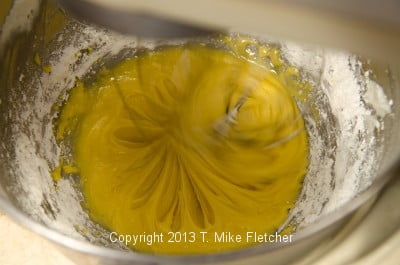 Add the mascarpone by thirds.
Mix in completely.
Fold in the whipped cream.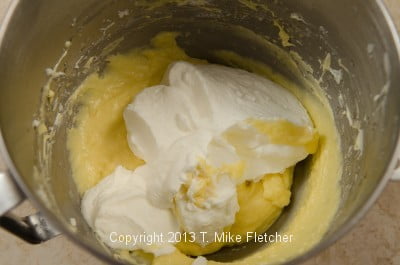 Assembly
Sponge cake
Mascarpone filling
Soaking Syrup
Whipped Cream topping
Semisweet chocolate for decoration, finely chopped
Cut sponge cake into ½ inch squares.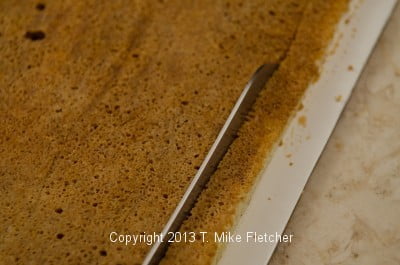 Place a large dollop of filling in the bottom of the glass.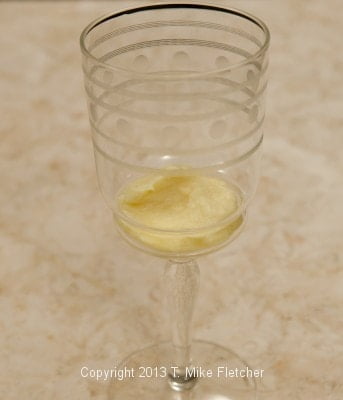 Top with some of the sponge squares.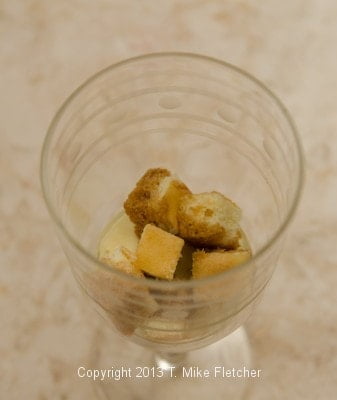 Continue layering finishing with the mascarpone filling.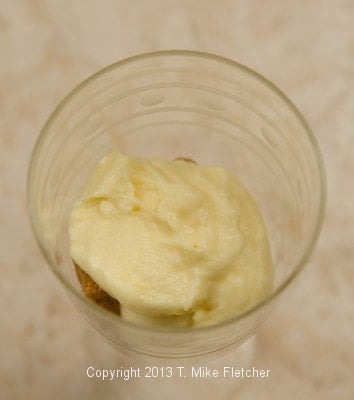 Whipped Cream Topping
½ cup 40% cream
20 grams of powdered sugar
½ teaspoon vanilla
Whip all together until fairly stiff.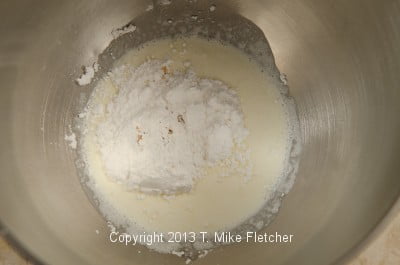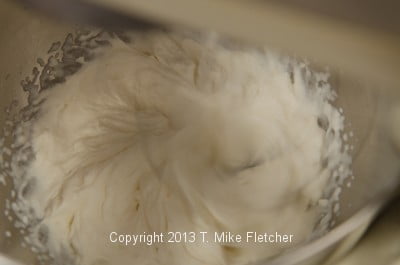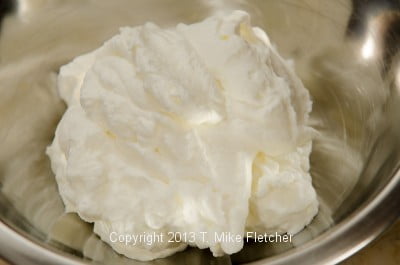 Using a piping bag with a #5 open star, top with whipped cream. Or simply dollop it on.
Chop a bit of chocolate fairly finely. Sprinkle the whipped cream with the chocolate.
Makes 5 to 6 Tiramasu, depending upon the size of the glass or container.