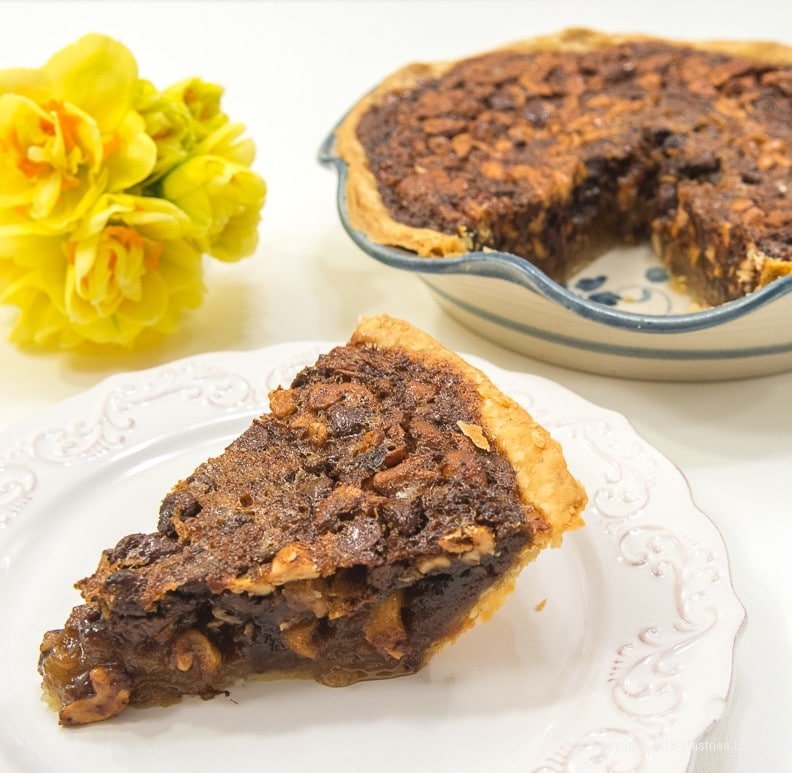 There are a couple of things that make a derby pie special. It is southern, abundant on the first Saturday of May when the Kentucky Derby runs and it features another southern specialty – bourbon.
While the original Derby Pie features walnuts, pecans are often substituted. This is actually a very close cousin to the pecan pie. But I feel strongly that cashews are a grossly underused nut, so I set about doing something about it. And Chocolate Cashew Derby Pie is it.
What is especially surprising is that with the cornsyrup and sugar it is not overly sweet.
This is actually one of the easiest recipes in the world and near fool-proof. My single pie crust is filled with cashews and chocolate chips swimming in a bourbon-spiked filling. As it bakes, the nuts and chips float to the top and a heavenly, moist filling sinks to the bottom.
Many years ago on one of my prop forays, I found this lovely pie plate that I thought perfect for this special derby pie.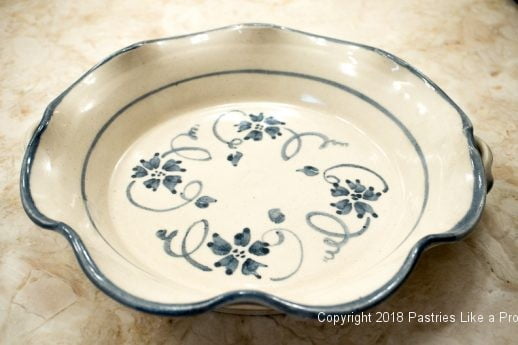 When I saw the pile of ingredients, I was sure they would be too much for this pie plate for I have no sense of volume. I have never had and it's too late to be concerned about it now. Luckily I was wrong as usual and, as you can see, it is the perfect fit.
This is perfect made a day ahead of time so you can enjoy the race. While I have seen derby pie served with whipped cream, I take mine straight. Maybe, warmed just slightly. But feel free to serve it any way you wish.
I have included a couple of tips we used at the bakery to keep the top from crusting or forming a meringue.
Chocolate Cashew Derby Pie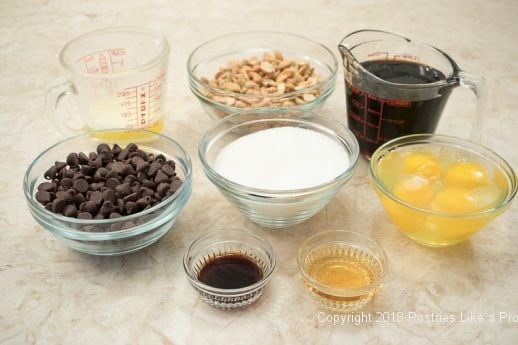 9" unbaked Single Pie Crust
1 ½ cups cashews (200 grams or 7 ounces)
1 cup chocolate chips (170 grams or 6 ounces)
4 eggs
1 cup sugar (200 grams or 7 ounces)
1 cup dark corn syrup
6 tablespoons melted butter (90 grams or 3 ounces)
2 tablespoons bourbon*
2 teaspoons vanilla
*If you don't want to buy a big bottle of bourbon, they often have little airline bottles at grocery stores. One will be plenty for this recipe. Also, if you prefer not to use alcohol, substitute water.
Preheat the oven to 350°F. Line a rimmed baking sheet with foil (in case of spillover) dull side up and set aside.
Toast the cashews for 7 to 10 minutes depending upon if they are whole or in pieces. Mine were mixed. Cool completely.
Prepare the pie dough, roll it out and place it in the pie pan. Crimp the top edges. See the how-to photos here. Place on the prepared baking sheet.
Evenly distribute the nuts in the shell. Top with the chocolate chips.
Combine the remaining ingredients in the bowl of a mixer
and beat on low until completely mixed. It is important to keep the speed low and not to mix any longer than necessary.
Pour over the nuts and chocolate.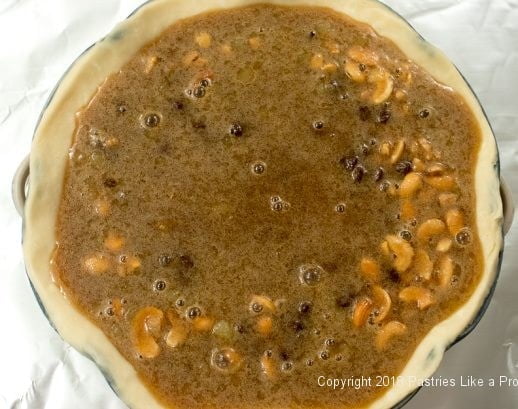 Bake for about 45 minutes until the crust is deep golden brown. Loosely cover the top with foil to prevent over browning and continue baking for about 30 minutes longer. It will be done when it barely jiggles in the center.
As soon as it comes out of the oven, enclose the pie plate in foil. This will help prevent the top from crusting.
Cool on a rack. This may be made a day ahead and stored at room temperature.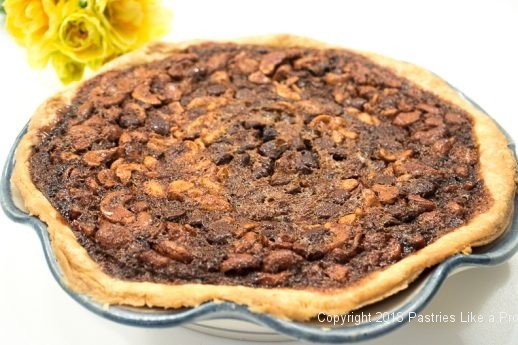 Cookie Book Update - Last Christmas I went to Trader Joe's and while there picked up a box of Italian Cookies. Two were memorable, the remaining four not so much. The Baci di Dama, which means a ladies kiss, was outstanding. I was determined it would be in my book. I researched the cookie and to my surprise, it was very easy to make and naturally gluten free. I used hazelnut flour as opposed to almond flour and filled it with a Gianduja filling of milk chocolate and more hazelnuts. My son, who is GF loved them as did we. What do you think?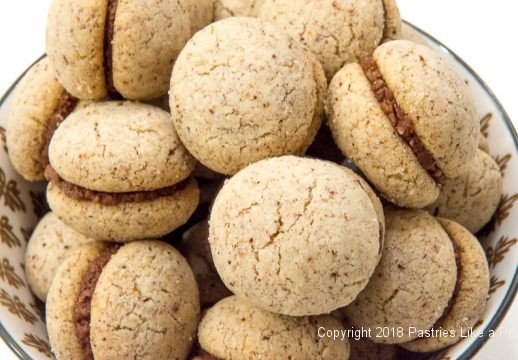 SaveSave
SaveSave
SaveSave
SaveSave
SaveSave
SaveSave
SaveSave