Creme Brûlée has almost become a national dessert. There is scarcely a restaurant that doesn't have some version of this French favorite.
Many years ago when I was visiting my son in LA, Eric, Jolene and I went to Il fornio restaurant. I don't remember what I had as an entree but I sure do remember the Milk Chocolate Creme Brûlée. If memory serves me right I had two! A year or so later when I went for another visit, Jolene and I would go back for more. When they had no tables, we were very happy to sit at the bar so long as we could have our creme brûlée.
The Milk Chocolate Creme Brûlée is inspired by the one I so loved. There is a hint of fennel and orange, a classic Italian duo along with milk chocolate. However, I warn you this is a once in a while treat. I don't think I have ever made anything with so much fat in it. From 40% or heavy cream, to half and half, egg yolks and then, of course, the chocolate - milk chocolate no less.
The choice of chocolate is important as it is the main flavoring agent in the creme brûlée. When I owned my bakery, I originally used all European chocolates. America was not known for their chocolate yet. Later, when there was a problem getting imported white chocolate, I searched out American chocolates. Since I wanted to buy direct from the manufacturer to avoid a middleman, I had to buy a minimum of 500 pounds. In the beginning that was unfathomable. What could I possibly do with 500 pounds? Well I used that 500 pounds, then another and another followed by 1000 pounds and up.
I asked five chocolate companies to send samples. Four were very helpful and one informed me I would never be large enough to bother with. Because of the amount that had to be purchased, I wanted to buy all my chocolate from one company. I settled on Guittard, not only for their fine chocolate but for the help they gave me in understanding the product. While I found a good dark chocolate and white chocolate, the milk chocolate was lacking.
So I continued to use Callebaut's milk chocolate. I like it for it's smoothness and the caramel undertones. The chocolate you choose will be the determining factor in the taste of these creme brûlées.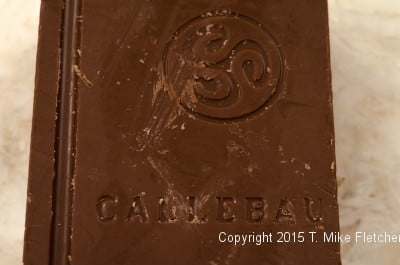 Creme brûlées couldn't be easier to make, despite their reputation. A bowl, a pan, a whisk and a few utensils are all that are needed. However they must be baked in a water bath to insure that creamy quality for which they are known.
To brûlée them is to burn the sugar on the top with a blow torch. While we use a full size blow torch at the restaurant, I use this smaller version at home.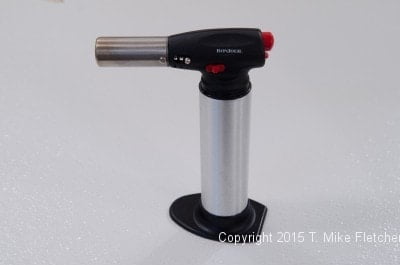 Just make sure you use enough sugar to get that hard brittle on top. The spoon should make a cracking noise when hit with a spoon, and the joy of a creme brûlée which means burned cream, is the cracking of the sugar to get to the creme.
When it comes time to actually eat, I brûlée these and let them come close to room temperature so all of the flavors can be tasted. Mike prefers his cold. So there is no right or wrong.
One last thing. You will notice mismatched dishes. There are two gratin dishes but only one ramekin. The story behind that is we moved the first week in January. I had a ton of dishes and baking equipment, much of which I had to leave behind. Apparently, my ramekins and oval creme brûlée dishes went with the other items. The ironic part of this whole thing is I have cabinets that remain empty. Guess that means it's time to shop for more stuff!
Milk Chocolate Creme Brulee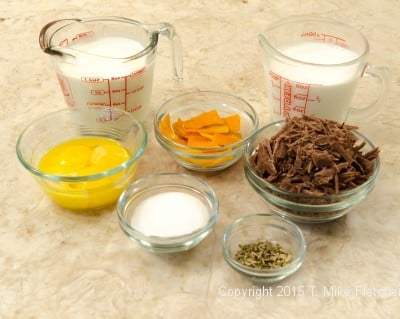 Rind of ½ orange
¼ teaspoon fennel seed
1 cup heavy or 40% cream
1 cup half and half
4 egg yolks
3 tablespoons sugar
⅔ cup Callebaut milk chocolate, finely chopped (114 grams or 4 ounces)
4 to 5 tablespoons sugar
Preheat the oven to 300°F. Place four or five ramekins or other heat tolerant dishes in a pan deep enough to hold water about ½ inch water. Set aside.
Peel half an orange and cut into one inch pieces. Crack the fennel seed by smashing them under the blade of a chef's knife.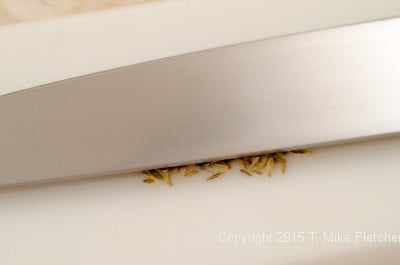 Place the cream, half and half, orange pieces and fennel in a small pan.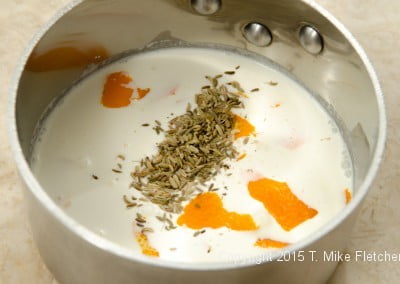 Heat until simmering. Remove from the heat and let steep for about one hour.
Strain the cream mixture into another container and clean the pan.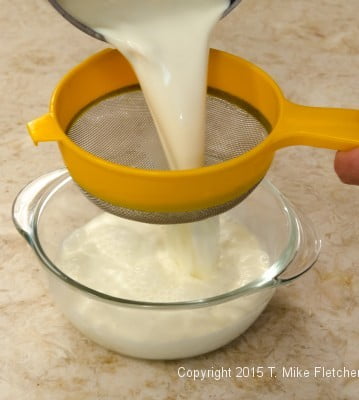 Return the cream to the pan. Heat until steaming but not boiling.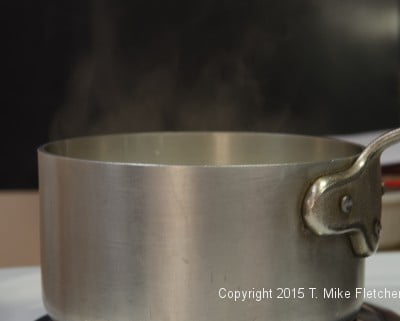 Remove from the heat and add the chocolate.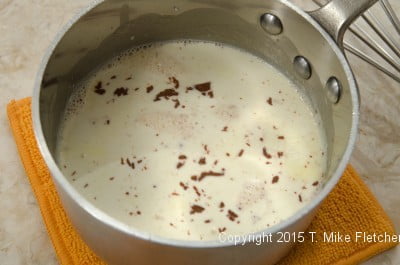 After several minutes whisk the mixture to incorporate the chocolate.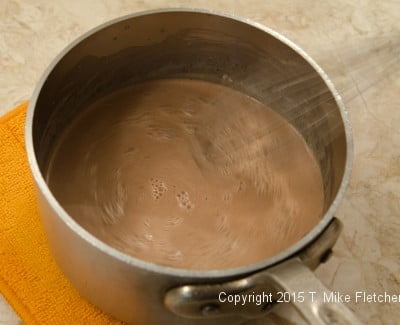 Set aside.
Whisk the egg yolks and sugar together.
Slowly whisk in the hot chocolate.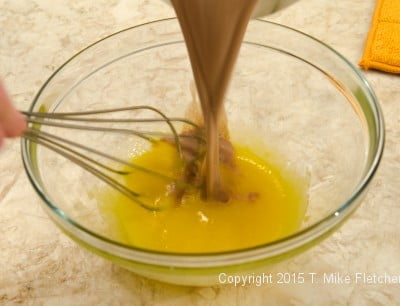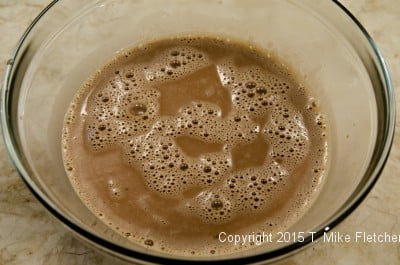 Divide between dishes.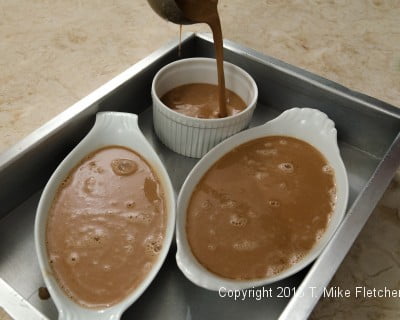 Fill the pan with hot water to about ½ way up the dishes.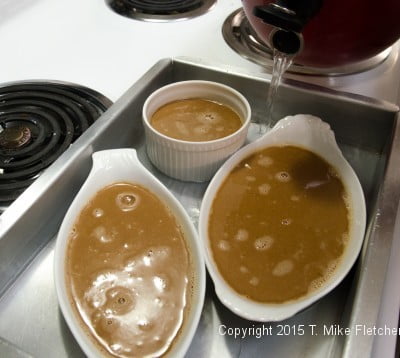 Place in the oven and bake for 30 to 40 minutes depending upon how deep the crème brûlée is in the cups. It is done when it is set and no longer jiggles when the pan is shaken.
Cool; refrigerate overnight.
Sprinkle 1 tablespoon sugar over the top of the crème brûlées .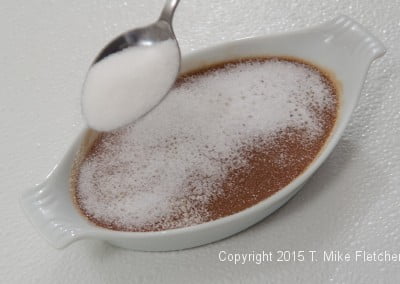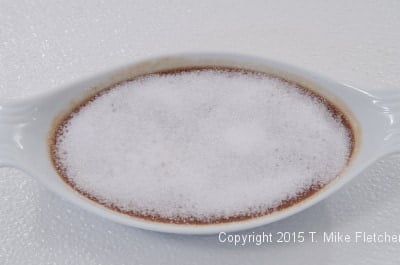 Caramelize with a small blow torch or place it under a broiler. If you use the broiler, keep the door open and watch it carefully as the sugar can burn very quickly.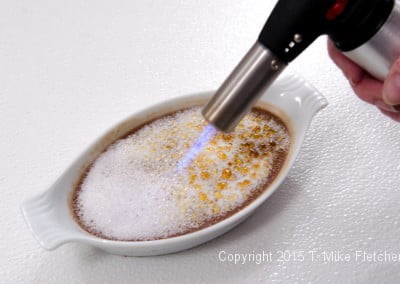 Serve at once.
Yield: 4 or 5 servings