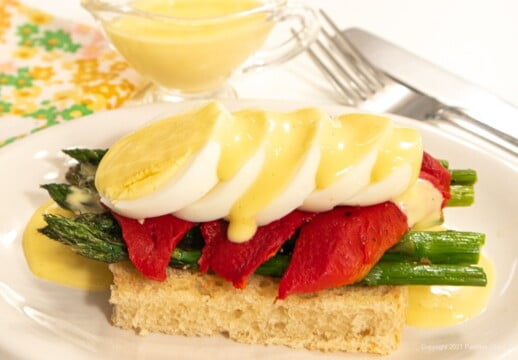 Easy Eggs Benedict has been updated so a child (with supervision) can make this entire recipe for a Mother's Day Brunch and what a treat that would be for any mother. Although it it has several steps, all but the Hollandaise Sauce can be made ahead so it's actually very easy to accomplish. It gives both child and mother a wonderful experience.
English Muffin Bread is something I made years and years ago when Fleischmann's Yeast first came out with the recipe. However, when I made it for the blog, it seemed heavy, flat and not at all what I remembered.....but then nothing much is! The word batter was mentioned in the original recipe but, in reality, it was just another loaf of bread.
I wanted the nooks and cranies of an English muffin, so I added additional water to achieve a true batter and to my great delight nooks and cranies appeared. And did I mention how easy this bread is? It's delightfully chewy just like an English muffin.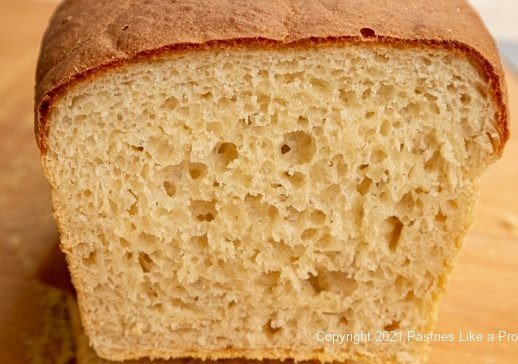 The bread is sliced, toasted, trimmed, and topped with roasted asparagus, jarred roasted red peppers, a sliced hard-boiled egg instead of the usual poached egg and topped with a processor or blender made hollandaise sauce.
There's a funny story about hollandaise sauce in our family. We were all in Los Angeles for Christmas one year. Eric and Jolene made a spectacular brunch for us. It was a version of Eggs Benedict with beef tenderloin standing in for the usual bacon. When it came to the hollandaise sauce, Eric called me into the kitchen and announced that was my job as neither of them wanted to tackle it. In reality, I think they were intimidated by it and didn't want to get it wrong.
He looked a bit confused when I asked for the food processor but produced it and went on his way to complete his part of the dish. Well, if you've made the sauce in a blender or processor you know how fast and foolproof it is and that is exactly what I did. In a surprised voice, he said, "You cheated"! Well, cheated or not the sauce was the perfect finish to their Beef Tenderloin Eggs Benedict. For this recipe I used Julia Child's recipe from Mastering the Art of French Cooking. There simply isn't a way to improve upon it.
The bread, the hard-boiled eggs, and the roasted asparagus can all be made ahead so assembly is easy when ready to serve.
In addition to the original Hollandaise Sauce, I have included a mock Hollandaise for those not wanting to use raw egg yolk. However, transparency demands that I tell you I haven't tried that one, I just gave it as an option.
English Muffin Bread for the Easy Eggs Benedict
2 ½ cups all-purpose flour (350 grams or 12 ⅓ ounces)
1 ¾ teaspoons instant yeast or 2 ¼ teaspoons active dry yeast
1 ½ teaspoons sugar
1 teaspoon salt
¼ teaspoon baking soda
1 cup milk
½ cup water
Cornmeal as needed
Spray a 8 ½ x 4 ¼ inch pan with a non-stick baking release. Sprinkle the bottom and sides with cornmeal. I sprinkled rather heavily, you might want to use a bit less. Set aside.
Combine 1 ¼ cups of flour (175 grams or about 6 ounces), yeast, sugar, salt, and baking soda in the bowl of a mixer.
Heat the milk and water until very warm (120° to 130°F). Add to the dry mixture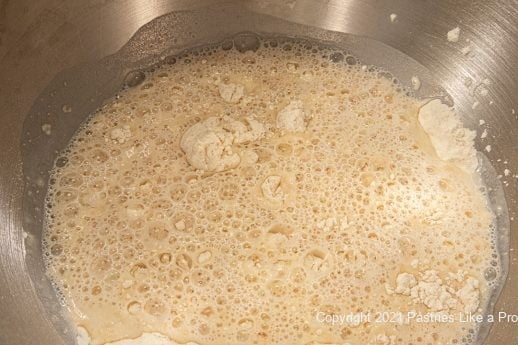 and beat well. It will be very liquid.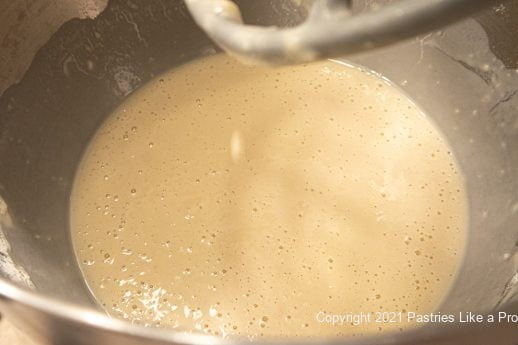 Add the remainder of the flour and beat just until combined completely. It will be a thick batter and very sticky.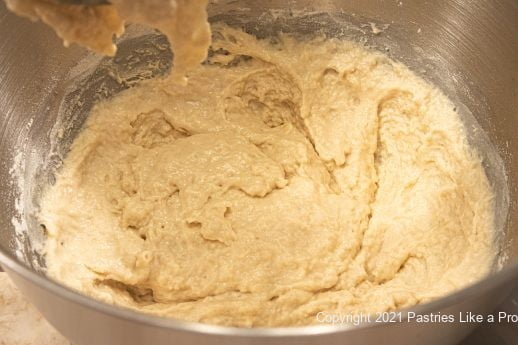 Pour the batter into the pan and level it. Because it is so very sticky and loose, the easiest was to do this is to wet your hand and level it with your hand.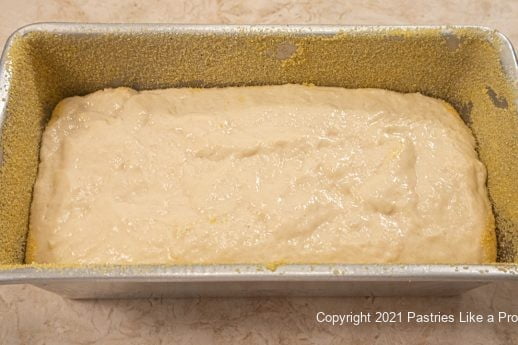 Cover and let it rise in a warm place for 30 to 40 minutes. It will rise over the top of the pan. Remove the cover as the bread rises to the point it approaches the top. Simply uncover it.
Preheat the oven to 400°F. Bake for 25 to 35 minutes until a thermometer registers between 180° and 200°F. Remove the baked bread from the pan immediately and cool on a rack. Mine looks two tone because of my heavy handed approach to dusting with cornmeal.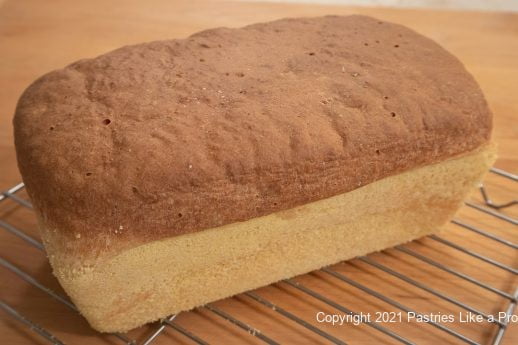 This may be made the day before or earlier and frozen. Thaw at room temperature.
Hard Boiled Eggs
Place the eggs in a saucepan. Add cold water to cover the eggs by 1 inch and bring to a full rolling boil. Remove from the heat, cover tightly and let sit for 15 minutes. Immediately, pour off the water and run the eggs under cold water for several minutes to stop the cooking. Store in the refrigerator until needed
Roasted Asparagus for Easy Eggs Benedict
There are three types of asparagus; pencil, standard, and jumbo.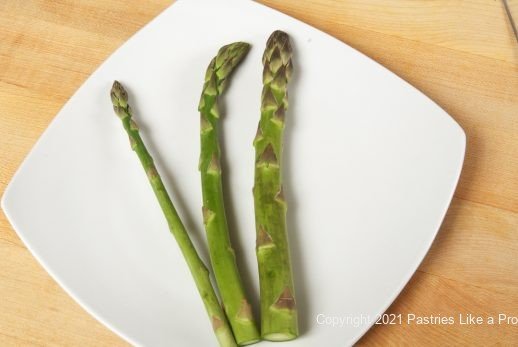 The jumbo asparagus definitely needs to have the stalks peeled as they are often woody.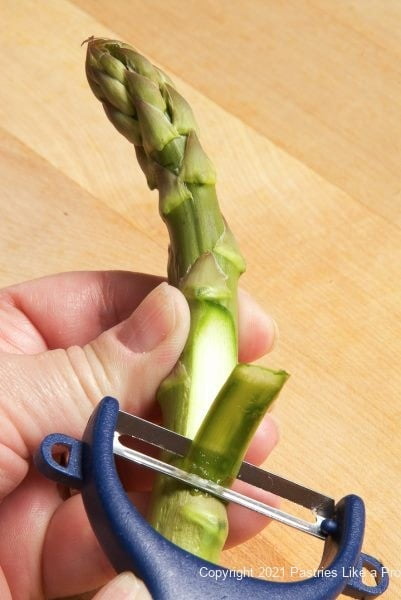 I like to roast my asparagus to retain all the flavor that I feel is lost when poaching it. I also roast mine so it has a bit of crunch to it and it isn't charred. I leave it bright green and full of flavor.
Asparagus - Peel bottom of stalk if it is fat
Olive Oil
Salt
Pepper
Line a half or quarter sheet pan with foil. Trim asparagus to the size of the bread slice with a bit hanging off on either side. Place the asparagus in pan. Sprinkle with olive oil, salt and pepper. Spread out in a single with layer.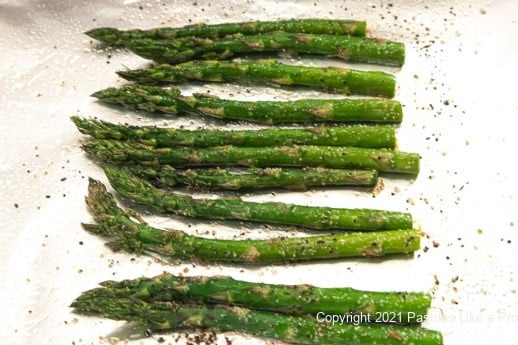 Roast for 10 minutes, more or less depending upon how you like it. This can be done hours ahead or even a couple of days ahead and refrigerated. Bring to room temperature when using.
Julia Child's Blender Hollandaise Sauce
This must be made shortly before using it. However, it only takes a few minutes so it's easy to do.
If raw egg yolks are a concern, please see the mock hollandaise sauce below.
I prefer to use a processor to avoid splattering which often happens with a blender.
½ cup unsalted butter (114 grams, 4 ounces, 8 tablespoons or 1 stick)
3 large egg yolks
¼ tsp salt
Pinch of pepper (I use a small pinch of cayenne)
2 tbsp fresh lemon juice
Cut the butter into pieces and heat to foaming hot in a small saucepan.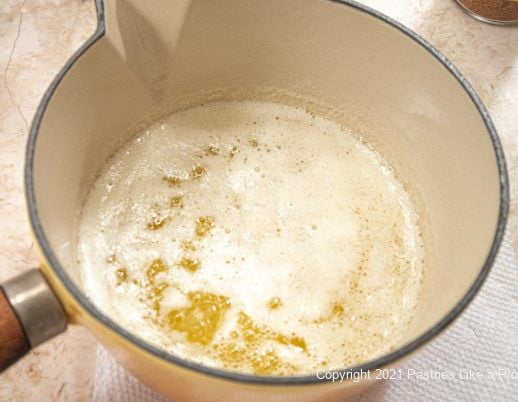 Place the remaining ingredients in a blender or food processor. Process for several seconds.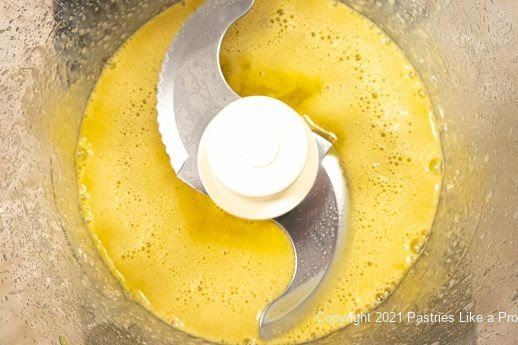 Slowly pour the hot butter down the feed tube. By the time ⅔rds of the butter goes in, the sauce will be a thick cream. Omit the milky residue at the bottom of the butter. Taste for seasoning and add more if needed.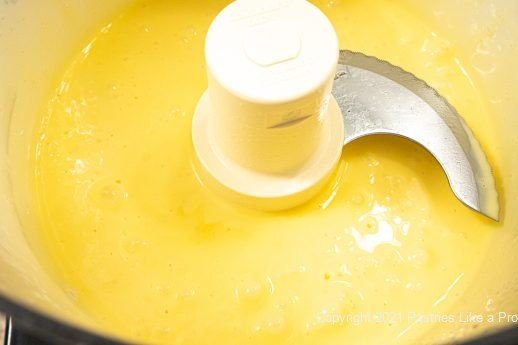 It is important to keep the sauce warm but not hot. The easiest way is to keep it in a thermos for a short time. Alternatively, it can be kept warm by pouring it into a container and placing the container in warm water. Do not let it get hot or it may break.
Mock Hollandaise Sauce
½ cup light mayonnaise
½ cup sour cream
1 teaspoon Dijon mustard
2 teaspoons fresh lemon juice, or to taste
2 tablespoons unsalted butter
Salt and cayenne pepper, to taste
Whisk the mayonnaise, sour cream, Dijon, and lemon juice together. Melt the butter and whisk in quickly to emulsify. Season with a pinch of salt and cayenne pepper. Serve at room temperature.
Assembly of Easy Eggs Benedict
English Muffin Bread, sliced and toasted
Roasted Asparagus
Jarred Roasted Red Peppers
Hard Boiled Eggs, peeled
Preheat the oven to 350°F. Line a baking sheet with parchment paper.
Lightly toast slices of the English Muffin bread. Trim off the edges.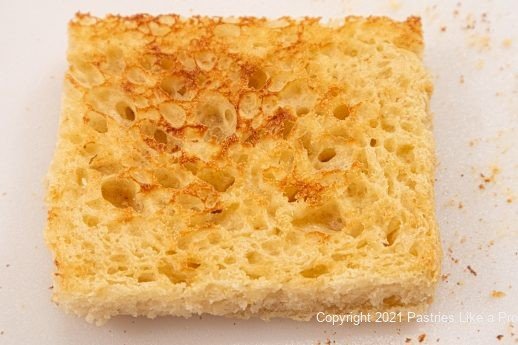 Place as many slices of toasted English Muffin Bread on the parchment as needed. Top each with the roasted asparagus,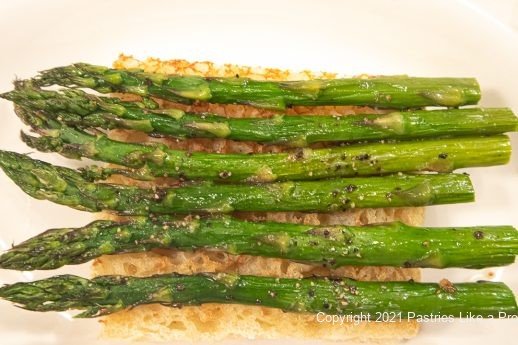 roasted red peppers and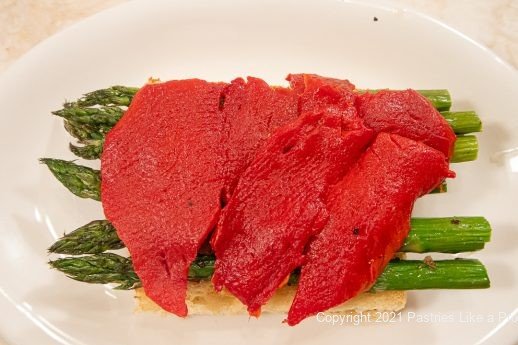 sliced hard boiled eggs.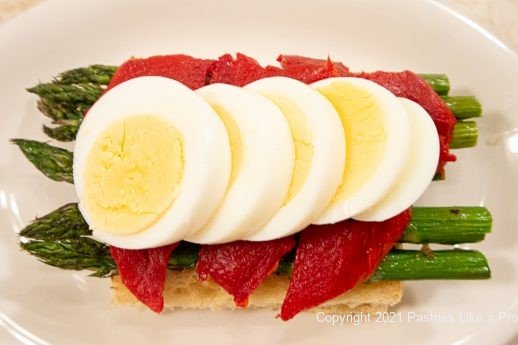 Cover with foil and heat for about 10 minutes to warm them.
Place each serving of Easy Eggs Benedict on a plate and top with the Hollandaise or Mock Hollandaise Sauce. Serve immediately.
I guarantee this will be a Mother's Day to remember.
Next week, I'll post a Strawberry Shortcake Cake for your special Mom.