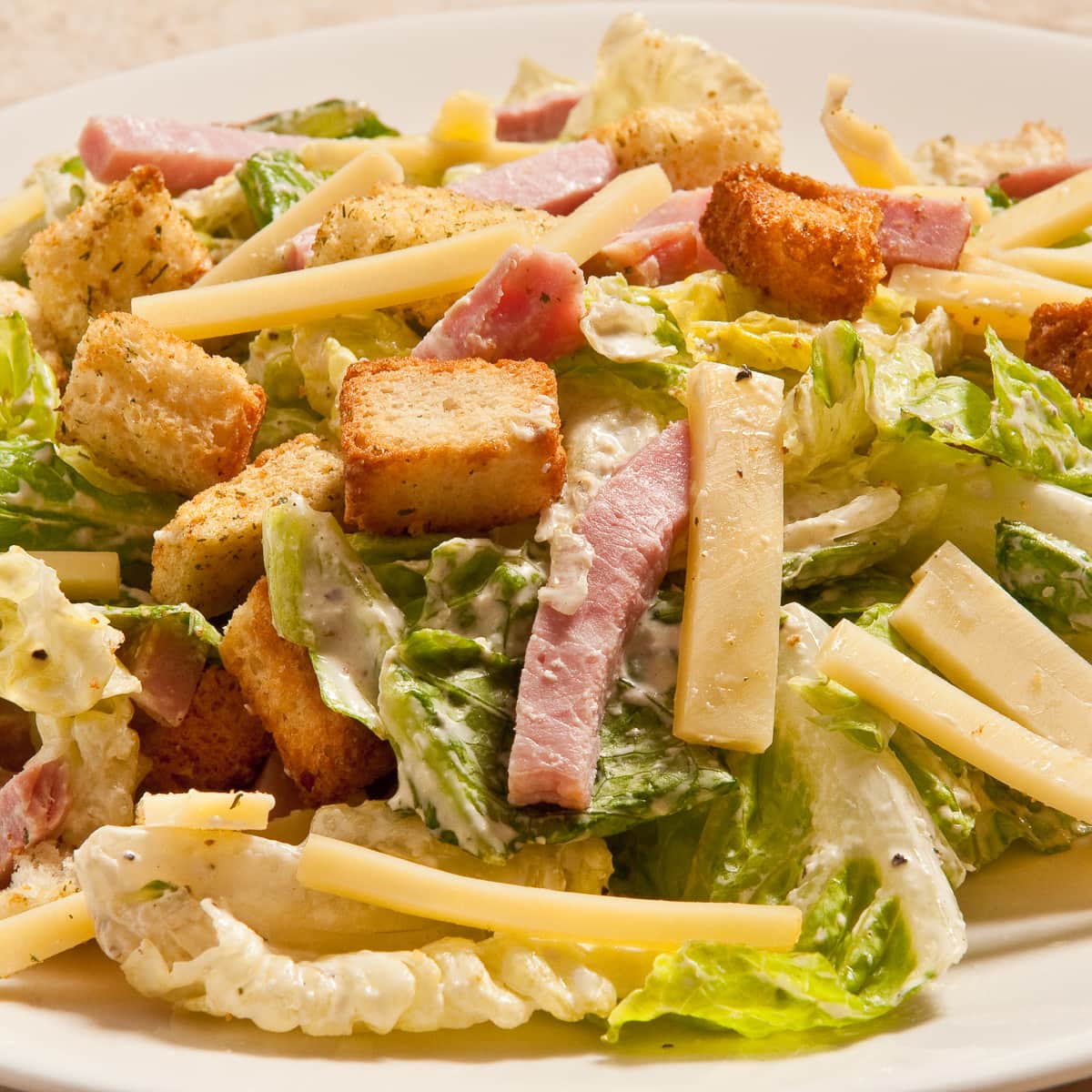 Mayfair Salad Dressing has long been a favorite in St.Louis where it was the house salad dressing for the Mafair Hotel. Think of it as a better version of Caesar dressing. It is thick and creamy, encasing the ingredients so every bite includes the dressing.
When Mike and I were very young (read that very, very young) and first married we would buy a pint of the salad dressing and eats salads all week long. We thought we had gone to heaven.
The Mayfair Hotel was built in 1925 and was known as the hotel of movie stars, visiting presidents and anyone wanting to be treated like royalty. It was a hotel in the grand style where wishes were anticipated and luxury was afforded to everyone who came. The hotel was added to the National Register of Historic Places on September 17, 1979.
It is thought that Chef Fred Bangerter created the dressing around 1935. While the original Mayfair Salad Dressing was built on the base of homemade mayonnaise, I altered it slightly to use purchased mayonnaise to avoid the raw eggs. I am happy to say, it is not only easier to make, but it's safer to eat.
Celery is used as a natural thickener for the salad dressing. Anchovies provide the unmistakable flavor of Caesar dressing. Don't be put off by the large amount of black pepper and do use the coarse ground pepper. It is important to rinse the anchovies in hot water before incorporating them so they don't become overly prominent in the finished dressing.
The original salad consisted of romaine lettuce (very luxurious at the time), ham, swiss cheese, and croutons. I have included two other versions, one of which uses leftover turkey. I have also included a recipe to make croutons fresh. They taste so much better than store bought. They can be made days ahead and stored in an airtight container to be used whenever.
This Mayfair Salad dressing will keep for a week in the refrigerator. It never lasts that long in my house.
Thank you for your indulgence as I shared some of my favorite savory recipes. In case you thought I abandoned my baking and pastries, I have some wonderful desserts as well as a savory cheesecake for your holiday entertaining coming up in the next few weeks
Happy Thanksgiving to all. Have a wonderful holiday.
Mayfair Salad Dressing
1 cup coarsely chopped celery
1 large clove garlic
¼ cup coarsely chopped onion
2 ounces canned anchovies rinsed in hot water*
2 tablespoons Dijon mustard
1 tablespoon coarse black pepper
1 tablespoon lemon juice
1 ½ cup prepared mayonnaise
*Anchovies come in a 2 ounce can. They come flat for rolled. I use the flat but it doesn't really matter.
Place all but the mayonnaise in a food processor bowl. Process to puree. Add ⅓ of the mayonnaise called for; process. Whisk in remaining mayonnaise by hand.
Store for a maximum of 7 days in the refrigerator.
Yield: 2 ½ cups
Croutons
8 cups stale bread cut into ¾x3/4 inch dice
⅓ to ½ cup canola or olive oil
1 ½ tablespoons dried basil
1 ½ tablespoons dried thyme
1 ½ tablespoons dried oregano
Preheat oven to 400 degrees. Line 2 baking sheets with parchment paper.
Toss the bread cubes with the oil. Make sure they are all coated. Mix the dried herbs and add half of them to the cubes; toss. Add the remaining herbs and toss to coat evenly. Place ½ of the cubes on each of the sheets. Bake for 8 to 10 minutes until golden brown. Cool. Store in an airtight container for 1 week at room temperature or freeze for several months.
Original Mayfair Salad Dressing
I am leaving the amount of each ingredient up to you depending upon the number of salads and the amount of each ingredient.
Romaine lettuce
¼" Julienne of ham
¼" julienne of swiss cheese
Croutons from above
Mayfair Salad Dressing
BLT Salad Assembly
Romaine lettuce
Roma tomatoes
8 to 10 slices of good bacon (preferably applewood smoked), cooked and crumbled
Croutons as desired from above
Mayfair salad dressing
Pick over lettuce. Juice tomatoes by slicing off tops and cutting in half. Squeeze halves to release juice and seeds. Cut into medium dice. Toss all ingredients together just before serving.
To Make Ahead: Cook and crumble bacon several hours ahead. Prepare tomatoes and refrigerate them.
Club Salad with Mayfair Salad Dressing
Make the BLT as above and add ¼" julienne of turkey,
The perfect accompaniment to any of these salads is the Wine and Cheese Baguettes