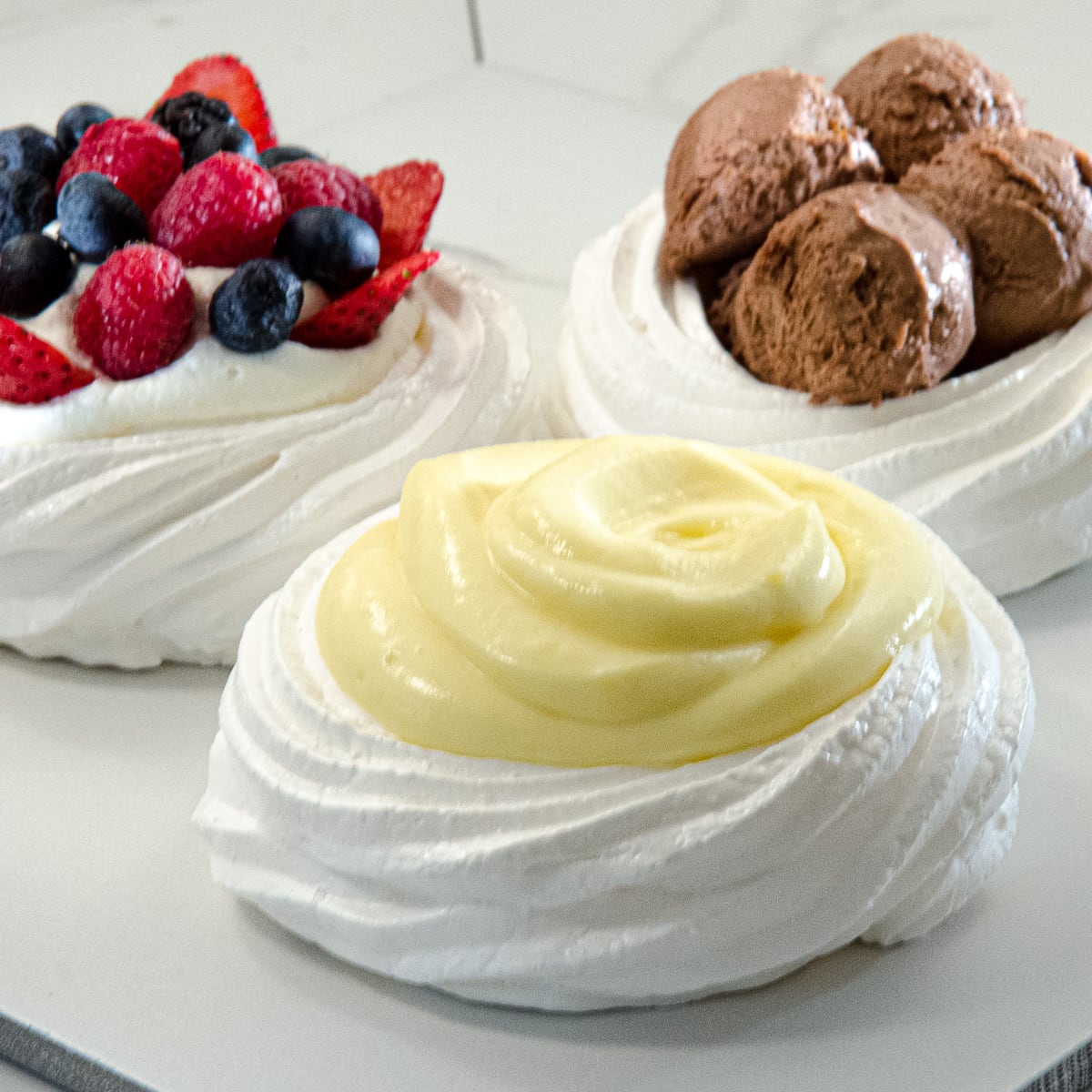 One of the easiest and most versatile dessert shell is the Meringue Shell. Only three ingredients, egg whites, sugar and an acid along with a bit of time in a low oven transforms these simple components into feather light, melt in your mouth containers for almost anything you want to put in them.
From Schaum Tortes of Vienna filled with a lightened lemon curd to ice cream balls, and the national dessert of New Zealand and Australia, Pavolova, these Meringue Shells make the perfect do ahead dessert. I remember well when I was young my mother making Schaum Torte on special occasions. She would make a large nine or ten inch shell and fill it with the most delicious lemon filling. I was always first in line for a piece. Well, one year my uncle came to our house to help transfer the mountain of food my mother made including the Schaum Torte, croissant and other treats to our grandmothers where we al ate. As he stepped off the curb, he slipped and while he remained upright, alas, the lemon filled treat fell from his hands into the curb. I don't think he ever got over it. I'm sure my mother didn't. I know for sure I didn't.
There are many types of meringue from the soft pillows that cover a lemon meringue pie to buttercreams based on various meringues to crisp cookies or shells. The type of meringue depends upon the amount of sugar used. For a crisp meringue a two to one proportion of egg whites to sugar is used. For these crisp shells a base formula of 1 egg white to ¼ cup (50 grams or 1 ⅔ ounces) of sugar is used. An acid such as ½ teaspon cream of tarter or 1 teaspoon of lemon juice or vinegar helps stabalize the meringue.
While a fine sugar will incorporate into the egg whites faster, it isn't completely necessary. Baker's sugar, as it is called, is difficult to find unless you have access to professional ingredients. However, it is easily made by putting sugar into a processor and processing it to make smaller granules. Do not put it in a blender as it will turn into powdered sugar which changes the texture of the meringue.
One of the most revered rules for meringues is that not a spec of egg yolk must be present in the whites. While preferable, a spec is fine. It might take longer for the meringue to reach a stiff peak but it will get there.
When separating eggs, it is easiest done when they are cold. Break each egg into a separate bowl before adding it to the mixing bowl. That way, if the egg doesn't separate well, you haven't ruined the entire batch. While on the subject of separating eggs, I know recipes tout separating eggs using your hand. I don't adhere to this method because there is often natural oil on hands that can affect the outcome.
While most recipes call for beating the whites at room temperature, at the bakery, we always whipped them when they were cold because it keeps the meringue tighter.
However, don't ever try to make a meringue with a bowl or whisk that has any type of grease on it, no matter how small. If in doubt, wash the bowl and whisk with hot soapy water just before using.
Meringues are always baked on very low heat as they are being dried out not baked. Some recipes call for leaving the meringues in the oven overnight but with the proper proportions of sugar to egg white, I haven't found that to be necessary.
Meringues are judged on their crisp, dry texture and color. It is desirable to have them come out as white as possible.
The number of shells obtained from a recipe depends upon the size of the shell. I start with a four inch circle, but it can be smaller or larger. Draw circles on parchment, cut to fit your baking pan spacing them out so they are not too close. Speaking of baking pans, either a cookie sheet with no sides or a half sheet with a short rim should be used so the air can get to them to uniformly dry them out. Turn the paper over so the pen or pencil side is underneath.
After the meringue has been made, place it in a piping bag fit with a number 6 to 8 plain or open star tip. Put a blob on the bottom and spread it out to cover the circle within ⅛ inch. Then pipe the meringue around the edge of the circle two to three times depending upon how high you want the shell. That's it.
I have included three fillings for the meringue shells, but use your imagination and fill with whatever you think appropriate. This can be a gluten free dessert depending upon the filling you use. All three of the included fillings are gluten free.
One of the fillings, Pavlova, is the traditional filling of the national dessert of New Zealand and Australia - Pavlova, named after a famous opera singer at the time. This meringue shell is technically not the one they use but is very close. The Pavlova shell includes a bit of cornstarch to keep the inside of the shell softer. Never having been to either of these countries, I cannot attest to the difference but I am sure these are very,, very close.
Finally, make sure to use sweetened condensed milk and not evaporated milk in the Chocolate Orange ice cream as they are two completely different products. The heavy cream is often sold as 40% cream.
Meringues have an undeserved reputation of being difficult. But if you follow these few simple steps, they are the fastest, easiest of desserts.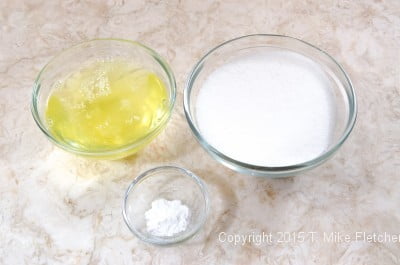 Meringue Shells – I used a 4" round cutter to make my circles on the parchment and piped around the edge twice.
4 egg whites, room temperature
½ teaspoon cream of tarter or 1 teaspoon of lemon juice or white vinegar
1 cup sugar (200 grams or 7 ounces)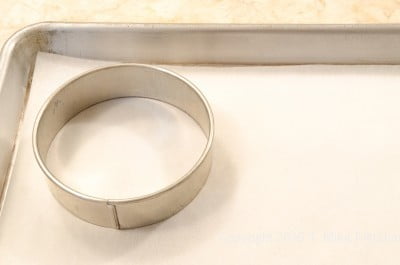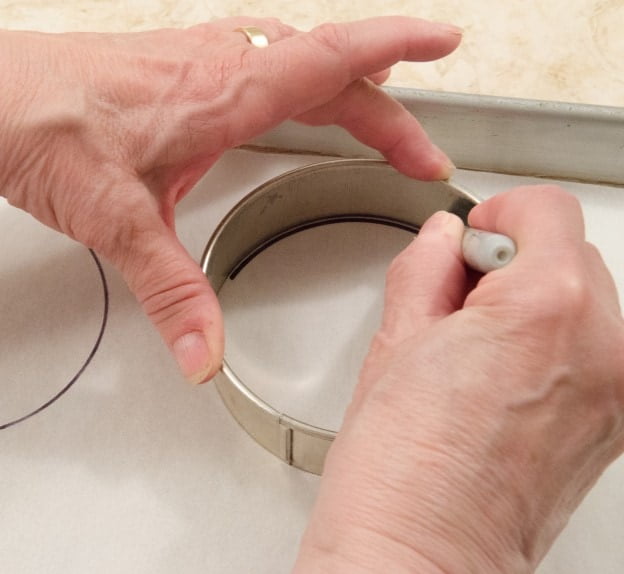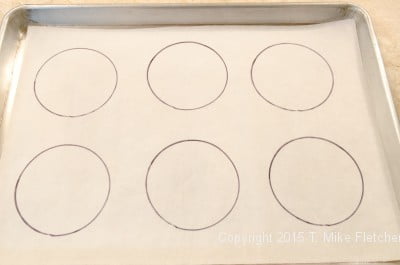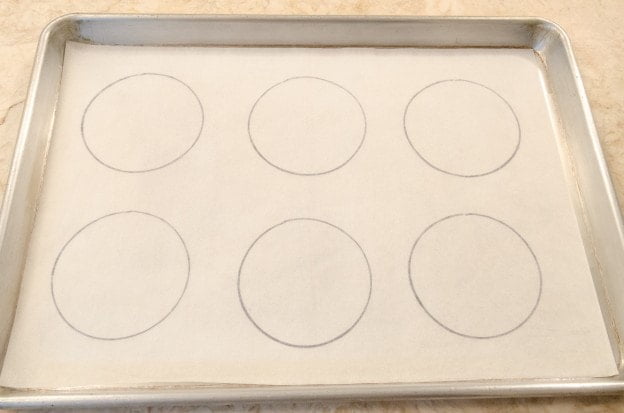 Preheat oven to 225°F. Line a baking sheet with parchment. Draw the desired size of circles about an inch apart on the paper.Turn the paper over on the pan and set aside.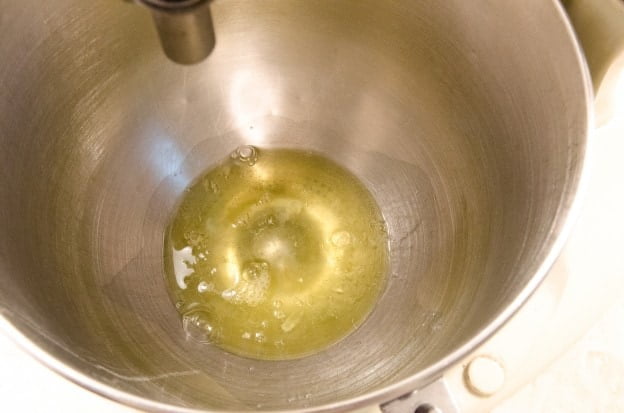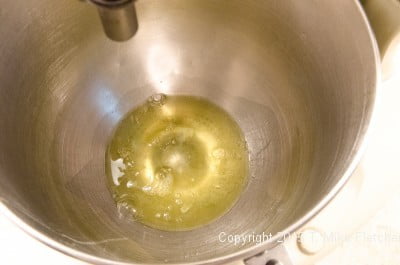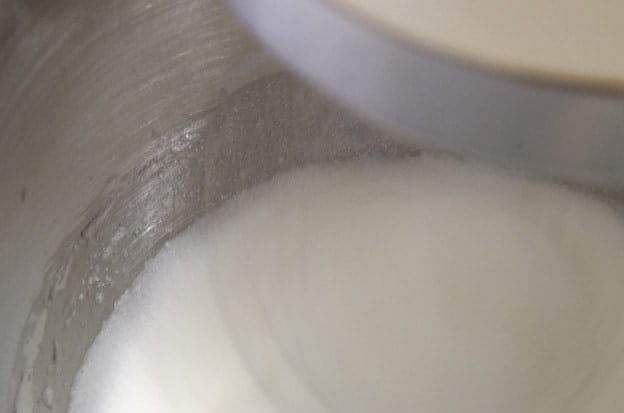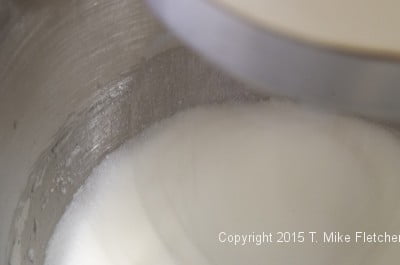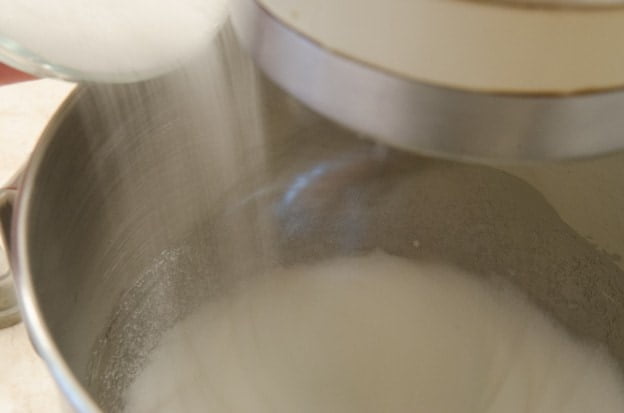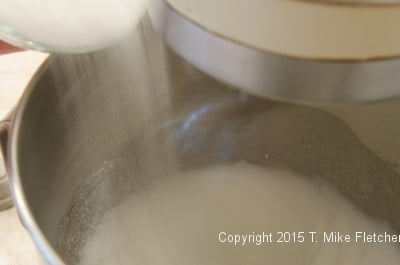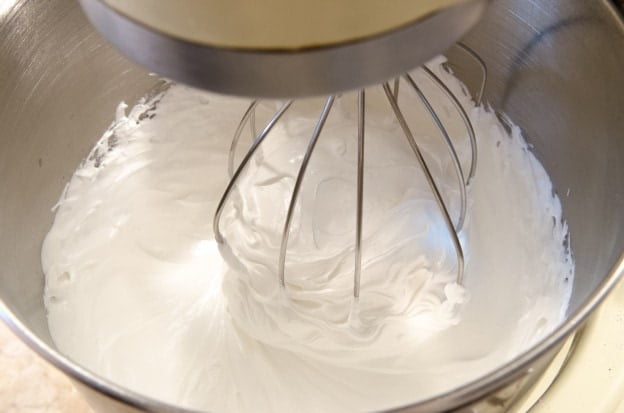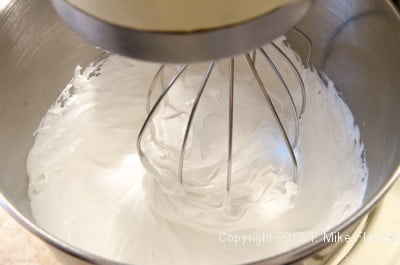 Place the egg whites in a mixing bowl with the cream of tarter. Beat until you can see the trail of the beater in the whites and they are very foamy.Slowly add the sugar and beat until stiff and glossy.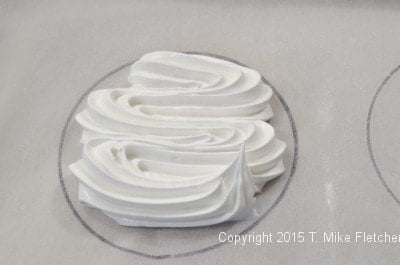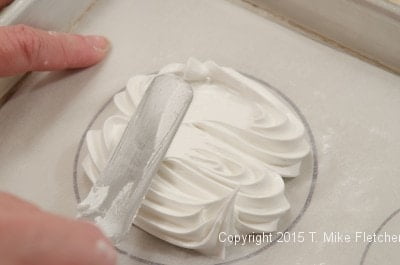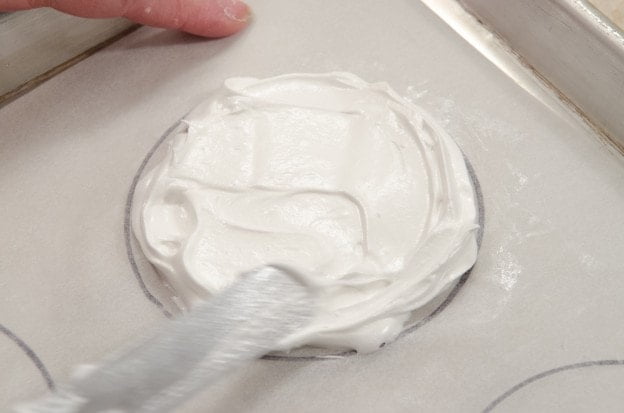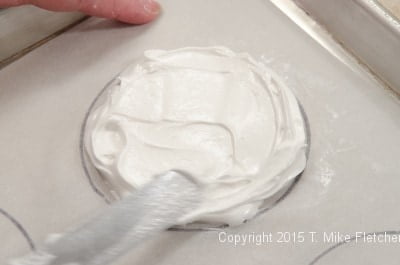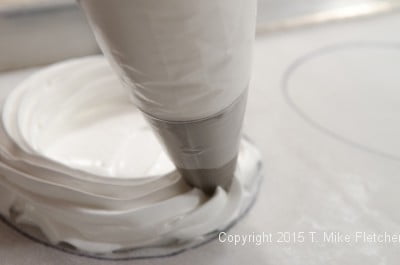 Place the meringue in a piping bag fitted with a number 6 to 8 plain or open star tip. Pipe a blob on the bottom of the circle and spread it out to within ⅛ inch of the border. Pipe around the edge 2 or 3 times depending upon the height desired.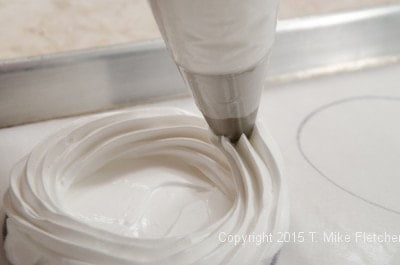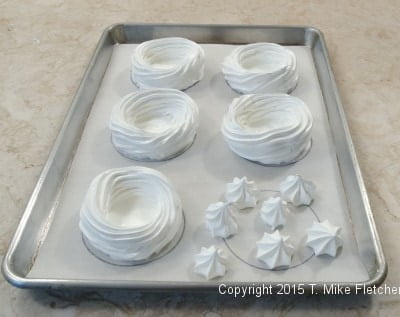 Place in the oven for 1 ½ hours. Turn the oven off and leave in for 30 minutes more. The meringues should be snow white and crisp.
Allow to cool on the pan before removing.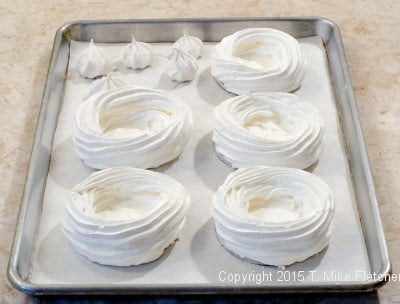 These can be made days or even weeks ahead and stored in an airtight container. Fill as desired.
Yield: 5 - 4" shells
Fillings
Lemon Curd for the Schaum Torte - This is a softer curd as the gelatin has been left out. It must be made ahead and can be refrigerated for a week before using.
2 whole eggs
3 egg yolks
½ cup sugar (100 grams or 3 ½ ounces)
½ cup lemon juice, freshly squeezed - do not use the bottle version
1 stick cold butter, cut into 6 pieces (114 grams or 4 ounces)
3 tablespoons powdered sugar
½ cup 40% or heavy whipping cream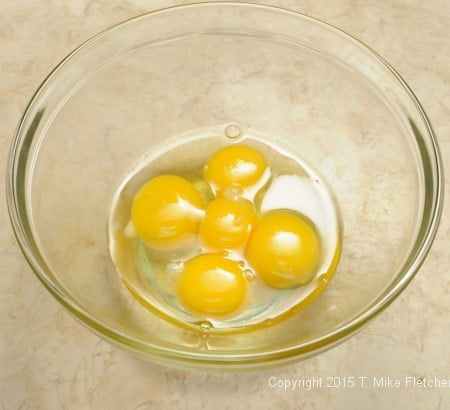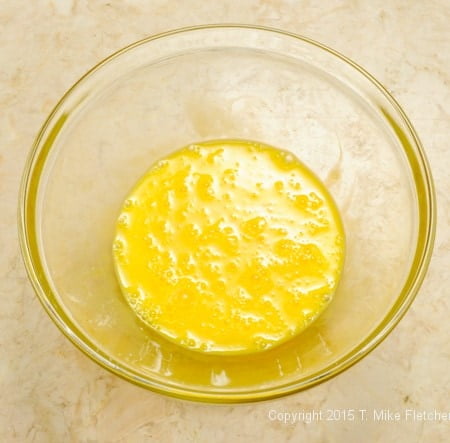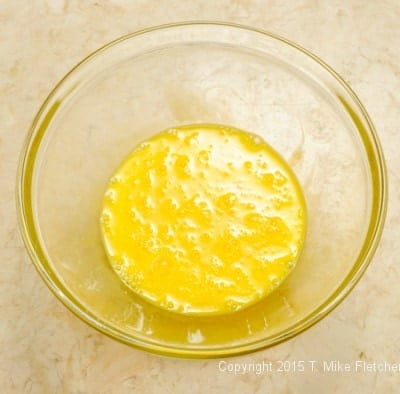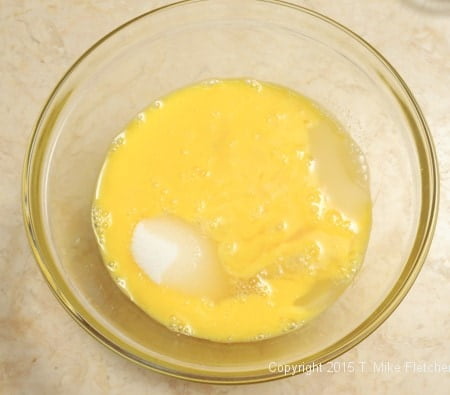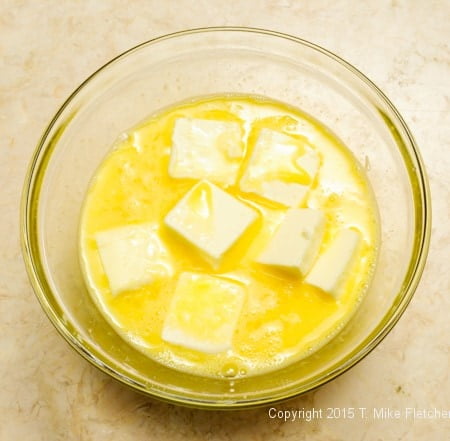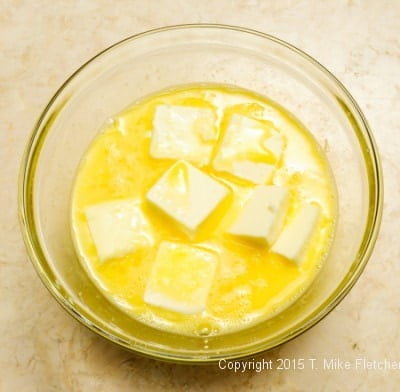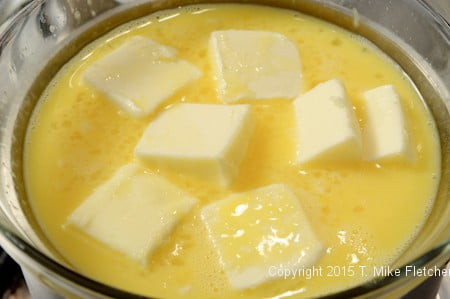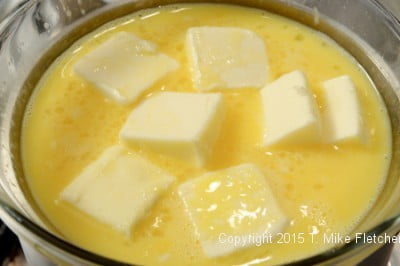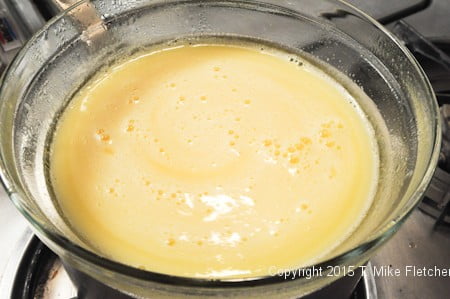 Place the eggs and yolks in a bowl or the top of a double boiler. Whisk to combine. Whisk in the sugar and lemon juice. Add the butter. Place over hot water and, stirring constantly, bring to 172 degrees on a candy thermometer.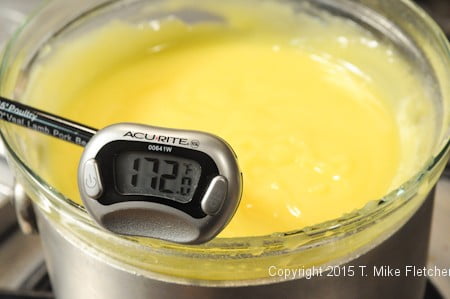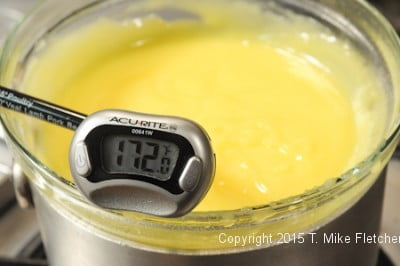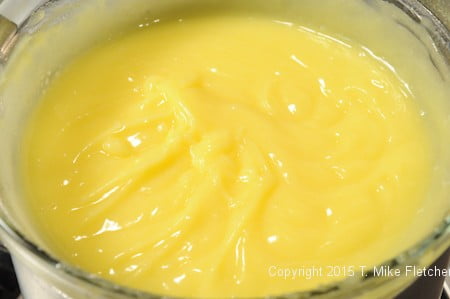 Pour into a storage container, cover the surface with plastic wrap; poke a few holes in it and refrigerate to cool.
Yield: 1 ⅔ cup or approximately 450 grams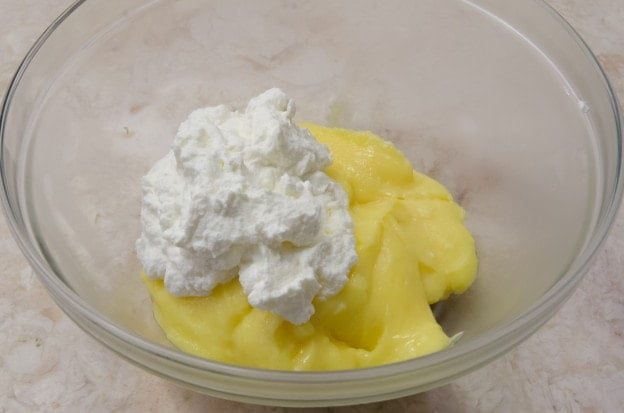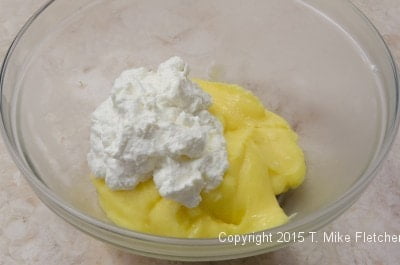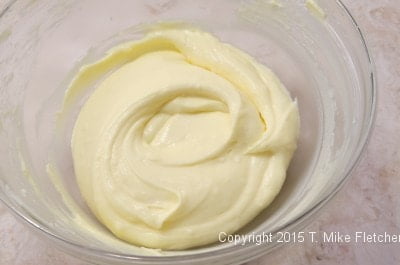 To Finish: Remove the film from the lemon curd. Add the powdered sugar to the cream in a mixing bowl. Whip the cream until fairly stiff. Fold into the curd. Set aside.Spoon or pipe into Meringue Shells.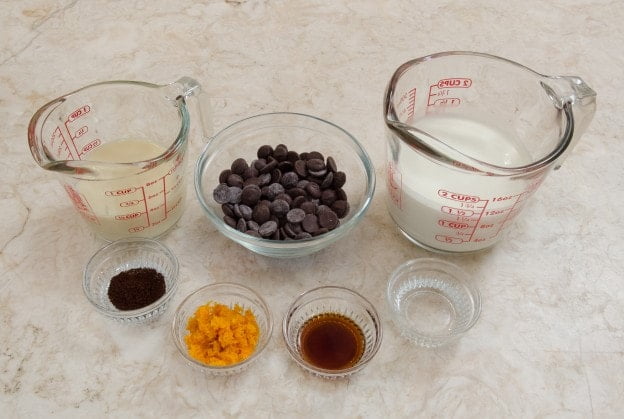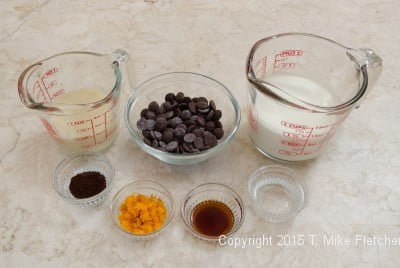 No Machine (almost) Chocolate Orange Ice Cream - This ice cream can be made a week ahead.
½ teaspoon instant coffee
1 tablespoon water
4 ounces semisweet chocolate, chopped fine
½ cup sweetened condensed milk
1 teaspoon vanilla
1 tablespoon grated orange rind
1 ¼ cups heavy cream, cold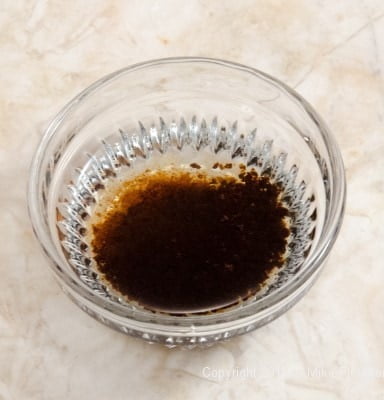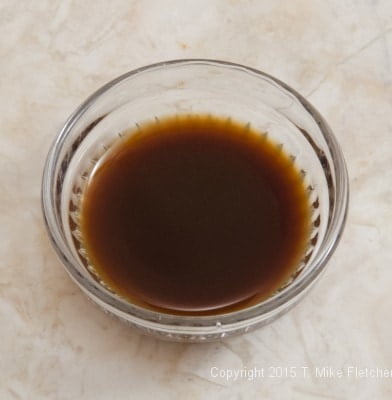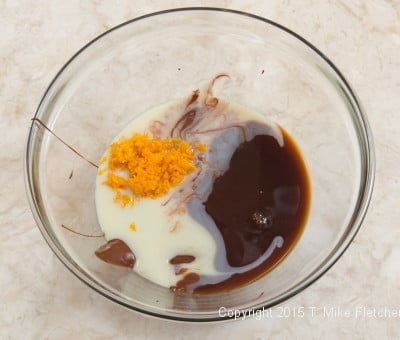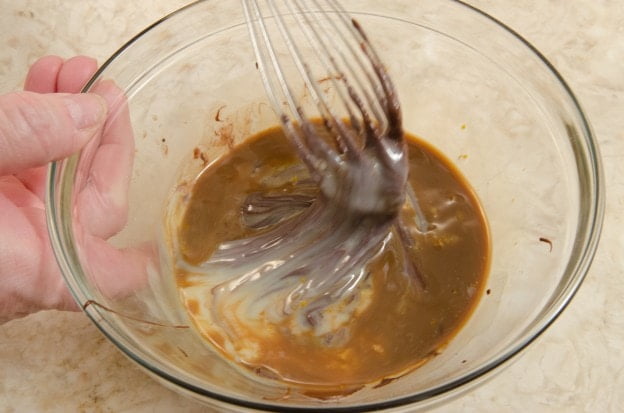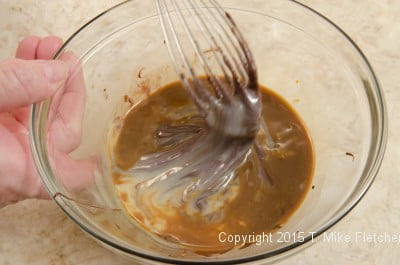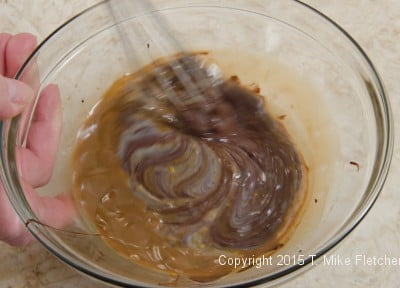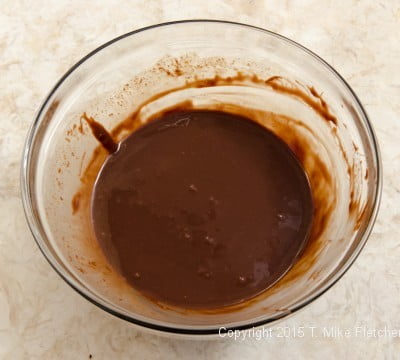 Dissolve the coffee in the water in a microwavable bowl. When it has dissolved completely, add it to the 4 ounces of semisweet chocolate, condensed milk vanilla and orange rind. Microwave at half power for about 30 to 40 seconds, whisking to melt chocolate at the end of the time. If chocolate is not melted, microwave at half power in 10 second bursts until it is smooth. Cool completely.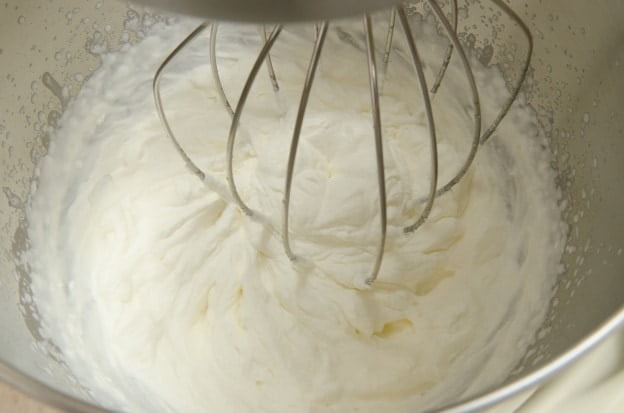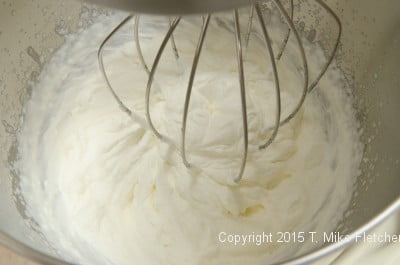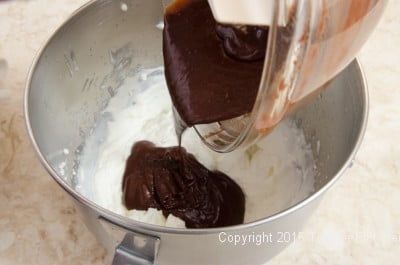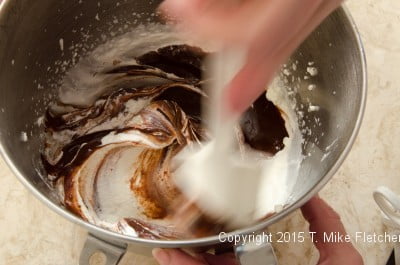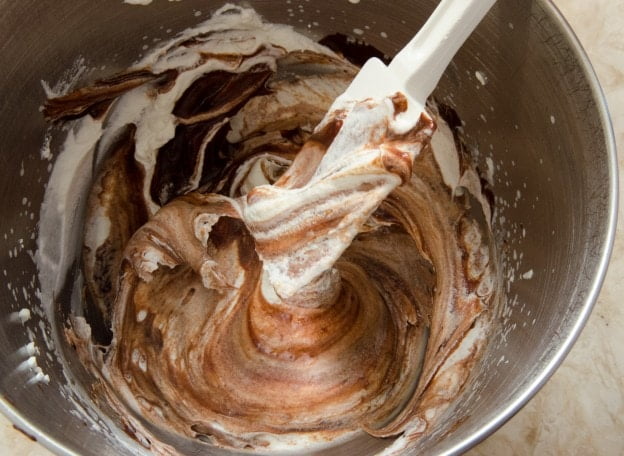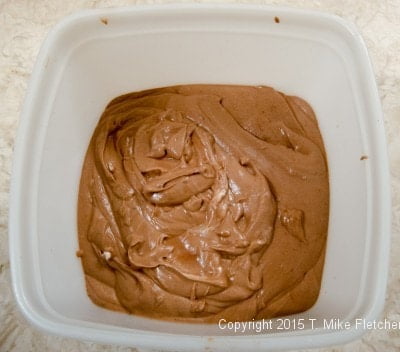 Beat the cream to soft peaks. Do not overbeat.Pour the cooled chocolate mixture into the cream and fold it in. Pour the ice cream into a freezer container. Freeze until firm, about 6 hours or overnight.
The one thing to be aware of is that is freezes rock hard. So when it comes time to serve, let it sit at room temperature for 10 to 15 minutes to make it more scoopable. The fact this requires no ice cream machine makes this accessible to everyone.
Scoop into little balls and fill a meringue shell.
Yield: 1 quart
Pavolova
1 ¼ cup 40% or heavy whipping cream
40 grams of powdered sugar
1 teaspoon vanilla, optional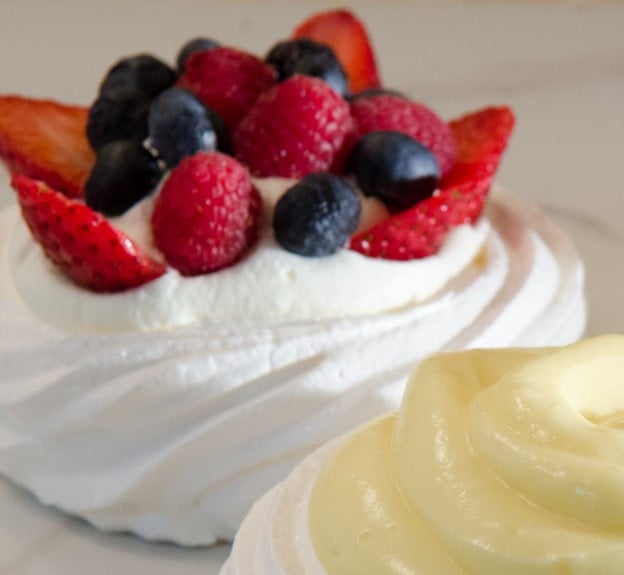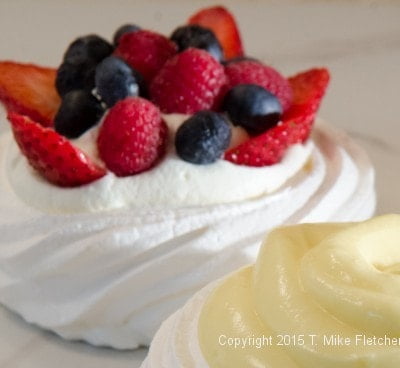 Place all the ingredients in a mixing bowl and beat to medium peaks. Spoon or pipe into the meringue shells and top with fresh fruit.