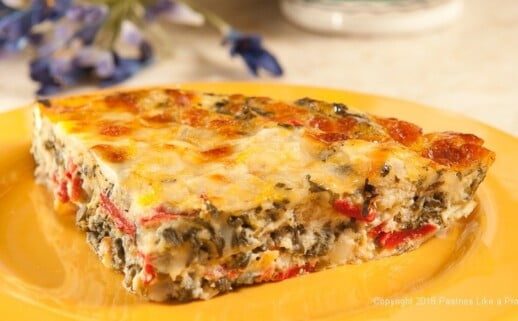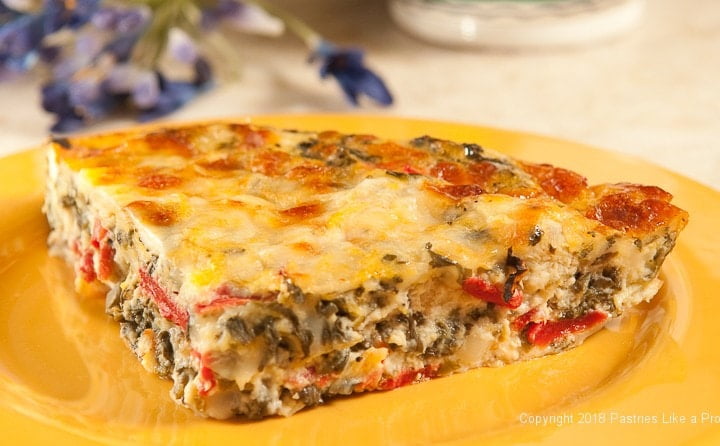 This particular Crustless Quiche is made even better by removing the crust and substituting low fat cottage cheese and low fat yogurt for the heavy cream, you have a fast, healthy entrée that just happens to be delicious.
Many years ago, when we made savory items as well as sweet at my bakery, I developed this quiche base as a low fat alternative to the cream. Interestingly, when we tested side-by-side versions of the original quiche filling with cream and this one, we were most surprised. The low fat version had much more taste to it. It turns out the cream coats the taste buds so whatever cheese, vegetables or meat you have added to your quiche cannot be fully appreciated. With the low fat variety, there is no coating of the taste buds so, consequently, the other flavors are free to come through much stronger.
I am going to give you the base recipe that substitutes for the cream and the amount of additives you need to turn it into your very own quiche. I am also giving you one of my favorite quiche recipes to get you started.
Basic Low Fat Quiche Mixture – this, along with your additives will fill a 9" pie pan or quiche dish. Do not use the quiche pan with the removable bottom as there is no crust and the liquids will leak out. You don't want to have to clean up that mess!
Although this isn't a pastry, it used to be so I think it qualifies for this blog. If you want the crust, then just line the pan with your crust. Spray a piece of foil with cooking spray and place it sprayed side down on top of the crust. Fill the pan to the top with uncooked beans or pie weights and bake for about 20 minutes. Remove the foil with the weights and bake about 5 minutes more. Fill the crust with the quiche mixture and bake as directed below.
Basic Quiche Mixture
½ cup low fat cottage cheese
1 cup low fat plain yogurt
3 eggs
1 tablespoon cornstarch*
½ to 1 teaspoon salt, depending upon other ingredients
¼ to ½ teaspoon pepper
*If you want to freeze this I found the best thickener for this. Substitute Sweet Rice Flour for the cornstarch. The cornstarch breaks down when thawed from the freezer so your thawed quiche will be watery. The Sweet Rice flour, which can most easily and inexpensively be found in Asian grocery stores, is simply ground from short-grain glutinous rice, known in Asian cuisine as "sticky rice" will not. The word glutinous refers to thickening power and has no relation to the gluten found in wheat products. Sweet Rice Flour is gluten free.
Place the cottage cheese in a food processor or blender. Process until smooth. Add the remainder of the base ingredients including salt and pepper and process or blend until smooth. It will be very liquid. Use it with the amounts of additives of your choice listed below.
Additives
2 to 3 cups vegetables and meat such as cooked chicken, bacon, ham, etc.
4 ounces cheese such as Swiss, pepper jack, provolone, – use less salt in the recipe as cheese is very salty by nature
1 to 3 tablespoons of fresh herb or herb mixture (half this if using dry herbs), optional
Bake for 35 to 45 minutes until slightly browned and the mixture is no longer jiggly. Remove from oven and allow to sit for about 10 minutes. Cut and serve.
My Spinach, Artichoke and Red Pepper Quiche
Base low fat quiche mixture (use ¾ teaspoon salt and ½ teaspoon pepper)
½ cup chopped spinach (about ½ of a 10-ounce package frozen chopped spinach, thawed and squeezed very dry)
¾ cup bottled or canned roasted red peppers cut into ¼ inch strips (about 4 ounces or
115 grams, drained)
1 cup canned artichokes (from 15 oz. can drained), coarsely chopped
4 ounces provolone cheese, grated (115 grams)
Preheat oven to 350°F. Spray a 9" pie pan (not deep dish) with cooking spray. Set aside.
Combine the spinach, red peppers, artichokes and ½ of the cheese in a medium size bowl. Mix well. Add the base quiche mixure and stir all together. Pour into the prepared dish.
Sprinkle with remaining cheese.
Bake for 35 to 45 minutes until slightly browned and the mixture is no longer jiggly. Remove from the oven and allow to sit for about 10 minutes. Cut and serve.
If there are leftovers, reheat in a microwave or oven.
Serves 4 to 6 as an entrée.
Note: This freezes well if the cornstarch is changed to sweet rice flour (see above)
SaveSave
SaveSave
SaveSaveSaveSave
SaveSave