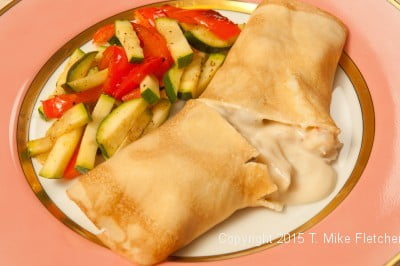 Last week when I posted All Purpose Crepes I mentioned Seafood Crepes. Seafood Crepes is a classic dish especially suited to celebrations or holidays. At the take out shop we served these on Valentine's Day for two and we always had more orders than we could fill.
The seafood crepes contain shrimp and scallops. While bay scallops are ideal because of their small size, it is almost impossible to find them now. Alternately, cut sea scallops in about four pieces and they will do nicely.
Because the scallops cook so quickly, I poach them in the liquid used for the béchamel sauce which is turned into a mornay sauce with the addition of cheese. I found it amusing that as the United States began to rise to the top of the cooking world, we evidently wanted nothing to do with classic cooking terms. So the word béchamel and mornay were never used. They became white sauce and white sauce with cheese. I remember one TV chef saying no one used the word béchamel as he commenced to make a béchamel sauce. In any case a béchamel sauce is one of the mother sauces that can be turned into other sauces with the addition of other ingredients.
I remember when I was first becoming interested in cooking, I had no idea what a shallot was. Usually described as a combination of onion and garlic, it adds its own special flavor in refined cooking.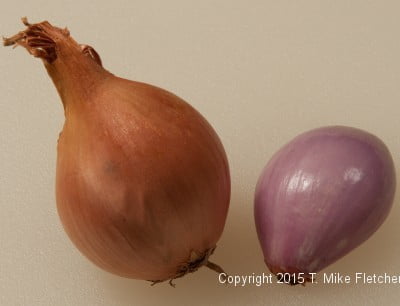 This is an extremely rich dish and certainly more than fulfills the fat and calorie count for the day no matter who you are. But there are things that should be experienced if only once in a while and Seafood Crepes fits into that category.
Seafood Crepes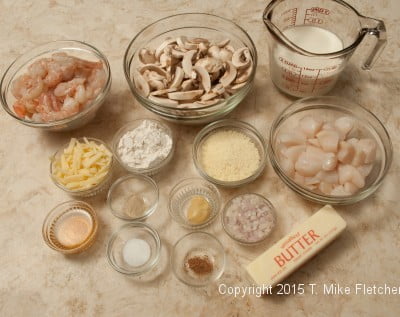 ½ cup butter, divided (114 grams, 4 ounces or 1 stick)
2 tablespoons minced shallots
½ pound mushrooms
1 teaspoons lemon juice
¾ pound unpeeled, large shrimp, size 26 to 30 (340 grams)
¾ pound sea or bay scallops (340 grams)
1 ¼ cups half and half
¼ cup flour (35 grams or 1 ¼ ounces)
⅓ cup asiago
1 ½ tablespoon dry sherry
1 teaspoon dijon
Pinch ground nutmeg
½ teaspoon salt
½ teaspoon white pepper
⅓ cup Swiss Cheese, grated
6 – 10 inch crepes, precooked
Melt 3 tablespoons butter over low heat; add shallots and saute about 1 minute.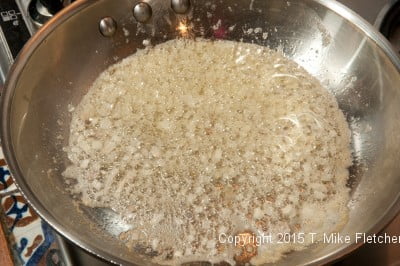 Increase heat to high. Add mushrooms and lemon juice;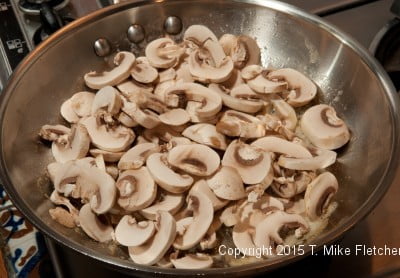 cook, stirring constantly, until mushrooms are just tender.
Peel and devein shrimp. Melt 2 tablespoons butter; add shrimp and
saute just until cooked through – 3 to 5 minutes. Add to mushrooms.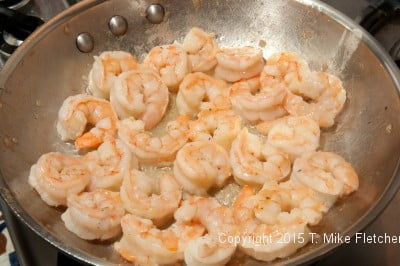 Bring half and half to a boil. Add scallops and simmer 3 to 5 minutes until cooked through.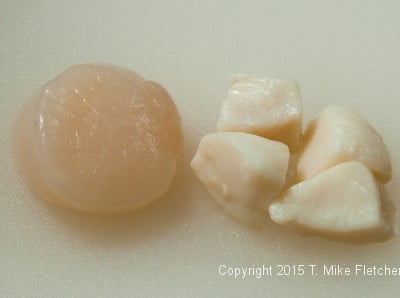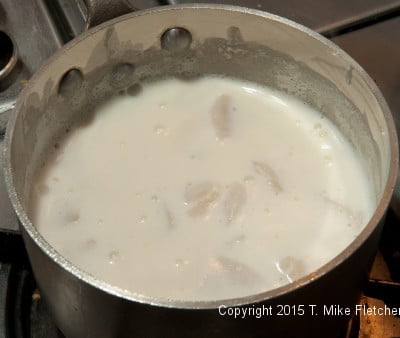 Remove scallops to mushroom mixture; reserve cream mixture. Drain any liquid from mushroom mixture and add to the cream.
Melt remaining 3 tablespoons butter over low heat; whisk in flour until smooth. Add cream mixture and whisk until smooth. Bring to a boil and cook for several minutes.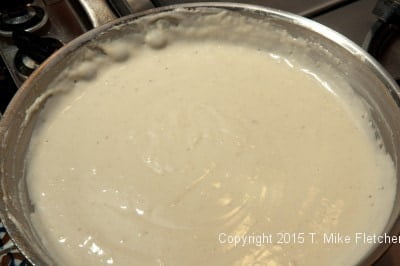 Add asiago and remaining ingredients.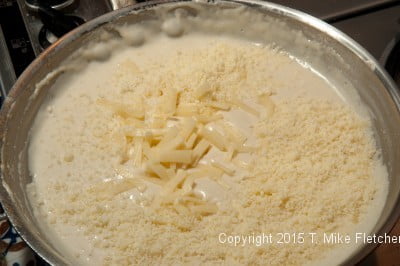 Whisk until smooth; remove from heat and stir in seafood and mushroom mixture.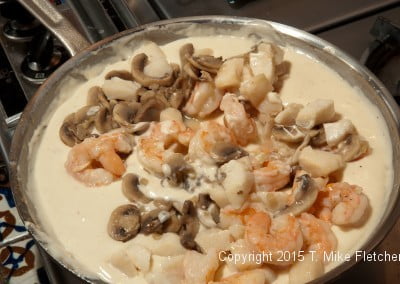 Divide between 5 to 6 crepes.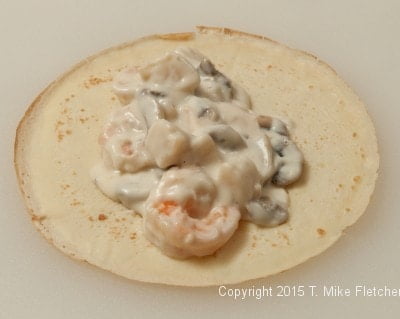 Fold left side of the crepe over the mixture.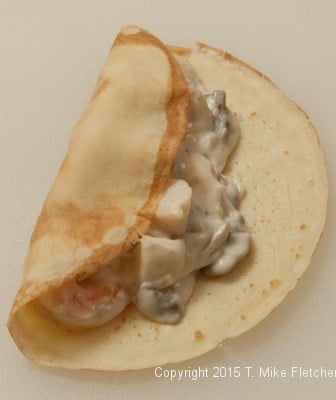 Fold the right side over and turn over.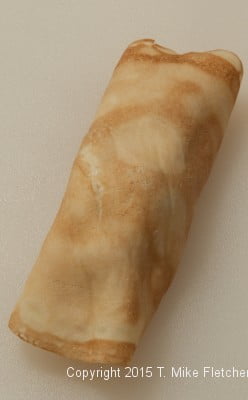 Serve at once.
Note: This may be done the day before if desired. To heat: Place filled crepes on a foil lined and sprayed rimmed baking pan. Preheat oven to 350 degrees. Cover pan loosely with foil and heat for 20 minutes or until hot. Do not overheat or the seafood will overcook. Serve immediately.
Serves 5 to 6, depending upon size.