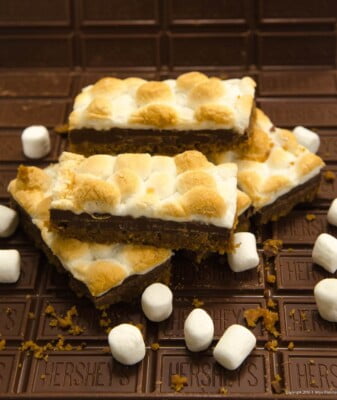 S'Mores Bars are a cousin of the beloved S'mores summer time treat made over a campfire.   But some of us can't wait for campfire weather so here is a version of the beloved S'mores that can be served as a S'Mores Bar cookie anytime the craving hits. Really easy, fast and delicious.
The individual S'Mores Bars can be warmed for about 10 seconds in a microwave to soften the chocolate if desired.
Graham cracker crumbs can be used as bought or graham crackers can be broken up and added to a processor to make crumb out to them.  Alternately, put them in a plastic bag and crush them with a rolling pin.  Just be sure they are uniformly fine.
This is a kid friendly recipe that can be made with a bit of supervision for the minimal baking apart.
Note of Warning:  Do not try to eat these right out of the oven or if microwaved more than 10 seconds.  The marshmallow can melt, the chocolate can burn and the S'mores Bars become too hot to eat.
Crust for S'Mores Bars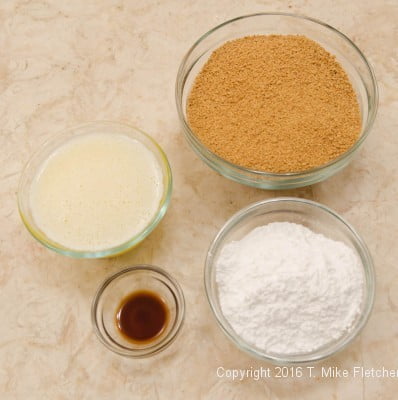 2 cups graham cracker crumbs (210 grams or 7 ounces)
½ cup powdered sugar (70 grams or 2 ⅓ ounces)
⅔ cup butter or margarine, melted (10 tablespoons, 150 grams or 5 ⅓ ounces)
1 teaspoon vanilla
Preheat the oven to 350°F. Line a 9x13 inch with foil and spray it. Set aside.
Combine the graham cracker crumbs and powdered sugar together in a bowl.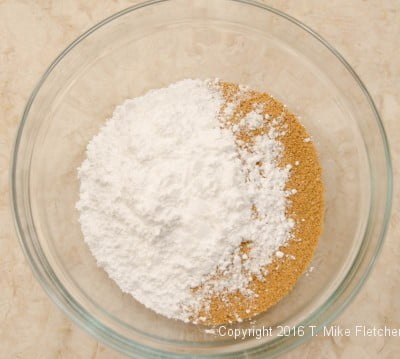 Smoosh them together in your hand to eliminate any lumps and combine them. Add the butter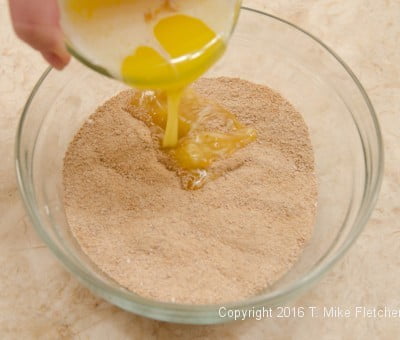 and vanilla.   Toss with a fork or your hand to mix completely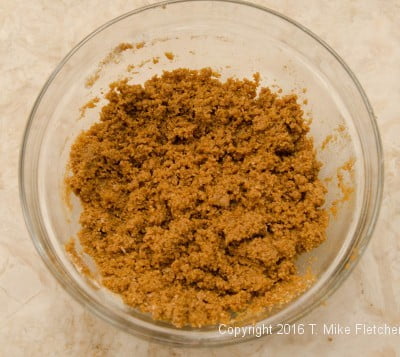 Distribute the crumbs evenly in the bottom of the pan.
Press firmly. Set aside.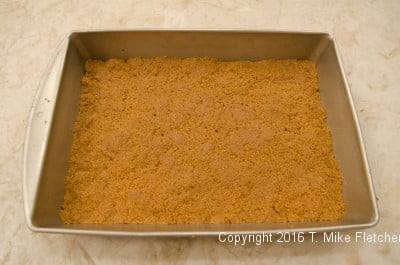 S'more Bars Filling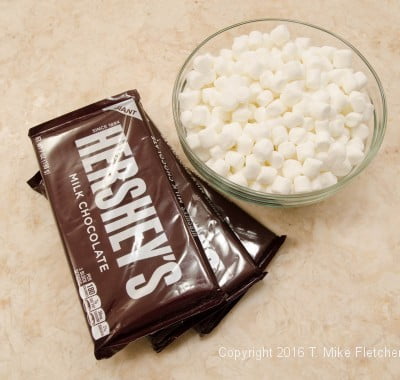 3 giant Hershey's Milk Chocolate Bars
10 ounces (about 6 ½ cups) mini marshmallows
Lay the bars down side by side to cover the crumb crust. Trim the last bar if necessary to lay flat.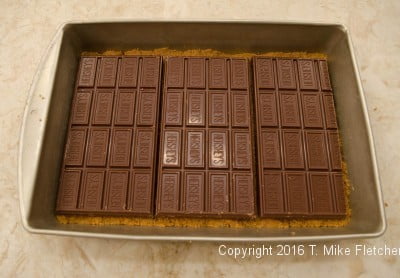 Spread the marshmallows evenly over the chocolate.
Bake for 12 to 15 minutes or until the marshmallows are a light golden brown.
Cool completely. At this point it is easier to remove them of they are refrigerated several hours to set them up.
Lift them out of the pan with the foil.  Turn upside down and remove the foil.   Cut 6 across the narrow side and 4 down.  At this point leave store them at room temperature.
The bars may be microwaved for about 10 seconds to heat up the chocolate or eaten as is.
Yield: 24 bars.