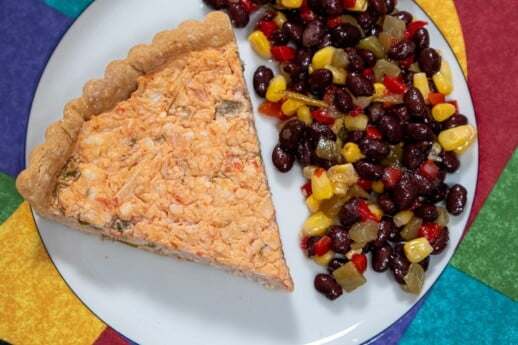 This savory Southwestern Seafood Tart was a favorite tart from our take-out shop. This is an ideal summer patio lunch or dinner teamed with the super easy Black Bean Salad.
This tart is so beloved by my daughter-in-law Kate that I try to have it on hand when she visits or send it back if my son pops in alone. She tells me she rations it out to make the most of it.
Good warm, room temperature or cold, this is an impressive but easy dinner any time of the year, but particularly during patio times.
Imitation Crab or Surimi
Kitchn recently ran a post on imitation crab and I couldn't agree more. In fact, this tart does not have the same personality if real crab is used. It is flat. Jessica Harlan wrote in Kitchn, "The packages are not actually crab, but rather surimi, which is minced Alaskan pollack that's been seasoned with sugar, rice wine, and other flavorings (including a tiny amount of crab and crab extract) to mimic the delicately sweet flavor of king crab or snow crab legs. At around $3 for an eight-ounce package, surimi is far more affordable than crab, it's got a super-long shelf life, and it's easy to use and prepare — you can even eat it right out of the bag (something I do quite a bit!)."
Not Fake or Imitation
Surimi is often mislabled as "fake " or "imitation" seafood when, in reality, there's nothing fake about it. As far as the nutritional value of pollock, like salmon, tuna and cod, it is a good source of lean protein and low in saturated fat. All of these fish are also a good source of vitamin B12, phosphorous, and selenium.
Louis Kemp, one of the companies that makes the imitation crab, has a great article about it. It's worth a read.
I know there are some people who think the whole idea of imitation anything is bad and I wish they had called it something else. It goes by a bunch of other names including, "crab sticks," "crab delights", "crab-flavored seafood," "sea legs", "surimi seafood," "krab," and in Japan it is known as "kamaboko." I'm sure there are more.
It comes in different shapes and sizes and is a fraction of the cost of real crab. I love real crab, but I also love imitation crab. It is great used in salads, spreads, sandwiches, crab cakes, and California rolls any time of the year. In fact, a lot of sushi uses this very product.
Southwestern Seafood Tart Crust
This is an easy press in crust requiring no rolling and almost no time. It can be made in the food processor or the mixer. If using the mixer, it may have to be chilled before it can be pressed in. The crust is completely baked before the filling is added.
A bit of cornmeal and cream cheese are used for added flavor and a bit of texture.
Surimi Filling
This filling can double for a dip if you simply omit the crust. No need to bake it. Just make it and it's ready to go. It's great with crackers or tortilla chips.
Pepperjack cheese along with cream cheese, salsa, green chiles and jalapeno peppers team up with the imitation crab for a really easy southwestern take on this savory tart.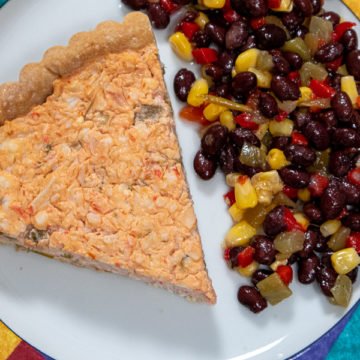 Southwestern Seafood Tart
This savory Southwestern Seafood Tart with Black Bean Salad is amazingly easy to make and is the perfect patio lunch or dinner for the summer or anytime of the year. 
Ingredients
Cream Cheese Cornmeal Crust
1 ¼

cups

all-purpose flour (175 grams or 6 ⅛ ounces)

¼

cup

cornmeal (40 grams or scant 1 1 /2 ounces)

¾

teaspoon

salt

½

cup

unsalted butter, cold and cut into small pieces (114 grams or 4 ounces, 1 stick)

2

ounces

cream cheese, cut into several pieces* (60 grams or 2 ounces)
Southwestern Seafood Filling
½

pound

surimi or imitation crab (225 grams)

4

ounces

pepper jack cheese, grated (114 grams)

5

ounces

cream cheese, room temperature (140 grams)

4

ounces

1 can chopped green chiles (114 grams)

⅓

cup

medium hot thick salsa, I use Paul Newman's

2

teaspoons

chopped jarred jalapeno slices with juice

1

cornmeal shell above or pie crust, fully baked
Instructions
Cream Cheese Cornmeal Crust
Processor Method

Combine the flour, cornmeal and salt in the bowl of of a food processor.  Pulse several times to mix.

Add the cold butter and process until indistinguishable. 

Add the cream cheese and process until a ball forms.

Mixer Method

The butter should be softened for this method.  

Combine the flour, cornmeal, and salt.  Whisk to combine.  

Add the butter and cream cheese and mix until a ball forms.  
Pressing In the Crust
Lightly spray a 9x¾" tart pan with a removable bottom.  Set aside. 

Save a small piece of dough to patch the crust if needed.  

Divide the dough in half (195 grams for each piece).  Divide one half in half again (97 grams each piece).  The little piece of dough is saved for patching.

Roll one of the two smaller pieces into a rope 15" long.  Press around the sides of the pan.  Repeat with the second smaller piece of dough.  The edges will overlap.  Press the edges firmly together so no seam shows.  

Press the remainder of the dough evenly on the bottom and sealing the bottom to the edges very well. If the dough is too soft to work, chill until easier to press in.  This will most likely occur if made in the mixer. After pressing in, chill for 15 to 20 minutes until firm. 

Preheat the oven to 325°F.  

Spray a piece of foil with non-stick baking release.  Place in the shell, sprayed side down.  

Fill to the top with beans or pie weights.

Bake for 20 minutes with the beans.  Remove the beans and bake 15 to 20 minutes longer until golden and completely baked. 

If there are cracks in the shell, and there very well might be,

break off a small piece of dough from that reserved.  Roll it under your hand into a very small rope.

Place it over the crack, and with the tip of a small spatula or your finger, press it into the crackand smooth it out.

Cool the shell. 
Southwestern Seafood Tart Filling
Preheat oven to 325°F.

Pulse the surimi or imitation crab briefly in a processor until finely chopped.  DO NOT PUREE. 

Place the pepper cheese and cream cheese in a mixer bowl. 

Mix until well combined and there are no lumps of cream cheese. 

Add the remaining ingredients except the imitation crab. 

Mix well. 

Blend in the surimi or imitation crab. 

Pour into the baked shell and smooth top.

Bake for 20 to 25 minutes until firm. 

Serve warm, room temperature or cold.  Store, covered, in the refrigerator
Notes
This Southwestern Seafood Tart may be made ahead in its entirety, cooled, wrapped well and frozen.
Thaw in the refrigerator.
Heat in a 350°F oven for about 20 to 30 minutes if
 refrigerator cold.  Less time if room temperature.
Nutrition
Calories:
618
kcal
Carbohydrates:
49
g
Protein:
14
g
Fat:
41
g
Saturated Fat:
22
g
Polyunsaturated Fat:
2
g
Monounsaturated Fat:
12
g
Trans Fat:
1
g
Cholesterol:
95
mg
Sodium:
1037
mg
Potassium:
202
mg
Fiber:
3
g
Sugar:
3
g
Vitamin A:
1185
IU
Vitamin C:
7
mg
Calcium:
199
mg
Iron:
3
mg