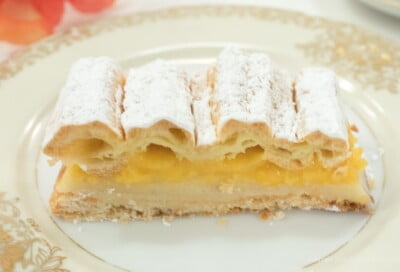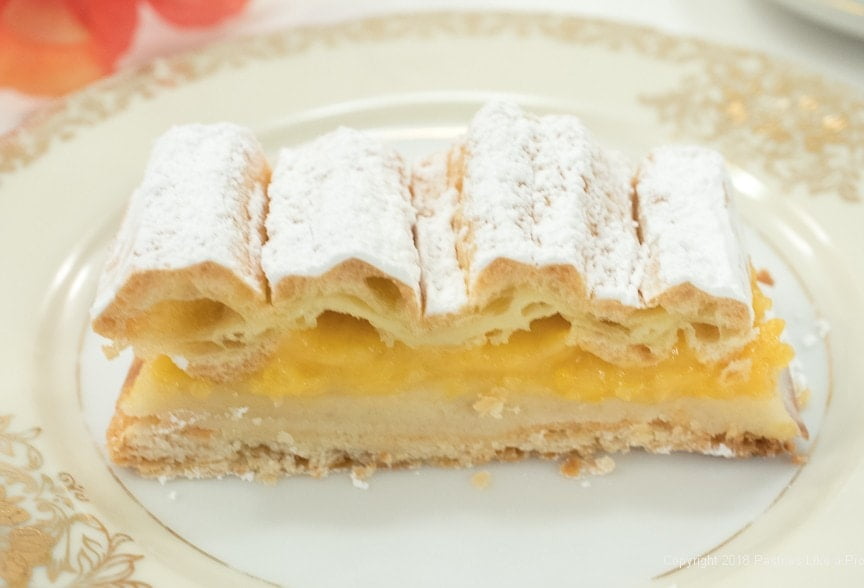 Apricot Slices came by way of my love of curds – lemon and cranberry are two I have already blogged about. This particular curd was one I developed years and years ago and, for some reason, really never used.
However, these Apricot Slices are as comfortable for brunch as they are for dessert. Easily made over a series of days, these are assembled at the last minute. The Pate Brisee crust can be made to be baked off anytime. The Apricot Curd can be made a week ahead and refrigerated or frozen for longer storage. The chou paste top can be made, baked and frozen for a month. Lightly drizzled with an almond glaze and topped with toasted pecans, these Apricot curd slices are an unusual start or end of the day treat.
The Curd uses two different kinds of apricots. Canned apricots in fruit juice and dried apricots to bump up the flavor make this apricot intense. I already have a Thanksgiving dessert planned for this curd. I have always thought of apricots as an elegant fruit. I think you will find these Apricot Slices exactly that, but easy enough to make over and over.
These Apricot Slices may be made in pieces and assembled shortly before serving. While the recipe makes two, one may be assembled and the remaining parts frozen for later assembly.
Apricot Curd – this needs to be made at least the day before or up to a week ahead. For how-to photos for Apricot Curd. Substituting the apricots for the cranberries.
½ cup, well-drained, canned apricots in fruit syrup from a 15 ounce can
3 ounces (85 grams) dried apricots
½ teaspoon gelatin
1 teaspoon water
4 egg yolks
⅓ cup sugar (100 grams or 3 ½ ounces)
¼ cup freshly squeezed lemon juice
6 tablespoons butter, cold, cut into small pieces (90 grams, 3 ounces)
Process the well-drained apricots until smooth. Leave the apricot puree in the processor bowl.
Place the dried apricots in a small saucepan. Cover with water. Simmer until most of the water is gone. There shouldn't be more than a teaspoon or so left. Transfer to the processor and process along with the puree until smooth. In truth, the dried apricots will not puree completely but process them until they are as finely cut in as possible.
Stir the gelatin into the water to mix completely. Set aside.
Whisk together the apricots, egg yolks, sugar, and lemon juice in the top pan of a double boiler. If you don't have a double boiler, place a bowl over a saucepan with simmering water. Make sure the bowl fits well so no steam escapes while simmering. Add the butter. Stir constantly until the mixture reaches 172°F on a thermometer. Remove from the heat, tear the gelatin in a few pieces and add it to the hot mixture. Submerge the gelatin, wait for a minute or two and stir or whisk to mix it in completely. There is no need to liquefy the gelatin first, as the curd is hot enough to melt it.
Pour the apricot curd into a container and cover the top with plastic wrap. Poke one or two holes in the wrap and let it cool to room temperature. After it has cooled, refrigerate up to a week or freeze for several months. Thaw in the refrigerator to use.
Pate Brisee a L'oeuf - this may be made, rolled out and frozen weeks ahead of time. For how to photo's for Peach Pizza using the ingredients below. Bake off when needed.
½ cup +1 tablespoon all purpose flour (85 grams or 3 ounces)
¼ cup cake flour (30 grams or about 1 ounce)
½ teaspoon salt
7 tablespoons unsalted butter (105 grams or about 3 ⅔ ounces)
1 tablespoon beaten egg
1 teaspoon fresh lemon juice
2 tablespoons ice water
In a processor bowl fitted with the steel blade, combine the flours and salt; process briefly to mix. Add the butter and place in a circle over the flours. Pulse until the butter is cut into large pieces.
Mix the egg, lemon juice, and ice water. Pour over the flour/butter mixture and pulse until it clump together about the size of peas. Do not over-process, and especially don't let it form a ball. Pour it onto a work surface lightly dusted with flour and push together into a rectangle approximately 3x5 inches. Wrap in plastic wrap and refrigerate for at least 60 minutes before rolling. It is easiest to work if it rests in the refrigerator overnight.
Line a baking sheet with parchment paper.
Cut the pate brisee in half. Roll each piece into a 13" x 4" rectangle. Place on the baking sheet several inches apart. Prick each with a fork every ¼". Freeze until solid, about 15 minutes.
When ready to use, preheat the oven to 425°F. Bake on the middle rack of the oven for 12 to 15 minutes until light golden brown. Cool on the baking sheet for a few minutes. Slide off onto a rack to cool completely.
Almond Filling– this may be made several days ahead and refrigerated or frozen for longer storage. Thaw in the refrigerator overnight.
3 tablespoons soft butter (45 grams or 1 ½ ounces)
⅔ cup powdered sugar (85 grams or 3 ounces)
¼ teaspoon almond extract
⅔ cup almond flour or finely pulverized almonds (60 grams or 2 ounces)
2 ounces almond paste (60 grams)
1 tablespoon cream
To make the filling, cream the butter and sugar until light. Blend in the almond extract, almonds, almond paste, and cream.
Divide in half (about 120 grams or 4 ¼ ounces). Wrap in film and refrigerate if making ahead.
Yield: Approximately 240 grams or 8 ½ ounces)
Chou Paste - for how to pictures for gateau st honore
½ cup water
4 tablespoons butter (60 grams or 2 ounces)
¼ teaspoon salt
¾ cup sifted bread flour (95 grams or 3 ¼ ounces)
3 whole eggs
Combine the water, butter, and salt in a heavy saucepan. Heat until the butter is melted and bring to a rapid boil. Pour all the flour in. Stir until a large ball of dough forms that cleans the bottom and sides of the pan. With the pan still over heat, mash and flatten the mixture with a spoon against the bottom of the pan. Stir, bringing the bottom of the mixture to the top and continue mashing for 1 full minute. Remove the pan from the heat and flatten it again in the bottom of the pan. Cool 5 minutes. Transfer to a processor or mixer.
Place the flour mixture in the bowl of a processor or mixer. Add the eggs and beat until a smooth, creamy, shiny paste forms.
Chou Paste Top
Preheat the oven to 400°F. Line a half sheet pan with parchment.
Draw two rectangles 12" x 3 ½" on parchment paper 4" to 5" apart. Fit a pastry bag with a ½" star tip and fill the bag with chou paste. Staying inside the borders, pipe 4 strips of chou paste touching each other to cover one rectangle. Repeat with the remaining paste on the other rectangle.
Sprinkle the chou paste heavily with water. Bake for 10 minutes. Lower the temperature to 350°F and bake an additional 20 to 25 minutes until deeply golden brown. Remove the chou from the oven and make slits on both sides of the rectangles. Return to the oven, prop the door open with the handle of a wooden spoon and leave in for another 10 minutes. Cool completely.
These may be frozen, well wrapped, for up to a month.
Assembly– These should be assembled shortly before serving.
Pate Brisee, baked
Almond Cream Filling, room temperature
Apricot Curd, room temperature
Chou Paste Top, baked
Powdered Sugar
Spread half the Almond Cream on each of the Pate Brisee bases. Top with the apricot curd and place the Chou Paste on top. Sprinkle with powdered sugar just before serving.
SaveSave