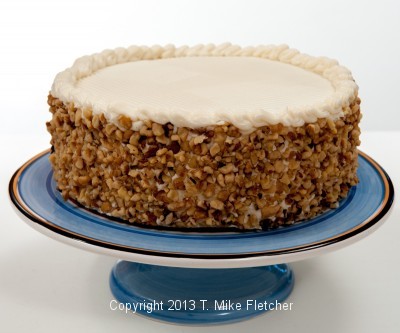 Carrot Cake is truly an American Classic cake. With both fruit and nuts, it can have a bevy of add ins including coconut and pineapple. This is the carrot cake that we made at the bakery.
When I opened my bakery I was making more European cakes than American ones. I preferred Italian buttercream to finish my cakes and most of the American cakes used powdered sugar as the base. It didn't take me too long to figure out my clients were going to my competition to get the carrot cake as well as a good old American chocolate cake.
So I went into the carrot cake testing phase. Some were too sweet, some too dry, some didn't hold up five days in the refrigerator - a must for selling wholesale. As much as you want to believe all of your desserts are flying out of the restaurant, they'll usually be around for a few days. So it is really important they have a shelf life so they won't dry out.
This carrot cake recipe uses buttermilk and honey, both items known to maintain moistness as well as vegetable oil. Oil based cakes have a longer shelf life than butter based cakes. Something I learned the hard way. Our wedding cakes were generally made with butter because they were eaten all at once with no shelf life. Butter still rules - for some cakes!!
This is a good example of the dump cake method, now referred to as the muffin method of putting a cake together. Basically you mix the dry ingredients, setting them aside, then the wet ingredients. They are then combined and that's pretty much it.
I love to use baker's raisins but if these can't be found, regular raisins are fine. If they are drier, cover them with really hot water and let them soak while you prepare the other ingredients. Then drain them really well so they don't add additional liquid to the batter and use them where called for.
Remember to prepare your cake pans as I do to keep these as flat. When we would make a carrot cake wedding cake, it would take two people to carry it in as it was so heavy.
Cream cheese frosting is the traditional finish for this Carrot Cake and we maintained that tradition. We made others with other fillings and finishes including a cheesecake carrot cake, a carrot cake with macadamia nuts and a pineapple filling as well as one with a butter pecan filling. However, cream cheese frosting can be heavy and sag a lot on the sides. I recently saw a recipe for a cream cheese frosting that used buttermilk powder to "add body". I can't imagine. This recipe, with the right proportions of butter, cream cheese and powdered sugar, needs nothing added and the frosting will remain pure in taste and is sag proof.
This Carrot Cake is simplicity itself. Grating the carrots will be your biggest challenge. After that, it's all downhill!
Carrot Cake
2 cups flour (280 grams or 10 ounces)
2 teaspoons cinnamon
1 teaspoon baking soda
1 teaspoon baking powder
½ teaspoon salt
3 eggs
½ cup vegetable oil
½ cup buttermilk*
¼ cup honey
2 cups packed brown sugar (400 grams or 14 ounces)
2 teaspoons vanilla
2 cups carrots, peeled and shredded (285 grams or 10 ounces unpeeled)
½ cup walnut pieces (60 grams or 2 ounces)
½ cup moist raisins (60 grams or 2 ounces) or if the raisins are dry cover with really hot water and soak them while the rest of the ingredients are prepared. Squeeze them to remove excess water
*If you don't have buttermilk you can use sour milk. Remove 2 teaspoons milk from the measured amount and replace with vinegar. Let sit for a few minutes. It may look curdled but that is fine. Use it as called for.
Preheat oven to 350 degrees. Spray the center only of two 9x2 inch round cake pans with parchment; spray center of parchment only. See Cake Pan Prep.
Combine the flour, cinnamon, baking soda and salt. Whisk to mix well.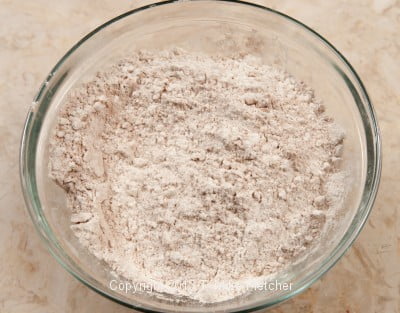 Set aside. In the bowl of the mixer fitted with a paddle attachment, combine the eggs, oil, buttermilk, honey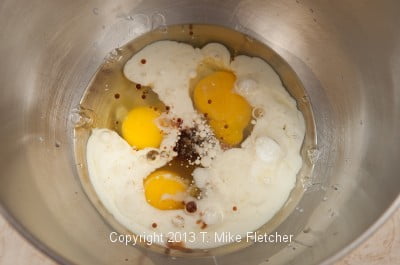 and brown sugar.
Mix on low to blend completely.
Add the flour; mixing on low.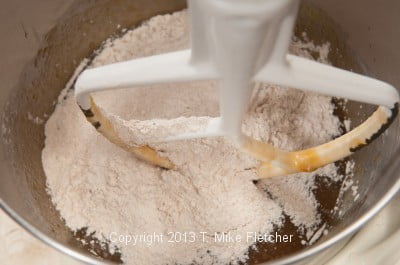 Add the raisins, walnuts
and carrots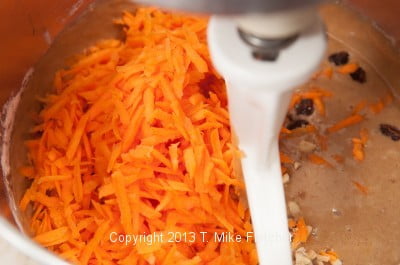 Beat on low until completely mixed.
Divide between the two pans (725 grams each or 22 ½ ounces).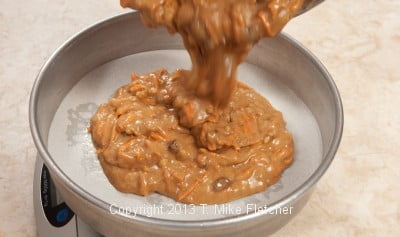 Bake for 30 to 35 minutes or until a tester comes out clean.
Yield: 1450 grams or approximately 3 pounds. Two layers of cake each about 1 ¼ inch tall.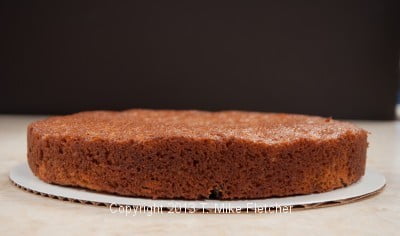 Cream Cheese Frosting
¾ cup butter, softened (170 grams or 6 ounces)
12 ounces cream cheese, (340 grams) -Do not soften
1 ½ teaspoon vanilla
1 ½ pounds powered sugar (680 grams)
Finely diced walnuts, optional, about ½ pound
Place the butter and cream cheese in a mixing bowl. Beat until they are mixed and softened.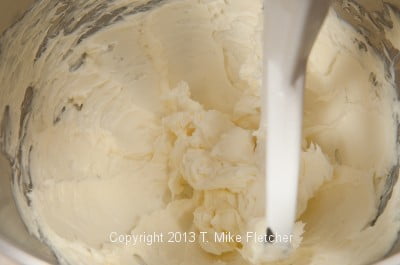 Add the vanilla and powdered sugar.
Beat on low to incorporate the powdered sugar.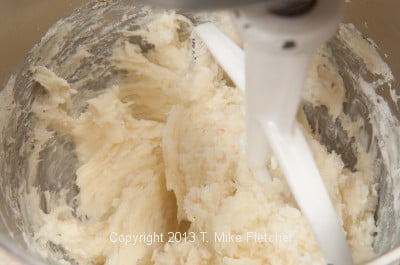 Scrape down and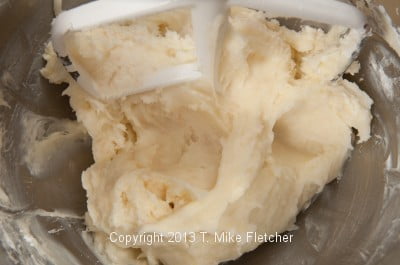 then raise to medium to high to lighten and increase volume. Use immediately.
Finishing
Place one layer on a cake board or platter and use about 1 cup of the frosting to fill the cake.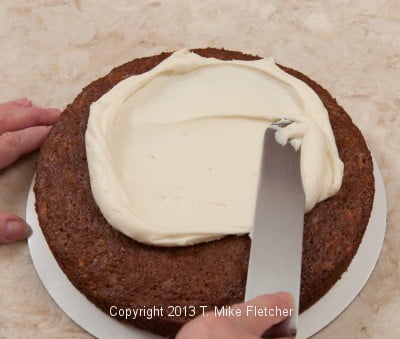 Place the second layer on top. I am not a fan of turning a layer upside down to make a flat top layer. If the formula is correct and it is baked as I suggest, there is no need to. Undercoat the cake.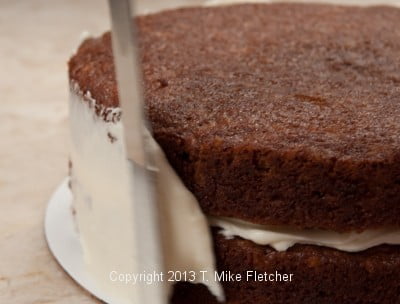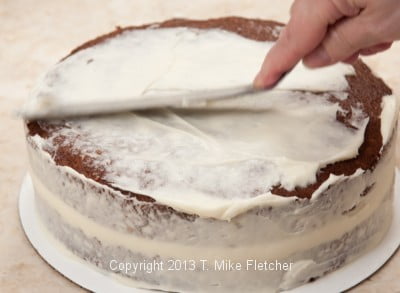 Chill to set up.
Apply the finish coat.
When you finish the top, make sure you push the frosting slightly over the edge of the cake.
Smooth the sides. I use my bench scraper, which works just fine.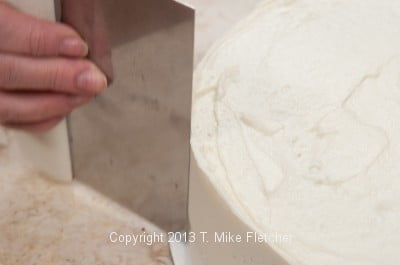 With your offset spatula, smooth the frosting sticking up over the top of the cake by gently pushing it into the center of the cake, lifting the spatula as you go until it is not touching the cake as you approach the middle. With a comb, comb the middle of the top of the cake starting and finishing about 1 inch from the edges.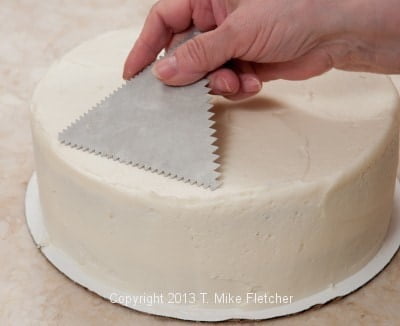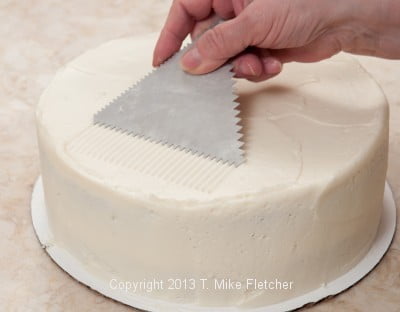 Comb the top edges of the cake in a diagonal pattern leaving a square in the middle.
Finish sides with walnuts if desired. Have the nuts in a pan. Lift the cake in your left hand and picking up the nuts in your right hand, press them against the sides of the cake.
Using a #48 basket weave tip, pipe around the edge in a back and forth motion.