These Chocolate Dipped Sweet and Salty Butter Cookies are one of the simplest cookies to be found. However, they are addictive in their simplicity.
Normally, I roll the cookie dough into logs and then cut them about ¼ inch thick. After cutting, I dip the tops in coarse sanding sugar, then pop them into the oven. The sugar adds a nice crunch, and they glisten on a tray. However, these can also be rolled out and cut with cookie cutters. I have done it both ways, depending upon my needs. It is easiest to roll between two pieces of waxed paper.
Recently, I glazed these cookies in chocolate then sprinkled them with a mixture of sanding sugar and sea salt. Truly does bring them to another level. The amount of salt is determined by taste and the salt you use, which is why I told you which one I used. I have given you measurements for the sugar and salt, but I encourage you to add the salt a little at a time and taste as you go. You may prefer more or less and there is no right or wrong. With these cookies, you taste the cookie and the aftertaste is the salt, which is what I prefer.
However you decide to make them, they will be a great addition to any cookie collection.
Butter Cookies
1 ½ sticks butter, softened ( 12 tablespoons, 170 grams or 6 ounces)
½ cup sugar (100 grams or 3 ½ ounces)
1 egg yolks
2 teaspoons almond extract
1 ½ teaspoon Tahitian vanilla. if possible, otherwise pure vanilla
1 ⅞ cups all purpose flour (2 cups less 2 tablespoons, 260 grams or 9 ¼ ounces)
⅛ teaspoon salt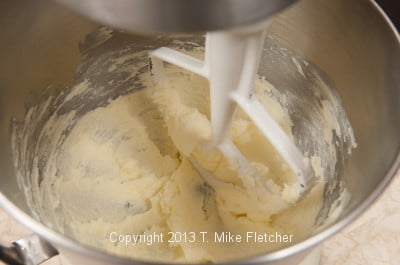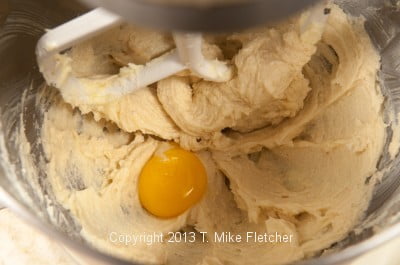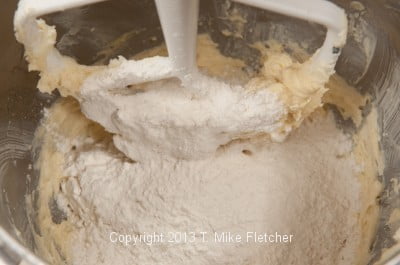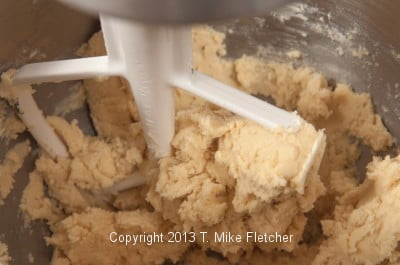 Cream butter and sugar until very light. Add the egg yolk, and beat until completely combined. Add extracts, beating well. Add flour and salt all at once. Mix until it comes together.
Roll out between waxed paper to ¼ inch thick. Cut as desired.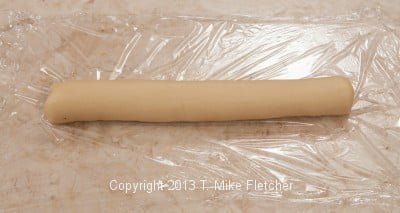 Alternately, divide the dough in half (290 grams or 10 ounces each roll). Roll each half into a 10 inch log. Wrap in plastic wrap and refrigerate until firm. The logs may be frozen, thawed and sliced as needed.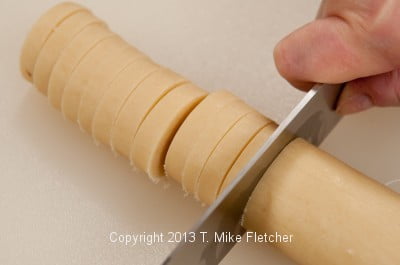 Slice about ¼ inch thick.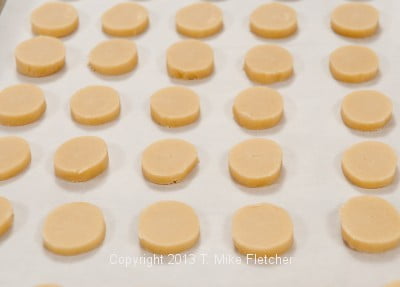 Bake for 8 minutes, turn the tray and bake for 6 to7 more minutes or until lightly browned around edges.
Yields: About 70 cookies from the logs.
Quick Tempering Chocolate4 ounces chocolate (114 grams)
1 tablespoons Crisco
½ cup Sanding sugar
1 teaspoon Sea Salt (I used Baleine Sel de Mer Le sel des Grande Espaces), more or less to taste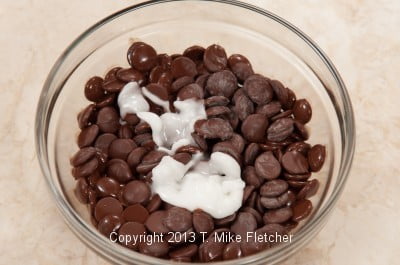 Melt chocolate and Crisco together either in the microwave at half power or in a double boiler.Mix together completely.
Mix about ½ cup sanding sugar with sea salt to taste. Be careful not to over salt. You want to be able to taste the salt, but the sugar should be predominant.
Dip the top of the cookies into the chocolate. Sprinkle with the sugar/salt mixture.