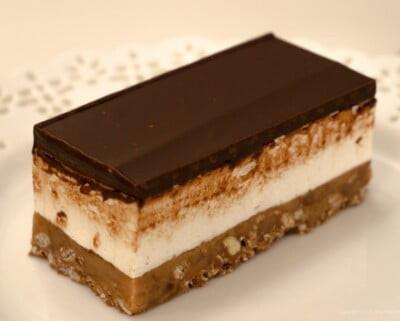 Hazelnut Crunch Bars are a fantasy dessert.  Milk chocolate, rice krispies and toasted hazelnuts form the crunch base for these bars which are topped with a layer of caramel.   A light as air marshmallow tops the caramel and the dark satin ganache finishes the Hazelnut Crunch Bars elegantly.
When I had the bakery, I was asked by the Hyatt to duplicate a Hazelnut  Crunch bar.  That one was topped with a chocolate mousse and while very good, I borrowed the base from that one for my Hazelnut Crunch Bars.
As far back as the mid 80's, I have had a love affair with homemade marshmallow long before it became so popular.  In fact, in the March/April 1984 issue of Cuisnarts magazine "The Pleasures of Cooking"I supplied the recipe used in the article "Many, Many Marshmallows".
There are two methods of making marshmallows.  The one made with egg whites is lighter, airier and taller than the one made with gelatin alone.  The gelatin one is more firm and a bit bouncy. But there is no right and no wrong.  It just depends upon which one you want to make.  The marshmallow I used for the Hazelnut Crunch Bars is made with egg whites.
I made both versions to ascertain which I preferred.  You can see the difference between the two,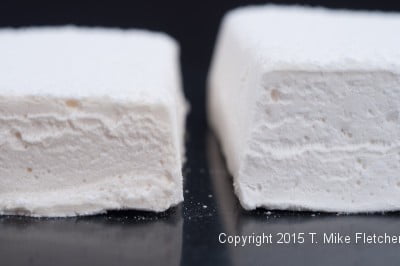 The marshmallow on the left is made with gelatin only.  The one on the right is made with egg whites.  You can see the difference in texture and height as the one on the left is denser, firmer and a bit bouncy.  The marshmallow on the right is made with egg whites and is much lighter, more tender and is taller.
Both versions require a sugar syrup taken to 240°F.  The syrup is then poured over either a gelatin mixture or beaten egg whites that have been stabilized with sugar.
At this point, if you use the egg white recipe,  you have an Italian meringue.  It is then stabilized with the addition of liquified gelatin.
Marshmallow may be colored after the sugar syrup has been added. Gel pastes work best here.  Just add the desired amount and beat until it is cold and light.  There are several ways of flavoring the marshmallow.  Extracts may be used as well as freeze dried fruit that has been powdered in a blender.  Since marshmallow is fairly neutral in flavor, it does a good job of picking up the fruit flavor.  Coloring can be added to intensify the look. One of my favorites is to roll them in toasted coconut.
I have also read of adult marshmallows being flavored with booze, although I haven't tried it.
While I love marshmallow plain, I like to incorporate it into desserts as a component part.   While beautiful to look at, these Hazelnut Crunch Bars are even better to eat. It is like a symphony of flavors in your mouth.  So when you think of marshmallow, don't confine yourself to hot chocolate, s'mores or eating them plain, although there is definitely nothing wrong with those options.  Think Hazelnut Crunch Bars!
There are four component parts to this dessert.  The base adds the crunch being made with rice krispies, toasted hazelnuts and milk chocolate.  This is a very thick mixture and sets up very quickly.  It is important to have the pan lined with parchment and sprayed as well as having  the back of a large spoon sprayed in enable quickly spreading out the base.
The caramel is spread over the base and this is set aside.  Once the marshmallow is made, it is necessary to get it spread over the caramel layer right away.  If the caramel has set up and is firm, use a blow drier to heat it up a little while the marshmallow is beating to insure that it adheres.  The final flourish is the dark chocolate ganache.
When cut, it appears there are 5 layers but that is because the bars must be cut with a hot, dry knife which smears the top of the marshmallow layer with the chocolate.
Caramel -using the ingredients below, please go here for how to photos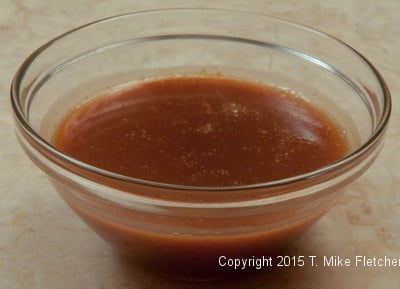 1 cup cold water
1 ½ cups sugar (300 grams or 10 ⅔ ounces)
2 tablespoon corn syrup
7 tablespoons unsalted butter (105 grams 3 ⅔ ounces)
1 cup 40% cream, hot
1 teaspoon vanilla
Place the water, sugar and the corn syrup in a 2-quart saucepan. Stir over heat until the sugar is dissolved completely. Bring to a boil; wash sides of pan down with a natural bristle pastry brush dipped in cold water, then boil, without stirring, until the mixture becomes a medium golden color.
Off heat, immediately add the butter and stir until it is melted. Combine the cream and vanilla then stir in all at once. If some of the cream lumps up don't worry.   Return to medium high heat and bring to a boil.
Boil to 234°F on a candy thermometer. Pour into a bowl. Do not stir at this point as it can become granular if you do. Allow it to come to room temperature.
This can be made a week ahead if desired  Refrigerate after it has cooled.
Yield: 1 ½ cups
Hazelnut Crunch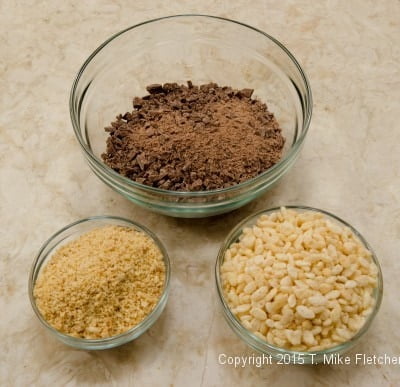 ½ cup toasted hazelnuts (70 grams or 2 ⅓ ounces)
9 ounces  milk chocolate (255 grams)
1 cup + 2 tablespoons rice krispies (35 grams or 1 ¼ ounces)
Line a 9x13 inch pan with parchment and spray the parchment and sides of the pan.  Set aside.
Process the hazelnuts fairly fine. Empty into a large bowl. Add the rice krispies.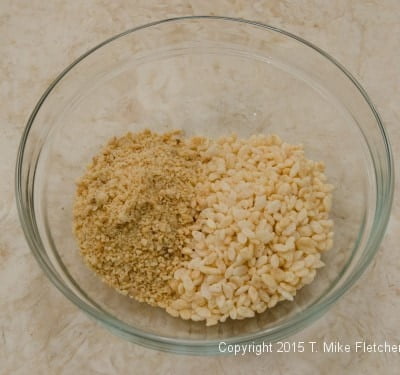 Mix well and set aside.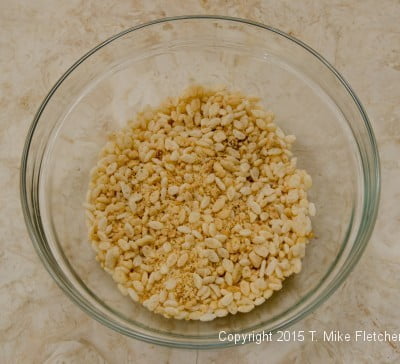 Spray the back of a large spoon with cooking spray. Set aside. Place the milk chocolate in a bowl and place over a double boiler to melt or melt at half power in the microwave.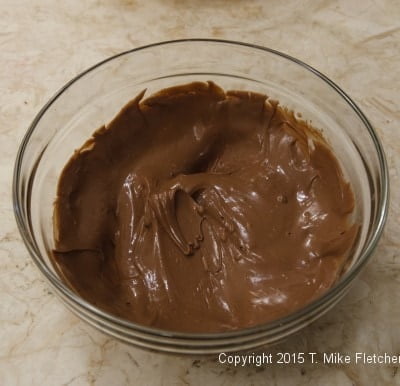 Pour over the nut mixture and very quickly mix all together with a large spoon or your gloved hand.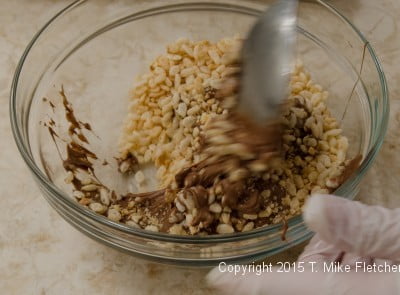 Pour into the pan and quickly spread it smooth with the back of the sprayed spoon.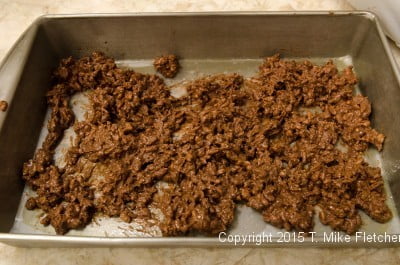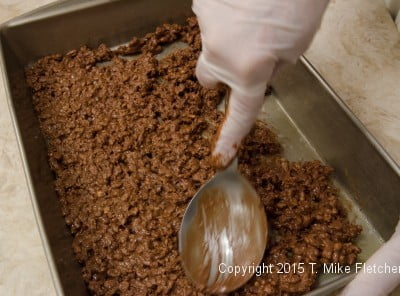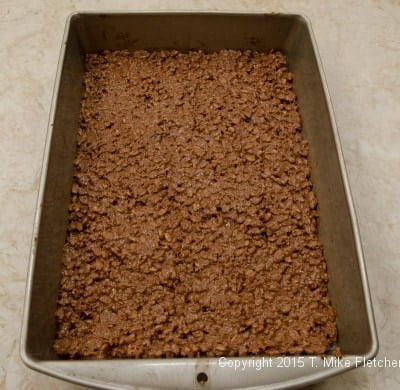 If the caramel is stiff, microwave it briefly to soften it then spread it over the crunch layer.  Set aside.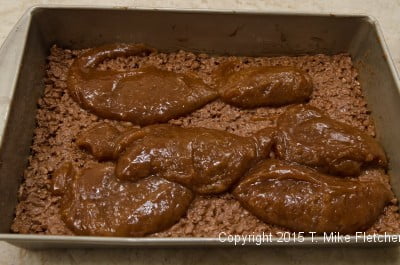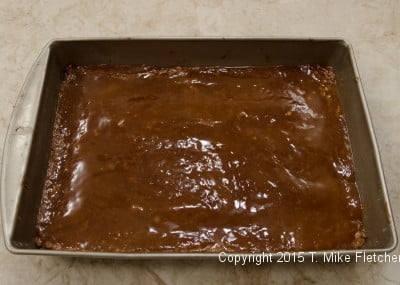 Marshmallow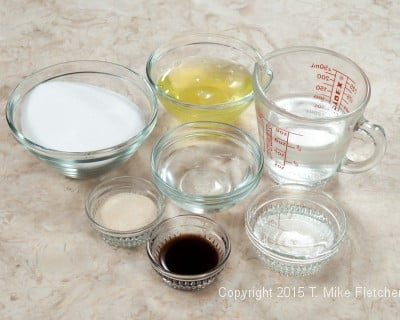 ½ cup water
1 cup sugar, divided (200 grams or 7 ounces)
2 tablespoons corn syrup
1 ½ envelopes unflavored gelatin (1 tablespoon +½ teaspoon, 10 grams or ⅓ ounce)
¼ cup cold water
3 egg whites (100 grams or 3 ½ ounces)
1 teaspoon vanilla
In a small saucepan, combine the water, ¾ cup sugar (150 grams or 5 ⅓ ounces) and corn syrup.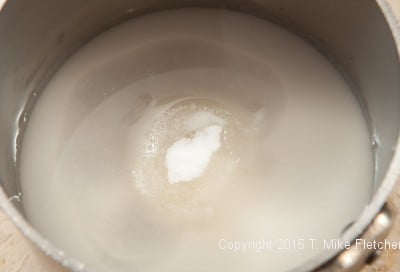 Bring to a boil, wash down sides of pan with a brush dipped in water. Boil to a temperature of 240 degrees.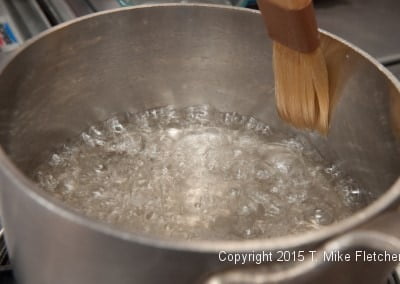 Sprinkle the gelatin over the ¼ cup cold water.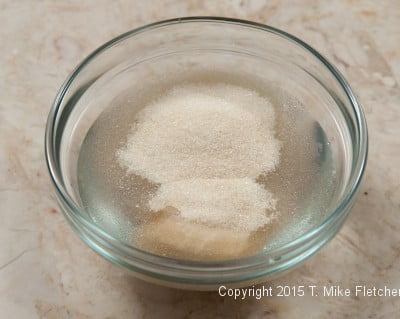 Stir to combine.  This is referred to a blooming the gelatin.  Set aside.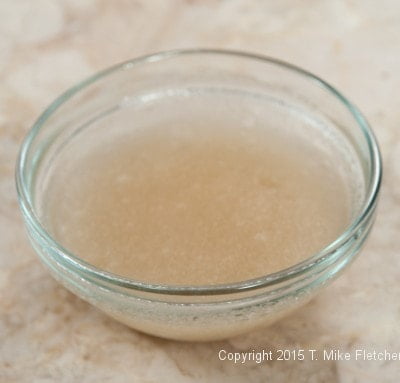 In the meantime, put the egg whites and vanilla in the bowl of a mixer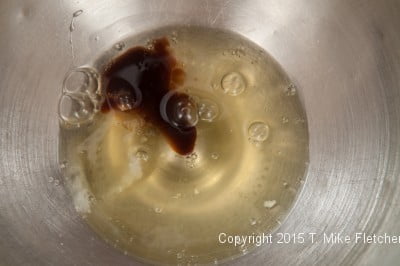 and beat until soft peaks form.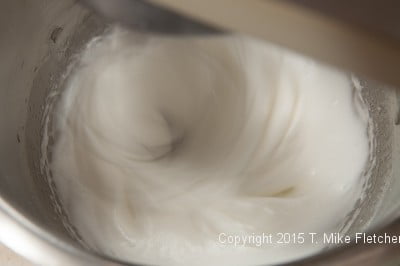 Slowly add the remaining sugar and beat to stiff peaks.   If the syrup has not reached 250 degrees, reduce the mixer speed to low and keep beating. As soon as the syrup has reached the temperature, slowly pour it into the egg whites. Try to keep the syrup between the beater and the bowl when pouring.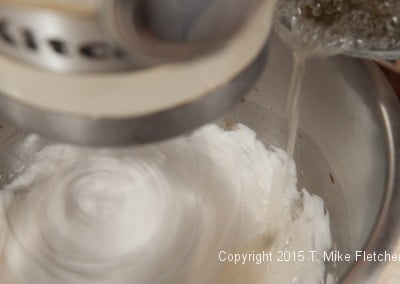 Liquify the gelatin in the microwave for about 30 seconds and pour it into the hot egg whites. Beat until cold and stiff.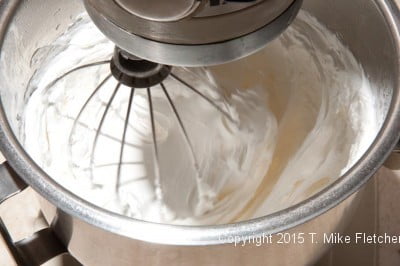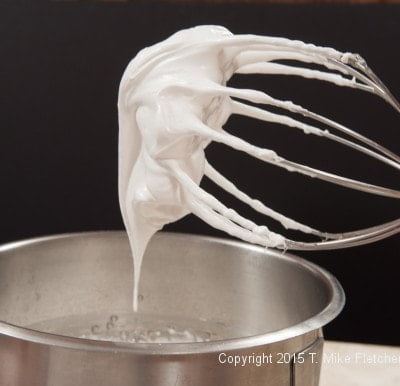 Towards the end of the beating, heat the caramel layer with a blow dryer to warm it if it has set up so the marshmallow will adhere to the caramel. When the marshmallow is ready, Immediately pour it over the caramel and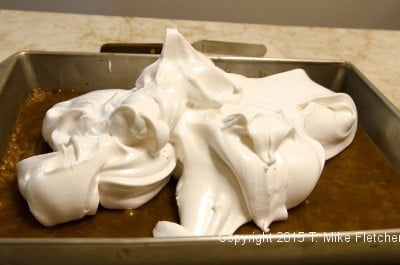 smooth it out. Let it cool completely.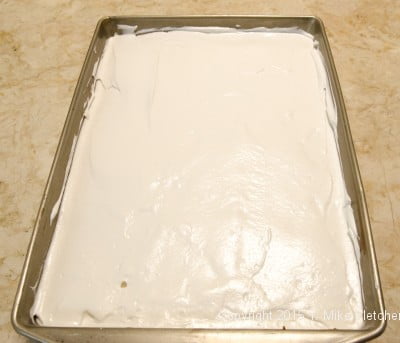 Pour the ganache below over the marshmallow.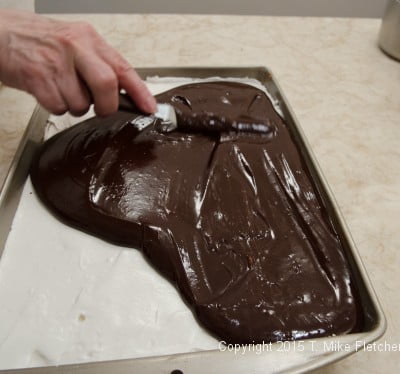 Spread evenly over the marshmallow.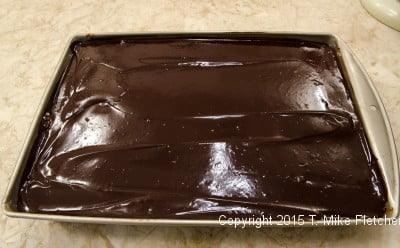 Refrigerate to set ganache. Loosen the edges with a small flexible spatula and turn out.   Turn right side up and, with a hot knife,  cut 6 across and 4 down. The knife must be dipped in very hot water and quickly dried with a paper towel for each cut.  Let the knife cut slowly through the ganache which will be cold and firm, then cut straight down.  This sounds a lot more complicated than it is.   However, realistically you will get into a rhythm and it isn't difficult at all to make these very professional looking cuts.
Dark Satin Ganache-using the ingredients below for how to photos please go here.
½ cup 40% or heavy cream
¼ cup clear cornsyrup
5 tablespoons butter (75 grams or 2 ⅔ ounces)
10 ounces 58% to 62% semisweet chocolate (285 grams or 10 ounces)
Combine the cream, cornsyrup and butter in a small saucepan until very hot. Submerge the chocolate and after several minutes whisk until combined. Pour over the marshmallow.
Yield: 24 bars.  These can sit at room temperature but for longer storage refrigerate.
For Petit Fours, cut each bar in half yielding 48 pieces.