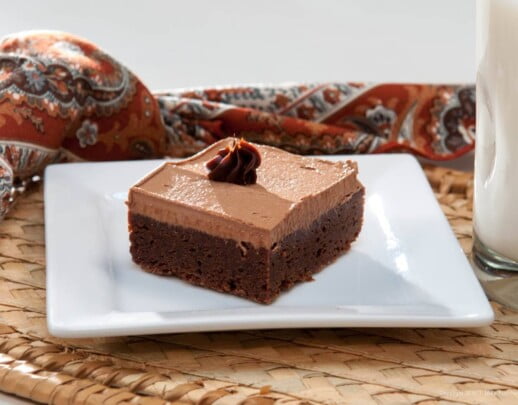 Of all the brownies we made at the bakery or I have ever eaten for that matter, Mocha Kahlua Brownies are my favorite. The brownie itself is of the fudgy variety with a deep, intense chocolate flavor highlighted with coffee undertones.
Mocha Kahlua Brownies couldn't be easier to make, sophisticated taste. The one thing that is important is to mix the batter on low so no air is incorporated.
The baked Mocha Kahlua Brownies often have a paper thin layer on top which is why I just turn them over so I have a perfectly smooth finish to frost.
The frosting for these is absolutely addictive. I could be happy just eating it by the spoonful, preferably a large spoon.
I have always cut these into squares and decorated them with a small rosette of dark ganache to contrast the light color of the frosting. The other way we cut these at the bakery was for petit fours in which case we cut them 6 across the nine inch side and 8 down for 48 petit fours. No one could resist these Mocha Kahlua Brownies and I'll bet they become one of your favorites also.
This blog for the Mocha Kahlua Brownies was originally published in 2010 for my first blog, The Ardent Cook, which is no longer active. I was just beginning then and as you can see, I have progressed as I went on. The Ardent Cook was my "practice blog". I always knew I wanted a pastry blog, but I wanted to work out all the quirks and establish my format before I launched Pastries Like a Pro. The Ardent Cook was a general blog and had a lot of wonderful (if I do say so myself) recipes on it.
Mocha Kahlua Brownies
6 tablespoons unsalted butter (90 grams or 3 ounces)
9 ounces semi sweet chocolate (255 grams)
5 eggs
2 ¼ cups sugar (450 grams or 16 ounces)
2 tablespoons warm water
2 tablespoons instant coffee
1 ¼ cup sifted all purpose flour (175 grams or 6 ounces)
Preheat oven to 350°F. Line the bottom of a 9x13 pan with parchment paper. Spray the paper with cooking spray. Set aside.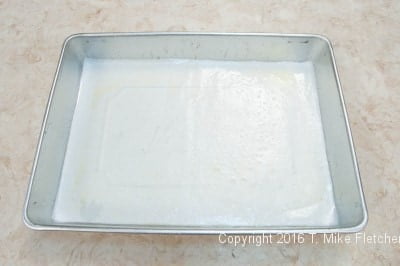 Place butter and chocolate in the top of a double boiler. Lacking a double boiler, place the ingredients in a bowl. Place the bowl over simmering water in a saucepan.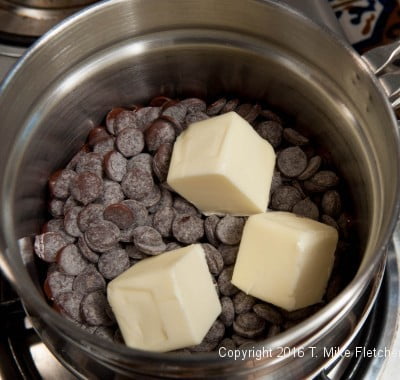 Heat just to melt the butter and chocolate.
Remove from over heat and stir or whisk until smooth.
Alternately, this can be done in the microwave. I prefer to microwave chocolate at half power to prevent burning it. How long it takes depends upon the wattage of your microwave. I would start at 2 minutes at 50% power to start. Stir it, then add more time if necessary.
In the meantime, place the eggs and sugar in a mixer bowl and mix on low until well combined.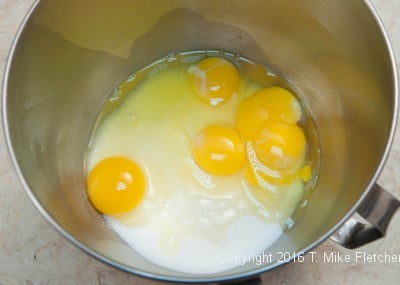 Dissolve the coffee in the water and add to the sugar mixture, mixing on low until completely combined.
Scrape the bottom of the bowl well and add the chocolate mixture. Mix well on low.
Lastly, add the flour; mix well; scrape the sides and bottom of the bowl and mix again.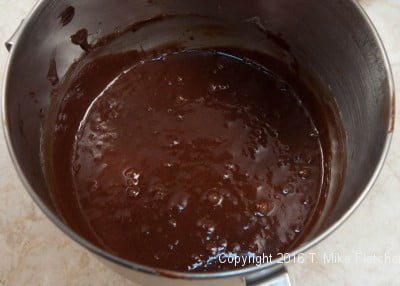 Pour batter into pan and smooth top.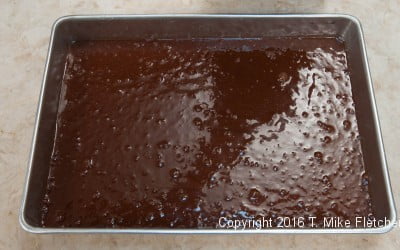 Rap the pan on the table once or twice to settle the air bubbles. Bake for 30 to 35 minutes until it is firm and a tester comes out just barely clean. Cool completely.
Mocha Kahlua Frosting
3 ounces semi sweet chocolate, melted and cooled (85 grams)
1 stick butter, room temperature (½ cup, 114 grams or 4 ounces)
1 ¼ cups sifted powdered sugar (170 grams or 6 ounces)
1 tablespoons Kahlua
¼ cup clear corn syrup
Melt chocolate; set aside to cool to room temperature.
Combine all the ingredients in a mixing bowl.
Beat until very light in color and smooth.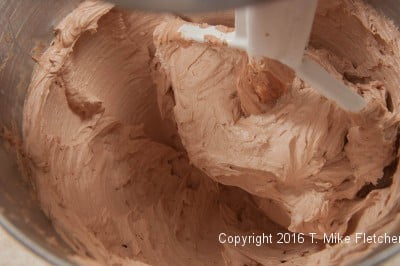 Remove brownie base from pan. Turn upside down. Spread frosting over the Mocha Kahlua Brownies. Refrigerate until firm. Divide into 15 pieces (3 across the narrow side and 5 down). Cut with a hot, dry knife. Pipe a rosette in the center of each if desired.
Cream Glaze (for rosettes), optional
¼ cup cream
2 ounces chocolate (60 grams)
Heat cream until steaming but not boiling. Submerge chocolate under cream. Wait a few minutes and gently whisk until smooth. Pipe rosettes with a small open star tip.
Note: These freeze beautifully for months if well wrapped. When thawing, it is important to place them in a container or covered with foil. That way the condensation goes to the top of the container or foil and not to the top of the brownies.
Yield: 15 brownies